The flavors in these Korean Tacos with Bulgogi Beef are out of this world! Topped with kimchi, avocado, and a creamy chili garlic aioli, these tacos are a make-ahead dream that pack in bold and spicy flavors.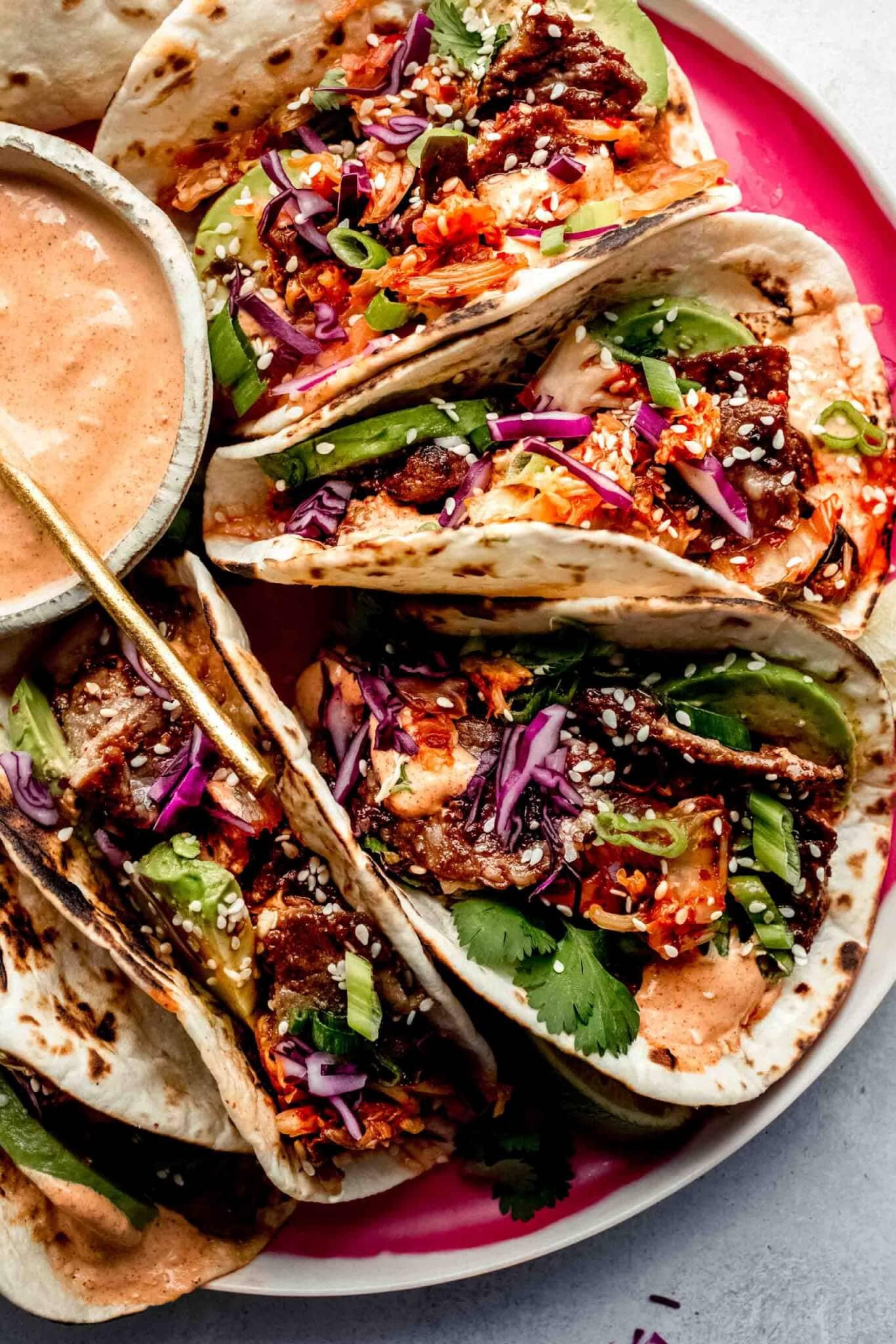 Talk about flavor! My Korean Tacos with Bulgogi Beef are out of this world delicious, vibrant, tender, and flavorful. After you make them once, you'll be craving them again and again.
These Korean beef tacos take a bit of planning and preparation but they're well worth it! Homemade kimchi is a shining star in these tacos so plan to make it a week ahead of time. You can even double or triple the batch so you have leftovers to enjoy on poke, taco bowls, or with shrimp.
But you can also use store bought kimchi! Please don't let that stop you from making this recipe!!! I quite often go that route.
Once the Bulgogi beef, kimchi, and chili garlic aioli are ready, layer the elements with cooling slices of avocado and scallions into fresh corn or flour tortillas. Enjoy the spicy bites next to freshly cooked instant pot rice and a cooling Thai cucumber salad.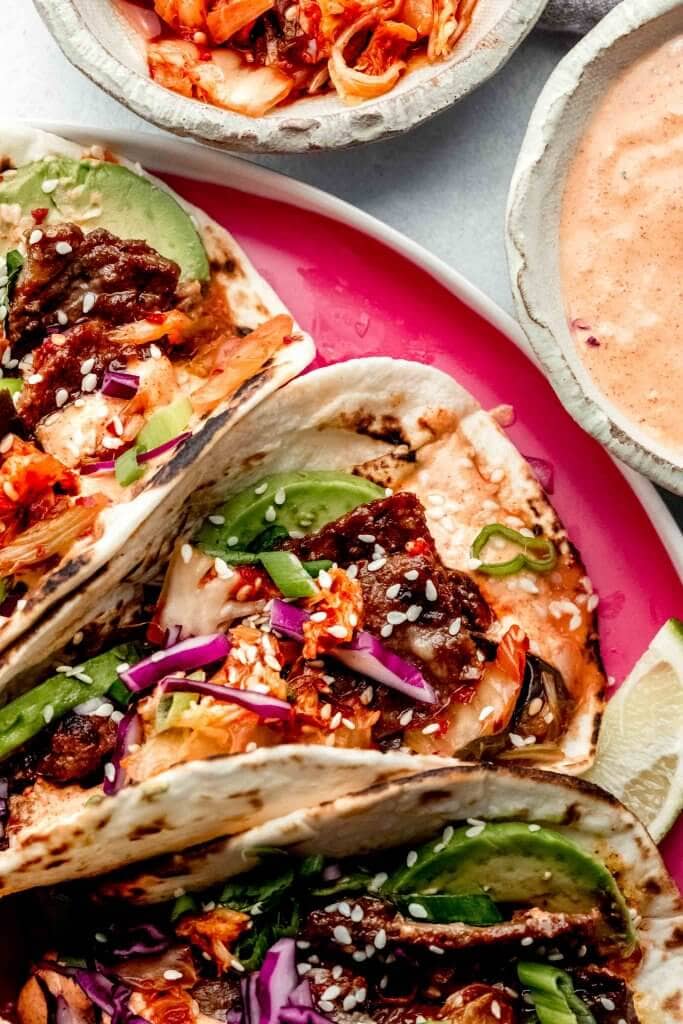 What are Korean tacos made of?
There are three elements to these rich and vibrant tacos:
Bulgogi-style beef
Creamy chili garlic aioli
Avocado slices and green onion layered in the tacos play with the flavors and help to cool down the spice. Some Korean tacos are made with chicken or pork instead of beef but I prefer the rich and tender marinated bulgogi ribeye instead.
What is Bulgogi beef?
Korean bulgogi (meaning "fire" and "meat") beef is tender pieces of thinly sliced and marinated beef. The popular cuts used for bulgogi are ribeye, top sirloin, and brisket. The slices are marinated in a sweet and savory mix of soy sauce, ginger, brown sugar, pear, garlic, and sesame before being pan fried or grilled.
It's my favorite part of this recipe because the meat caramelizes a bit in the hot skillet and turns out super tender. Make sure you use a large skillet (I use a 12-inch skillet) so each piece can cook evenly.
How to make Korean beef tacos
First, marinate the thinly sliced steak by adding it to a bowl with the shredded pear and onion, garlic, ginger, soy sauce, brown sugar, mirin, and sesame oil. Cover the bowl with plastic wrap and marinate in the fridge for at least 2 hours or up to 24 hours.
30 minutes before cooking, take the steak out of the marinade and combine it with the scallions in a bowl. Cook the steak and scallions in a hot skillet with some oil for a few minutes.
Make the chili garlic aioli by mixing all of the ingredients in a bowl (you can do this up to 3 days ahead to save time). Assemble the tacos by layering beef, kimchi, avocado, green onions, aioli, and sesame seeds in tortillas and enjoy!
Tips and tricks
Leaving the raw steak in the freezer for 15 minutes will help it firm up and make slicing easier.
The ribeye pieces can marinate in the bulgogi marinade for as little as 2 hours or as long as 24 hours.
Make the kimchi at least 1 week ahead of time so it can properly ferment or use store bought kimchi instead. You can usually find it in the refrigerated section at most grocery stores.
The chili garlic aioli can be made and kept in the fridge up to 3 days in advance.
Cook the bulgogi beef in an even layer in the skillet (work in batches if the skillet isn't big enough). Cooking too many pieces at once will steam the meat and won't give it a nice caramelization or sear.
Top the tacos with cooling vegetables and sauces, like sliced radishes, slaw, chopped mango, pineapple salsa, or cilantro lime crema, to combat the heat.
Keep it light by swapping the tortillas for lettuce wraps!
What to serve with Korean tacos
Korean Bulgogi tacos are traditionally served with extra kimchi and rice on the side. You can include a few extra cooling side dishes, like cucumber salad, mango salsa, or daikon radish salad, to help with the heat.
Wine Pairing for Korean BBQ Tacos:
With just a hint of sweetness, dry Riesling wine pairs really well with the caramelized bulgogi beef and the spicy kimchi.
More Asian recipes with beef:
If you loved these Korean Beef Tacos I would appreciate it so much if you would give this recipe a star review! Also, be sure to snap a picture of your finished dish and share it with me on Instagram using the hashtag #platingsandpairings and tagging me @platingsandpairings.
For more great recipes, be sure to follow me on Pinterest, Facebook, YouTube and Twitter.
More taco recipes:
More Asian recipes: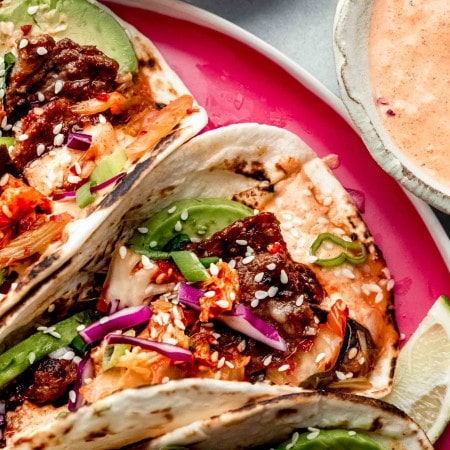 Korean (Bulgogi) Beef Tacos
The flavors in these Korean Tacos with Bulgogi Beef are out of this world! Topped with homemade kimchi, avocado, and a creamy chili garlic aioli, these tacos are a make-ahead dream that pack in bold and spicy flavors.
Print
Pin
Ingredients
¾ – 1

cup

kimchi

(roughly chopped (homemade or store-bought))

1

avocado

(thinly sliced)

3

green onions

(chopped)

Flour tortillas

Sesame seeds

(to garnish)
Korean Beef (Bulgogi)
1½

pounds

ribeye steak

1

ripe bosc pear

½

medium red onion

2

cloves

garlic

1/2

Tablespoon

Fresh ginger

(grated on microplane or finely minced, the same size as about 1-2 garlic cloves)

2

Tablespoons

soy sauce

1½

Tablespoons

brown sugar

1

Tablespoon

mirin

1

teaspoon

sesame oil

1

Tablespoon

canola oil

3

green onions

(chopped)
Chili Garlic Aioli
⅓

cup

sour cream

¼

cup

mayonnaise

1

lime

(juiced)

1

Tablespoon

chili powder

2

cloves

garlic

(grated with microplane, or very finely minced)

1/2

teaspoon

cumin

¼

teaspoon

salt
Instructions
Bulgogi (Korean Beef)
Place steak in freezer for about 15 minutes, which will firm it up a bit, allowing you to cut thin slices. Trim excess fat from steak and very thinly slice.

Using the finest side of a grater, grate the pear and onion. Combine with garlic, ginger, soy sauce, brown sugar, mirin, and sesame oil (optional) in a medium mixing bowl. Add thinly sliced steak, cover with plastic wrap and place in refrigerator, allowing to marinate for at least 2 hours, and up to 24 hours.

Remove steak from refrigerator approximately 20-30 minutes before ready to cook. Remove steak from marinade and combine with scallions in a bowl. Heat canola oil in large skillet or grill pan over high heat. Add steak and scallions to pan in a single layer and cook, stirring, until cooked through, about 2-3 minutes. It's important to cook in a single layer to avoid steaming the meat. Cook in batches if necessary.


Chili Garlic Aioli
Mix all ingredients together until well combined. Refrigerate until ready to use. Can be made up to 3 days ahead of time.


Assembly
Place bulgogi in tortilla and top with chopped kimchi, sliced avocado, green onions, aioli and sesame seeds. Enjoy!
Nutrition
Calories:
649
kcal
|
Carbohydrates:
14
g
|
Protein:
37
g
|
Fat:
50
g
|
Saturated Fat:
16
g
|
Cholesterol:
119
mg
|
Sodium:
913
mg
|
Potassium:
809
mg
|
Fiber:
4
g
|
Sugar:
7
g
|
Vitamin A:
900
IU
|
Vitamin C:
7.7
mg
|
Calcium:
61
mg
|
Iron:
4.1
mg
This recipe was originally published in 2018. It was updated in 2021 to add new photographs and information. The original kimchi taco recipe remains the same. Enjoy!