This easy Kimchi recipe will teach you to make authentic Kimchi (Kimchee) at home. It's easy to do with these simple steps!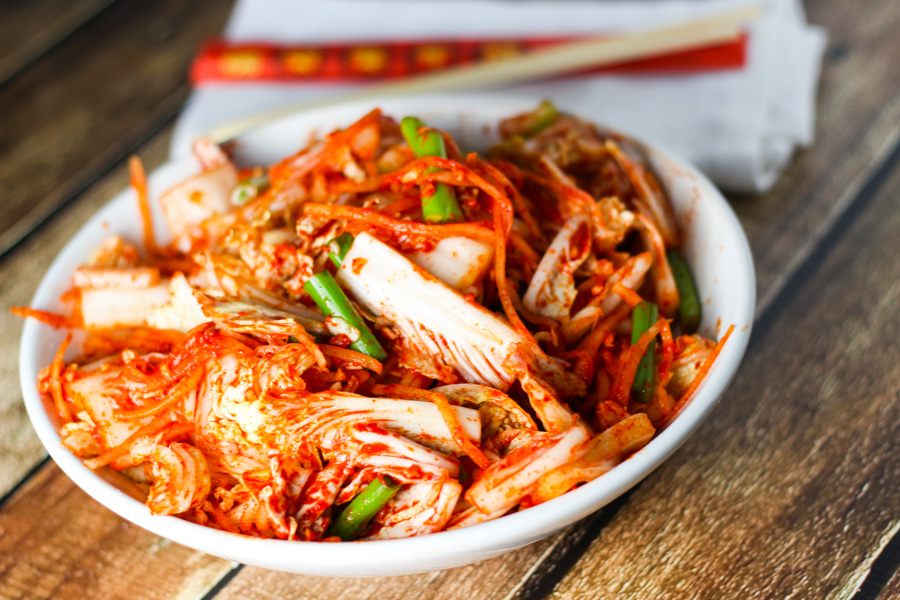 What is Kimchi?
Kimchi is a traditional Korean dish of fermented vegetables, the most common of which are napa cabbage and daikon radish. In addition to being served as banchan, Korean side dishes presented as part of a meal, it can also be used in a variety of cooked dishes like kimchi fried rice or kimchi quesadillas. I love topping these Korean (Bulgogi) Beef Tacos with it – They're amazingly delicious! It's also awesome on top of these Carnitas Taco Bowls with Kimchi!
The ingredients in Kimchi will give you an excuse to check out your local Asian market. I had so much fun tooling around my local store and trying to figure out what everything was. So many fresh and exotic ingredients – I could spend hours just looking around and soaking everything in. If you don't have an Asian market near you, I've included some links below. All of the ingredients can be ordered off of Amazon.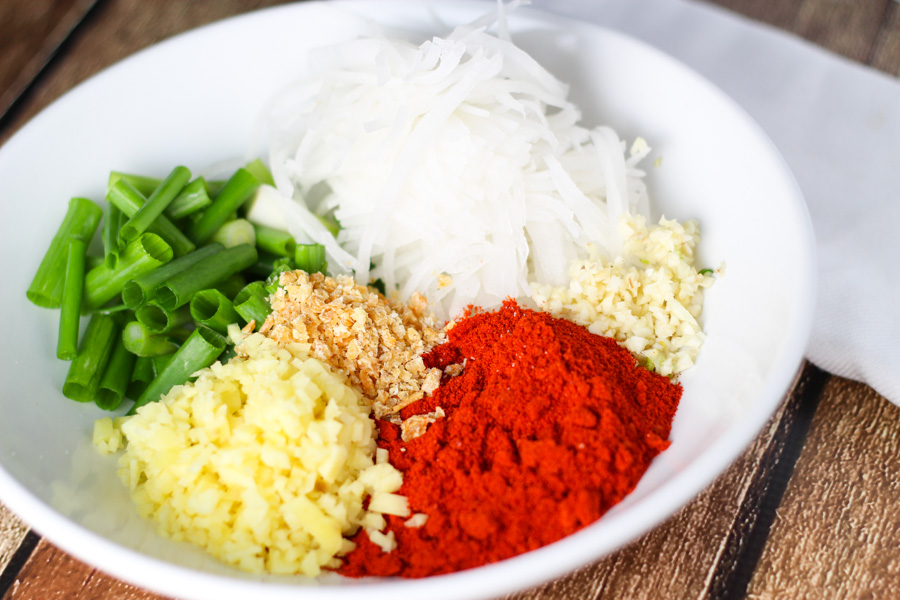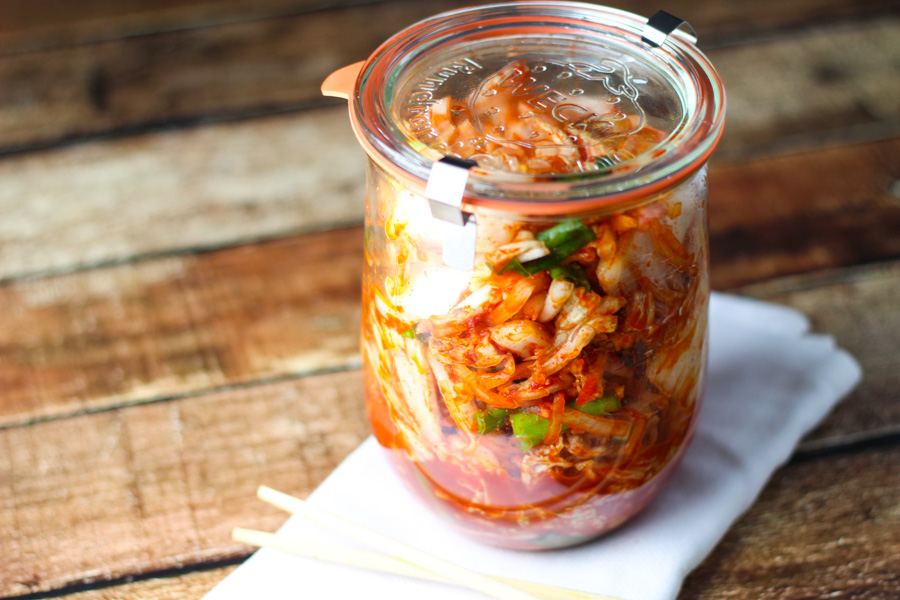 How to Make Kimchi
Plan ahead: Kimchi needs time to ferment, so I would recommend starting a batch about a week before you plan to use it. It will last about a month in the refrigerator.
What to buy: Korean red pepper powder or kochukaru is what gives kimchee its spiciness. It can be found in Korean markets in large resealable plastic bags, in different grades of coarseness and spiciness. Choose a grade based on your personal preference.
Also known as saeujeot, Korean salted shrimp are very small, naturally fermented shrimp that impart authentic flavor to kimchi. They are sold in jars and can be found in the refrigerator case of Korean markets.
Special equipment: You will need a couple of liter glass jars with tight fitting lids to hold the kimchi while it ferments. It's preferable to not use plastic, as the odors from the kimchi can be hard to remove after the fermenting process.
If you loved this Kimchi recipe I would appreciate it so much if you would give this recipe a star review! Also, be sure to snap a picture of your finished dish and share it with me on Instagram using the hashtag #platingsandpairings and tagging me @platingsandpairings.
For more great Platings and Pairings recipes, be sure to follow me on Pinterest, Facebook, YouTube and Twitter.
Kimchi Recipe
Easy Kimchi Recipe
This easy Kimchi recipe will teach you to make authentic Kimchi (Kimchee) at home. It's easy to do with these simple steps!
Print
Pin
Ingredients
2

pounds

napa cabbage

1/2

cup

kosher salt

12

cups

cold water

(plus more as needed)

8

ounces

daikon radish

(peeled and cut into 2-inch matchsticks)

4

medium

scallions

(ends trimmed, cut into 1-inch pieces (use all parts))

1/3

cup

Korean red pepper powder

1/4

cup

fish sauce

1/4

cup

fresh ginger

(minced)

7

cloves

garlic

(minced)

2

teaspoons

dried shrimp

(minced)

1 1/2

teaspoons

granulated sugar
Instructions
Cut the cabbage in half lengthwise, then crosswise into 2-inch pieces, discarding the root end. Place in a large bowl, sprinkle with the salt, and toss with your hands until the cabbage is coated. Add enough cold water to just cover (about 12 cups), making sure the cabbage is submerged. Cover with plastic wrap or a baking sheet and let sit at room temperature at least 12 hours and up to 24 hours.

Place a colander in the sink, drain the cabbage, and rinse with cold water. Gently squeeze out the excess liquid and transfer to a medium bowl; set aside.

Place the remaining ingredients in a large bowl and stir to combine.

Add the cabbage and toss with your hands until evenly combined and the cabbage is thoroughly coated with the mixture.

Pack the mixture tightly into a clean 2-quart or 2-liter glass jar with a tight fitting lid and seal the jar.

Let sit in a cool, dark place for 24 hours (the mixture may bubble). Open the jar to let the gases escape, then reseal and refrigerate at least 48 hours before eating (kimchi is best after fermenting about 1 week). Refrigerate for up to 1 month.
Nutrition
Calories:
7
kcal
|
Carbohydrates:
1
g
|
Cholesterol:
7
mg
|
Sodium:
3846
mg
|
Potassium:
42
mg
|
Vitamin A:
5
IU
|
Vitamin C:
3.2
mg
|
Calcium:
10
mg
|
Iron:
0.2
mg