This recipe for Thai Meatballs is a recipe that I make on the regular. I like that the ingredients are easy to find in the local grocery store, and the fact that it's a nutritious and quick weeknight dinner option that will be on your table in just 30 minutes!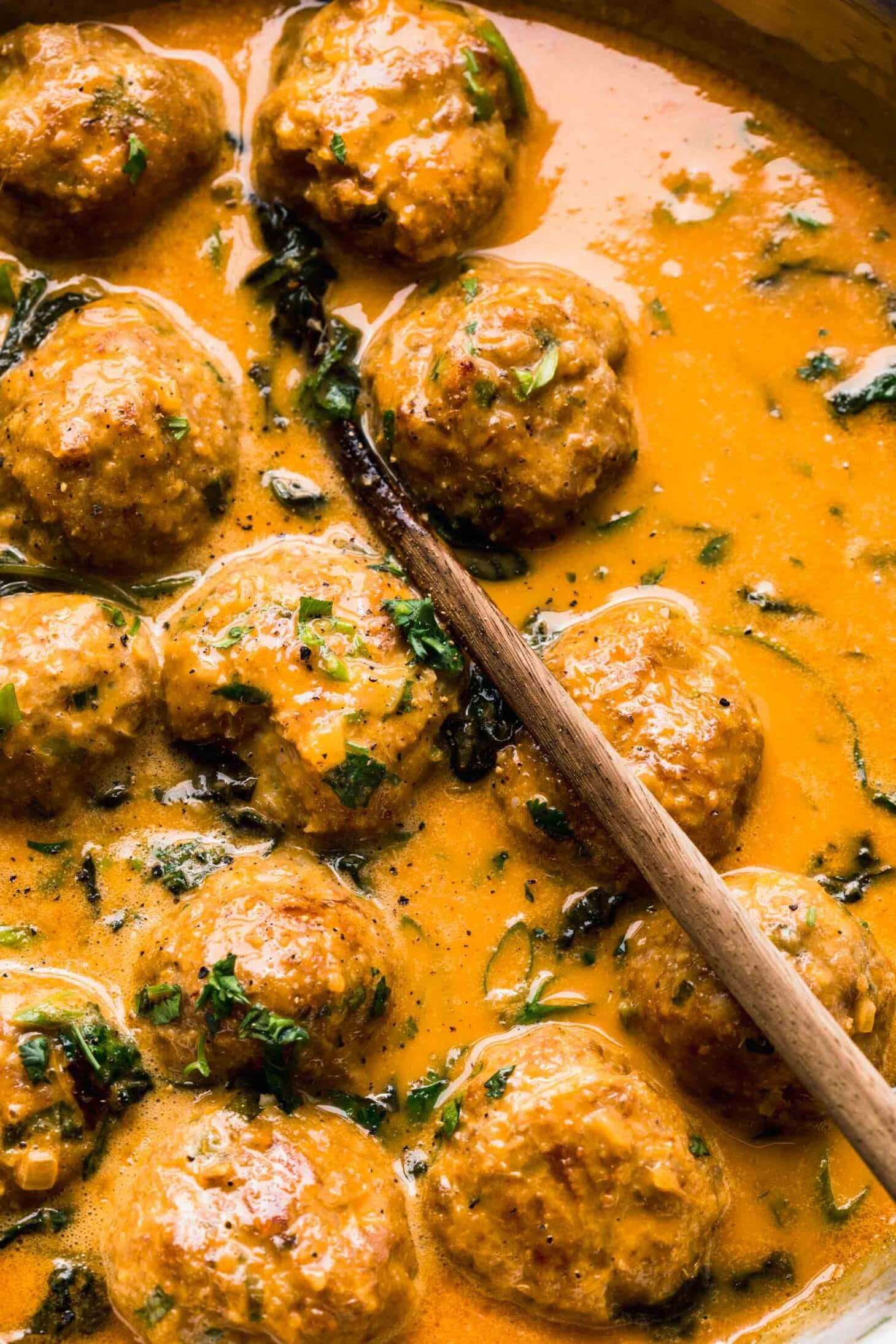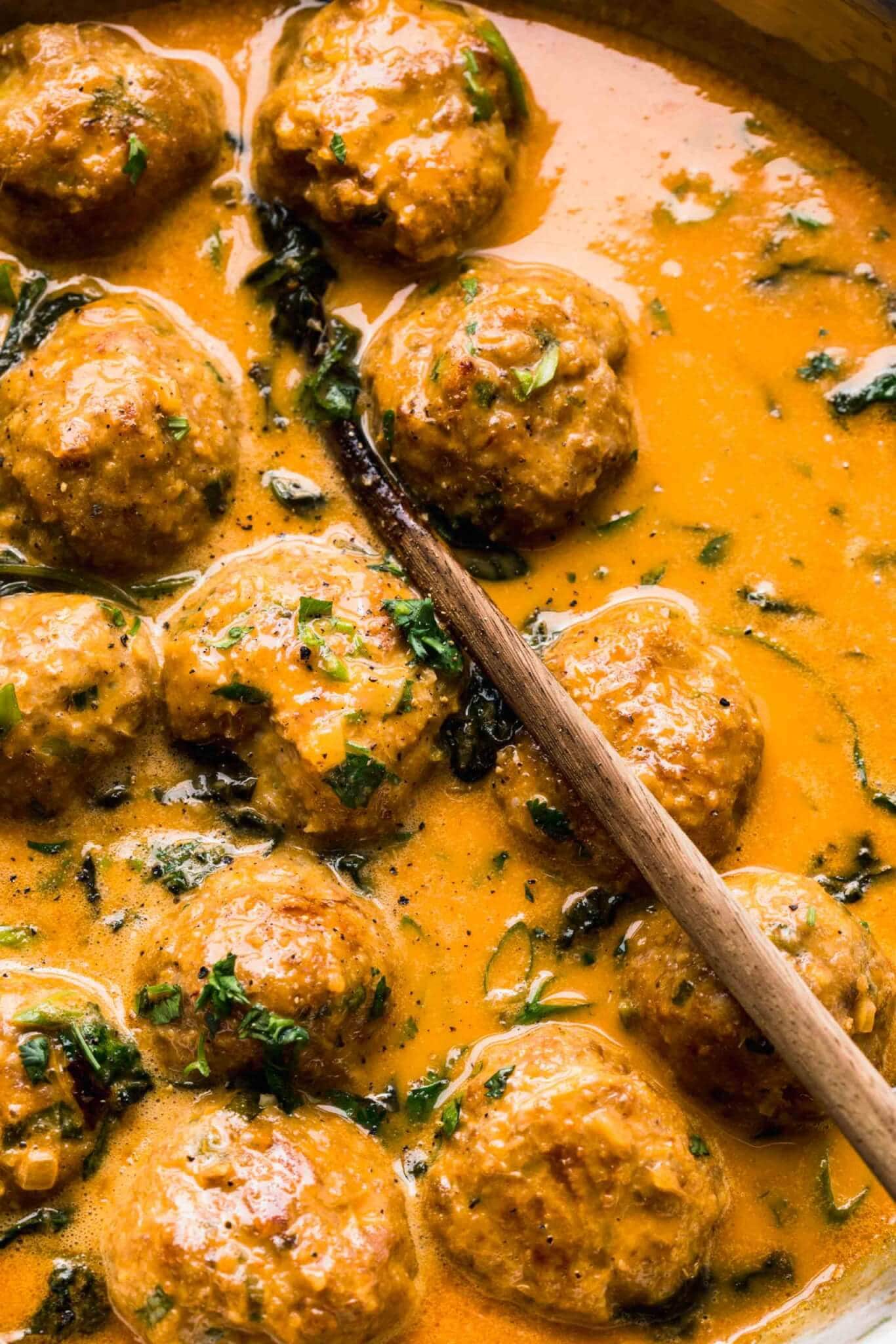 I love a good curry recipe. Curry Chicken Skewers with Lime, Curry Chicken Salad, and Coconut Curry Butternut Squash Soup all have a special place in my heart.
So, I thought it was time to finally share this recipe with you – Curry Turkey Meatballs.
Served with the most amazing spicy mangos.
Have I caught your attention?
That creamy, dreamy red curry sauce melts over the meatballs, and finds its way into every nook and cranny of your bowl of rice. And when you top it all off with some spicy, limey mangos – it's basically irresistible.
The contrast of those delicious cool & sweet mangos with the warm rice is like heaven in a bowl.
The most time-consuming part of making curried turkey meatballs is forming them. I've found that using a cookie scoop makes the process much easier. If you don't have a scoop, you can also form them by hand. Wetting your hands before forming the meatballs makes them less sticky to work with.
Curry Sauce Ingredients
Coconut Milk – This is the coconut milk that is sold in cans in the asian foods aisle.
Red Curry Paste – Different brands can vary in heat. I'd suggest starting with 2 Tablespoons and going up from there if you'd like more heat.
Soy Sauce – Adds that umami flavor and the perfect amount of salt. If you're watching your sodium intake, use low-sodium soy sauce.
Ginger – You can use fresh ginger that is grated. Or, look for ginger paste that is sold in the produce section of grocery stores. It's a huge timesaver!
Garlic + Shallot
This red curry sauce comes together super quickly, in about 5 minutes. Just bring it to a simmer and let it cook for a couple minutes until it thickens up. Then add the meatballs, simmer a few minutes longer to get them nice and coated and serve.
Recipe Tips
Don't over handle the ground turkey, otherwise your meatballs can become too dense, and not as tender.
Be sure your meatballs are roughly the same size before baking. This ensures they'll cook evenly.
Use a cookie scoop to make the process easier and ensure your meatballs are all the same size.
If using your hands, wet them to make the process less sticky.
Meatballs are done when they reach a temperature of 160-degrees. I love using this meat thermometer to test for doneness.
Variations
You can also make the meatballs with ground beef, ground pork or even a meatless alternative like Impossible beef.
Recipe FAQs
Can you make them ahead of time?
Yes! The good part is, you can form the turkey meatballs ahead of time and keep them in the refrigerator until you're ready to cook them.
Can curry meatballs be frozen?
Yes! To freeze them:
Let cool.
Freeze on a baking sheet, with meatballs spaced apart so they don't stick to each other.
Once frozen, store in freezer safe bags.
To serve, bake meatballs at 350 degrees for 10-15 minutes, until heated through.
Note: I don't recommend freezing the coconut curry sauce. I would make that last minute and add the meatballs to it before serving.
On to that delicious red curry sauce! The best part if you ask me! It's creamy, spicy and delicious, and I like to drown my meatballs in it!
What to Serve With Them
Wine Pairings
Dry Riesling is a great match for this curry. The hint of sweetness will tame down the heat while its acidity stands up to the bold blend of spices.
Gewurztraminer is another lightly sweet wine that pairs nicely with this dish.
More Curry Recipes
More Ground Turkey Recipes
Did you make these Thai Meatballs?
If you loved these Thai Curry Meatballs with Spicy Mango I would appreciate it so much if you would give it a star review! Also, be sure to snap a picture of your finished dish and share it with me on Instagram using the hashtag #platingsandpairings and tagging me @platingsandpairings.
For more great Platings & Pairings recipes, be sure to follow me on Pinterest, Facebook, YouTube and Twitter.
Love mango? 💛 Be sure to check out these 45+ easy mango recipes!
Thai Meatballs
Thai Curry Meatballs is a recipe that I make on the regular. I like that the ingredients are easy to find in the local grocery store, and the fact that it's a nutritious and quick weeknight dinner option that will be on your table in just 30 minutes!
Print
Pin
Instructions
Preheat oven to 450-degrees.

In a large bowl, whisk together egg, garlic, ginger and soy sauce. Add ground turkey, breadcrumbs, and green onions. Mix until just combined.

Form the meat into tablespoons sized balls (about 15-20 meatballs) and place them on a baking sheet. Bake for 15-20 minutes until cooked through.

Meanwhile, heat the olive oil in a large skillet over medium heat. Add the shallot and garlic and cook until shallot becomes translucent, about 2-3 minutes.

Add coconut milk, curry paste, soy sauce and ginger. Stir to combine and bring to a simmer. Add the cooked meatballs and simmer about 5 minutes, until they're well coated in the sauce.

Remove from the heat and stir in spinach, lime juice, cilantro and/or basil. Taste and season with additional salt and pepper, if needed.

Combine mango, serrano, lime zest and lime juice in a small bowl.

Serve meatballs and curry sauce over bowls of rice topped with spicy mango mixture.
Nutrition
Calories:
294
kcal
|
Carbohydrates:
24
g
|
Protein:
32
g
|
Fat:
9
g
|
Saturated Fat:
2
g
|
Cholesterol:
103
mg
|
Sodium:
527
mg
|
Potassium:
541
mg
|
Fiber:
3
g
|
Sugar:
10
g
|
Vitamin A:
1903
IU
|
Vitamin C:
29
mg
|
Calcium:
64
mg
|
Iron:
2
mg
Check out the web story here.
This post was originally published in 2021. It was updated in 2022 to add new information. The original Thai Meatballs recipe remains the same. Enjoy!