Instant Pot "Better Than Botox" Bone Broth is full of natural collagen! Make chicken, pork or beef stock using kitchen scraps and your electric pressure cooker.
I talked in this post about how you'll almost always find a mysterious bag of bones in my freezer. There's also probably some onion peels, carrot nubs, parsley ends and celery leaves in there – it's my bag of bone broth making goodies.
All that stuff that you'd typically throw away in the garbage is perfect for making bone broth, or stock as it's otherwise known.
I also use this technique for my homemade seafood stock recipe.
So, whenever I'm chopping up some veggies for dinner, I'll pull out that ziploc freezer bag and just load those peels, ends and leaves in there. And, when I'm making something like this Easy Roasted Chicken or these Short Ribs, those bones will find their way in there too.
When the bag is full, I just empty it into my Instant Pot, add a good glug of apple cider vinegar (it helps pull the nutrients out of the bones) and add water to 1-inch below the fill line. Then, I just set it to cook on high pressure for 120 minutes.
Once the 2 hours is up, I let the pressure release naturally (it takes about 15 minutes) and voila! Strain the broth and discard the bones and veggies and you're left with the most beautiful, golden broth!
Typically, I'll cook up a batch of Instant Pot bone broth once a week. It's so much cheaper to make your own bone broth, rather than buying those cartons in the store.
Plus it tastes SO much better. So, good in fact that I normally just drink the bone broth, straight up, sipping it out of a coffee cup. Especially needed in the Oregon wintertime when it rains for months on end!
I also love to doctor it up with a bit of white miso paste and a squeeze of ginger from those little tubes that you find in the refrigerated sections at stores like Trader Joes.
You could also grate in some fresh ginger, but the tube is so much easier.
Uses for Instant Pot Bone Broth
Use it instead of water when you're cooking rice or pasta – It adds flavor and nutrients.
Cook your vegetables in it.
Use it as a base for your favorite soup recipes.
Add it to your mashed potatoes to keep them moist.
How Do You Freeze Bone Broth?
I like to freeze my Instant Pot bone broth in these silicone ice cube molds for easy use in recipes. Once the cubes are frozen, I package them up into a large ziploc bag.
Each cube is about 1/3 cup of broth. If I need to thaw some bone broth quickly, it's easy to just pop a few of these cubes into a small saucepan or into a microwave to thaw them quickly.
It's much faster than thawing an entire mason jar of bone broth.
You can also freeze the bone broth in the same silicone mold that I use to make these Instant Pot Sous Vide Egg Bites!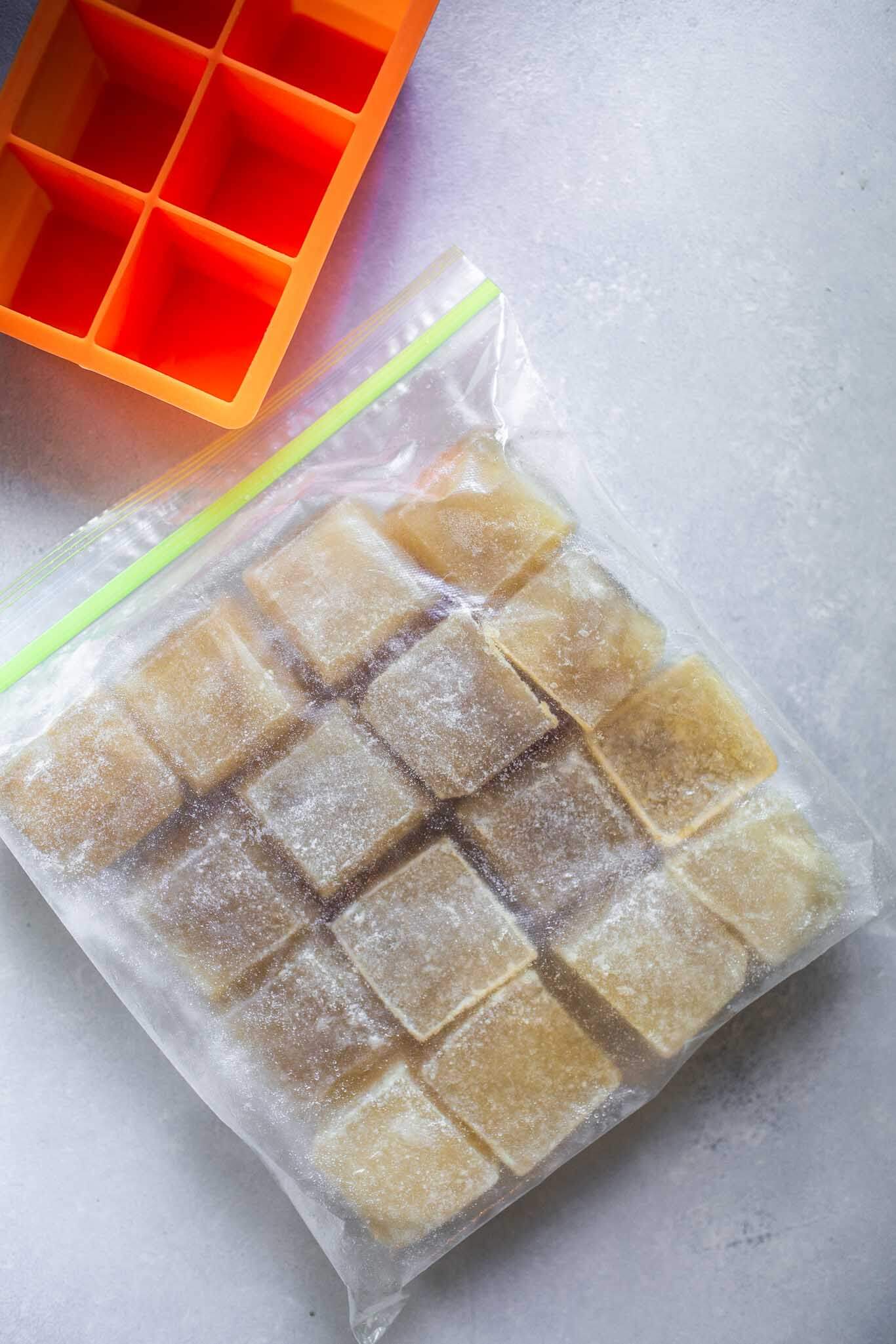 Bone broth has been touted as being "better than Botox" because it's full of goodies like collagen and gelatin. They'll help plump your skin, coat your digestive tract and cushion your joints.
That's why it's highly desired for your Instant Pot bone broth to gel after it's cooled.
The way to be sure it gets that high concentration of collagen and gelatin is to be sure that your ratio of water to bones is just right. And to be sure that you're using organic bones that have a good amount of collagen to them.
Conventionally raised chickens don't have as much collagen in their joints and bones as an organically raised chicken. Marrow rich beef on the other hand, will produce plenty of gelatinous goodness.
However, don't worry if your bone broth doesn't gel.
It's still got loads of minerals and nutrition in there. Enjoy!
More Instant Pot Recipes
Don't have an Instant Pot? You can make this bone broth in your slow cooker too! Plus, be sure to save those shellfish shells to make this homemade seafood stock recipe.
If you loved this Instant Pot Bone Broth recipe I would appreciate it so much if you would give it star review! Also, be sure to snap a picture of your finished dish and share it with me on Instagram using the hashtag #platingsandpairings and tagging me @platingsandpairings.
For more great Platings & Pairings recipes, be sure to follow me on Pinterest, Facebook, YouTube and Twitter.
Instant Pot Bone Broth Recipe
Instant Pot Bone Broth is full of natural collagen. You could even say it's "Better Than Botox" for your skin! Make chicken, pork or beef stock using kitchen scraps and your electric pressure cooker.
Print
Pin
Ingredients
2 1/2

pounds

assorted organic meat bones

2

carrots

(chopped medium)

2

celery stalks

(chopped medium)

1

onion

(halved, skin left on)

2

cloves garlic

(skin left on)

Assortment of fresh herbs

1

Tablespoon

apple cider vinegar

Generous pinch of whole black peppercorns

1

teaspoon

kosher salt

8

cups

of water

(enough water to come to 1-inch below MAX fill line)
Special Equipment: 6 quart Instant Pot or pressure cooker
Instructions
Place the bones in the Instant Pot, filling it about half full with bones. Add in the vegetables, herbs, apple cider vinegar, peppercorns and salt.

Fill the Instant Pot with water to 1-inch below the MAX fill line.

Make sure your sealing ring is in place on the lid. Lock the lid onto the Instant Pot and set the steam release knob to the "sealing" position.

Press the "manual" button and set your Instant Pot for high pressure for 120 minutes. (I find it easier to decrease the time because the timer resets at 120 after you decrease to zero.) It will take about 15-30 minutes for the Instant Pot to come to full pressure, then the display will show a countdown timer.

Once the two hours is up, allow the pressure to release naturally. It will take about 15-30 minutes, then the float valve will drop.

Strain the broth through cheesecloth or a strainer and cool. A good broth will usually have a layer of fat on the top, and will gelatinize when thoroughly cool. Remove the fat with a spoon and discard.
Notes
Your Instant Pot bone broth will keep fresh in the refrigerator for up to five days. For longer storage, I like to freeze 1-cup portions for easy use in recipes.
Nutrition
Calories:
48
kcal
|
Carbohydrates:
4
g
|
Sodium:
413
mg
|
Potassium:
126
mg
|
Fiber:
1
g
|
Sugar:
2
g
|
Vitamin A:
3455
IU
|
Vitamin C:
3.3
mg
|
Calcium:
18
mg
|
Iron:
0.1
mg