Learn how to make Instant Pot Shredded Chicken for a moist, flavorful, and tender protein you can use in lunches, dinners, and more. It's the best meal prep secret you can make with fresh or frozen chicken!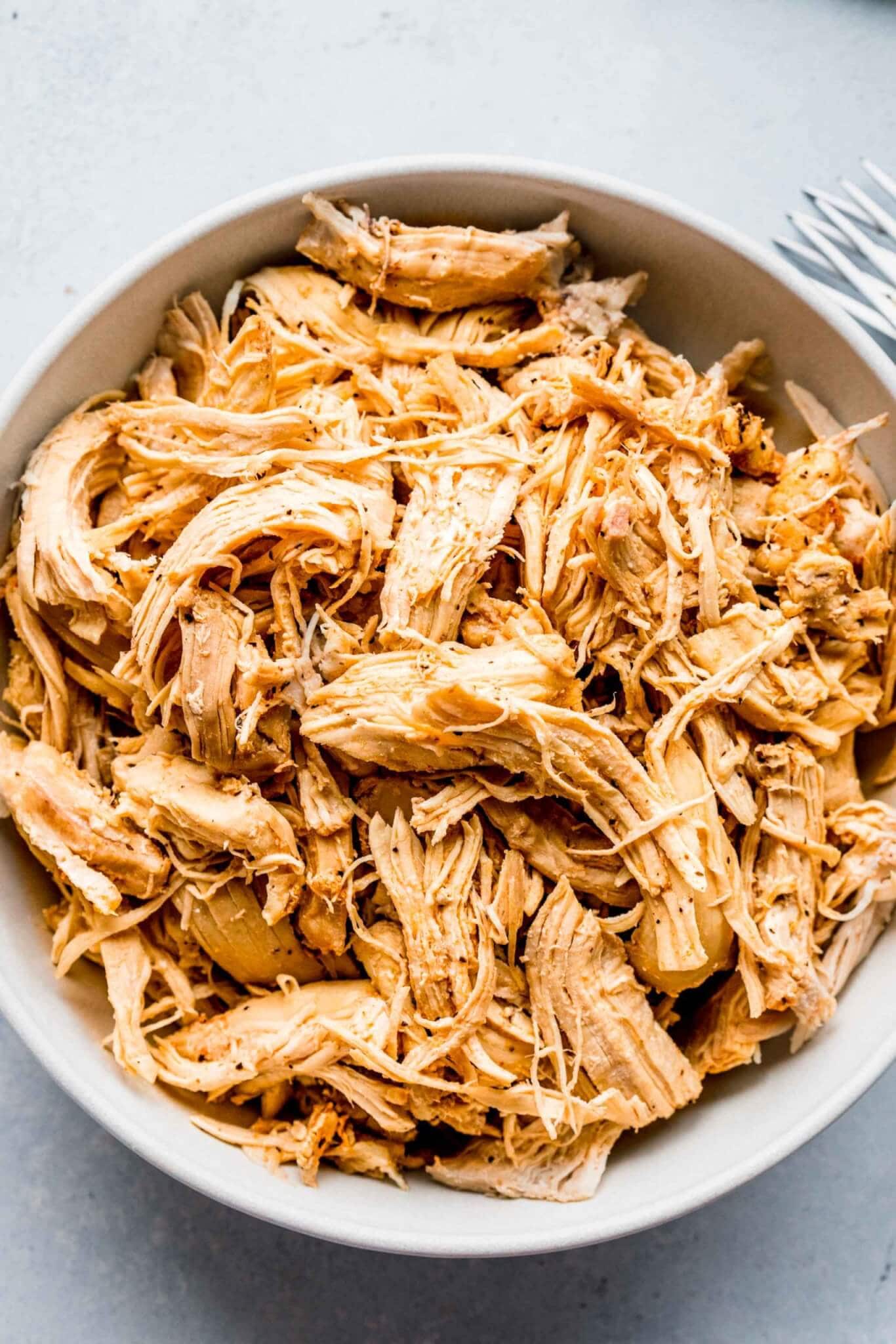 There are so many reasons why I think everyone needs to have this easy Instant Pot Shredded Chicken recipe on hand at all times. Not only can it be made ahead of time, but the chicken can be stored in the fridge and used in all of your meals throughout the week!
We've all had those days where we've forgotten to take the chicken out of the freezer for dinner. Thankfully, one of the best features of making shredded chicken in a pressure cooker is that it can be made with frozen chicken!
The result is so flavorful and moist, plus the tender meat will soak up any seasonings you throw at it.
I love using my shredded chicken in a pot of Chicken Noodle Soup or as the main protein in these Chicken Larb Lettuce Wraps, Chicken Tacos or Air Fryer Quesadillas.
Serve it in the summer months dressed in a hefty pour of Homemade BBQ Sauce or feel free to add it to salads, tacos, or even to replace the beef in this hearty Enchilada Dip.
Check out these 30+ recipes that use leftover chicken.
The possibilities are truly endless and this recipe is made with basic ingredients that you probably already have on hand!
Ingredients Needed
Boneless Skinless Chicken Breasts – Fresh or frozen. I used 4 large chicken breasts.
Bone Broth – Or, chicken broth.
Spices – Salt, pepper, smoked paprika, garlic powder.
How to Make It
Begin by placing the chicken breasts in the Instant Pot.
Sprinkle the seasonings over top and pour in the chicken or bone broth.
Cook on MANUAL high pressure for a 13 minutes and let the pressure release naturally once the chicken is finished cooking.
Release the remaining pressure with a quick release.
Transfer the cooked chicken breasts to a bowl and shred the meat with 2 forks. Alternatively, you can use a stand mixer with the paddle attachment (see below).
Serve the chicken hot or store it away for later.
Using Frozen Chicken Breasts
Using frozen chicken? Just add 3 extra minutes to the total cook time. So, your chicken breasts will cook for 16 minutes.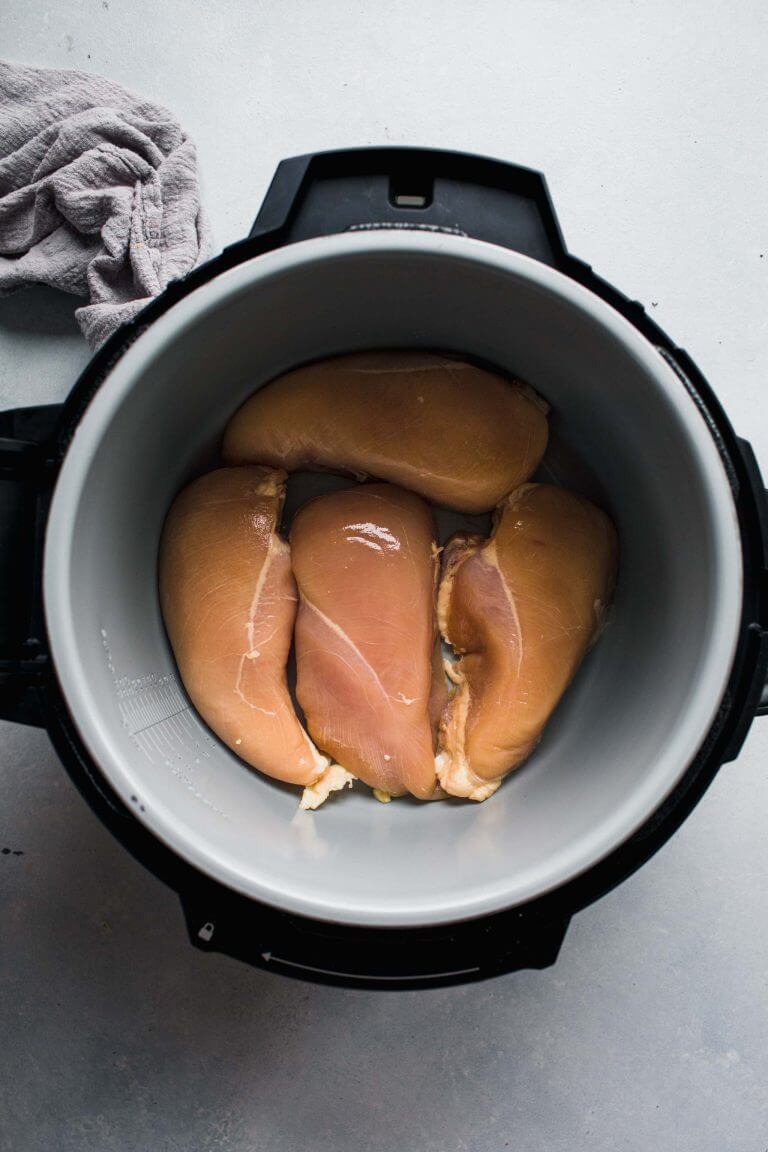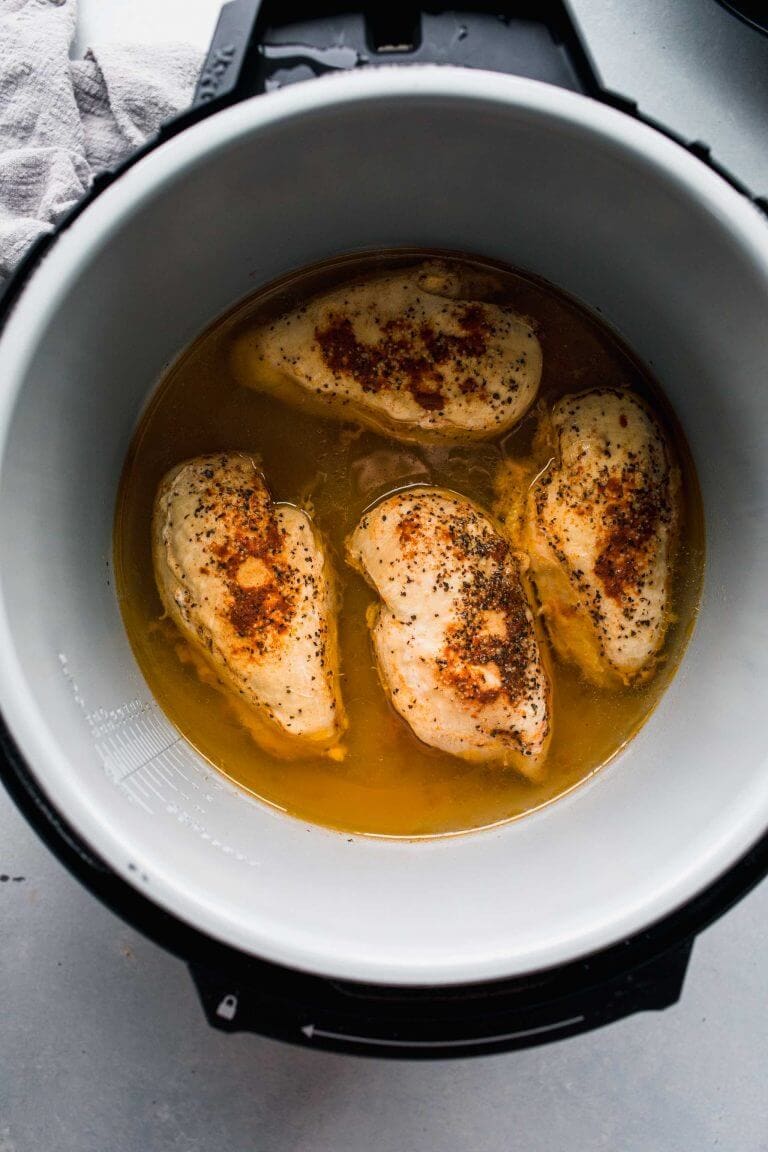 EASY Shredding Tip: Use Your Stand Mixer
The easy method of adding the cooked chicken to the bowl of a stand mixer will give you perfectly shredded chicken without lifting a finger. Use the paddle attachment and start off slow. Gradually increase the speed until you end up with a bowl of finely shredded chicken.
If you don't have a standing mixer, a handheld electric mixer will work just as well. Just work with 1 or 2 chicken breasts at a time.
Recipe Tips & Variations
Reserve the juices leftover in the Instant Pot. This broth can be stored in the fridge or freezer and used in soups or stews, and reheated with the shredded chicken to give it some extra moisture.
Make this recipe with chicken thighs instead. The thighs contain more fat, meaning you'll end up with more flavorful and tender meat. Just make sure you use boneless, skinless thighs.
For the most flavor and to prevent a burn notice on the Instant Pot, pressure cook the chicken in chicken broth or bone broth. Not only will this infuse tons of flavor, but will also add a healthy boost of collagen.
If you don't have any broth or stock, you can use plain water instead.
A simple seasoning mix of salt, pepper, garlic powder, and paprika will mildly flavor the chicken so you can use it in a variety of recipes. If you plan on using the chicken for a specific dish, replace these with a complementary seasonings mix (like cajun seasoning, Italian seasoning, or taco seasoning).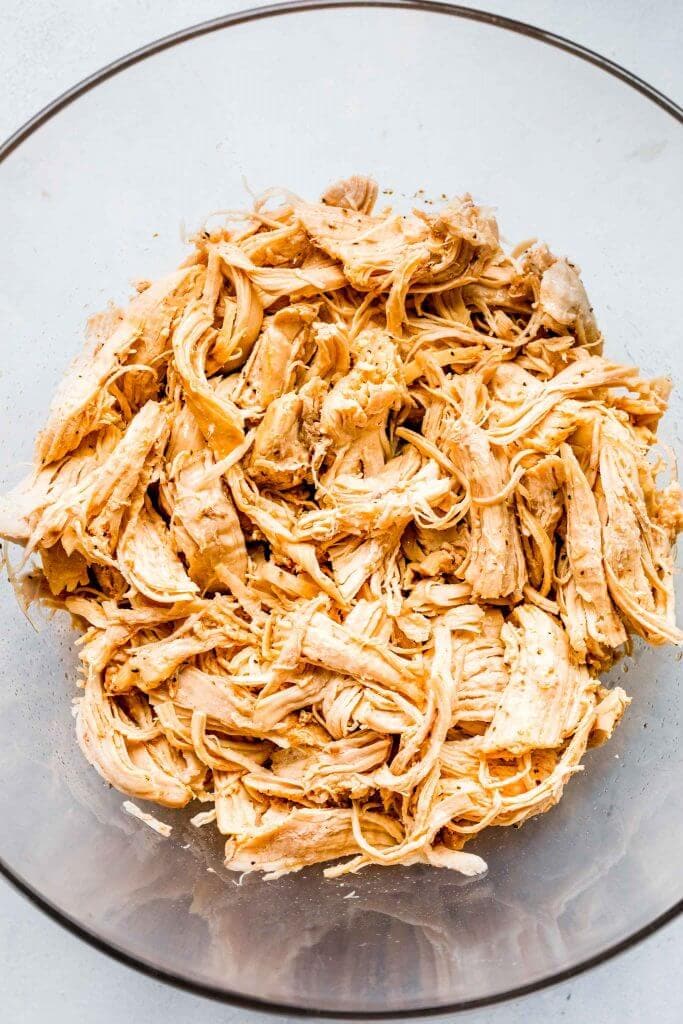 Recipe FAQs
Why is my instant pot shredded chicken rubbery?
Be sure to let the pressure in the instant pot release naturally (instead of turning the valve and doing a "quick pressure release"). This will ensure that your chicken remains moist and not rubbery.
Is it ok to stack chicken in the instant pot?
It's generally not recommended to stack chicken in the Instant Pot. The reason is that stacking chicken can prevent it from cooking evenly, which can result in some parts of the chicken being overcooked while other parts are undercooked.
To ensure that your chicken cooks evenly, it's best to arrange the chicken in a single layer at the bottom of the pot. If you have a lot of chicken to cook, you can cook it in batches, or use a steamer basket to layer the chicken without stacking it directly on top of each other. A steamer basket can help the steam to circulate around the chicken, allowing it to cook more evenly.
What's the difference between shredded chicken and pulled chicken?
The texture of shredded chicken is typically finer and more uniform than pulled chicken, and it is often used in recipes like tacos, soups, and salads. The texture of pulled chicken is usually a bit chunkier and more irregular than shredded chicken, and it is often used in recipes like barbecue sandwiches or chicken sliders.
Dinners to Make with Shredded Chicken
The options are truly endless when it comes to using your homemade shredded chicken. Whether you drown it in barbecue sauce for a BBQ chicken sandwich, add it to nachos with Homemade Baked Tortilla Chips, or include it in your main entree with a drizzle of Lemon Butter Sauce, the chicken will transform your meal into a hearty treat.
Here are some more ideas on how to use up the chicken:
How to Make Ahead & Store
Storing: Cooled shredded chicken can be stored in a tightly sealed airtight container in the fridge for up to 5 days.
Freezing: Shredded chicken is best frozen in small portions of about 1-2 cups. Each portion can be frozen in an airtight container or sealed freezer bags with as much air removed as possible for 3 to 4 months. Let it thaw in the refrigerator overnight before using.
Reheating: Heat the chicken in the microwave or by placing it in a skillet over medium heat with some of the reserved chicken broth and stirring until it's warmed through.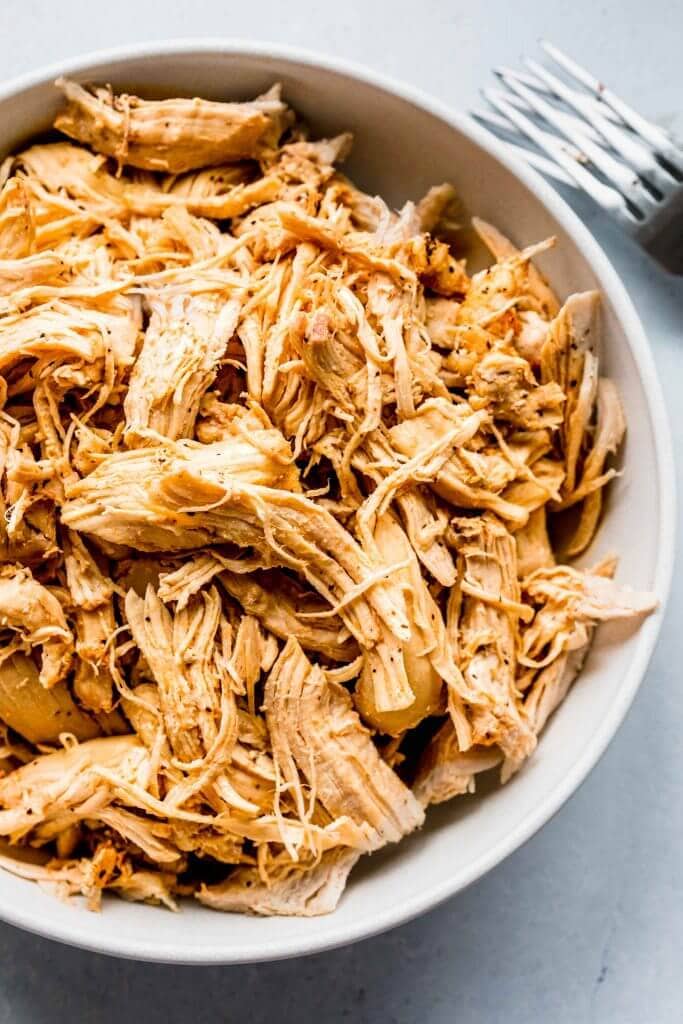 More Instant Pot Recipes
More Chicken Guides
Did you try this instant pot seasoned shredded chicken?
If you loved this chicken I would appreciate it so much if you would give this recipe a star review! Also, be sure to snap a picture of your finished dish and share it with me on Instagram using the hashtag #platingsandpairings and tagging me @platingsandpairings.
For more great Platings and Pairings recipes, be sure to follow me on Instagram, TikTok, Pinterest and Facebook.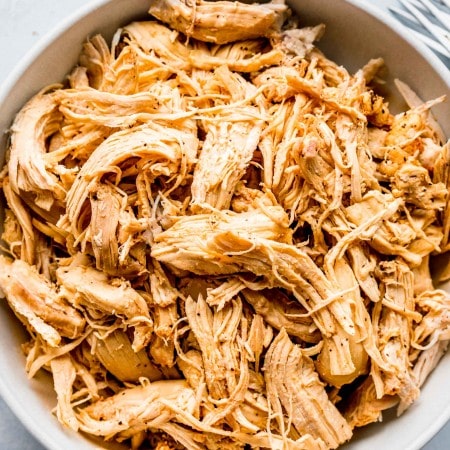 Easy Instant Pot Shredded Chicken Recipe
Learn how to make Instant Pot Shredded Chicken for a moist, flavorful, and tender protein you can use in lunches, dinners, and more. It's the best meal prep secret you can make with fresh or frozen chicken!
Print
Pin
Ingredients
3

Pounds

Chicken Breasts

(Fresh or Frozen (about 4 large breasts))

1 ½

cups

bone broth

(or chicken broth)
Instructions
Add the chicken breasts to the instant pot. Sprinkle the seasonings on top of the chicken, then pour in the broth.

Cover and seal the lid, and turn the vent to sealing. Press the MANUAL (high pressure) button and set the timer to 13 minutes (16 minutes for frozen chicken). It will take about 10 minutes for Instant Pot to come to full pressure, then the display will show a countdown timer.

Once the time is up, allow the pressure to release naturally for 10 minutes, then release any remaining pressure.

Shred the chicken using two forks, or a stand mixer.

Use immediately or store, tightly sealed, in the refrigerator for up to 5 days, or in the freezer for up to 3 months.
Nutrition
Calories:
263
kcal
|
Carbohydrates:
1
g
|
Protein:
48
g
|
Fat:
6
g
|
Saturated Fat:
1
g
|
Trans Fat:
1
g
|
Cholesterol:
145
mg
|
Sodium:
866
mg
|
Potassium:
895
mg
|
Fiber:
1
g
|
Sugar:
1
g
|
Vitamin A:
152
IU
|
Vitamin C:
7
mg
|
Calcium:
16
mg
|
Iron:
1
mg
Check out the web story here.
This post was originally published in 2021. It was updated in 2023 to add new content. The pressure cooker shredded chicken recipe remains the same. Enjoy!