Learn how to make the perfect Instant Pot Chicken Breasts & Gravy with these simple tips that will flavor your chicken from the inside out. These are the most flavorful and juicy pressure cooker chicken breasts.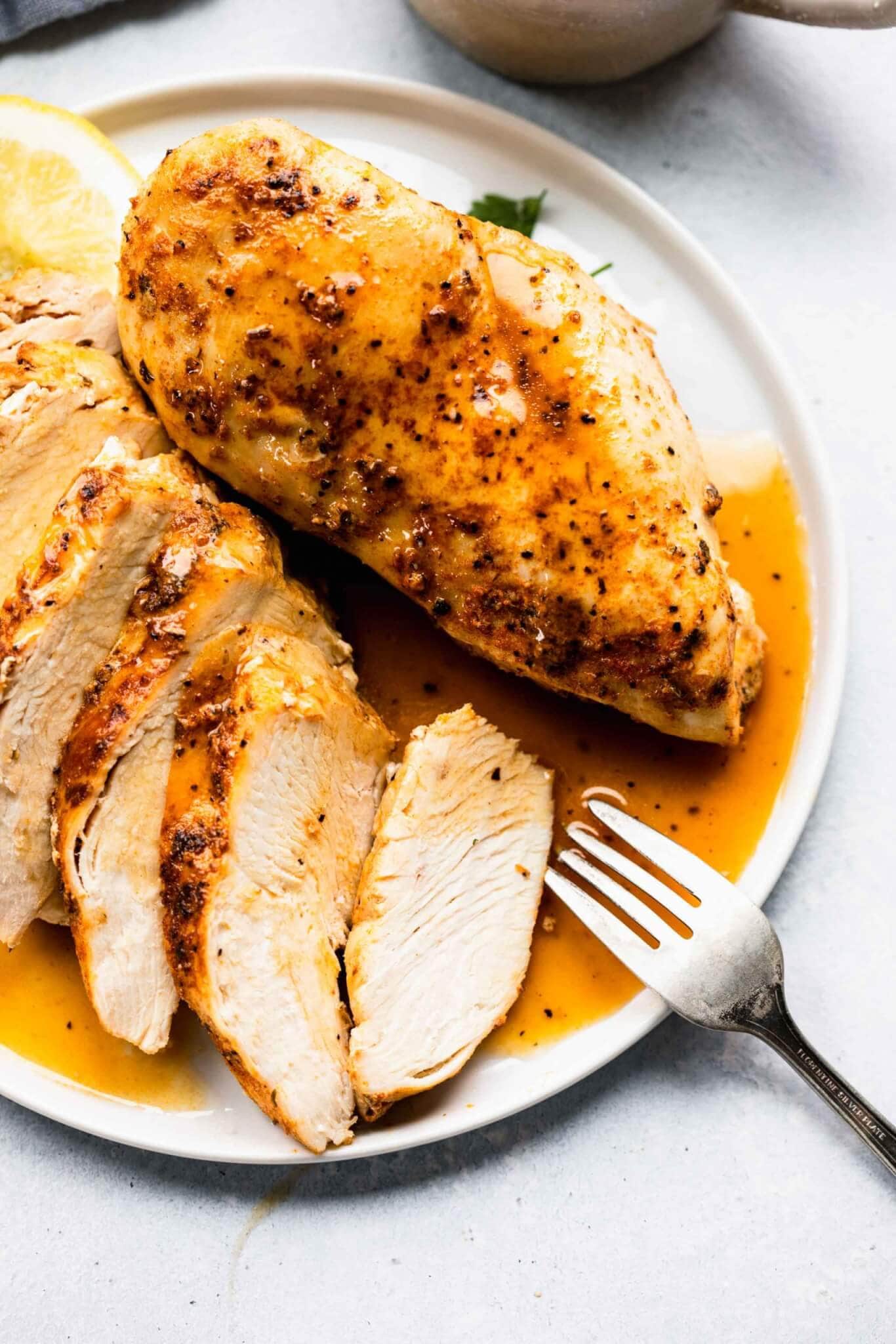 With the help of your electric pressure cooker, you can have these amazingly flavorful and juicy chicken breasts on the dinner table – and there's even some gravy to top it all off!
My game plan for making these Instant Pot Chicken Breasts extra delicious? Flavor them right from the get go. I like to rub them with lots of yummy spices – oregano, cumin, paprika – and then brown them on both sides using the SAUTE setting. The spices (especially the paprika) and that browning step really give these chicken breasts that beautiful color. If you skipped these steps, your chicken breasts would basically look liked boiled chicken – they would still taste good, but would totally be lacking that golden color. You can definitely skip the browning step if you're making shredded chicken (see below), but I like to get those flavors going from the start.
Another way I'm making my Instant Pot Chicken Breasts extra flavorful is by cooking them with beer. Filling the pot with a cup of pilsner or lager really gives them a great flavor, it also makes some pretty amazing gravy. However, if you'd prefer not to use alcohol, you can also use water. I've also read that pineapple juice makes a great cooking liquid, however I'm guessing that would make for some pretty strange tasting gravy at the end if you're going that route.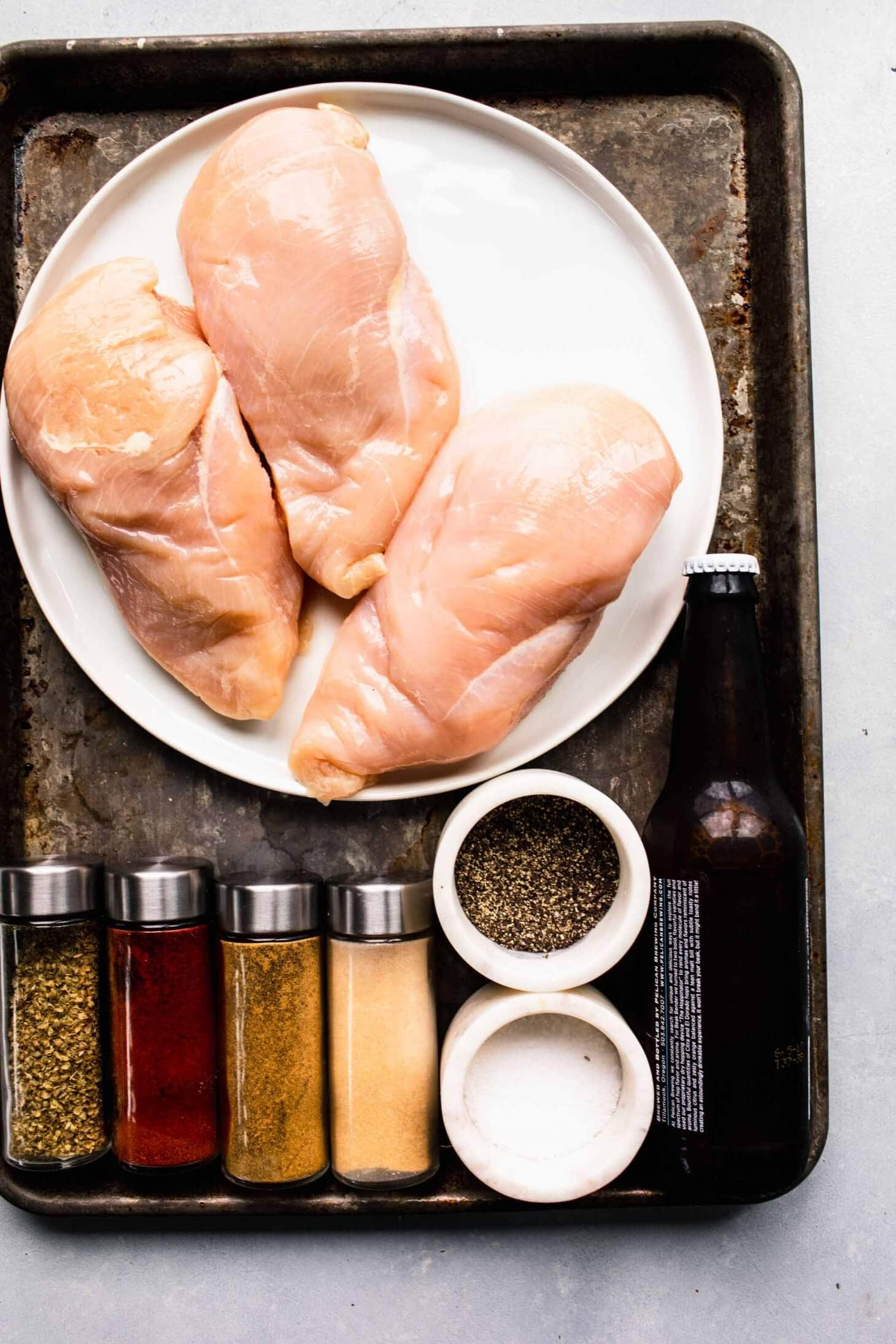 And, although I love to eat these Instant Pot Chicken Breasts for dinner, with that golden, delicious gravy spooned on top, I also love to just leave them plain, and use them for meal prep. I'll cube up the chicken breasts and add them to salads and grain bowls throughout the week. It's such an easy way to sneak in a bit of protein.
Here are some uses for your Instant Pot Chicken Breasts:
Can I cook frozen chicken breasts in the Instant Pot?
You can definitely cook frozen chicken breasts in the Instant Pot. The cooking time remains the same, but it will take longer for the pressure to build in the Instant Pot, about 15 minutes vs. 10 minutes.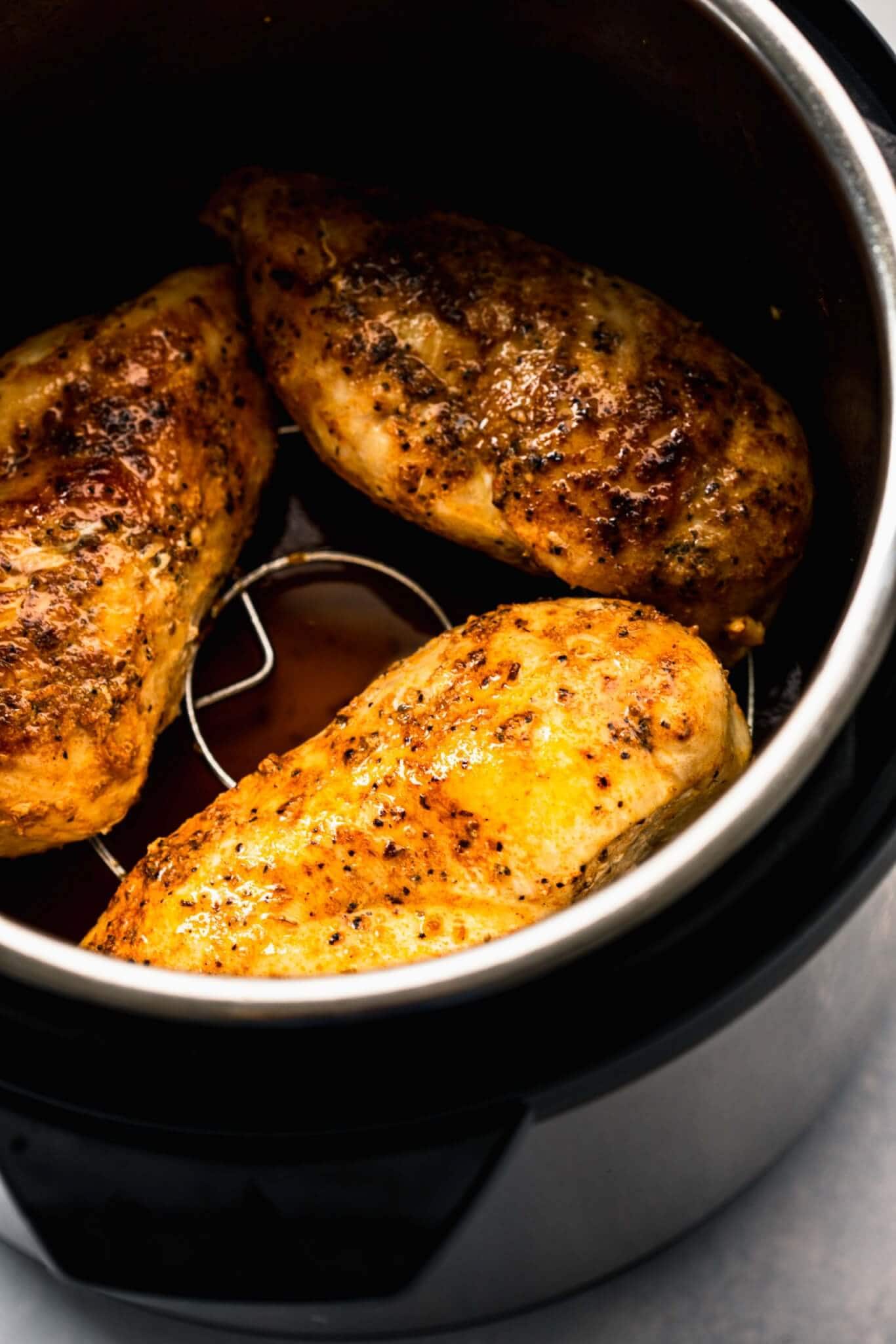 How do I make gravy in the Instant Pot?
Making gravy in the Instant Pot is super simple! Once you've removed the chicken breasts from the pot, hit CANCEL and then press the SAUTE button. Bring those yummy cooking liquids up to a simmer while you make a slurry of water and cornstarch. Add that to the pot and let it thicken up the gravy – it will take about 3-5 minutes, depending on how thick you like it.
Can I make shredded chicken in the Instant Pot?
Yep! To make shredded chicken in the Instant Pot, increase the cooking time to 10 minutes (vs. 5 minutes). You can skip the gravy step in this recipe. Instead, add the chicken to a large bowl with 1/2 cup of the cooking liquid and shred with two forks. Or, use the paddle attachment of your mixer to shred the chicken.
Serve these Instant Pot Chicken Breasts alongside your favorite vegetable side dish (try this roasted broccoli or a miso roasted cauliflower) and mashed potatoes and you're set!
Wine pairings for chicken:
A Viognier or unoaked Chardonnay would pair nicely with these chicken breasts.
If you would like to go the red route, I'd suggest a Pinot Noir, or other light bodied red. Avoid hard, oaky tannic reds and they can overwhelm the delicate flavors of the chicken.
If you loved this recipe for Instant Pot Chicken Breasts I would appreciate it so much if you would give this recipe a star review! Also, be sure to snap a picture of your "plating and pairing" and share it with me on Instagram using the hashtag #platingsandpairings and tagging me @platingsandpairings.