This delicious German Potato Salad combines tender potatoes with a warm bacon-mustard vinaigrette dressing. It's tangy, creamy and the perfect side dish for the summer grilling season. 
When it's sunny and warm outside, the last place I want to be is in the kitchen. Instead, give me a patio chair and a glass of rose. That's why this simple potato salad recipe is on regular rotation at our house lately. 
Made with just a handful of ingredients, that you may have on hand already, it comes together in about 20 minutes. And because this potato salad is served warm, there's no waiting for your potatoes to cool after cooking. In fact, dressing those potatoes while they're warm helps them absorb even more of the delicious, tangy bacon vinaigrette dressing that we're tossing them with. 
This simple potato salad is the perfect accompaniment to your favorite BBQ dishes – from grilled sausages, to burgers, chicken breasts or pork tenderloin. The tangy vinaigrette is the perfect match for smoky fare. It's similar to my Grilled Potato Salad, but it's a bit more rich with the bacon that's running through it. 
How to Make German Potato Salad: 
Boil potatoes

. Cover with water and bring to a boil, cook until just tender, 10-15 minutes drain. 

Peel the potatoes (optional) then slice or dice

into bite sized pieces. 

Make bacon vinaigrette

. Fry bacon until crisp, remove to drain, leaving some bacon fat in pan. Saute onion then add in vinegar, mustard, sugar, salt & pepper. 

Toss potatoes with vinaigrette

, bacon, celery and parsley. 

Serve

. 
To make these potatoes, add them to the cold water then bring your pot to a boil. They'll cook faster that way. 
Once the potatoes are cooked, I like to let them cool a bit and then either use my fingers or a paring knife to peel them. And while those potatoes are cooking and cooling, it's the perfect time to start the bacon vinaigrette. 
Fry up some bacon, then add in some minced onion, vinegar, mustard, sugar, salt and pepper. 
Here's a tip on dicing those onions. First, use a good sharp knife. I like to use the Santoku knife from my Calphalon Contemporary™ SharpIN™ Nonstick Cutlery Set. It has a nonstick coating that keeps food from sticking to the knife. And, with a knife block with SharpIN ceramic self-sharpening technology inside the slots sharpens the blade every time you remove and replace a knife
Start by halving and peeling the onion. Then, using your knife, make lengthwise slits into the onion, without slicing all the way through. Then cut at a right angle to those slits. You'll be left with perfectly minced onions in the easiest way possible.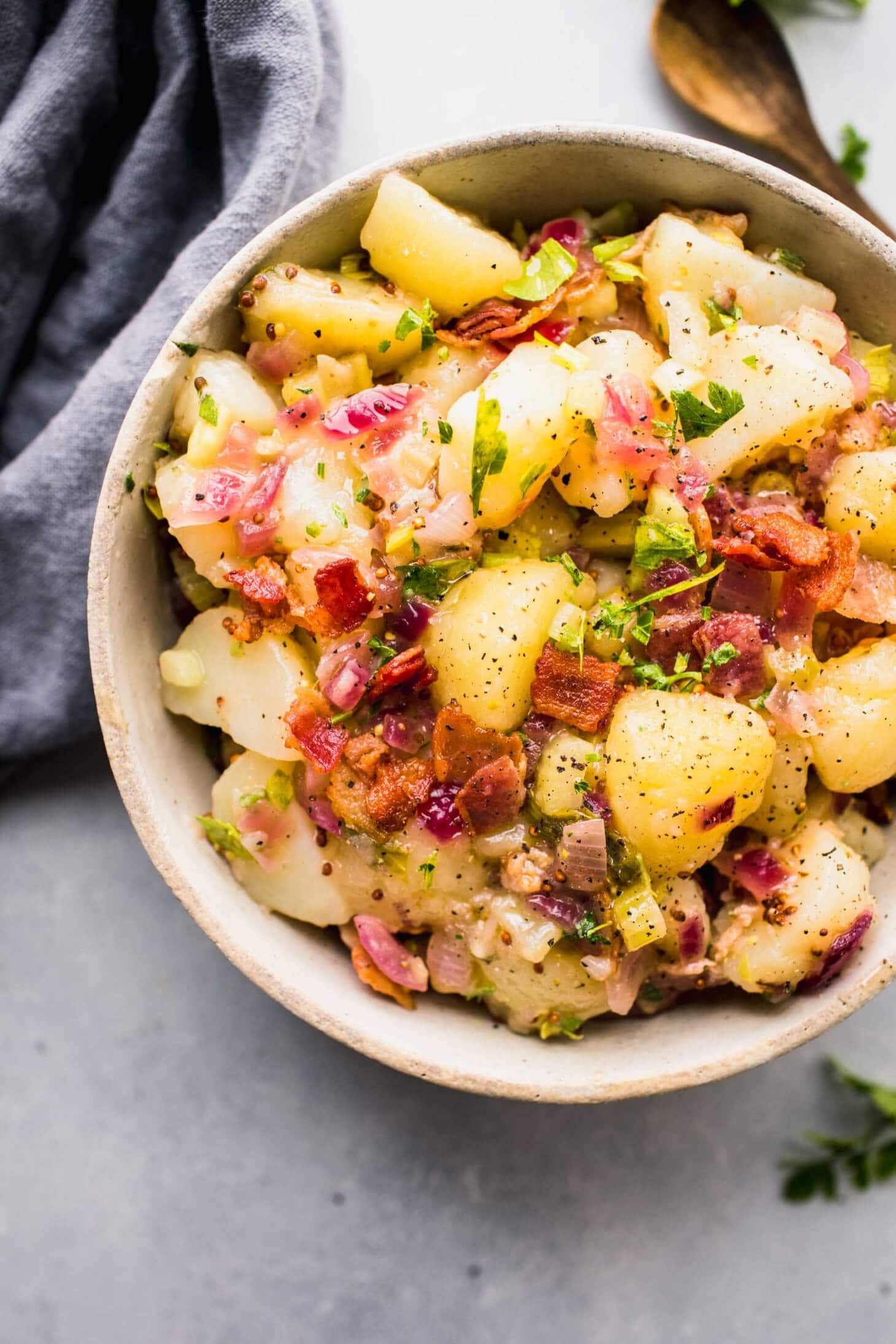 Can German Potato Salad be Made Ahead of Time? 
It can be made ahead of time, though the bacon will lose its crispness. One option is to boil the potatoes beforehand, then just before serving make the bacon vinaigrette and toss everything together. Cold potatoes won't absorb as much of the dressing, though it will still be delicious. 
How Long Does German Potato Salad Last in the Refrigerator? 
It will last 3-4 days in the refrigerator, stored tightly sealed. 
Is German Potato Salad Served Warm or Cold? 
Typically German Potato Salad is served warm. However, it can also be served cold or at room temperature. 
German Potato Salad Variations: 
Swap in chicken broth for the water when reducing the bacon dressing. 

Add in pickles for a briny crunch. 

Swap out the parsley for chives or dill. 
What Does German Potato Salad Go With? 
Salad Recipes: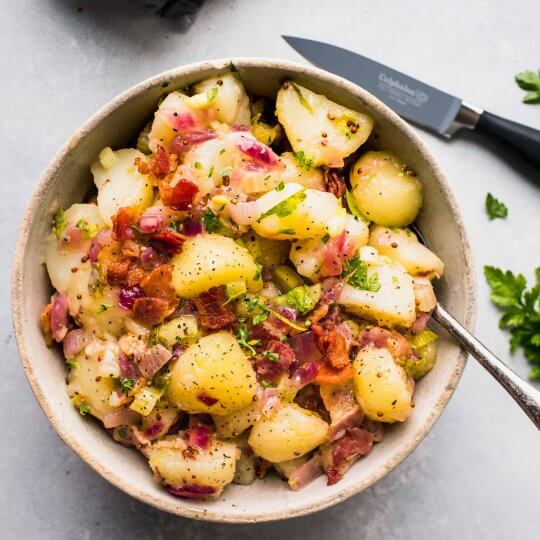 German Potato Salad Recipe
This delicious German Potato Salad combines tender potatoes with a warm bacon-mustard vinaigrette dressing. It's tangy, creamy and the perfect side dish for the summer grilling season. 
Print
Pin
Ingredients
2

pounds

medium red potatoes

4

strips bacon

(cut into ½" pieces)

1

red onion

(diced)

½

cup

minced celery

(including some leaves)

1/3

cup

cider vinegar

1 ½

Tablespoons

coarse or stoneground German style mustard

½

teaspoon

sugar

½

teaspoon

salt

¼

teaspoon

black pepper

¼

cup

chopped parsley
Instructions
Place potatoes in a large pot and cover with water by 2 inches .Season the water generously with salt. Bring to a boil and cook for 10-15 minutes, until just tender. Drain.

While the potatoes are still warm, peel and slice, or cube them, into a large serving bowl.

Meanwhile, cook the sliced bacon in a large skillet over medium heat until browned, about 5-6 minutes stirring occasionally. Transfer the bacon to a plate topped with paper towels to drain. Pour out all but 2 tablespoons bacon fat from the pan.

Add the onion to the bacon fat. Season with a pinch of salt and cook for about 3-4 minutes, until softened.

Stir in 1/4 cup water, vinegar, mustard, sugar, salt and pepper.

Bring to a boil and pour over potatoes. Toss to coat. Add the bacon, celery and parsley. Season with additional salt and pepper, to taste. Serve warm or at room temperature.
Nutrition
Calories:
181
kcal
|
Carbohydrates:
27
g
|
Protein:
5
g
|
Fat:
6
g
|
Saturated Fat:
2
g
|
Cholesterol:
10
mg
|
Sodium:
328
mg
|
Potassium:
789
mg
|
Fiber:
3
g
|
Sugar:
3
g
|
Vitamin A:
259
IU
|
Vitamin C:
18
mg
|
Calcium:
26
mg
|
Iron:
1
mg