Pad Kee Mao is a traditional Thai dish with ground pork, wide rice noodles and plenty of fresh basil. Doused in a sauce typical of thai cuisine which is perfectly balanced with heat, tanginess and sweetness – Coming from thai chiles, rice wine vinegar and sweet soy sauce.
I didn't grow up eating Thai food. In the small town of Jamestown, NY, where I spent my teenage years, we didn't even have a thai restaurant. We had one chinese buffet in town, and that was about as exotic as it got for me back then – My favorites were beef & broccoli or fried rice. I grew up in a large Italian family and my Nana and Nanu did the majority of the cooking – We'd have massive Sunday night dinners consisting of gravy, carduni, and cannolis. Such amazing food but basically the same thing week after week. You know what though? I never got bored of their delicious cooking…
After graduating high school, I moved from the east coast to the west coast, attending the University of Oregon. It was during that time that my ethnic food experiences increased quite a bit. College towns always seem to have an amazing variety of food. I still ate my fair share of Taco Bell (89-cent bean burritos can't be beat on a college student budget!). But, I also had my first tastes of sushi, pad thai and falafel. My dad introduced me to sushi with a bang – ordering a wide selection of items to sample, from the basic California roll (which I loved) to uni (sea urchin). When the uni arrived at our table, my dad (the biologist) had to check it out and determine which part of the urchin we were actually eating. After close examination, he exclaimed "You know what?! This is the gonads – We're eating the sea urchin gonads." Ummm…. Thanks pop…  Still to this day, I never order uni in a sushi restaurant. Never will.
Let's get back to this dish – Also known as thai drunken noodles, Pad Kee Mao doesn't actually have any alcohol in it. No one actually knows the true origin of the name. However, in the thai language, khi mao means drunkard. It's believed that after a full day of drinking, thai men would come home and enjoy this dish, believing that the noodles would draw some of the alcohol out of their systems and help with hangovers in the morning. Another theory is that you would need to be drunk to enjoy this dish, as it is so spicy, the only way that you can handle the heat is to be numbed a bit from the alcohol.
Wherever the name drunken noodles comes from, I'm just here to tell you that they are super yummy. The ingredients can be a bit difficult to find. You may need to make a stop at the Asian market to find the wide rice noodles, sweet soy sauce and thai basil. But, if you don't have an Asian market near you, feel free to do some improvising.
I was able to pick up most of the ingredients, including the thai basil and sweet soy sauce at our local grocery store. The only thing I wasn't able to find was the wide rice noodles, so instead, I just swapped in some thinner cut rice noodles. You could also use regular pasta in place of the rice noodles – Cook it just short of al dente and add it in the same manner provided in the recipe. And, if you're not able to find the sweet soy sauce, you can use regular soy sauce with a pinch of brown sugar. The taste will be a tad different, but still super yummy.
One word of warning: This drunken noodles recipe is VERY SPICY. To cut back on the heat a bit, use only the three chiles that are chopped with the garlic. You can skip the additional two which are sprinkled on top of the Pad Kee Mao after cooking. And, here's a tip for you: Use a potato masher to break up the pork as it browns. It works extremely well.
To pair with this delightfully spicy, tangy, salty Pad Kee Mao, I chose a bottle of dry Rosé. With a mouthwatering acidity and hint of grapefruit, it was the perfect pairing with the lime juice that's squeezed over the finished noodles and it balanced out the saltiness of the Pad Kee Mao perfectly.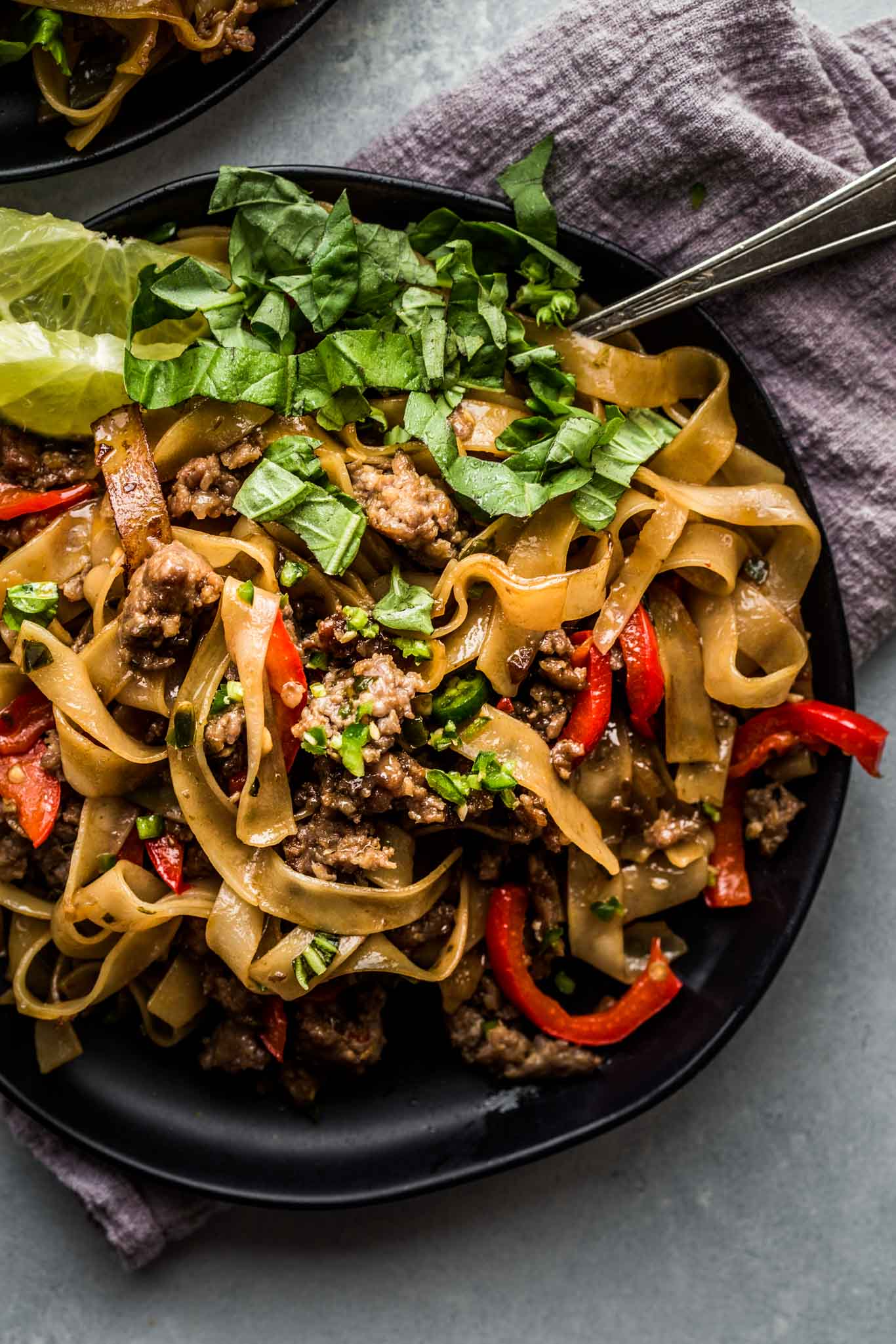 Drunken Noodles Recipe
Pad Kee Mao (Drunken Noodles)
Pad Kee Mao is a traditional Thai dish with ground pork, wide rice noodles and plenty of fresh basil. Doused in a sauce typical of thai cuisine which is perfectly balanced with heat, tanginess and sweetness – Coming from thai chiles, rice wine vinegar and sweet soy sauce.

Print
Pin
Ingredients
4

Tablespoons

fish sauce

3

Tablespoons

sweet soy sauce

2

teaspoons

rice vinegar

6

cloves

garlic

5

serrano peppers

(or thai chiles)

3

Tablespoons

vegetable oil

½

large

onion

(thinly sliced)

1

pound

ground pork

1

red bell pepper

(sliced)

12

ounces

wide rice noodles

2

handfuls

Thai basil (or regular basil)

(roughly torn)

1/2

lime

(juiced)

Lime wedges

(for serving)
Instructions
Soak the rice noodles in warm tap water for 30 minutes to an hour.

Stir together the fish sauce, soy sauce and vinegar, and set aside.

Roughly chop the garlic and 3 of the chilies together. Chop the other two chilies, and set aside.

Preheat a wok or large skillet over medium-high heat; when hot, add the oil, the garlic/chile mixture and the onion. Cook, stirring constantly, until the garlic releases its fragrance, about 30 seconds. Add the pork and a splash of the sauce. Cook, breaking up the meat with a wooden spoon or potato masher, until the pork is cooked through, about 5 minutes.

Drain the noodles and add them with the bell peppers to the pan. Increase the heat to high, and add the sauce. Cook, tossing everything together and separating the noodles, until all ingredients are coated with the sauce and it thickens slightly.

Toss in the basil, lime juice and the additional two chiles. Serve immediately with a side of lime wedges.
Nutrition
Calories:
787
kcal
|
Carbohydrates:
90
g
|
Protein:
23
g
|
Fat:
35
g
|
Saturated Fat:
17
g
|
Cholesterol:
81
mg
|
Sodium:
1878
mg
|
Potassium:
533
mg
|
Fiber:
2
g
|
Sugar:
13
g
|
Vitamin A:
1055
IU
|
Vitamin C:
47.4
mg
|
Calcium:
54
mg
|
Iron:
2.1
mg
If you loved this Pad Kee Mao recipe I would appreciate it so much if you would give it a star review! Also, be sure to snap a picture of your finished dish and share it with me on Instagram using the hashtag #platingsandpairings and tagging me @platingsandpairings.
Tips for making Pad Kee Mao at home:
Use a potato masher to break up the pork as it cooks.

If you're hosting a group, try serving this alongside a

thai beef salad

to make things stretch a bit.

To keep your basil fresh at home trim the ends and place them in a glass of water. Place a plastic bag over the top and keep it on your counter (not the refrigerator). It should last for nearly a week this way.
Wine Pairings for Pad Kee Mao:
Looking for more Thai food recipes? Be sure to try these too:
30-Minute Thai Beef Stir Fry with Basil & Chiles