Pesto Steak is the perfect summer meal. Marinated in a soy and honey mix and topped with creamy burrata and peppery arugula pesto, every bite of this grilled steak explodes with flavor!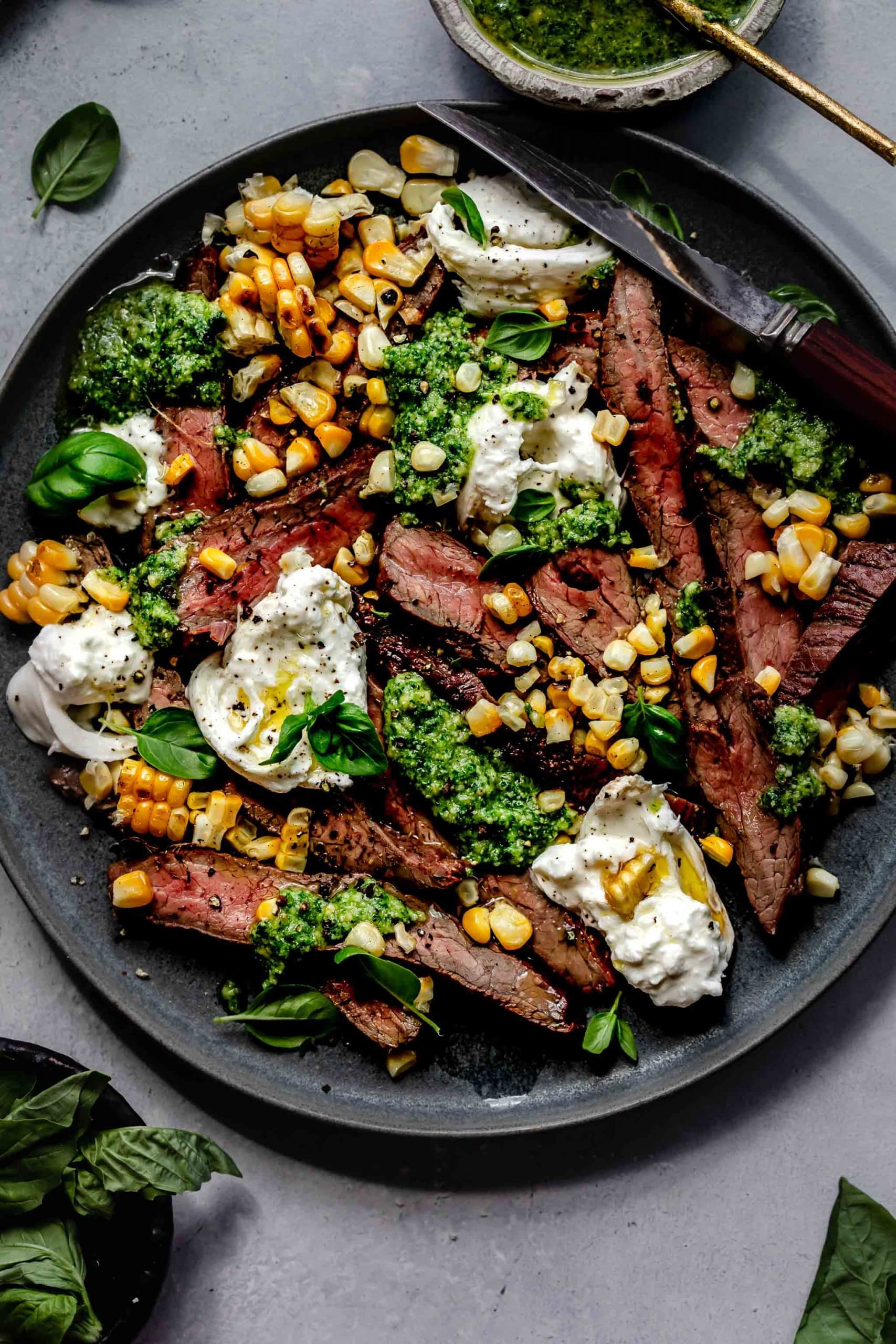 This Grilled Flank Steak with Burrata and Pesto has the decadent flavors of summer all on one plate. You won't be able to resist the gorgeous pops of green, slices of irresistible charred steak, and heavenly soft burrata!
This flank steak is marinated in a flavorful blend of sweet, savory, and tangy ingredients before it's grilled to tender and juicy perfection. To really make this summer meal special, I've topped the sliced steak with homemade Arugula Pesto and burrata cheese. All of the flavors come together beautifully and are sure to satisfy every summer lovers' palate.
Serve this tender grilled flank steak as the showstopper at barbecues and summer dinner parties. It's made even better with sweet grilled corn and a refreshing Paloma Cocktail on the side.
What is flank steak?
Flank steak is one of the best cuts of beef for grilling. It comes from the lower abdominal muscles of the cow and has lots of delicious beefy flavors, but it's also really tough to chew if left on its own. This is why a marinade is key when making flank steak.
Flank steak marinade
Flank steak is a naturally tough piece of meat, so it can really benefit from a great marinade to infuse flavor and help break down the proteins. There's almost always an acid in flank steak marinade to help tenderize the meat. I used red wine vinegar in this recipe, as well as soy sauce and honey to bring an umami flavor with a hint of sweetness.
I recommend letting the flank steak marinate for a minimum of 30 minutes because it's so tough. If you have more time, leave it for up to 24 hours for a truly delicious piece of grilled steak!
How to make pesto steak
Whisk the marinade ingredients together and pour it over the flank steak in a baking dish. Let sit in the fridge for 30 minutes or overnight.
While your grill is preheating, remove the marinated steak from the fridge and let it sit at room temperature for about 10 minutes. Place the room temperature steak on the grill and cook for 3 to 5 minutes per side for medium rare. Take it off the heat when it's done and let the steak rest for 5 minutes.
When you're ready to assemble, slice the flank steak against the grain. Top it with arugula pesto, grilled corn, and a dollop of burrata and serve hot.
How to make it in the oven
Cooking flank steak in the oven is a little more hands-off compared to a grill, and it means you can make this dish year-round:
To begin, preheat the oven on broil for 10 minutes and place the marinated steak on a sheet pan.
Cook for about 12 minutes, making sure to flip it at the 10-minute mark. This should give you a medium rare steak but you can always take it out sooner or leave it in longer to achieve your desired temperature.
Let the finished steak rest for 5 minutes, then slice against the grain and enjoy.
Tips and substitutions
If you can't find flank steak, skirt steak will also work well in this recipe.
Chimichurri sauce or mojo sauce can be used instead of pesto to top the steak.
Don't have an outdoor grill? Try using an indoor grill pan to cook the flank steak on high heat.
If you can't find fresh burrata, you can use fresh mozzarella or top the steak with crumbled feta or goat cheese.
What to serve with it
More meat recipes to try
Did you try this pesto steak recipe?
If you loved this steak and burrata I would appreciate it so much if you would give this recipe a ⭐️star review⭐️! Also, be sure to snap a picture of your finished dish and share it with me on Instagram using the hashtag #platingsandpairings and tagging me @platingsandpairings.
For more great Platings and Pairings recipes, be sure to follow me on Instagram, TikTok, Pinterest and Facebook.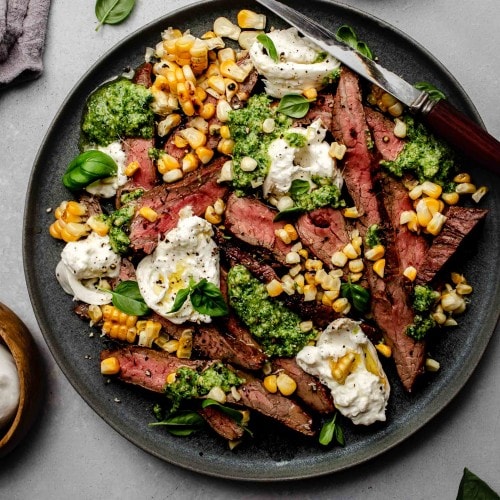 Pesto Steak
Pesto Steak is the perfect summer meal. Marinated in a soy and honey mix and topped with creamy burrata and peppery arugula pesto, every bite of this grilled flank steak explodes with flavor!
Print
Pin
Instructions
Whisk together the marinade ingredients and pour over the flank steak in a casserole dish or large ziploc bag. Let marinate 30 minutes, or up to overnight.

Meanwhile, preheat your grill to high heat.

While the grill is heating, make the pesto. Process arugula, basil, oil, parmesan, pine nuts, lemon zest, garlic and salt in a food processor or blender until finely chopped; season with pepper, to taste.

Add the corn and steak to the grill and cook the steak for 3-5 minutes per side for medium rare (132 degrees). Transfer to a cutting board and let rest 5 minutes. Cook the corn until charred in spots and tender (about 10 minutes).

Slice the steak against the grain and cut the corn kernels off the cobs.

Plate the steak with the burrata and grilled corn and top with arugula pesto. Enjoy!
Nutrition
Calories:
1084
kcal
|
Carbohydrates:
22
g
|
Protein:
49
g
|
Fat:
90
g
|
Saturated Fat:
18
g
|
Polyunsaturated Fat:
11
g
|
Monounsaturated Fat:
57
g
|
Cholesterol:
119
mg
|
Sodium:
1581
mg
|
Potassium:
762
mg
|
Fiber:
1
g
|
Sugar:
19
g
|
Vitamin A:
523
IU
|
Vitamin C:
5
mg
|
Calcium:
367
mg
|
Iron:
4
mg
Check out the web story here.
This post was originally published in 2021. It was updated in 2023 to add new information. The burrata steak recipe remains the same. Enjoy!