You'll never go back to store-bought steak seasoning after trying this Steak Dry Rub! Made from a handful of savory and smoky spices, the rub forms a beautiful crust while infusing your steak with mouthwatering flavors.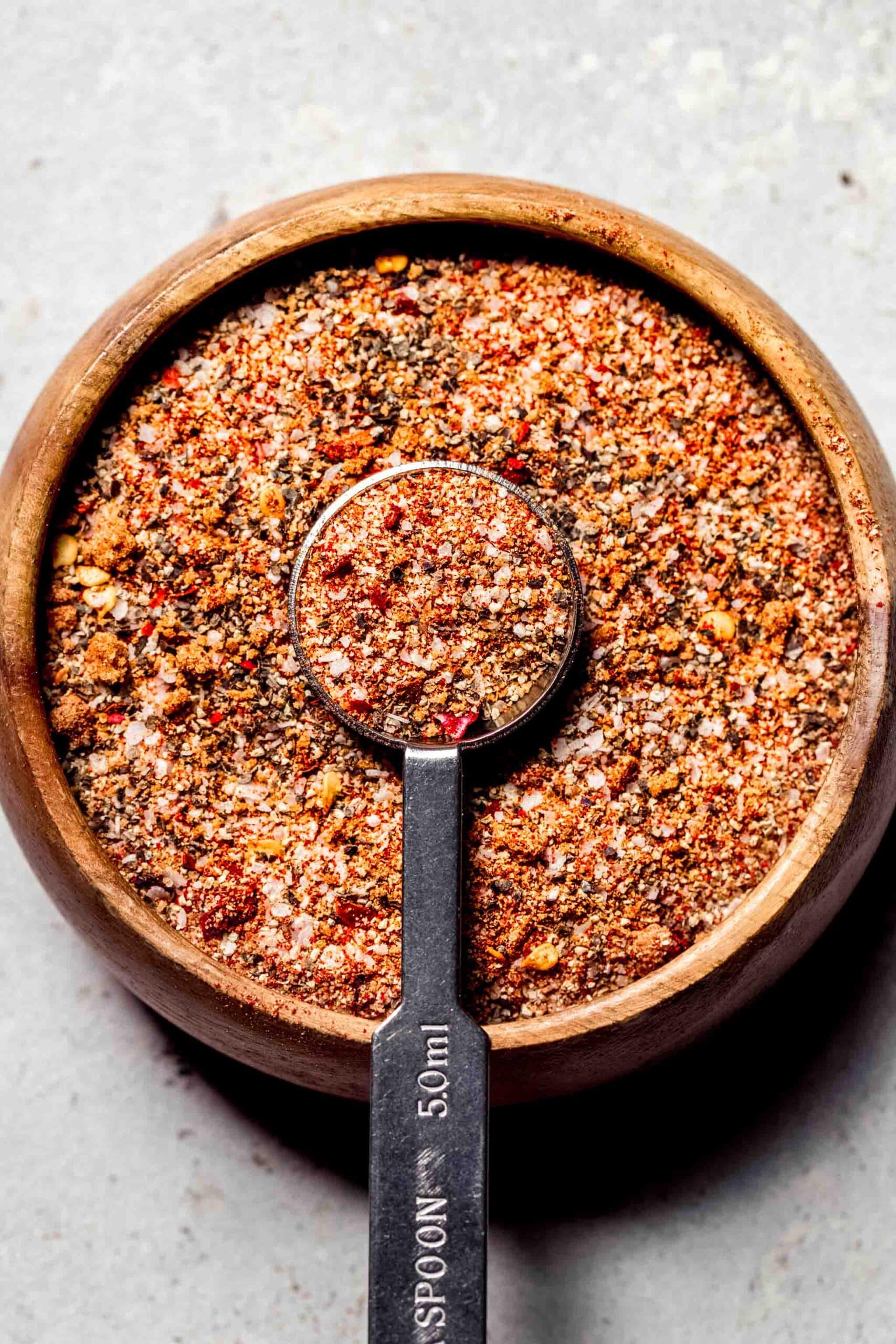 When you want to take your steak over the top, slather the meat with this Steak Dry Rub!
Like my dry rub recipes for brisket, tri tip and prime rib, this is a simple dry rub for steak that's easy to make using a hand-picked selection of warming, smoky spices, savory seasonings, and brown sugar.
With this steak dry rub recipe in your back pocket, you'll always end up with mouthwatering meat that's perfectly flavored!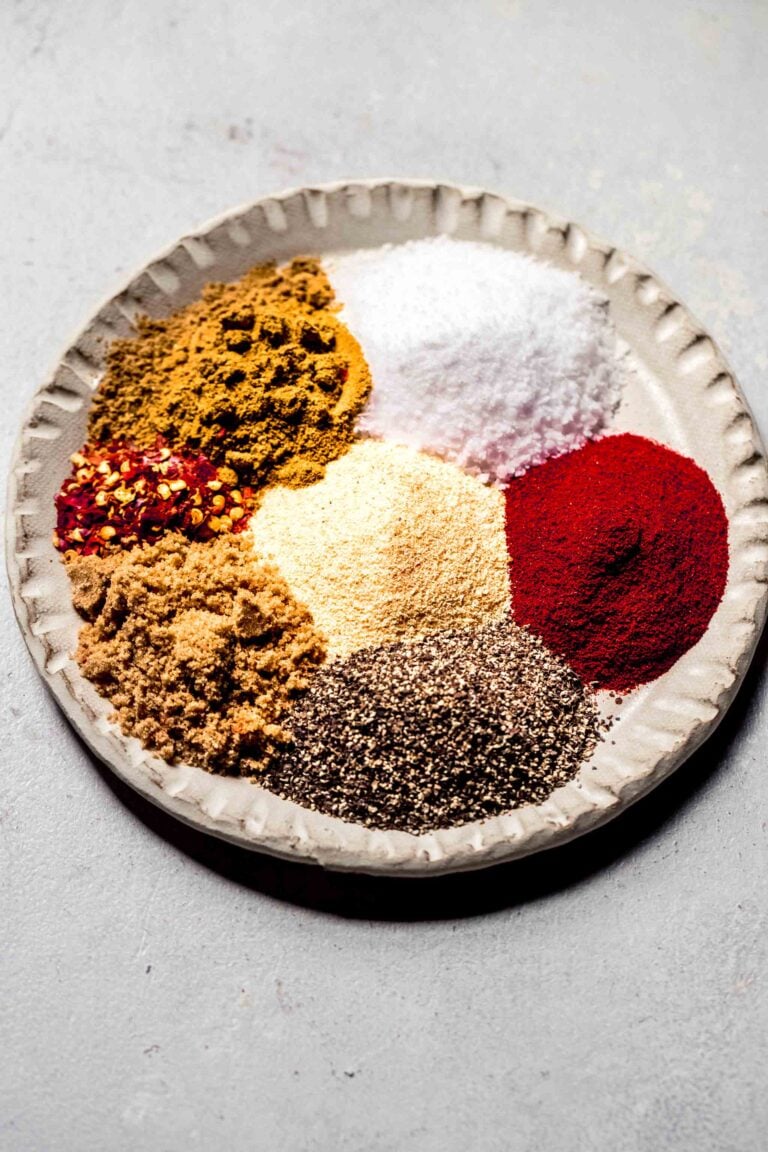 What is dry rub?
Dry rubs are just as easy to make at home as they are to find in a grocery store or deli. They're made from a mixture of various dried herbs, spices, and seasonings, then pressed into the surface of the meat before it's cooked. This spice blend adds flavor to the meat, as well as creates a delicious seared crust around the exterior.
Dry rub ingredients
Kosher salt and black pepper – Adding Kosher salt (or sea salt) to the dry rub will always give you the best results. Its large, coarse granules tenderize the meat fibers and make it easier for the juices to redistribute into the meat after cooking.
Garlic and onion powder – This aromatic duo gives the dry rub a distinct savory taste that compliments the beefy flavors.
Brown sugar – Similar to my smoked chicken wing rub, brown sugar adds a sweetness that balances out the otherwise savory and smoky spices. Also, as the sugar crystals melt, they form a crisp, caramelized crust around the steak.
Paprika and Cumin – For a balance of earthy, smoky, and warming flavors. 
How to make the best steak seasoning
All you need to do to make your own dry rub for steak is to whisk all of the ingredients together in a small bowl, and you're done!
You can use this simple steak rub right away or store it in an airtight container at room temperature for later. 
How to apply dry rub to steak
Once your dry rub is ready, generously sprinkle the dry rub evenly over the surface of the meat. Use your hands to gently massage and press the spices into the meat, ensuring the steak is evenly coated. 
Remember to let the seasoned steak rest on the counter for about 30 minutes before cooking. This gives it time to come down to room temperature and allows the spices to soak into the meat.
The best steaks for grilling
Filet Mignon
New York Strip Steak
Ribeye
Porterhouse
T-Bone
Top Sirloin
Tips and tricks
Use the highest-quality spices you can get your hands on. Grinding whole spices yourself will yield the boldest flavors!
Taste the seasoning blend as you go. You can make the rub more smoky, spicy, sweet, etc. by adjusting the quantities of the individual spices.
Don't be stingy with the dry rub! This recipe makes enough to encrust the entire surface of 4 medium sized steaks, plus you'll have more leftover.
FAQs
Should you rub steak with oil before applying dry rub?
It's typically not necessary to rub oil on meat before applying a dry rub because the rubs are designed to stick to the natural moisture on the meat's surface.
What other spices can be added to the dry rub for steak?
Feel free to add other common steak seasonings here, such as chipotle chili powder, ground mustard, red pepper flakes, ground cumin, rosemary, and thyme. 
How much of the dry rub should you use?
As a general rule, you'll want to apply enough dry rub to coat all sides evenly with a dense layer of seasoning. 1 to 1½ tablespoons of dry rub per pound of meat should be plenty. Or, in this case, expect to use approximately 3 to 4½ tablespoons for a 3-pound tri tip steak.
How long should the dry rub sit on a steak before cooking?
Steak should be left to rest for at least 30 minutes or up to 24 hours before cooking. 
If you plan on letting the seasoned steak rest for more than 30 minutes, lay it on a baking sheet and cover it with plastic. Store it in the fridge overnight, then let it come down to room temperature before cooking the next day.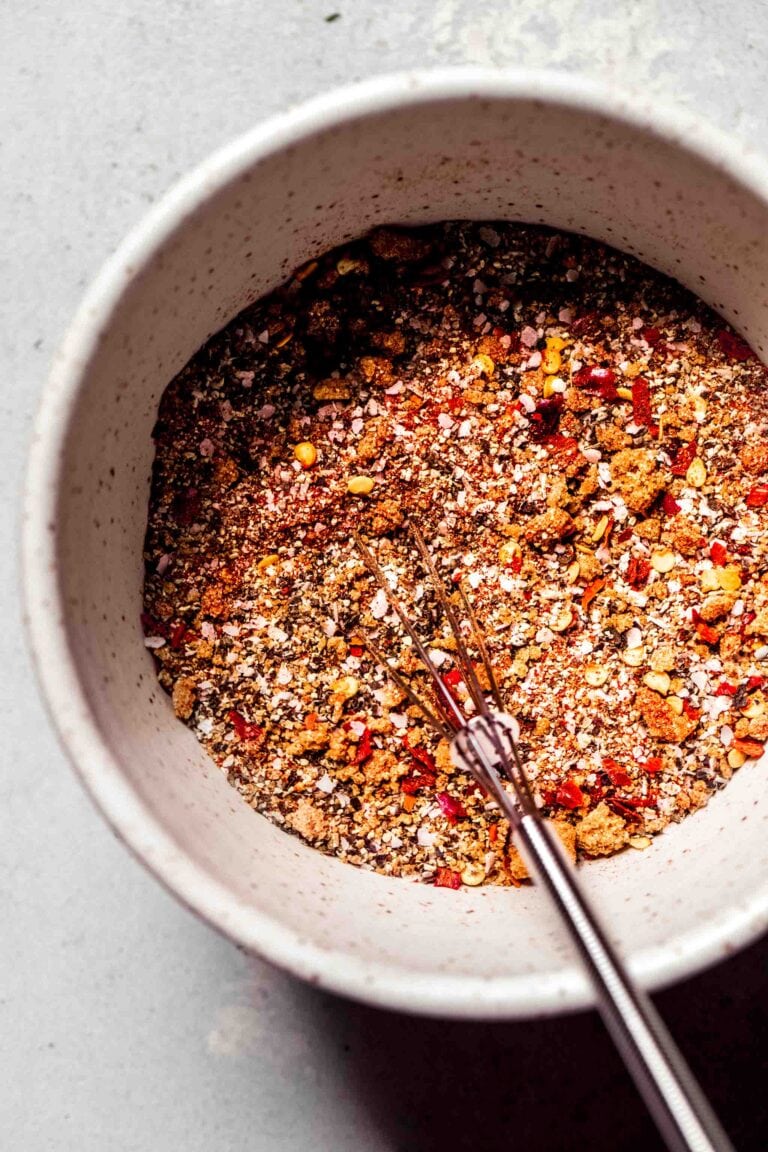 More ways to use this rub
While this dry rub is undoubtedly the best steak seasoning, you can also use it to season these proteins:
Storing
The steak seasoning blend will last up to 6 months when stored in an airtight container in your pantry or spice rack.
More dry rubs and seasonings
​​​​Did you make this steak dry rub?
If you loved this dry rub for steak, I would appreciate it if you gave it a ⭐️starred review⭐️! Also, be sure to snap a picture of your finished dish and share it with me on Instagram using the hashtag #platingsandpairings and tagging me @platingsandpairings.
For more great Platings and Pairings recipes, be sure to follow me on  Instagram, TikTok, Pinterest and Facebook.
Looking for the best ways to cook your seasoned steak? Try this Traeger Steak recipe or this Sous Vide Ribeye recipe.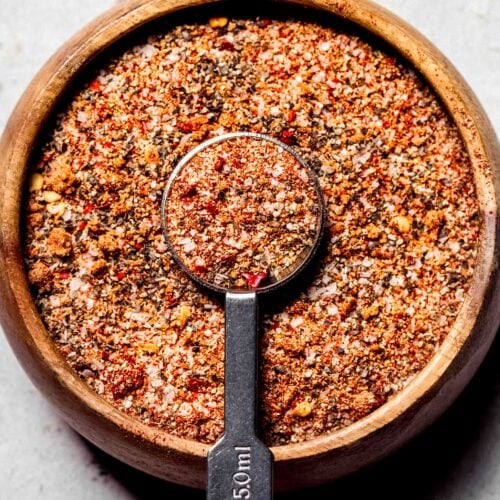 Ingredients
3

Tablespoons

kosher salt

2

Tablespoons

smoked paprika

2

Tablespoons

coarse black pepper

2

Tablespoons

garlic powder

1

Tablespoon

onion powder

1

Tablespoon

light brown sugar

1

Tablespoon

ground cumin

1

teaspoon

red pepper flakes

(optional)
Instructions
Stir all of the spices together in a small bowl. You can use the rub immediately, or keep it in an airtight jar in your pantry for later.

When it's time to apply the dry rub, pat the brisket dry with paper towels and sprinkle the spice mix all over the surface. Use your hands to massage the spices into the meat.

As a general guideline, 1 to 2 tablespoons of dry rub per pound of meat is a good starting point. Use as much as it takes to coat the entire surface generously.

Place the meat on the kitchen counter for about 30 minutes so it has time to come down to room temperature before cooking. This also gives the spices time to mingle with the meat, developing a more robust, mouthwatering flavor!
Nutrition
Calories:
48
kcal
|
Carbohydrates:
10
g
|
Protein:
2
g
|
Fat:
1
g
|
Saturated Fat:
0.1
g
|
Polyunsaturated Fat:
0.4
g
|
Monounsaturated Fat:
0.3
g
|
Sodium:
5250
mg
|
Potassium:
186
mg
|
Fiber:
2
g
|
Sugar:
4
g
|
Vitamin A:
1891
IU
|
Vitamin C:
1
mg
|
Calcium:
39
mg
|
Iron:
2
mg