This Slow Cooker Bolognese Sauce would make my Nana Lamancuso proud. It's silky and luscious with super tender meat and so much flavor. Crockpot bolognese is where it's at!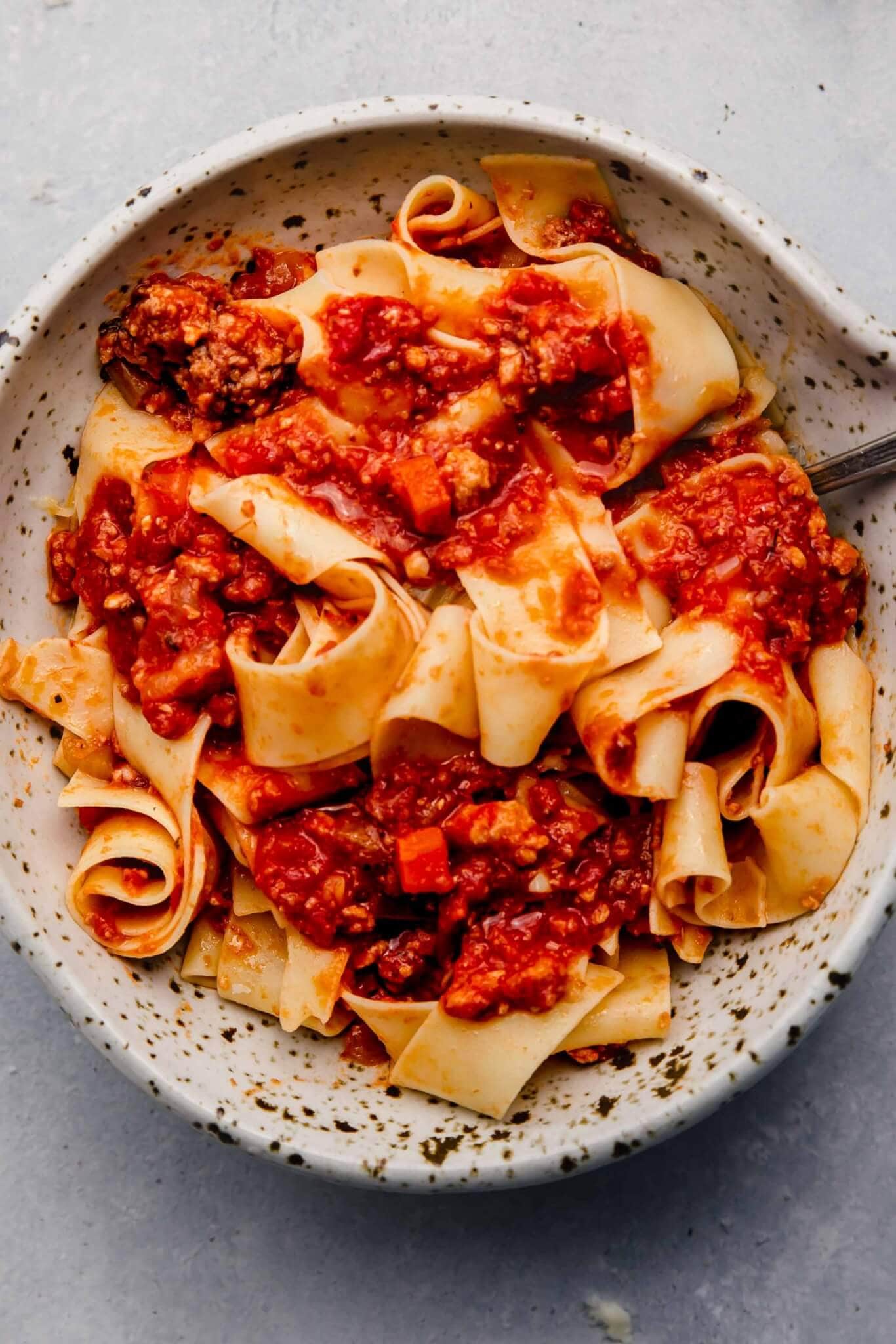 I'm definitely a pasta fiend. Give me bowls topped with Vodka Sauce, Broccoli Pesto, or my Nana's Sunday Gravy any night of the week and I'll be a happy girl.
Which means smiles.
Which I'll be doing a lot of when a big ladleful of this yummy meat sauce makes its way onto my plate.
Which is why I've decided to take the step of perfecting my smile with Dr. Greg Gillespie at Gillespie Dentistry in Vancouver, WA. Over the last few years, I've noticed a gap widening in the side of my smile, as well as some small chips. That combined with my feeling that my smile has always been just a bit too small for my face is what made me finally decide to consult with a cosmetic dentist.
The process with Dr. Gillespie has been super easy so far. We started with a virtual consult where Dr. Greg sent me a personalized video with his suggestions on what could be done to improve my smile. Several options were provided including clear braces and veneers. I had a good idea going into things that I wanted to go with porcelain veneers and that's what we decided on.
Since then, I've been into the office and Dr. Greg fitted me with some temporary veneers. I was able to wear them home for a few days to try them out and show them to Rick, and then I popped back in and we decided on a few small changes – widening my smile even further and extending the front teeth just a bit more.
The teeth I'm most excited for are my canines. It's like Dr. Greg has mastered the canine tooth. I didn't even know that that was something I wanted, but it really helped make my smile pop.
So, in just a couple more weeks I'll be fitted with my final porcelain veneers at their office and I can't wait to share after pics with you. Be sure to keep an eye on my Instagram stories for more sneak peeks.
If you're in the Portland, Oregon area and interested in learning more about cosmetic dentistry (teeth whitening, clear braces, veneers) I'd highly recommend booking a virtual consult with Dr. Greg. The process takes less than 5 minutes, it's totally free, and you get a personalized video from Dr. Greg explaining his suggestions, costs, etc.
Back to the food – and this epic bolognese sauce.
Now that summer is winding down and we'll be entering comfort food season once again (and we ALL need comfort food right now) I thought it was time to share this recipe with you – Bolognese Sauce, made in the slow cooker.
I've shared my recipe previously for white bolognese sauce, but this is the traditional tomato based bolognese.
As with any great tomato sauce recipe, bolognese meat sauce benefits from a low and slow cook. That's why the crockpot is the perfect kitchen tool for making it! Unlike many stove tops, slow cookers maintain a low, even temperature. They're the best kind of set it and forget it tool and in my book, you can't beat a slow cooker for making the BEST bolognese sauce.
First thing's first:
What is Bolognese?
Bolognese is a meat sauce that's simmered low and slow. It's often seasoned with a splash of wine, garlic, and vegetables like onion, carrot and celery. In many versions, milk is added to help tenderize the meat and make it extra silky and delicious.
This is a super easy bolognese sauce recipe, but I do have a couple key tips for making it amazing.
First, while we would all love the option to just throw everything into the slow cooker, put the lid on, and walk away, I find it really important to brown the vegetables and garlic first before adding them to the pot. This really helps to enhance the flavor, especially when combined with the fact that when they're done browning, the skillet gets deglazed with a splash of white wine.
In my book, no great bolognese sauce is complete without a bit of white wine added to it.
Second, I'm using a special ingredient to ensure that our sauce is deliciously thick and silky – panko. Here's how we're incorporating it:
While the veggies are cooking away in the skillet, add the panko, heavy cream, beef and pork to your crockpot with a pinch of salt and pepper. Knead this mixture together to get it well combined. The breadcrumb/cream mixture is what will help to tenderize the meat and make it extra delicious. This is a tip that I learned from America's Test Kitchen, and that bread/milk mixture is called a panade. Here's some more information on the process if you're interested!
FAQ
What Kind of Meat Do You Use for Bolognese?
I like to use a combination of lean ground beef (85%) and ground pork. Alternatively, you can use equal parts beef, pork and veal (also sold as "meatloaf mix" in stores). You can also use all beef or all pork if you prefer. If you don't eat red meat, you can use ground turkey or chicken.
Do You Need to Brown Mince Before Putting it in the Slow Cooker?
Can you put raw mince in the crockpot? Yes! This slow cooker bolognese recipe has no browning of the beef. Instead, the meat gets combined with cream and breadcrumbs which helps to tenderize the meat as it cooks away.
Can I Put Frozen Mince in the Slow Cooker?
For food safety reasons, it's best to not cook frozen meat in the slow cooker. This is because the crockpot doesn't get hot enough to ensure that bacteria won't become a problem.
How Do You Thicken Bolognese in the Slow Cooker?
This recipe adds panko breadcrumbs into the mix to ensure that our sauce is thick and delicious. However, if you find that near the end of your cook time, your sauce is still too thin, simply remove the lid and continue to cook uncovered for 30 minutes and the sauce should thicken up.
Can You Freeze Bolognese Sauce?
Yes! This slow cooker meat sauce makes a big batch and it freezes wonderfully for up to three months. I like to freeze it in individual portions. When ready to use, thaw overnight in the fridge, or heat over very low heat on the stove.
How Long Do You Cook Bolognese in the Crockpot?
You can make slow cooker bolognese on high or low heat:
HIGH heat: 6-7 hours

LOW heat: 9-10 hours
Wine Pairings for Bolognese Sauce:
Since we're eating authentic Italian Meat sauce, I'm going for an authentic Italian wine – Try a

Chianti

,

Barolo

or

Teroldego

.
How to Serve Bolognese Sauce:

What to Serve with Bolognese Sauce:
Slow Cooker Recipes:
PERFECT Slow Cooker Bolognese Sauce Recipe
This Slow Cooker Bolognese Sauce would make my Nana Lamancuso proud. It's silky and luscious with super tender meat and so much flavor. Crockpot bolognese is where it's at! 
Print
Pin
Ingredients
3

Tablespoons

unsalted butter

1

medium

onion

(finely chopped)

1

carrot

(finely chopped)

2

stalks

celery

(finely chopped)

1

teaspoon

salt

¼

cup

tomato paste

3

cloves

garlic

(minced)

1/2

teaspoon

freshly ground black pepper

1

teaspoon

dried oregano

(or 2 teaspoons minced fresh oregano leaves)

1/8

teaspoon

ground nutmeg

½

cup

dry white wine

1

cup

panko breadcrumbs

1

cup

heavy cream

1 ½

pounds

lean ground beef

1 ½

pounds

ground pork

2

28-ounce cans

crushed tomatoes

1

bay leaf

⅓

cup

grated parmesan cheese

Salt and pepper

(to taste)
Instructions
Melt butter in a large skillet or dutch oven over medium heat. Add onion, carrot, celery and salt and cook until softened and lightly browned, 8 to 10 minutes. Stir in tomato paste, garlic, oregano, pepper and nutmeg and cook until fragrant, 2-3 minutes. Stir in wine, scraping up any browned bits; set aside.

Meanwhile, in slow cooker, combine panko, cream, beef and pork with a pinch of salt and pepper. Use your hands to knead the mixture together. Then add the vegetable-herb mixture and tomatoes. Stir to combine. Add bay leaf.

Cover and cook until meat is tender, 9 to 10 hours on LOW or 6 to 7 hours on HIGH.

Break up any large pieces of meat with spoon. Stir in parmesan and season with salt and pepper to taste. Serve.
Notes
Oven-cooking instructions: Prepare sauce in a covered dutch oven and bake in a 300-degree oven for 2-3 hours, adding water if needed.
Storage: Leftovers will keep in the refrigerator for 5 days. Or freeze for up to 3 months.  
Nutrition
Calories:
559
kcal
|
Carbohydrates:
11
g
|
Protein:
37
g
|
Fat:
39
g
|
Saturated Fat:
19
g
|
Cholesterol:
170
mg
|
Sodium:
605
mg
|
Potassium:
749
mg
|
Fiber:
1
g
|
Sugar:
3
g
|
Vitamin A:
2048
IU
|
Vitamin C:
5
mg
|
Calcium:
116
mg
|
Iron:
4
mg
Be sure to check out my tips on how to clean a dutch oven after using it.