This always rich and warming Butternut Squash Risotto is the perfect meal for fall. Roasted squash, creamy and tender rice, and fresh sage come together to form dreamy and heavenly flavors in every bite.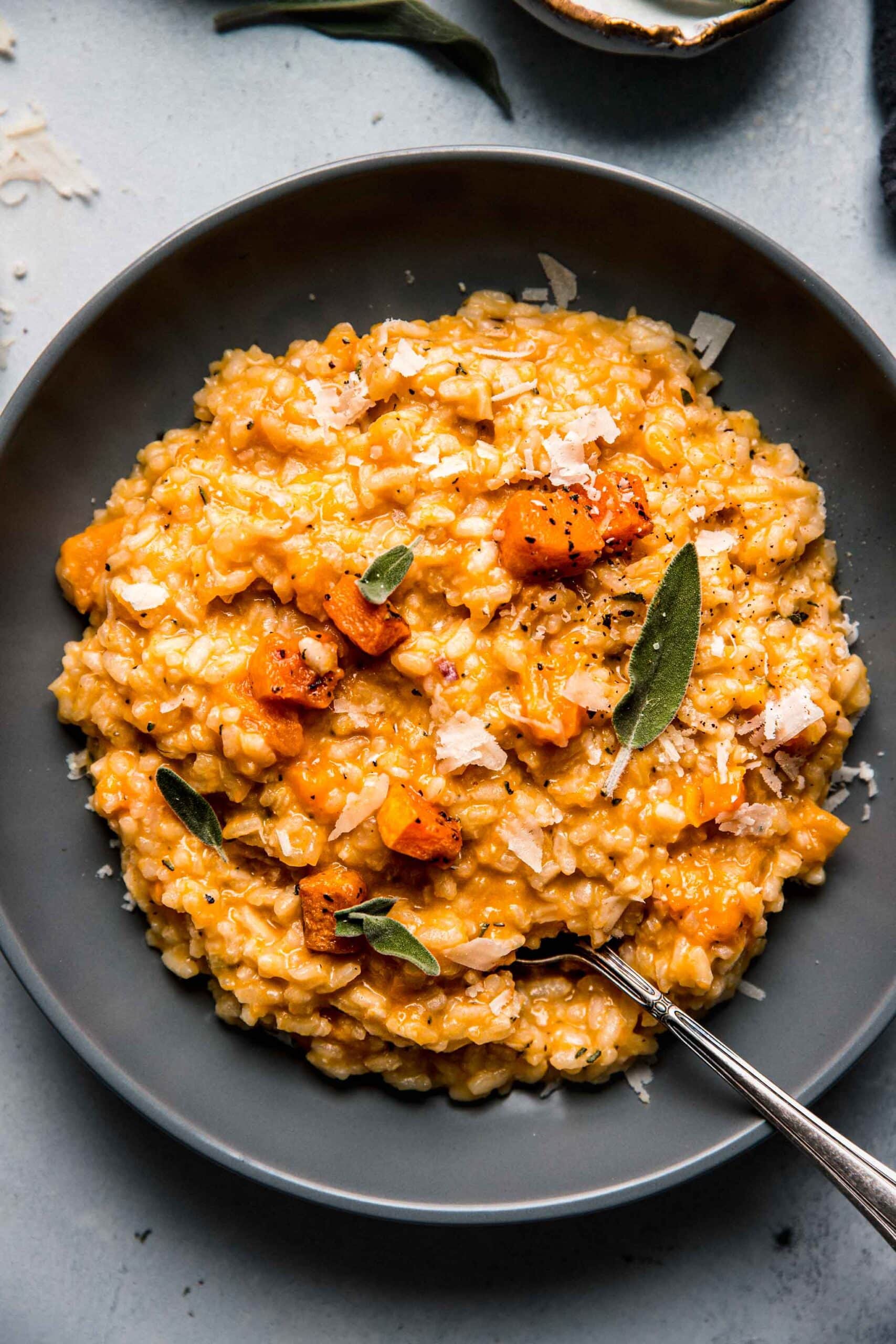 Lucky for you, I have a risotto recipe for every season! This Pea Risotto with Prosciutto & Mascarpone is perfect for summer while my Pumpkin Risotto with Goat Cheese will warm you up during winter.
I can never turn down risotto. This luscious and creamy rice dish is so rich and impossible to resist!
This easy Butternut Squash Risotto is made with comforting fall flavors to warm you up when the cold weather arrives. Featuring roasted butternut squash, arborio rice, fresh sage, and grated parmesan, this is the best risotto recipe to make the moment squash season hits.
Butternut squash has a natural buttery, earthy, and nutty flavor. This makes it the perfect companion to creamy dishes like this risotto recipe, as well as soups, curries, and pasta dishes. It's the best ingredient for fall cooking!
You don't need to be intimidated by homemade risotto recipes either. The process is very easy and actually quite relaxing! Standing over a warm stove while constantly stirring the warm and creamy mixture? It's like meditation, except you get to eat when you're done. What could be better than that?
Squash risotto ingredients:
Butternut squash
Extra virgin olive oil
Butter
Shallot
Garlic
Arborio rice
Dry white wine or dry vermouth
Parmesan cheese
Fresh sage
Salt and pepper
How to make butternut squash risotto
Season the squash cubes with olive oil, salt, and pepper. Layer them on a baking sheet and roast in the oven until the squash is fork tender.
Meanwhile, bring the bone broth to a simmer on the stove. Warm broth is essential to an evenly cooked risotto, so don't skip this step!
Saute the shallot in a heavy pot with butter. Next, add the garlic. Once both are soft and fragrant, add the rice to the pot and stir it constantly for 1 minute.
Pour the wine into the pot and cook until the rice has absorbed it all. Next, stir in ⅓ of the roasted squash.
Stir ½ cup of warm broth into the rice until it's absorbed. Repeat this step until the rice is tender and looks creamy.
Finish the risotto by stirring the remaining roasted squash, parmesan, and sage into the rice and season with salt and pepper. Serve immediately and enjoy!
Tips for making risotto:
Dry vermouth can be used interchangeably with white wine. Generally, it's more affordable than white wine and will keep in your cupboard for a long time.
If you'd prefer to make risotto without alcohol, replace the white wine or vermouth with non-alcoholic white grape juice or omit it and use warm broth in its place.
Not sure how to tell risotto is done cooking? The best way to check is by tasting it! Take a bite in the last 5 to 10 minutes of the cook time. The rice should still have a slight bite to it (al dente) and not taste mushy.
Another way to tell risotto is done cooking is by dragging a wooden spoon or spatula along the bottom of the pot. If the risotto slowly fills in the empty space, it should be good to go.
No fresh sage at home? Feel free to swap it with fresh rosemary or thyme instead.
Top each serving of butternut risotto with crispy fried sage, fried prosciutto, goat cheese, or more freshly grated parmesan.
How to store and reheat risotto:
To store: Keep any leftover risotto in an airtight container in the fridge for up to 3 days.
To reheat: Place the leftovers into a pan with a bit of extra broth and heat over medium heat until warmed through.
What to serve with butternut squash risotto:
Wine pairings for roasted butternut squash risotto:
The vibrant citrus notes in Chardonnay will pair well with the natural buttery and rich roasted squash.
The effervescence of Champagne, Cava, and Prosecco complements the rich and creamy flavors.
An acidic Pinot Gris will cut through a rich risotto and lend a brightening essence to the dish.
If you loved this Squash Risotto I would appreciate it so much if you would give this recipe a star review! Also, be sure to snap a picture of your finished dish and share it with me on Instagram using the hashtag #platingsandpairings and tagging me @platingsandpairings.
For more great Platings & Pairings recipes, be sure to follow me on Pinterest, Facebook, YouTube and Twitter.
More risotto recipes:
Butternut Squash Risotto
This always rich and warming Butternut Squash Risotto is the perfect meal for fall. Roasted squash, creamy and tender rice, and fresh sage come together to form dreamy and heavenly flavors in every bite.
Print
Pin
Ingredients
1

pound

butternut squash

(peeled, seeded and cut in 1/2 inch cubes (about 4 cups))

2

Tablespoons

extra virgin olive oil

6

cups

bone broth

(or chicken stock)

3

Tablespoons

butter

1

large

shallot

(minced (about ½ cup))

3

cloves

garlic

(minced)

1 ½

cups

Arborio rice

½

cup

dry white wine

( or dry vermouth)

½

cup

grated parmesan cheese

2

teaspoons

chopped fresh sage

Salt and pepper

(to taste)
Instructions
Preheat the oven to 400-degrees. Cover a baking sheet with foil. Toss the squash with the olive oil season with salt and pepper. Spread on the baking sheet in an even, single layer. Place in the oven and roast for 25-30 minutes, tossing once, until tender. Set aside.

Bring the broth to a simmer in a medium saucepan.

Heat the butter in a wide, heavy pot over medium-low heat. Cook the shallot until softened, 2-3 minutes. Add the garlic and cook 30 seconds longer, until fragrant.

Add the rice and cook, stirring constantly, for 1 minute.

Add wine and stir until absorbed, about 1 minute.

Add about ⅓ of the roasted squash to the pot. Then, using a ladle, stir in 1/2 cup warm broth and simmer briskly, stirring constantly, until broth is absorbed. Continue simmering and adding warm broth, one ladle at a time, stirring constantly and letting each addition be absorbed before adding the next, until rice is just tender and creamy-looking, 20-25 minutes.

Stir in the remaining roasted squash, parmesan and sage, and season with salt and pepper, to taste. Enjoy!