This Sausage & Butternut Squash Pasta with Goat Cheese is a favorite fall recipe! This comforting meal is creamy, cheesy, a little bit spicy, and easily devoured by the spoonful!
This post was originally published in November 2016. It was updated in 2022 to add new content. The original recipe remains the same. Enjoy!
Who wants to join me in a big pasta and PJ's party?
We're talking comfort food, on the couch, with a good Rom Com. The perfect solution for cold nights. Last week, the movie It's Complicated popped up on the TV. It's been a long time and I forgot how much I loved that movie the first time around! It serves up a bit of romance, with twists and turns, and of course, the underdog that you're hoping wins the girl at the end…
When you've got a great movie on the TV – Your food needs to be just as "dig in" worthy. This great recipe is just that.
It's got al the fall flavors you crave. A creamy sauce, fresh herbs, winter squash. And the best part is this easy dinner will be on your table in 30 minutes!
It's creamy, cheesy, a little bit spicy, and easily devoured by the spoonful. It's a dish that's low key and simple to make, but totally "share-worthy" too. This dish can certainly impress some dinner guests!
🛒 Ingredients Needed
Pasta – I used mini penne, but any favorite pasta will work. Oreccheitte, rigatoni, and bowties are other great options.
Sausage – I used some mild bulk Italian sausage, but hot sausage or turkey sausage will work too! It's my favorite ingredient in so many recipes.
Butternut Squash – Peeled, seeded and cut into cubes. You can also often purchase pre-cubed squash in the produce department.
Olive Oil
Fresh Sage + Parsley
Allspice, Nutmeg, Red Pepper Flakes
Onion + Garlic
Dry White Wine – Chardonnay, Sauvignon Blanc, Pinot Gris, etc. Dry vermouth will also work. This can be left out too.
Parmesan + Goat Cheese
📋 How to Make It
Start by browning up some Italian sausage in a large skillet.
Then, add some flavor with sage leaves, nutmeg, allspice and red pepper flakes.
Let it cook away and coat that skillet with all those amazing flavors.
To that, we'll add in the butternut squash, a pinch of salt and a bit of onion and garlic for good measure along with my favorite part – a splash of wine.
Then, let it all simmer away on medium-low heat while your pasta cooks up.
I'm using mini penne pasta in this recipe. I like the little penne, because you can grab a bit of pasta, a bit of squash and some of that yummy sausage all in one forkful. But feel free to use your favorite pasta here!
Tip: When that pasta is done cooking, be sure to reserve that starchy cooking liquid. The reserved pasta water is like liquid gold for thickening up pasta sauces and giving them extra flavor. We'll add a cup of it to our sausage mixture, along with the cooked pasta and some fresh grated parmesan cheese. Let it all simmer together for a couple minutes and you'll end up with the most dreamy, creamy butternut squash sauce
To top it all off, I'm adding some fresh parsley bring a bit of freshness to the dish, along with some fresh crumbled goat cheese.
Why?
Because I'm a sucker for goat cheese.
Because the tanginess of the cheese just goes so perfectly with the hint of sweetness in this pasta dish. Yum!
The last thing we can't forget before we hop onto the couch with our bowl of pasta in hand and our movie cued up is that glass of wine.
I'm going with a glass of lightly oaked Chardonnay. With hints of spice and butter, it's a good a match for this pasta as Steve Martin's character is to Meryl Streep in It's Complicated.
Are you an occasional couch eater like me? Sometimes it's the best cure for a case of the rainy day blues…
Especially when it involves this Sausage & Butternut Squash Penne Pasta.
🌟 Variations
Swap out the butternut squash for sweet potatoes or pumpkin.
Use whole wheat pasta in place of the regular variety.
Don't like goat cheese? You could also use cream cheese or cheddar cheese.
Some browned up bacon would make a great addition!
Make it alcohol free by omitting the white wine and adding additional chicken stock.
🍽 What to Serve with It
🍷 Wine Pairings
Did you try this sausage & butternut squash pasta recipe?
If you loved this squash pasta recipe I would appreciate it so much if you would give this recipe a star review! Also, be sure to snap a picture of your finished dish and share it with me on Instagram using the hashtag #platingsandpairings and tagging me @platingsandpairings.
For more great Platings and Pairings recipes, be sure to follow me on Instagram, TikTok, Pinterest and Facebook.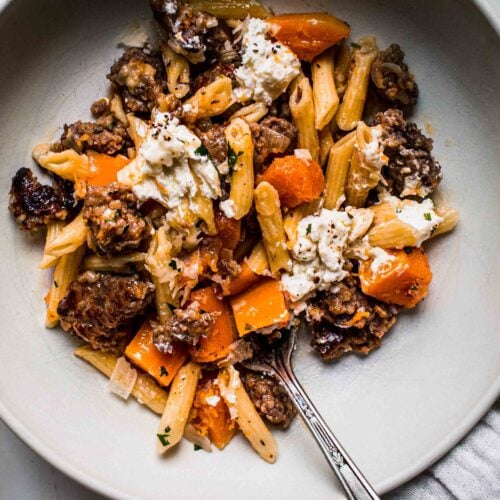 Sausage & Butternut Squash Pasta Recipe
This Butternut Squash Pasta with Sausage & Goat Cheese is the ultimate comfort food – Creamy, cheesy, a little bit spicy, and easily devoured by the spoonful!
Print
Pin
Instructions
In a large, deep skillet, heat 2 Tbsp. olive oil, over medium-high. Add sausage and cook, breaking into large pieces with the back of a spoon. Add in sage, allspice, nutmeg and red pepper flakes. Cook until browned, about 6 minutes.

Add squash, onion, and garlic.. Season with salt and pepper. Cook, stirring occasionally, until the vegetables begin to soften, about 2-3 minutes. Add the white wine and cover. Reduce the heat to medium-low and simmer, stirring occasionally, until the squash is tender, 18-20 minutes.

Meanwhile, in a large pot of boiling salted water, cook pasta until al dente. Drain pasta, reserving 1 cup of cooking water. Add pasta to the skillet with the squash and sausage, along with the reserved cooking liquid and parmesan cheese. Cook over medium-low heat until the sauce is thick and creamy, about 1-2 minutes. Sprinkle with fresh parsley and crumbled goat cheese and serve immediately.
Nutrition
Calories:
627
kcal
|
Carbohydrates:
55
g
|
Protein:
26
g
|
Fat:
32
g
|
Saturated Fat:
12
g
|
Cholesterol:
69
mg
|
Sodium:
699
mg
|
Potassium:
650
mg
|
Fiber:
4
g
|
Sugar:
4
g
|
Vitamin A:
8559
IU
|
Vitamin C:
20
mg
|
Calcium:
192
mg
|
Iron:
3
mg
More Butternut Squash Recipes