This Vegan Caesar Salad has all the tanginess and creaminess that you'd expect from a traditional Caesar salad, but it's completely plant based. Topped with fresh avocado, capers and croutons.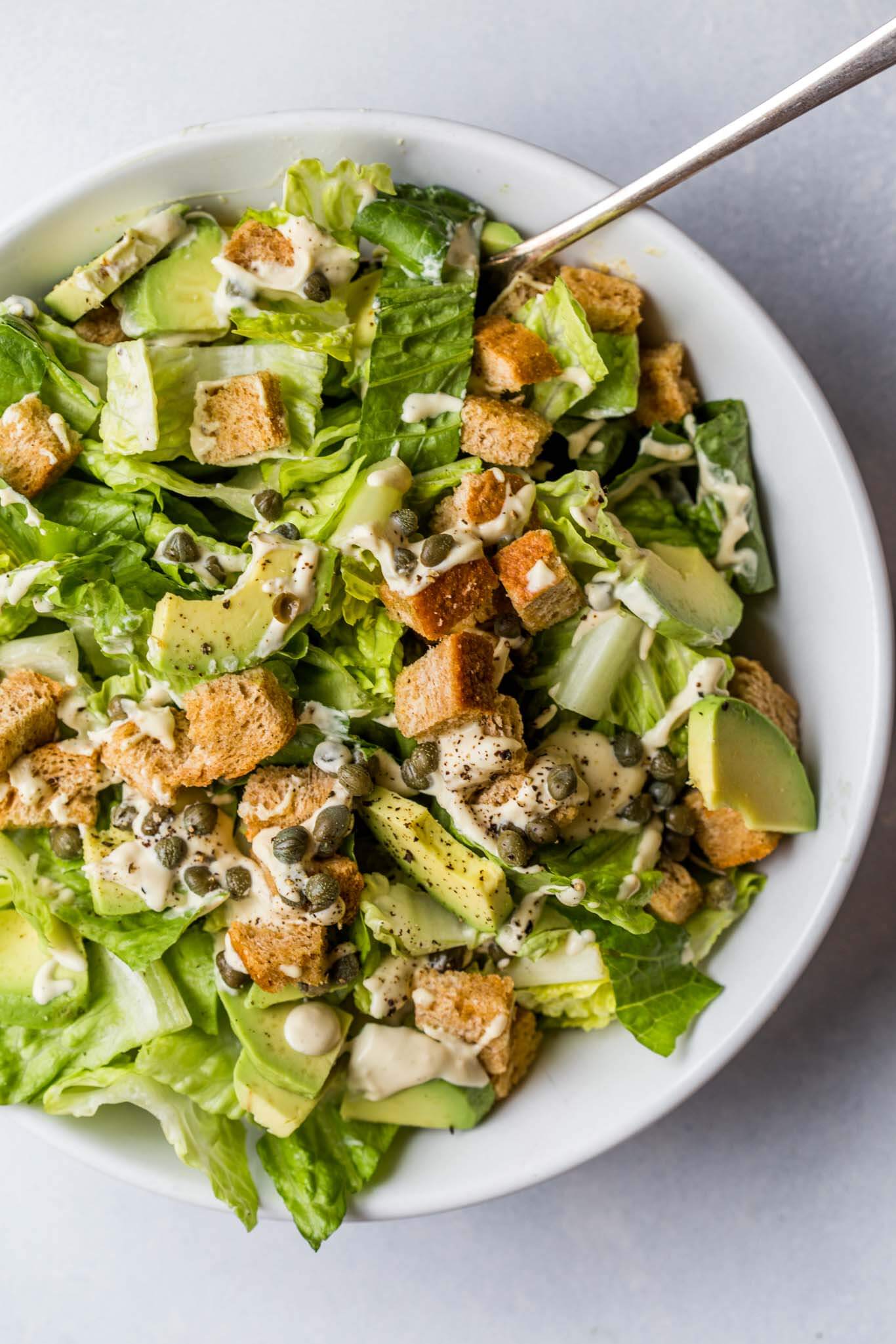 Growing up, my dad was a vegetarian. He still is for the most part. However, because he travels out of the country quite often for work to places like Ireland, Spain and Germany, dinners with his colleagues don't always come "meat free". In that sense, he's a bit of a "flexitarian". He tells the story of how on one trip he was treated to dinner at a place called "The House of Foie Gras" – A restaurant serving entirely duck and goose liver. I'd have to call that flexible to the max!
If you've been following my blog for a while, you know that I personally am not a vegetarian nor a vegan. Far from it actually. 
However, I do enjoy making over recipes into healthier versions of the original.
As you know, Caesar dressing has a great creamy texture and tangy flavor. To get that richness, the classic recipe calls for raw egg yolks and anchovies, ingredients that many people are a bit squeamish about.
This Vegan Caesar Salad dressing uses raw cashews which are processed with a blender until very smooth, creating an amazing silky texture. I'm also adding in some nutritional yeast (which has an almost cheesy like flavor) garlic, and lemon juice.
Want to add even more flavor? Try swapping in some roasted garlic for the regular garlic cloves.
I used my Vitamix to get just the right texture, and processed for about three minutes. I cannot stress enough how much I love this blender. It's a bit pricey, but I do use it on almost a daily basis. You could also do this easily in a food processor, although if you have a small prep-sized one, that would be preferred. Just be sure to scrape down the sides of your bowl as needed while processing. You may also need to add some water as you go to be sure that your dressing is the consistency that you'd like. Make it as thin or as thick as you'd like.
I like to toss some crunchy romaine lettuce with the vegan caesar salad dressing, starting with just a little, and adding more as I go, just enough to perfectly coat those leaves. Then, to top it all off, I piled on some fresh chopped avocado, briny capers and some garlicky homemade croutons that I made with just a bit of leftover bread tossed in olive oil and baked in the oven.
This Vegan Caesar Salad is the perfect side dish to accompany some pasta or a quick chicken piccata, but it's definitely substantial enough to be a meal in itself – perfect for weekday lunches at the office.
What's your take on this Vegan Caesar Salad? Would you give it a try (even as a non-vegan), or is there just no comparison for the traditional anchovy-egg dressing? I'd love to hear your thoughts below!
Salad Recipes:
Wine Pairings for Caesar Salad:
A Chablis or other unoaked Chardonnay will work well with the tangy, creamy caesar dressing.
Rosé is another option. (Here are some great Rosé wines under $10.)
If you loved this Vegan Caesar Salad, I would appreciate it so much if you would give this recipe a star review! Also, be sure to snap a picture of your finished salad and share it with me on Instagram using the hashtag #platingsandpairings and tagging me @platingsandpairings.
For more great Platings & Pairings recipes, be sure to follow me on Pinterest, Facebook, YouTube and Twitter.
Vegan Cesar Salad Recipe
Vegan Caesar Salad
This Vegan Caesar Salad has all the tanginess and creaminess that you'd expect from a traditional Caesar salad, but it's completely plant based. Topped with fresh avocado, capers and croutons.
Print
Pin
Ingredients
Dressing
1/2

cup

cashews

(raw)

1/4

cup

water

(plus additional as needed to thin dressing to desired consistency)

3

Tablespoons

extra-virgin olive oil

4

Tablespoons

fresh lemon juice

3

Tablespoons

nutritional yeast

1

clove

garlic

(smashed)

1

teaspoon

salt

Freshly ground black pepper
Salad
2

heads

romaine lettuce

(chopped into bite-size pieces)

1

avocado

(chopped)

1/3

cup

capers

(drained and rinsed)
Croutons
3

Tablespoons

extra-virgin olive oil

1

clove

garlic

(crushed and peeled)

2

cups

bread cubes

1/2

teaspoon

kosher salt
Instructions
Dressing:
Place all dressing ingredients in high-powered blender or food processor and process until very smooth, taking the time to scrape down the sides of your container as needed. Add up to 4 tablespoons additional water to achieve your desired consistence.
Croutons:
Preheat your oven to 350 degrees.

Place olive oil in microwave safe bowl, add crushed garlic clove and heat on high for 30 seconds.

Discard garlic clove and drizzle olive oil over your bread crumbs, sprinkle on the salt, and toss until the bread is well coated.

Bake for 15-20 minutes, tossing once during cook time.
To Serve:
Place your chopped lettuce in a bowl and toss with 1/2 cup of the dressing, add more or less to suit your taste. Top with avocado, croutons and capers.
Notes
You can find nutritional yeast at any health food store. Also, many supermarkets carry it in the bulk section. It's great sprinkled on popcorn or kale chips if you have any extra!
Nutrition
Calories:
472
kcal
|
Carbohydrates:
29
g
|
Protein:
12
g
|
Fat:
37
g
|
Saturated Fat:
5
g
|
Sodium:
1380
mg
|
Potassium:
1261
mg
|
Fiber:
12
g
|
Sugar:
5
g
|
Vitamin A:
27355
IU
|
Vitamin C:
18.6
mg
|
Calcium:
140
mg
|
Iron:
5.6
mg