Learn how to pickle cucumbers with this easy recipe. These ​​Quick Pickled Cucumbers are ready to eat in just 1 hour! There's no canning required and they stay crisp for months.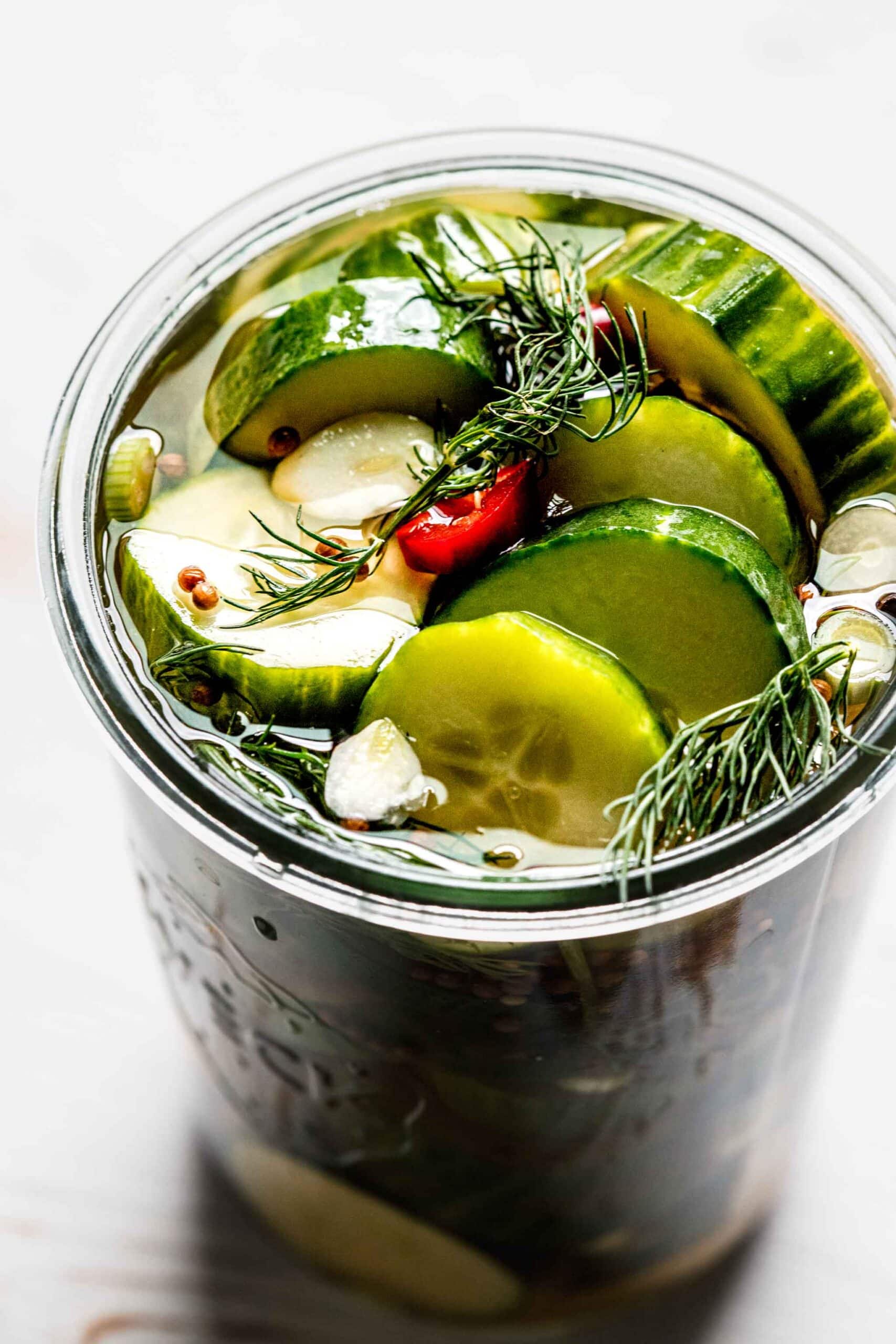 I'm a huge pickle fan… and so is my husband. In fact, his favorite cocktail is a Dill Pickle Martini. I could eat them every day, and we always have a jar in our fridge.
So, I wanted to try my hand at making some quick pickles at home. Especially since it gives you a chance to customize your flavorings. Like spicy pickles (I do! ✋)? Add in some red pepper flakes or sliced fresno chiles. Like them packed with flavor and extra zesty? Add in plenty of garlic and fresh dill.
So, if you've ever wanted to learn how to pickle cucumbers in vinegar, now's your chance! You'll be amazed at just how easy it is.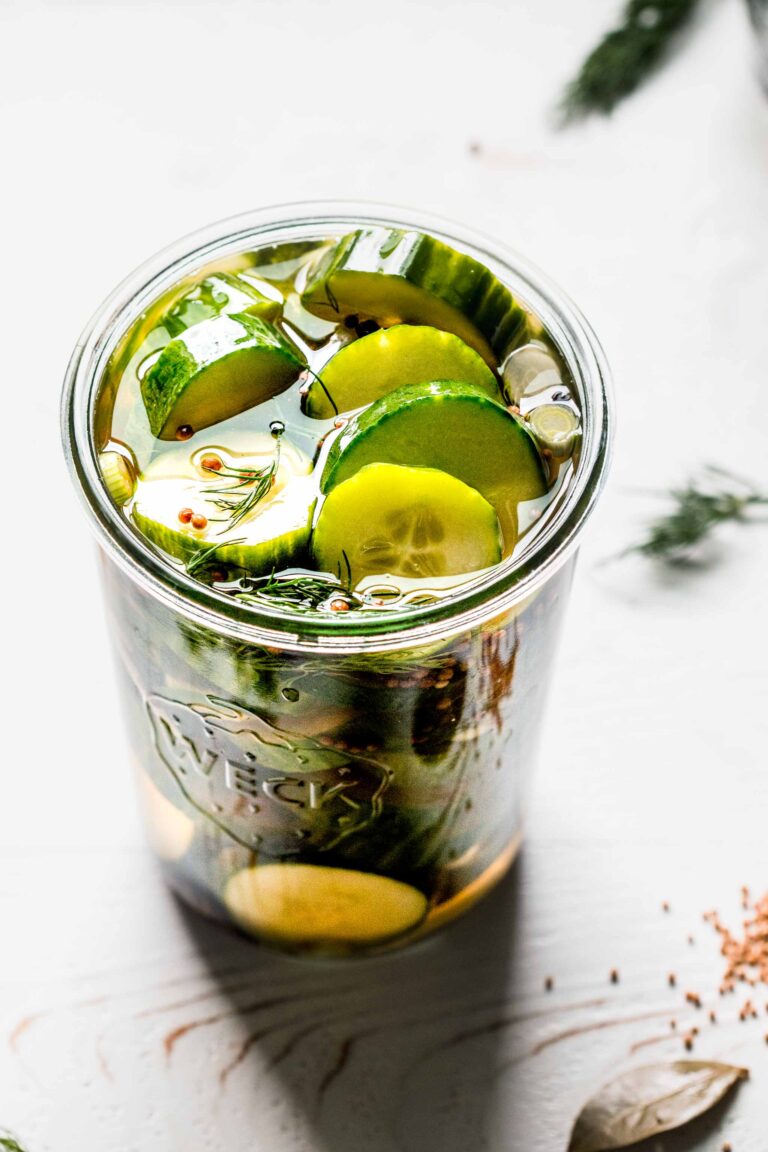 These Quick Pickled Cucumbers are not only the perfect topping for your Air Fryer Hamburgers, but they're also a simple staple you can enjoy within 1 hour. The punchy vinegar-based pickling brine is poured over sliced English cucumbers, left to sit, and then are ready to eat. It's that easy!
The best part? There's no special equipment or heat-sealed jars needed and you don't need to sanitize the jars ahead of time either. Just pour the room temperature brine over the vegetables in any clean mason jar you have at home and you're done!
Easy pickled cucumbers are packed with herbs, peppery and punch flavors, and just a hint of spice. This is all thanks to the handful of flavor-boosters in the brine, like:
Chile peppers
Peppercorns
Bay leaf
Mustard seeds
Dill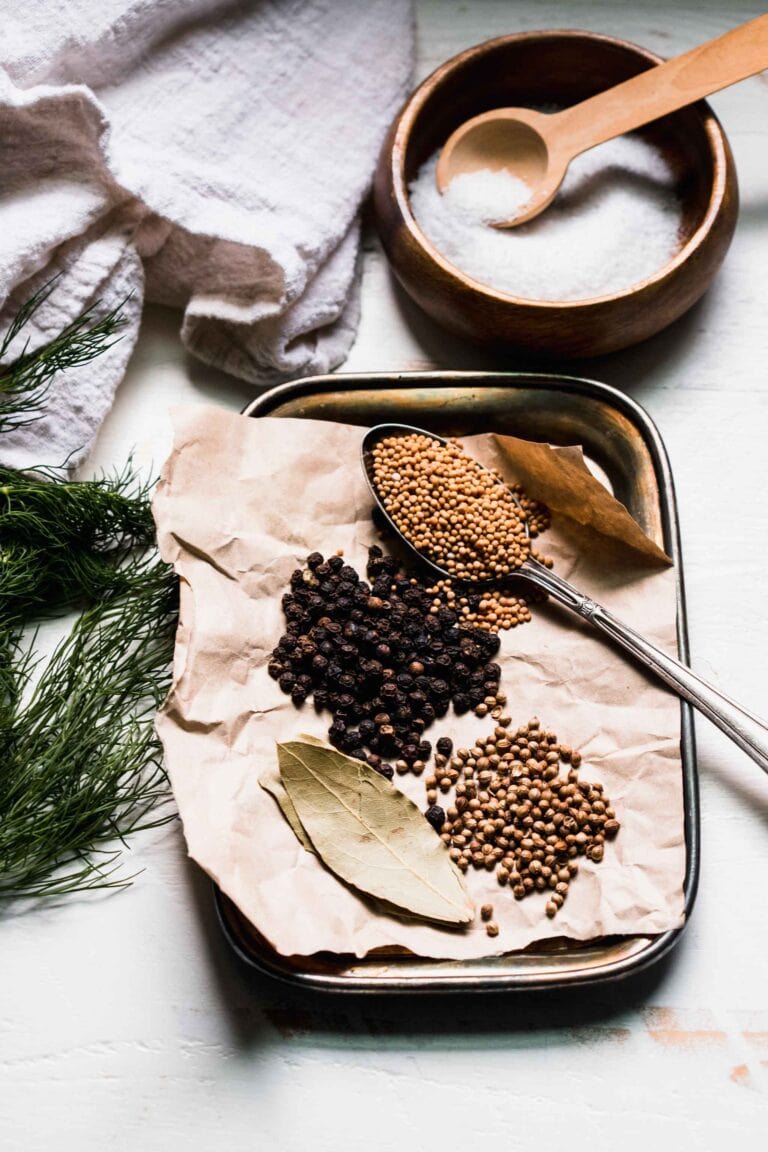 Even after months, the pickled cucumbers remain crisp, juicy, and fresh. Use them anywhere you love the briny bite of pickles! Hamburgers, hot dogs, in a Cubano sandwich, on a meat and cheese board, and so much more. There's always room for pickles on the table!
The best cucumbers for refrigerator pickles
Generally, small, thin-skinned cucumbers are best when quick pickling. English, Persian cucumbers, or Japanese cucumbers are all great options.
Stay away from thick, waxy, and bumpy skinned cucumbers, like Kirby cucumbers. These are better off in canning pickle recipes because they stay crisp and crunchy for months and months. Your dill pickles would still taste amazing, but they wouldn't be ready to eat until at least 3 or 4 weeks.
Tip: Read all about the most popular types of cucumbers that you'll find and how to use them.
What's in pickling brine?
The brine is made up of the classics, as well as a handful of flavor-boosters:
Vinegar – White vinegar is the traditional choice when pickling cucumbers. However, if you appreciate a deeper flavor profile, feel free to use rice vinegar or apple cider vinegar instead.
Water
Salt and peppercorns
Mustard seeds
Sugar – Both white or brown sugar work well.
Fresh herbs – Dill and a bay leaf are all you need.
Garlic and onion – Peeled garlic cloves and green onions infuse savory and peppery flavors right into the pickles.
Spicy peppers – Sliced jalapenos, fresno chiles, another spicy pepper, or a pinch of chili flakes add a subtle pop of heat! These can be omitted if you aren't a fan of spicy food.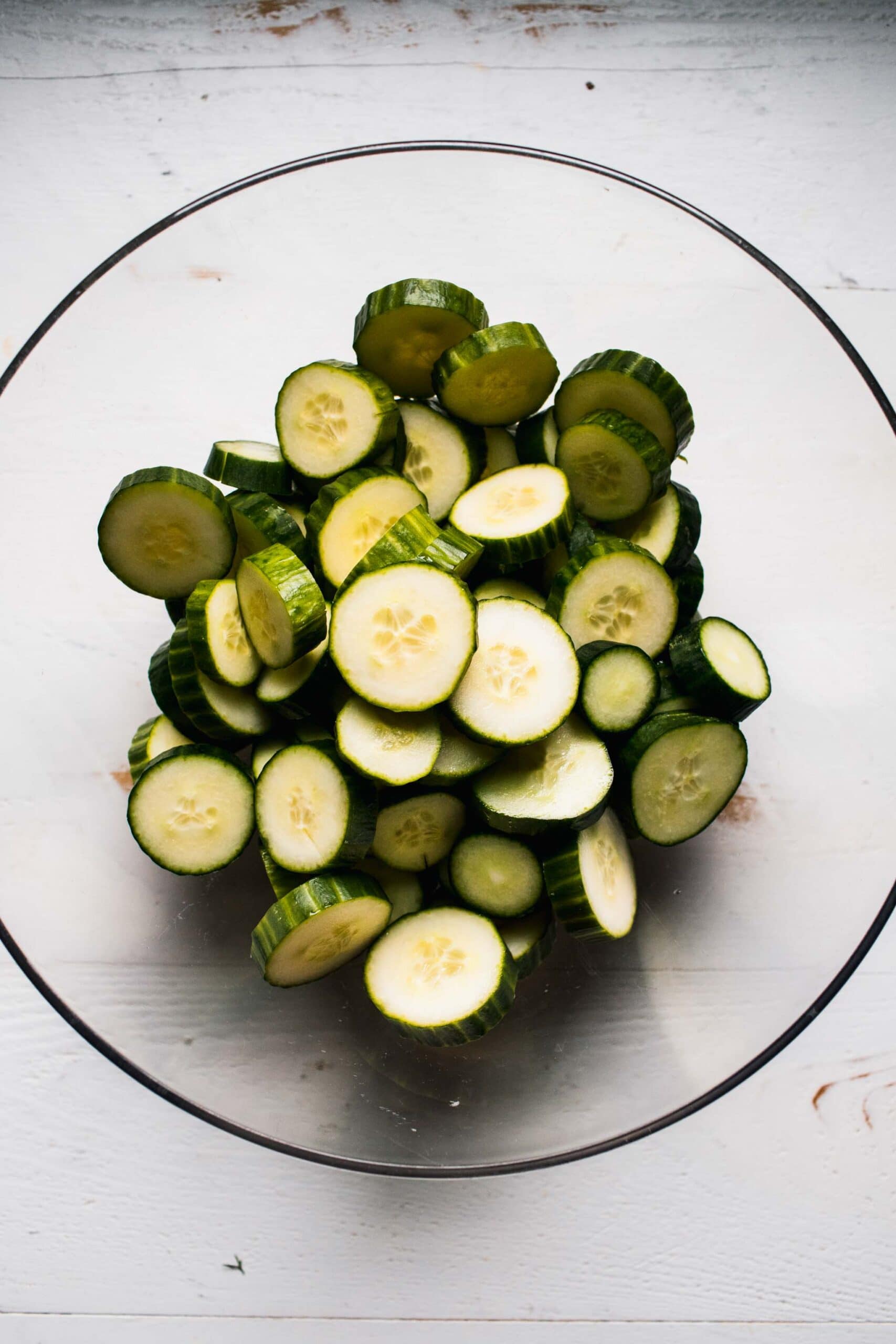 How to make quick pickled cucumbers
Start with the brine. Mix the vinegar, water, salt, peppercorns, mustard, sugar, and bay leaf in a saucepan. Bring it up to a boil, then reduce the heat and let it simmer. Afterward, take it off the heat and let it cool slightly.
Slice the cucumbers. Either slice the cucumber into ½-inch thick rounds (for sandwich slices) or quarter each cucumber into spears.
Slice the jalapenos, peel the garlic cloves, and slice the white part of the green onions into rounds.
Pack it all into jars. Tightly pack the cucumbers, garlic, jalapenos, green onions, and dill into jars. Pour the cooled brine overtop to fully submerge the vegetables.
Cover the jars with a lid and leave them to pickle. Enjoy!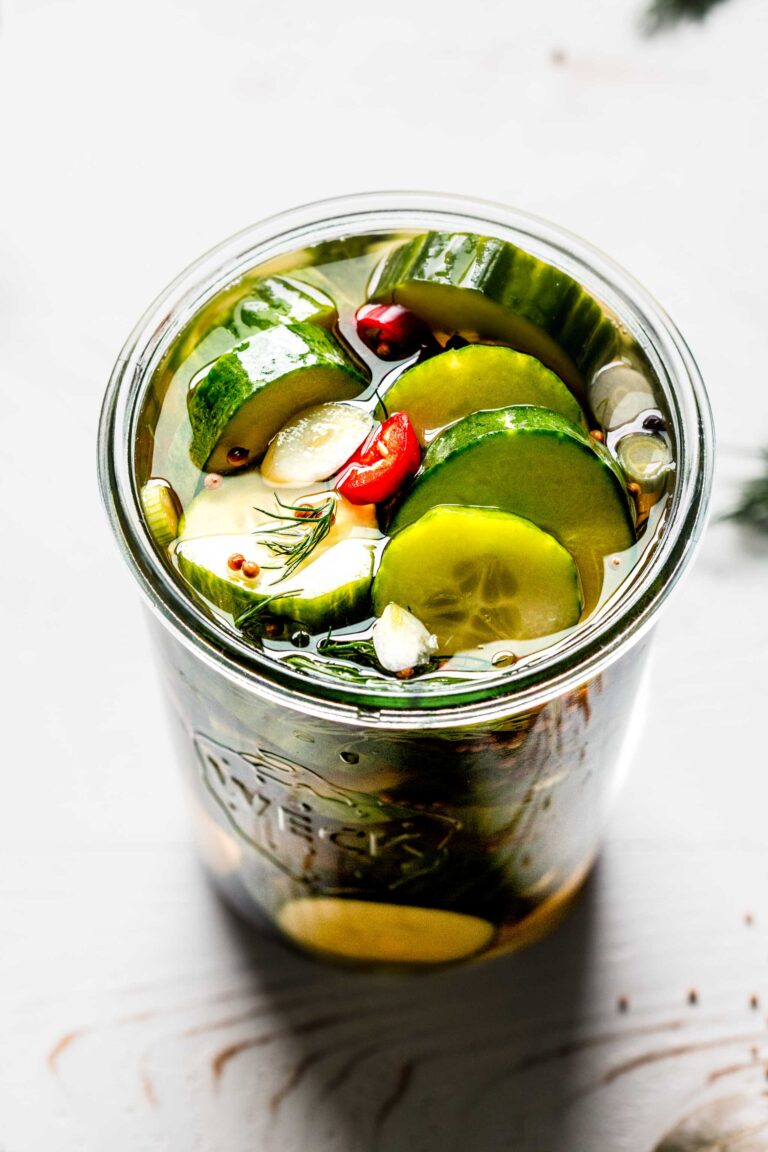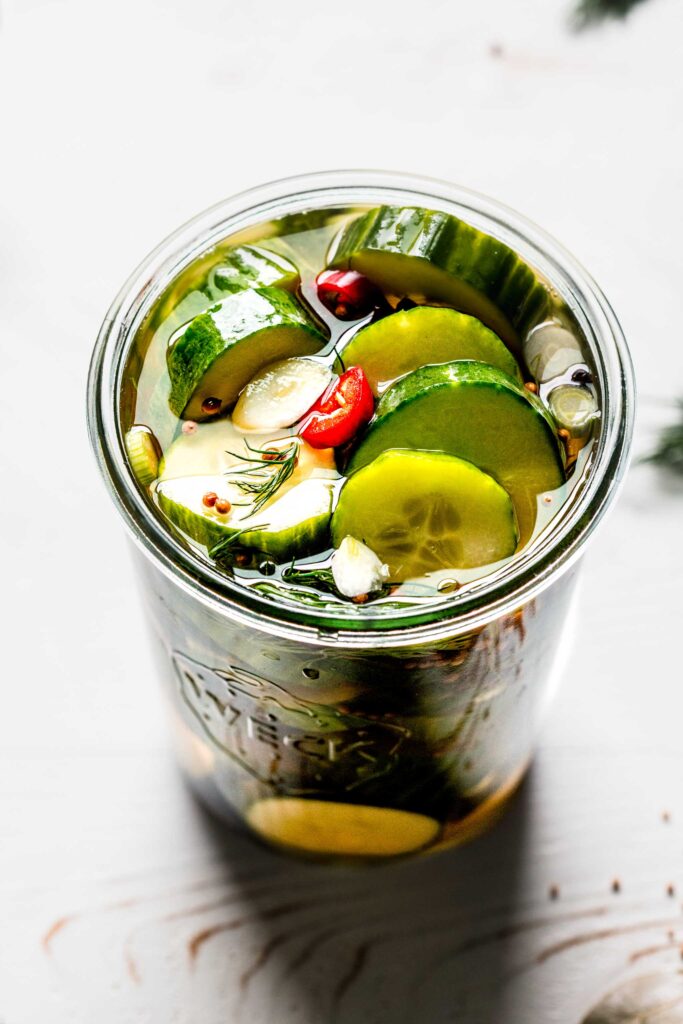 How long does it take to pickle cucumbers?
Usually, it can take 3 to 4 weeks to pickle cucumbers but these quick pickled cucumbers can be eaten in as little as 1 hour! They taste even better after they've sat overnight.
How long do they last?
The pickles can be used for up to 2 months. Just keep them in a sealed jar in the fridge to keep them tasting crisp and fresh.
What else can I pickle?
Just about anything you like! Use this brine or a variation of it to make pickled red onions, pickled cabbage, carrots, green beans, radishes, jalapenos, cauliflower, asparagus, and so much more.
Variations
Keep it simple – The brine is bursting with herbaceous and tart flavors with just a hint of spice. Instead of going all-out, keep it simple by omitting the chile peppers, peppercorns, bay leaf, and green onion.
Add color – A pinch of turmeric in the brine will add a nice golden color. It's a must when making homemade bread and butter pickles.
More herbs and seeds – Dill is a must but you can also use fresh thyme, oregano, rosemary, caraway seeds, etc.
Onions – Swap the green onions for a thinly sliced sweet onion or red onion.
Uses for homemade pickles
Hamburgers and hot dogs
Tea sandwiches
On their own as a briny snack
And anywhere that could use a punchy, briny bite!
More fun ways to preserve vegetables
Did you try this quick pickled cucumber recipe?
If you loved these homemade pickles I would appreciate it so much if you would give this recipe a star review! Also, be sure to snap a picture of your finished dish and share it with me on Instagram using the hashtag #platingsandpairings and tagging me @platingsandpairings.
For more great Platings and Pairings recipes, be sure to follow me on Instagram, TikTok, Pinterest and Facebook.
PS – Be sure to save that pickle juice to make this Pickle Brine Chicken or these Pickle Martinis!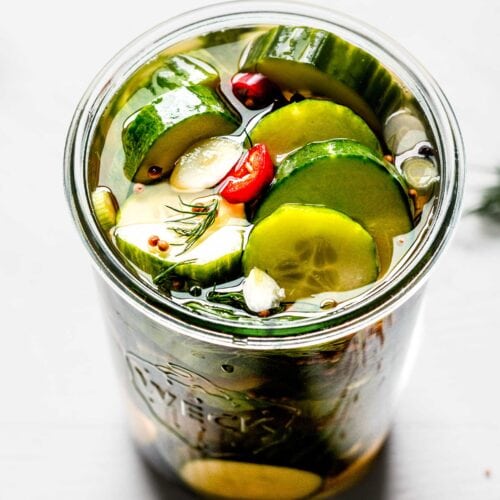 Quick Pickled Cucumbers
These ​​Quick Pickled Cucumbers are ready to eat in 1 hour! There's no canning required and they stay crisp for months.
Print
Pin
Ingredients
3

cups

white vinegar

2 ½

cups

water

2 ½

Tablespoons

kosher salt

1

Tablespoon

peppercorns

1

Tablespoon

mustard seed

1

Tablespoon

sugar

1

bay leaf

2

English cucumbers

(thinly sliced)

2

jalapenos

(or fresno chiles, optional)

6

cloves

garlic

3

green onions

(white parts only)

4

sprigs

fresh dill
Instructions
In a saucepan, combine the vinegar, water, salt, peppercorns, mustard, sugar and bay leaf. Bring to a boil over high heat. Reduce heat to low and simmer for 10 minutes. Remove from heat and let cool slightly while you prepare the vegetables.

Slice the cucumber into ½" thick slices. Slice the jalapeno, removing the ribs and seeds if you would like them less spicy. Peel and thinly slice the garlic. Slice the green onions.

Tightly pack the cucumbers, jalapenos, garlic, and dill sprigs in jars.

Add the cooled brine to the jars, being sure that the vegetables are completely submerged.

Cover and refrigerate for at least an hour, for the best flavor, let sit overnight.
Notes
The pickles can be used for up to 2 months. Just keep them in a sealed jar in the fridge to keep them tasting crisp and fresh.
Nutrition
Calories:
50
kcal
|
Carbohydrates:
7
g
|
Protein:
1
g
|
Fat:
1
g
|
Saturated Fat:
0.1
g
|
Polyunsaturated Fat:
0.2
g
|
Monounsaturated Fat:
0.3
g
|
Sodium:
2189
mg
|
Potassium:
170
mg
|
Fiber:
1
g
|
Sugar:
3
g
|
Vitamin A:
177
IU
|
Vitamin C:
8
mg
|
Calcium:
39
mg
|
Iron:
1
mg
Check out the web story here.
This 1 hour pickles recipe was originally published in 2022. It was updated in 2023 to add new content. The recipe remains the same. Enjoy!