Put your leftover pickle juice to use in this easy Pickle Brine Chicken recipe! Chicken breasts are brined in pickle juice, then cooked on the grill to give you juicy meat infused with a craveable blend of zesty flavors.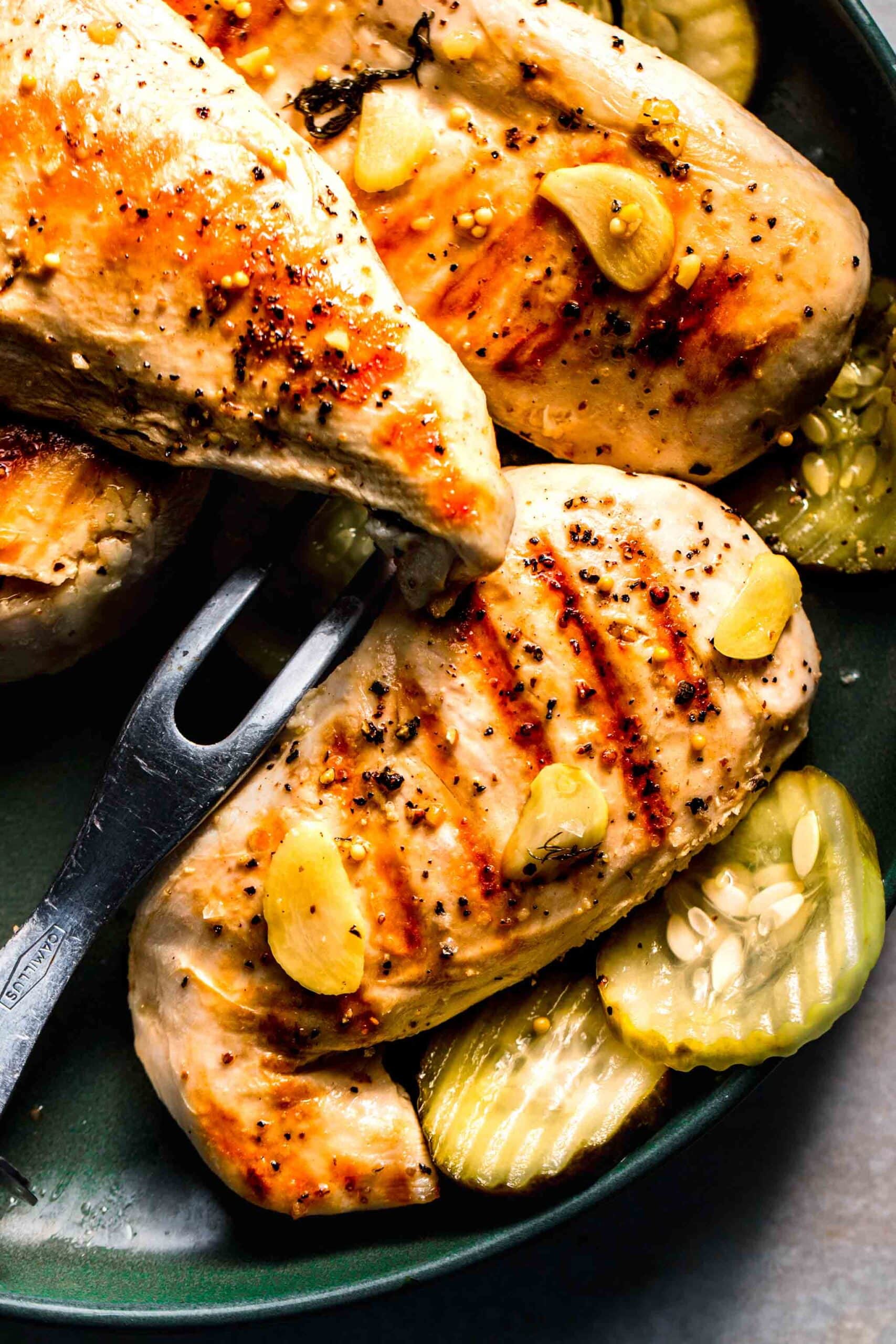 We've all been there… That big jar of pickles in your fridge has finally seen its last hamburger and you're left with a jug of leftover pickle juice. What are you supposed to do with it?
The acidic pickle brine can be transformed into a salty and tangy brining solution for Pickle Juice Chicken instead! It breaks down the proteins in the meat, leaving you with chicken that's exceptionally succulent with well-balanced tart, tangy, and savory flavors.
This easy chicken pickle recipe involves marinating chicken in pickle juice overnight, then throwing it on the grill until it's moist and lightly charred. I've also included air fryer, oven, Instant Pot, and sous vide instructions in case you want to make this tasty dinner year-round.
Ingredients needed
Chicken breasts – I made this recipe with boneless, skinless chicken breasts. Chicken thighs (boneless or bone-in) could work as well but will need an extra few minutes on the grill.
Dill pickle juice – You'll never pour your pickle juice down the drain again. Save the liquid from the jar when you run out of store-bought pickles or when you make Easy Refrigerator Pickles!
Sugar – White granulated sugar helps balance the salty tang of the pickle brine. It also melts around the chicken as it cooks to create a lightly caramelized browned crust.
Kosher salt and pepper
How to make pickle juice chicken
Stir the pickle juice and sugar together in a small bowl. Place the chicken breasts in a separate bowl, and pour the brine mixture over top.
Cover the bowl and place it in the fridge to let the chicken brine.
When it's time to cook, transfer the chicken from the brine and onto a plate (discard the brine). Pat it dry with a paper towel, then season both sides with salt and pepper.
Place the chicken on a hot grill and cook until the internal temperature reaches 165ºF. Let the pickle juice chicken breasts rest off of the heat before slicing and serving. Enjoy!
Alternate cooking methods
While grilled chicken breasts are always a treat, you can achieve the same great-tasting results using one of these cooking methods:
Tips and tricks
Large, thick chicken breasts will take longer to cook. If you want to speed up the cooking time, feel free to slice each breast in half before brining and cooking.
No matter what cooking method you use, use a meat thermometer to ensure the chicken reaches its safe-to-eat internal temperature of 165°F.
Allow the cooked chicken to rest for 5 to 10 minutes before serving. This gives the juices time to soak back into the meat, making it more moist and flavorful.
Frequently asked questions
How long can you brine chicken in pickle juice?
I recommend marinating the chicken for a minimum of 2 hours or a maximum of 24 hours. This gives the flavors plenty of time to penetrate the meat and work their magic.
Can you marinate frozen chicken in pickle juice?
No. It's always best to thaw chicken before letting it sit in a marinade. You can, however, freeze the fresh chicken in pickle juice, then leave it to defrost (the meat will marinate as it thaws). 
How do you freeze the chicken in pickle juice?
Store the chicken and pickle juice brine in a sealed freezer-safe container or bag for up to 3 months. When it's time to cook, remove it from the freezer, thaw it in the refrigerator, and proceed with your favorite cooking method.
What other proteins can you brine in pickle juice?
Leftover pickle juice is a delicious brine you can use for other cuts of chicken, other meats, and even fish. Use it to make pickle juice chicken wings, chicken tenders, chicken legs, or chicken thighs. Or switch up the meat and use the brine to marinate pork chops, pork tenderloin, turkey breasts, or turkey legs. As for fish, go with stronger-flavored varieties, like salmon and trout.
Serving suggestions
Slice up the delightfully pickle-y chicken breasts and stuff them into sandwiches and lettuce wraps, or use them as a protein-packed topping on leafy green salads and grain bowls. When you're serving the chicken as the main event for dinner, pair it with sides that complement the zesty flavors, like:
Storing
Store the leftover cooked and cooled dill pickle chicken in an airtight container in the fridge for 3 to 4 days. It also freezes well for 3 to 4 months. Let the leftovers defrost before reheating in the microwave or oven.
Wine pairings for pickle-brined grilled chicken
More chicken dinner recipes
​​​​Did you make this pickle juice chicken?
If you loved this brined chicken breast recipe, I would appreciate it so much if you would give this recipe a star review! Also, be sure to snap a picture of your finished dish and share it with me on Instagram using the hashtag #platingsandpairings and tagging me @platingsandpairings.
For more great Platings and Pairings recipes, be sure to follow me on Instagram, TikTok, Pinterest and Facebook.
Pickle Brine Chicken Recipe
Put leftover pickle juice to use in this Pickle Brine Chicken recipe! Chicken breasts are brined in pickle juice, then cooked to perfection!
Print
Pin
Ingredients
4

chicken breasts

(boneless skinless )

1 ½

cups

dill pickle juice

(I recommend the juice from these Quick Pickles)

1

Tablespoon

sugar

Kosher salt + pepper
Instructions
Place the chicken breasts in a medium bowl.

Whisk together the pickle juice and sugar.

Pour the pickle juice mixture over the top of the chicken.

Cover and place in the refrigerator a minimum of 2 hours or overnight.

Remove chicken from brine (discard brine) and place on a plate.

Pat dry with a clean paper towel.

Season with a pinch of kosher salt and pepper.

Preheat a grill to high heat (about 450 degrees).

Place the chicken on the grill and cook for 3-5 minutes. Flip, then continue cooking 3-5 minutes longer, until the internal temperature reaches 165 degrees on an instant read meat thermometer.

Remove from grill and let rest for 5-10 minutes before serving.
Nutrition
Calories:
294
kcal
|
Carbohydrates:
9
g
|
Protein:
48
g
|
Fat:
6
g
|
Saturated Fat:
1
g
|
Polyunsaturated Fat:
1
g
|
Monounsaturated Fat:
2
g
|
Trans Fat:
0.03
g
|
Cholesterol:
145
mg
|
Sodium:
1593
mg
|
Potassium:
836
mg
|
Sugar:
3
g
|
Vitamin A:
68
IU
|
Vitamin C:
3
mg
|
Calcium:
11
mg
|
Iron:
1
mg