This Sheet Pan Cubano Sandwich is the ultimate cuban sandwich recipe. Thinly sliced ham, cuban marinated pork and gruyere cheese are layered with pickles and mustard then baked on a weighted sheet pan, resulting in a crispy, delicious sandwich.
Rick is a sandwich person. I am not. When he gets a craving for something, he wants a sandwich. Me on the other hand, I'll take a huge bowl of pasta… However, there's one sandwich that can always win my heart – the Cubano.
What is a Cubano Sandwich?
By definition, the traditional Cuban sandwich starts with Cuban bread that's sliced and lightly buttered or brushed with olive oil. A coating of yellow mustard is always included, as are pickles, sliced ham, swiss cheese and roasted pork. I just learned on Wikipedia that there's also a bit of a controversy about whether the cubano sandwich should include salami as well… Mine does not.
But, my version of this Cubano Sandwich is bound to bring a whole new level of controversy to the mix, because I'm switching things up in a couple ways:
Using gruyere cheese instead of the traditional swiss variety.
Baking the sandwiches instead of grilling them.
I mean, why not switch things up a bit and have some fun with the traditional Cubano Sandwich recipe? I thought that the gruyere cheese would make a delicious substitute for the swiss cheese. A bit less sharp, but with that same nutty creaminess, the melty gruyere was absolutely delicious with the tangy pickles and yellow mustard.
For my final twist on the traditional Cubano Sandwich, I decided to bake it, instead of grilling it in the traditional manner. If I had a panini press at home, I'd definitely go that route, but since I do not, I thought that baking these cubano sandwiches in the oven would do the trick. But the key part was adding some pressure on top of them to weight them down as they cooked away, resulting in that perfect crunchy exterior and the melty, delicious inside.
To do that, I placed the sandwiches on a cookie sheet and then placed another cookie sheet on top of them. Then, on top of that, I placed a heavy cast iron skillet. Super simple to do with items you probably already have at home. No need to invest in a fancy panini press…
Most likely, you'll not find cubano sandwich rolls in your local market. I did not. So instead, I used some torta rolls. Ciabatta, hero rolls or even a baguette would also work here.
As for the meat, I piled in some thin-sliced ham and cuban mojo-marinated pork that I had made in my Instant Pot the night before. I'd highly suggest making that cuban pork – it's amazingly delicious. But, if you're short on time, feel free to use store-bought roast pork. I used those long, thin sliced pickle slices in these sandwiches, and definitely gave them a good slathering of mustard.
Here's a tip for you: To give them even more pickle flavor, and to ensure that the inside of the sandwich stayed moist as it cooked away, I also drizzled a bit of the pickle brine onto the cut side of the sandwich top as well.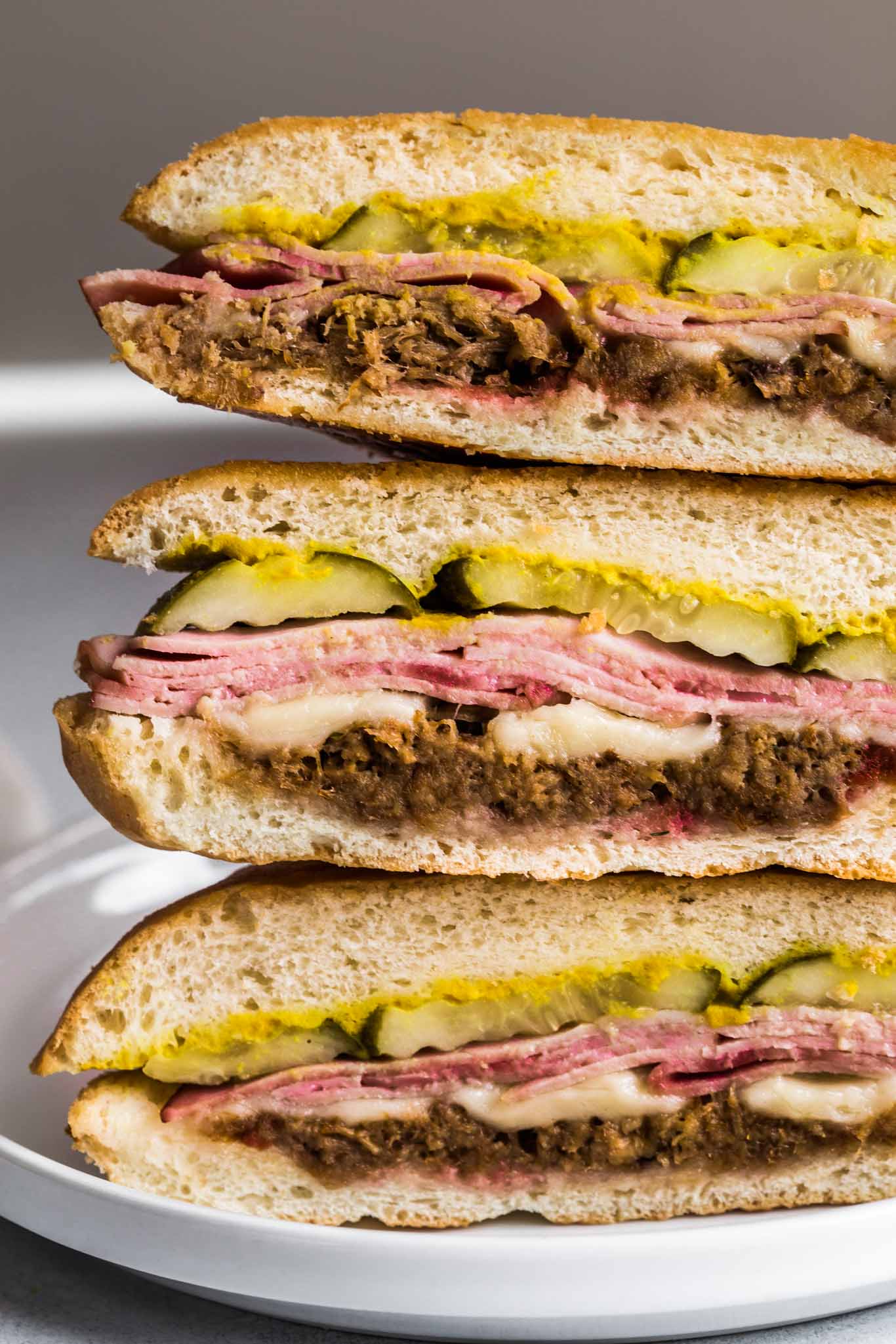 If you loved this Cubano Sandwich Recipe I would appreciate it so much if you would give this recipe a star review! Also, be sure to snap a picture of your finished dish and share it with me on Instagram using the hashtag #platingsandpairings and tagging me @platingsandpairings.
For more great Platings & Pairings recipes, be sure to follow me on Pinterest, Facebook, YouTube and Twitter.
Baked Cubano Sandwich Recipe
Sheet Pan Cubano Sandwich Recipe
This Sheet Pan Cubano Sandwich is the ultimate cubano sandwich recipe. Thinly sliced ham, cuban marinated pork and gruyere cheese are layered with pickles and mustard then baked on a weighted sheet pan, resulting in a crispy, delicious sandwich.
Print
Pin
Ingredients
4

torta rolls

(baguettes or hero rolls, split lengthwise)

2

Tablespoons

yellow mustard

½

pound

thinly sliced cooked ham

½

pound

Cuban Mojo-Marinated Pork

(or store-bought roast pork)

¼

pound

thinly sliced Gruyere Cheese

6

dill pickles

(sliced, plus 4 teaspoons pickle juice)

2

Tablespoons

unsalted butter

(melted)
Instructions
Preheat oven to 400°F.

Brush each top bread slice with 1 teaspoon pickle juice and mustard, then layer on the ham, pork, cheese, and dill pickles.

Brush the top and bottom of the sandwich with melted butter and place on a baking sheet. Place a second baking sheet on top of sandwiches and press lightly. Place a large cast-iron skillet on top of baking sheets to press.

Bake for 20 minutes, or until bread is golden and cheese is melted. Let cool slightly, then slice each sandwich in half on the diagonal and serve.
Nutrition
Calories:
366
kcal
|
Carbohydrates:
2
g
|
Fat:
6
g
|
Saturated Fat:
3
g
|
Cholesterol:
15
mg
|
Sodium:
939
mg
|
Potassium:
100
mg
|
Fiber:
1
g
|
Sugar:
1
g
|
Vitamin A:
355
IU
|
Vitamin C:
0.7
mg
|
Calcium:
45
mg
|
Iron:
0.5
mg
Wine Pairings for Cubano Sandwich:
Try an Oregon Pinot Noir with this sandwich. Hints of red cherries, a bright acidity and soft tannins won't overpower the delicate flavors of the ham and gruyere cheese.
For a white wine option, I'd lean towards a Vinho Verde. Its bright acidity, and slight effervescence will be amazing with the tangy pickles and creamy cheese.