Learn How to Boil Shrimp for shrimp cocktail, party snacks, and more! This easy cooking method is practically foolproof and fun to customize.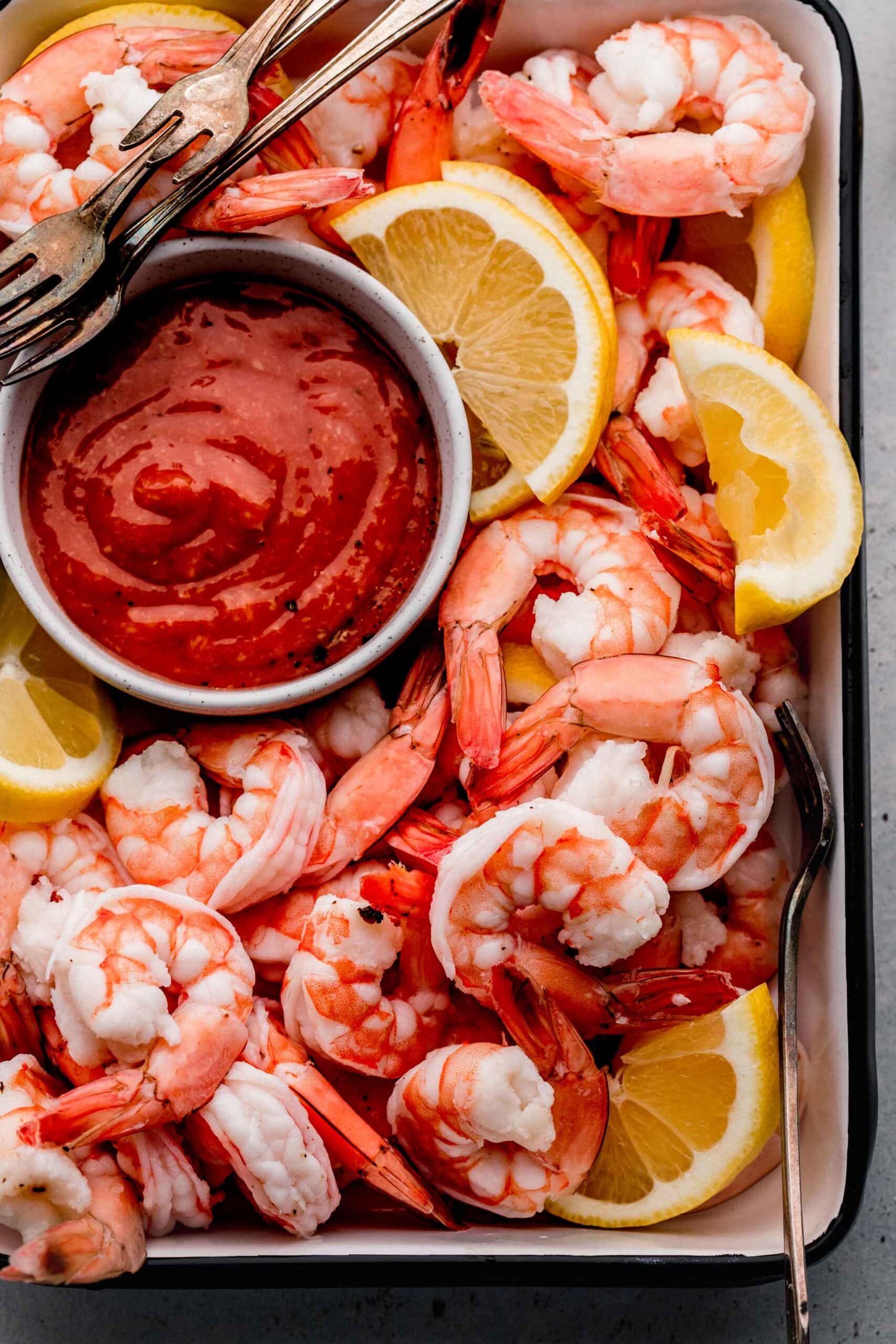 If you want to cook shrimp without them turning to rubber, follow this guide to learn How to Boil Shrimp. It's a quick, easy, and foolproof method. The flavors are fun to play with, too!
The method is as simple as it sounds: the shrimp are cooked in a pot of boiling water along with flavorful aromatics, then transferred to an ice bath once they turn pink.
From there, the shrimp are ready to be dipped into tangy remoulade sauce, seafood boil sauce, cocktail sauce, or layered on shrimp sushi bowls, or served wherever you need a healthy, delicious protein.
MORE → 20+ 🌟 sauces for shrimp 🌟
Did I mention it's all said and done in less than 10 minutes? The quick cooking time is just one of the many benefits of boiled shrimp. You'll never want to go back to grilled or pan fried again!
Ingredients needed
Think of boiled shrimp as a blank canvas. You can incorporate all kinds of flavors using herbs, spices, and aromatics. If you're just getting started, stick to these easy ingredients:
Shrimp – Choose the size of your choice; shrimp usually come in colossal, jumbo, extra large, large, medium, small, and miniature. I used large (16-20 count) shrimp for this recipe and removed the peel and vein before boiling (watch this video to learn how to peel and devein shrimp) but kept the tails in place. Pro tip: If you're using a larger variety of shrimp, always remove the vein (AKA the shrimp's digestive track) first as it can have a gritty texture and ruin the flavor.
Water – For boiling of course! If you want to get creative, boil the shrimp in seafood stock or beer instead.
Lemon – A halved lemon is boiled in the water to infuse the shrimp with a deliciously bright flavor. Feel free to experiment with more aromatics in the boiling water, like bay leaves, peppercorns, or garlic cloves.
Salt – To season the shrimp as they boil.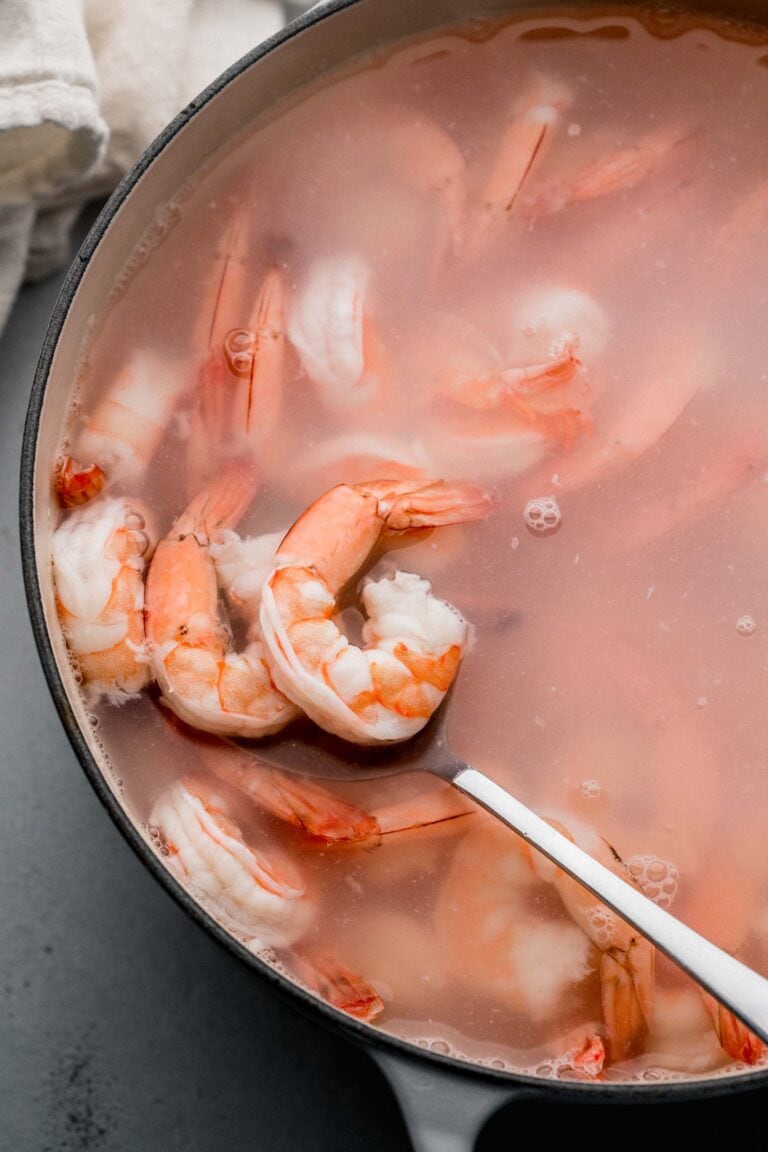 How to boil shrimp
Bring a large pot of water up to a boil on the stove. Once it starts to boil, add the lemon halves and salt, then the shrimp.
While you wait, fill a bowl with cold water and ice.
Cook the shrimp until they turn from gray to pink. When they're done, immediately transfer them to the ice bath to cool.
Remove the shrimp from the ice bath when completely cool and pat them dry. Serve them with cocktail sauce for dipping or anywhere else you love to eat shrimp!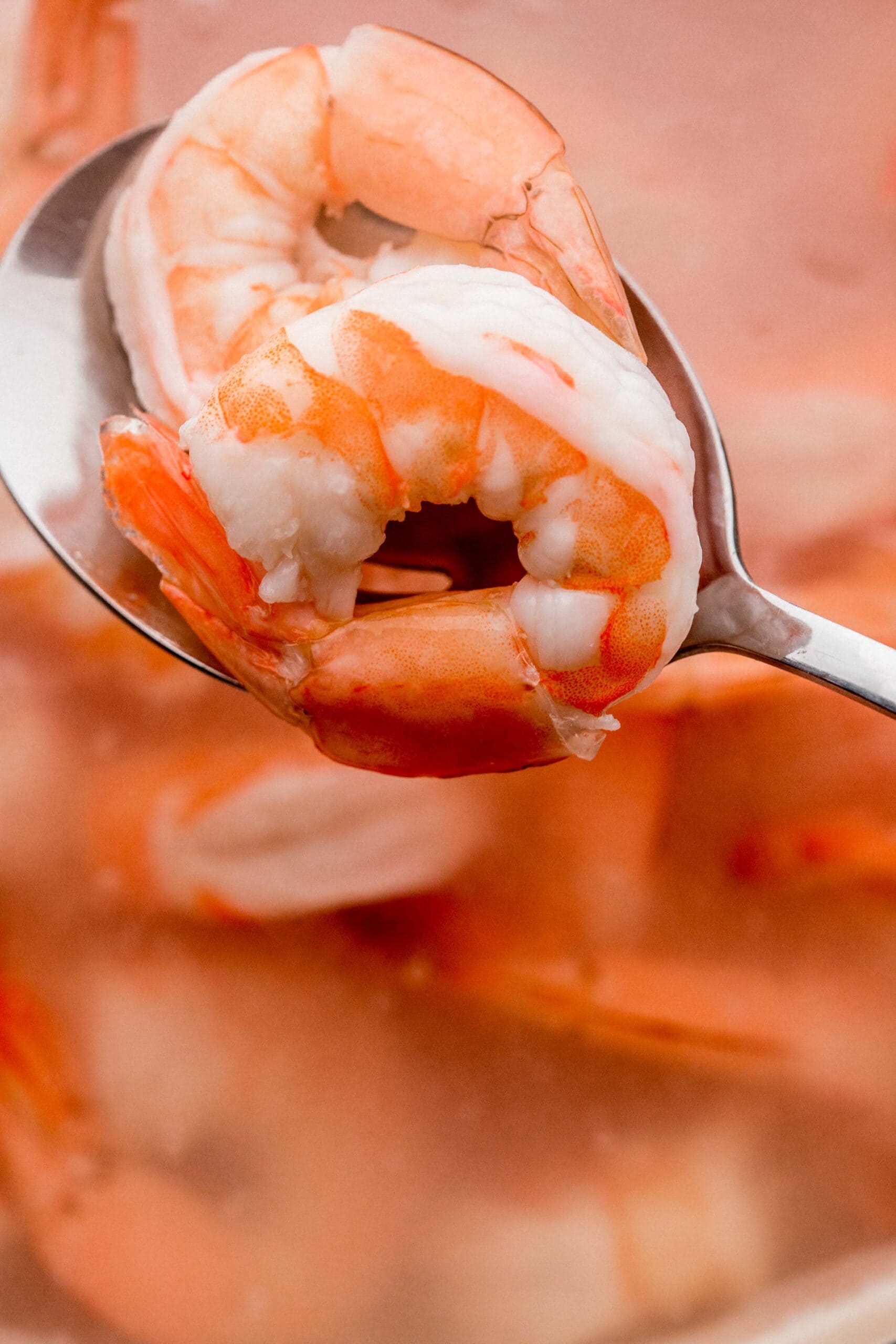 Recipe FAQs
How long do you boil shrimp?
This depends on the size of the shrimp you use, but they likely won't need to be boiled for longer than 8 minutes. The large shrimp I used here only took 2 to 3 minutes to cook.
How do you know when shrimp is done boiling?
You'll know the shrimp are cooked and ready to be transferred to the ice bath when they turn from gray and translucent to a light pink color.
Can you boil frozen shrimp instead of fresh?
Yes, this recipe works just as well with frozen shrimp. Make sure to thaw them first in the fridge overnight or by placing the bag of frozen shrimp in a bowl filled with cold water.
Serving suggestions
If you're wondering what to do with your boiled shrimp, shrimp cocktail is the best way to go! Pair the large boiled shrimp with either cocktail sauce or any of these flavorful dipping sauces:
Feel free to make it a meal by serving your shrimp cocktail with any of these 37+ Side Dishes for Shrimp.
More ways to serve boiled shrimp
Shrimp Tacos
Creamy Shrimp Salad
Shrimp Sandwiches
Storing boiled shrimp
Any leftover shrimp can be stored in a shallow airtight container in the fridge for 1 to 2 days.
Wine pairings
Chardonnay has hints of butter and citrus that pair amazingly well with shrimp.
Sauvignon Blanc has bright citrus and herbal notes that pair perfectly with the lemon that's squeezed over the shrimp.
Pinot Grigio and Pinot Blanc are a nice match with their crisp minerality and citrus notes.
For something unexpected, and budget friendly, try a Vinho Verde.
More helpful how-to guides
More shrimp recipes
​​Did you make this boiled shrimp recipe?
If you loved learning how to boil shrimp, I would appreciate it so much if you would give it a star review! Also, be sure to snap a picture of your finished dish and share it with me on Instagram using the hashtag #platingsandpairings and tagging me @platingsandpairings.
For more great Platings and Pairings recipes, be sure to follow me on Instagram, TikTok, Pinterest and Facebook.
How to Boil Shrimp
Learn How to Boil Shrimp for shrimp cocktail, party snacks, and more! This easy cooking method is practically foolproof and fun to customize.
Print
Pin
Instructions
Bring a large pot of water to a boil (about 2 quarts).

Prepare a bowl of ice water.

Once the water is boiling, add the lemon halves and salt, along with the shrimp.

Cook for 2-3 minutes (depending on the size of your shrimp), until pink.

Remove with a slotted spoon to the bowl of ice water to let cool.

Serve with cocktail sauce, remoulade sauce, or drawn butter.
Nutrition
Calories:
95
kcal
|
Carbohydrates:
3
g
|
Protein:
0.3
g
|
Fat:
0.1
g
|
Saturated Fat:
0.01
g
|
Polyunsaturated Fat:
0.03
g
|
Monounsaturated Fat:
0.003
g
|
Sodium:
1163
mg
|
Potassium:
38
mg
|
Fiber:
1
g
|
Sugar:
1
g
|
Vitamin A:
6
IU
|
Vitamin C:
14
mg
|
Calcium:
8
mg
|
Iron:
0.2
mg