Avgolemono Soup is the best lemon dill chicken soup. This authentic Greek Avgolemono Soup recipe is delicious with a hint of lemony brightness to warm you up on chilly winter days!
Tis the season for soup! With temperatures already dropping to near zero degrees throughout the country before winter even began, I used some of my bonus snow days to work on my soup recipe collection.
This soup is inspired by the familiar Greek lemon soup, Avgolemono.
✔️

What is avgolemono?
Avgolemono is a Greek lemon-egg sauce. It is made with egg yolks, lemon and warm broth. This lemon chicken soup gets its name from that traditional Greek sauce. Avgolemono soup is traditionally made with either rice or orzo, seasoned with plenty of fresh lemon juice, and then thickened up using eggs – It's rich and creamy, but simple, letting the flavor of the lemon and chicken really shine through.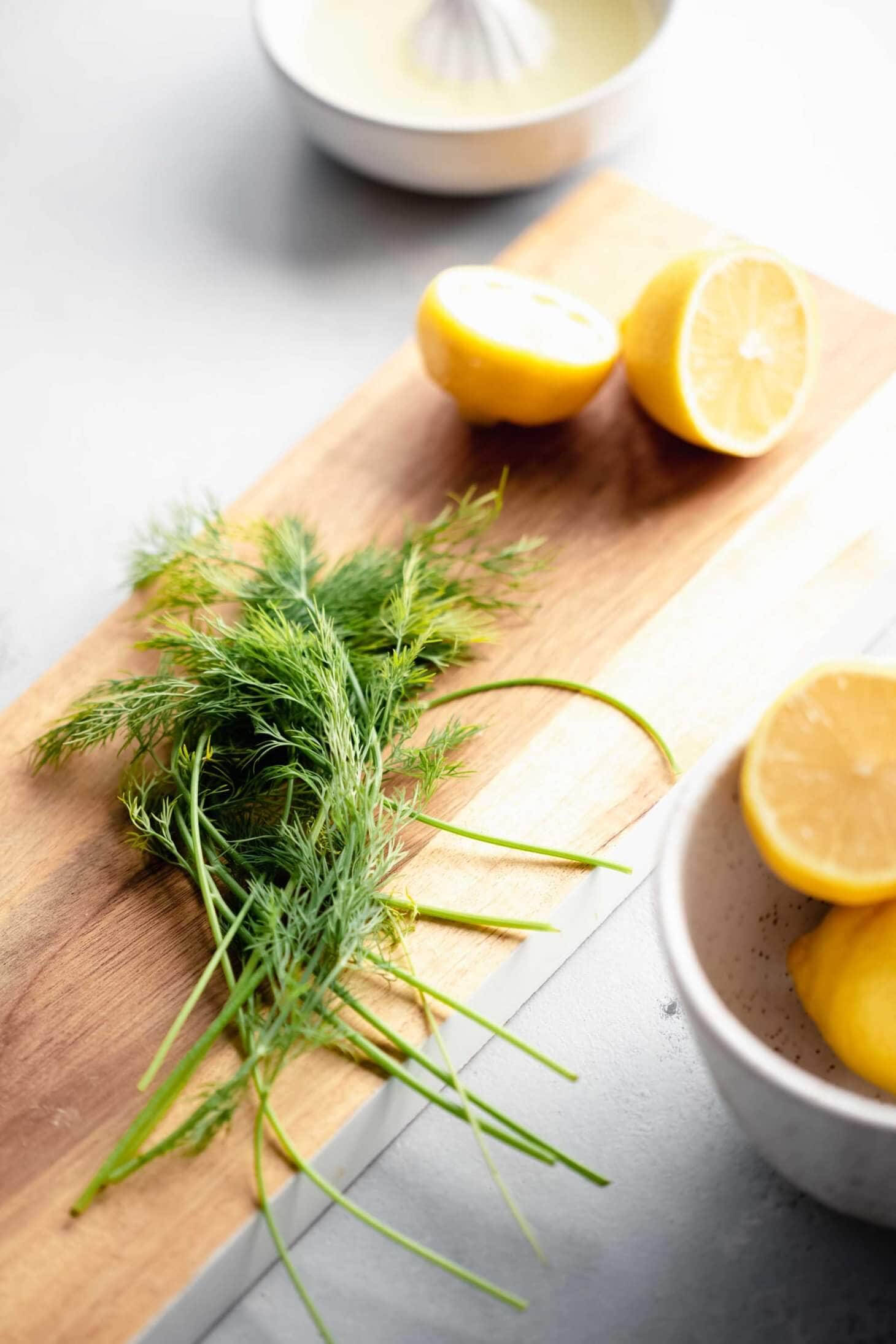 ℹ️

How do you pronounce avgolemono?
The "g" is silent when pronouncing Avgolemono. The name Avgolemono comes from "ah-vo" which means "egg" and "lemon-o" which means lemon.
I upped the flavor on my version of Avgolemono Soup by throwing in a good amount of dill, because I really love its flavor. If you're not a dill fan, you can leave it out, it will still be amazingly delicious and full of flavor. Or, try adding in a tablespoon of dried oregano, for a different taste. I like it both ways equally!
🛒 Ingredients needed
📋

How to

make it
Bring broth to a simmer.

Add ½ cup rice, egg yolks and lemon juice to a blender, slowly stream in 1 cup hot broth.

Stir puree into simmering stock.

Season with fresh dill.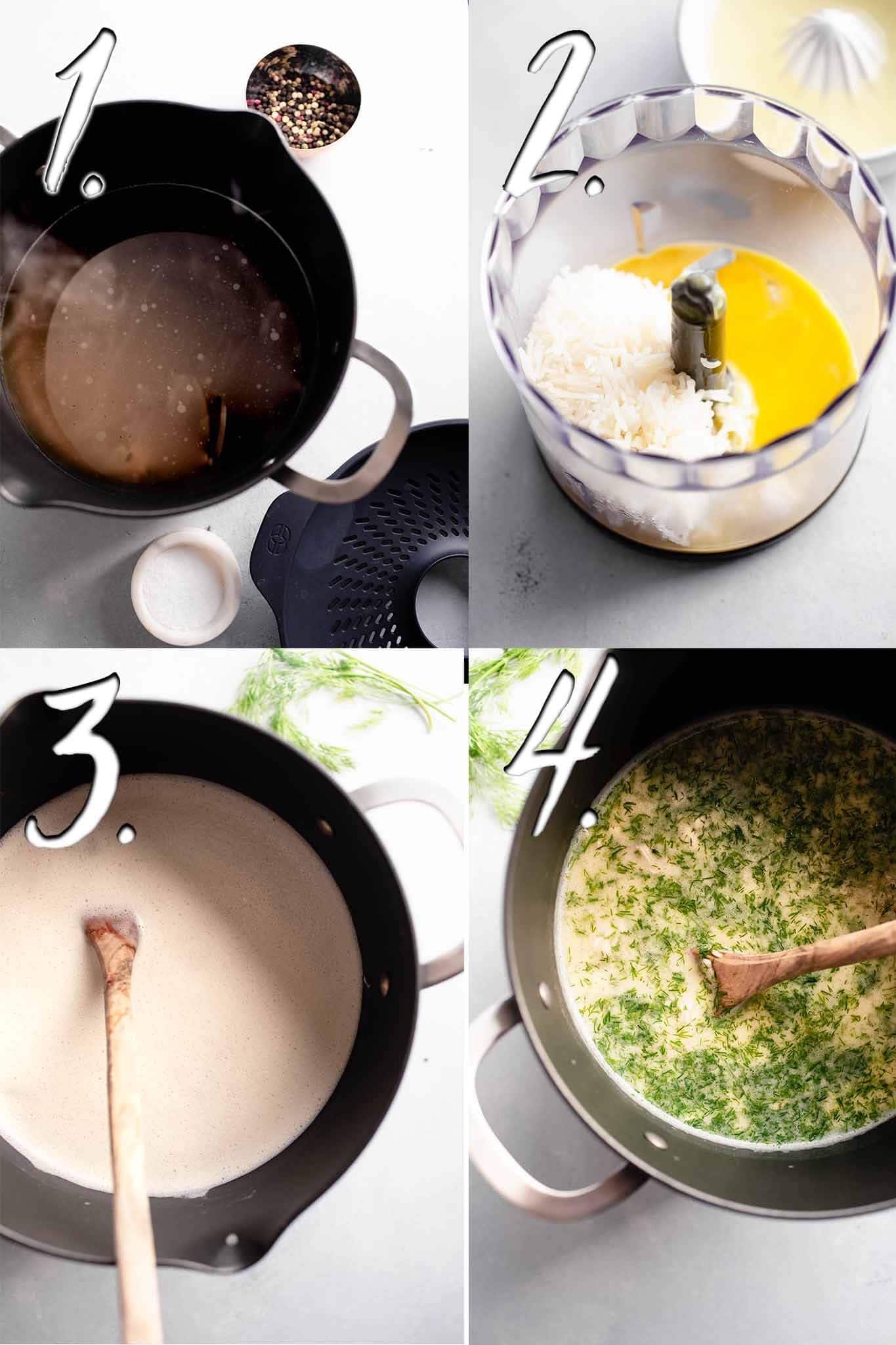 To start things off, I used some of my bone broth – something I always have on hand in the freezer. It's super easy to make using just kitchen scraps and your crockpot or instant pot! However, if you don't have any bone broth on hand, feel free to substitute in some low-sodium chicken stock instead. Heat the stock on the stove over medium heat and season it with salt and pepper to your liking.
🥛

Does avgolemono have cream?
You might think, because of its color and rich, creamy texture, that this creamy chicken lemon rice soup recipe has cream in it.
Nope! There's no dairy in here at all.
Instead, we're using this handy trick – In a blender, combine about a half cup of cooked rice, a couple egg yolks and lemon juice – Start the blender and then slowly stream in some of the warm stock. This tempers the egg and makes it so that it won't scramble up in your soup like an egg drop type soup kind of thing – That is not what we're going for here. Ummm, no. We want a silky smooth soup and this is just the way to get it.
Add that tempered egg mixture back into the hot stock along with some chopped up chicken (you can even skip this if you don't have any on hand) and the remaining rice and let it just heat through and thicken up further for about ten more minutes. You won't believe how simple this easy Greek lemon chicken soup is to prepare!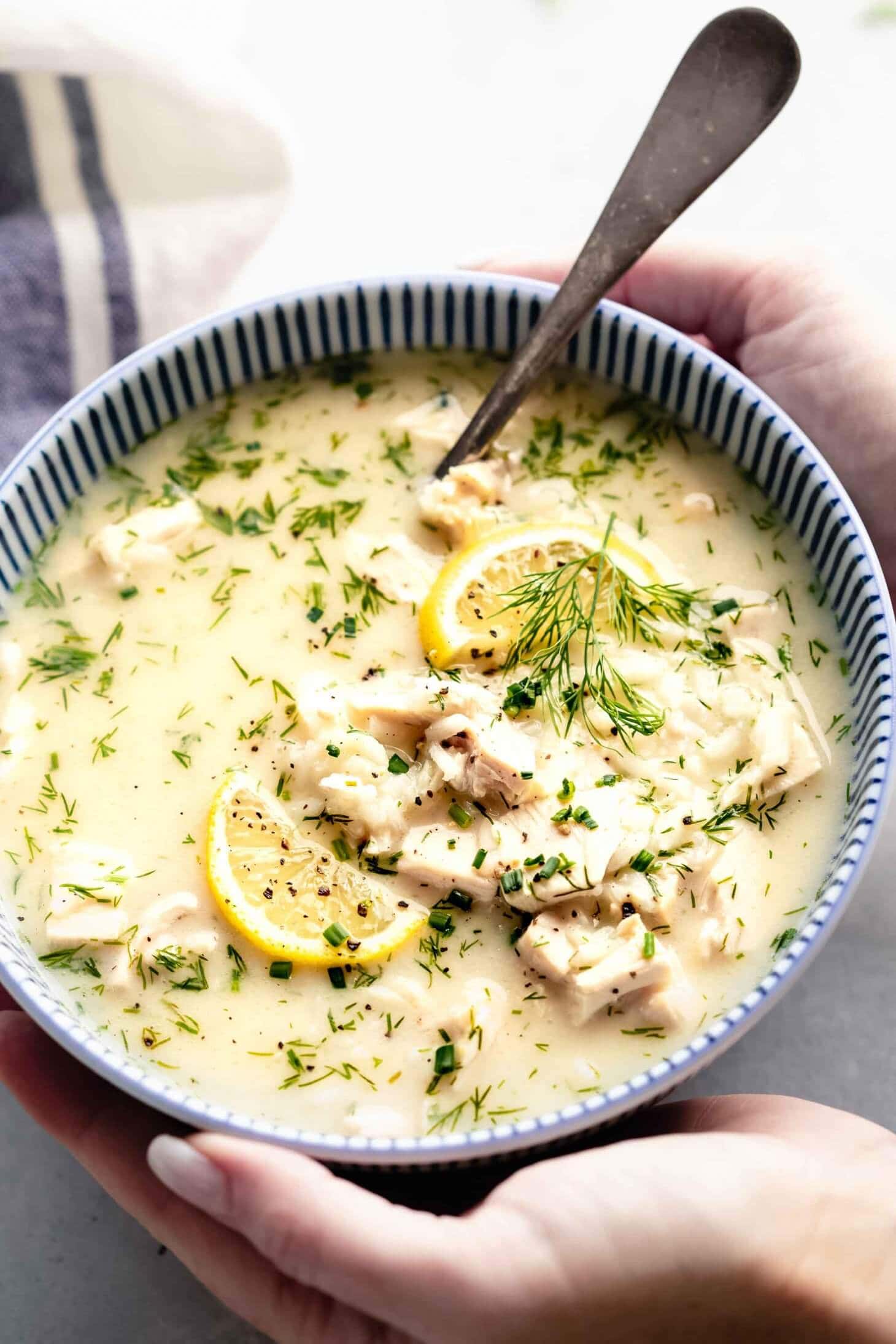 This Lemon Chicken Soup is perfect for when you feel a cold coming on because of all the Vitamin C. Because of that, I like to keep some in the freezer throughout the winter to keep any sickness at bay.
Have you tried Avgolemono soup before? What do you think of this version with dill added to it?
🍽 What to serve with it
🍷 Wine pairings
Pinot Gris

has a bright acidity with citrus notes that will pair amazingly well with the creamy, lemon flavors in this soup.

With its slight effervescence,

Vinho Verde

balances out the richness of this soup and plays well with the citrus notes.

Sauvignon Blanc

has a nice herbal, grassy backbone that is a nice compliment to the dill in this soup.
Tip: This soup is also great made with leftover turkey!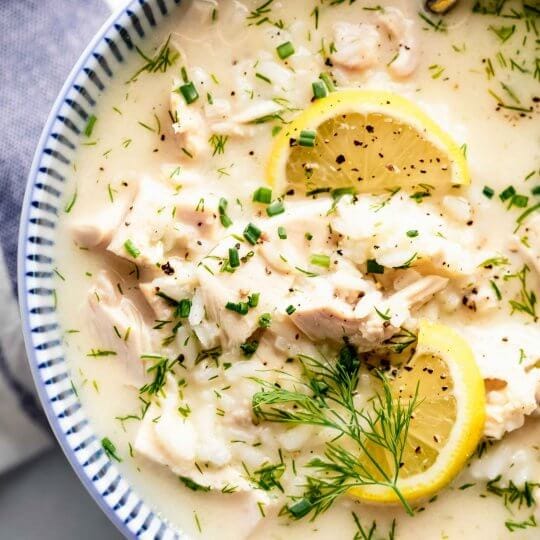 Lemon Dill Chicken Soup Recipe
Avgolemono Soup is the best lemon chicken soup with fresh dill. This authentic Greek Avgolemono Soup recipe is delicious with a hint of lemony brightness to warm you up on chilly winter days!
Print
Pin
Instructions
In a large saucepan, bring the broth to a simmer and season with salt and pepper, to taste.

Add ½ cup rice, egg yolks and lemon juice to a blender, slowly stream in 1 cup of hot broth and puree until smooth.

Stir the puree into the simmering stock along with the chopped chicken and remaining rice. Simmer until slightly thickened, approximately 10 minutes. Stir in the fresh dill and serve.
Nutrition
Calories:
177
kcal
|
Carbohydrates:
24
g
|
Protein:
14
g
|
Fat:
2
g
|
Cholesterol:
97
mg
|
Sodium:
117
mg
|
Potassium:
58
mg
|
Vitamin A:
155
IU
|
Vitamin C:
8.1
mg
|
Calcium:
19
mg
|
Iron:
0.4
mg
Check out the web story here.