Where do you find some amazing wines produced from the poorest soil out there? Lenné Estate. Located outside of Yamhill, Oregon, you'll find their Pinot Noir to have a beautiful and distinct mocha aroma and silky texture. 
Outside of Yamhill, Oregon sits Lenné Estate. Owner and winemaker Steve Lutz calls its 21-acres of soil "The worst in the county" but he believes it makes for amazing wine. It took a while though. Steve planted the first 11-acres in 2001 and it was basically a disaster for a few years. Growing on a steep slope, with no irrigation, the fruit was basically dying off, with nearly 35 percent of plats lost in the first year. Finally, in 2004, there were hints of a light harvest. The vines continued to strengthen over the years and their roots deepened into to soil and found the water and nutrients they needed. In 2007, Lenné saw a fully harvestable production.
Today, Lenné produces about 1,500 to 2,000 cases of pinot noir, across two labels and six wines.
The first Pinot Noir is called LeNez (The Nose) and represents the entire vineyard and each clone planted. The other Pinot Noir is called Lenné Estate and is a barrel selection of the best of the vintage. Lenné also makes small lots of single-clone wines each year, also under the Lenné Estate label.
If you have the chance to taste their wines, you'll quickly realize that crummy soil can produce some awesome wine. You'll also notice that their wines come with a special characteristic. They all exhibit a hint of mocha, with some mineral qualities, black fruit flavors and a silky texture.
They wines at Lenne Estate are unlike anything else I've tasted in the area and I love the fact that they are so distinguishable. It's a really fun experience and will show you how much of an impact the soils can have on a wine.
Lenne Estate Tasting Room
Lenné Estate is located at 18760 NE Laughlin Road in Yamhill, Oregon and open seven days a week from 12-5pm. Be sure to check them out and enjoy a sampling of their amazing wines.
Lenne Estate Tasting Fee
Standard Flight: Five current release wines for $15, waived with any $50 purchase.
Reserve Flight: Five limited edition wines for $25, waived with a $75 purchase.
Private Seated Tasting: An in-depth private wine education experience, paired with charcuterie and cheese. $45 per person (reservations required).
Guided Vineyard Tour: Explore the vineyard while sipping some of Lenne's finest wines. Includes charcuterie or cheese board, and a selection of reserve wines. $55 per person. Advance appointment required full details here.
Note: Our tastings at Lenné Winery were complimentary. I was not compensated in any other way for this post and, as always, all opinions are my own.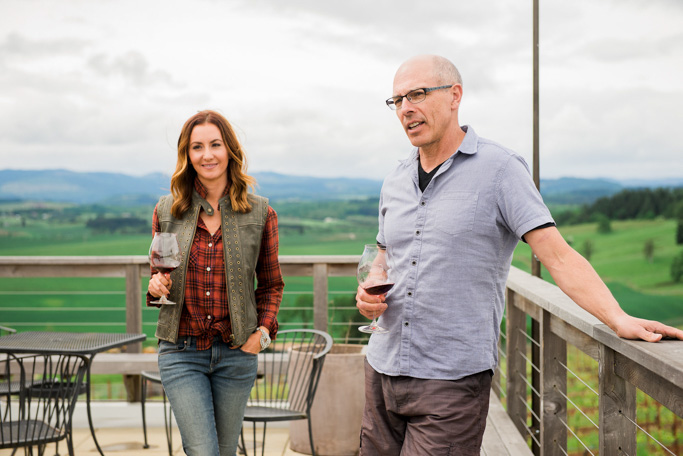 More Yamhill, Oregon Area Wineries:
Places to Stay Near Yamhill, Oregon:
A special thanks to Portland photographer Deann Orr for the amazing photographs. Be sure to check out her site for more of her stunning shots.