Alexana Winery in Newberg, Oregon, is a quick 30-minute drive from Portland. It's the perfect place to enjoy a diverse tasting of Willamette Valley wines. 
Rick and I have been wine club members of Alexana Winery for just over a year. Every time we go there, I am swept away by their amazing wines. The winery was born of Dr. Madaiah Revana's love of the great wines of Burgundy. In the spring of 2005, he began a search for both the ideal region and an experienced winemaker with the goal of producing Pinot Noirs that could rival those from Burgundy. His search ended in Oregon's Willamette Valley, where he met Lynn Penner-Ash. A match made in heaven was born.
When you're greeted at the tasting room, you'll be given a selection of five wines to taste, along with a bonus pour of your choice. For my pick, I always go for their Riesling. If you've been reading my blog for a while now, you may know that I'm a huge fan of Riesling. It's an awesome wine for pairing with a diverse variety of foods. Alexana is pouring a really elegant off-dry Riesling. Every time we visit, I pick up a bottle.
A word of warning – After the Riesling ($29), things tend to lean on the pricey side. The second wine you'll most likely taste is their Signature Chardonnay. The 2012 is easily the best Chardonnay I have ever tasted – Aged on 60% new oak, it's oaky, but not overly so at all, and is a bit creamy with notes of almond and caramel. It garnered 90 points from Wine Spectator. This bottle clocks in at a whopping $75. I'm always very, very tempted…
Moving on to the reds, the Pinot Noir tasting is where it really gets interesting. Alexana Winery's 80-acre property possesses an incredibly diverse series of soils and exposures. Eighteen soil types spread over a combination of rolling hills, steep slopes and rugged terrain.
You'll see them displayed as layers along their expansive 20-foot bar. How pretty is that?! It's like fancy sand art.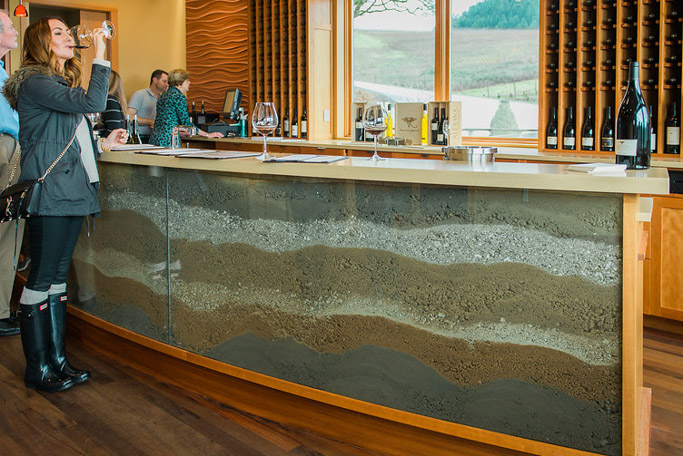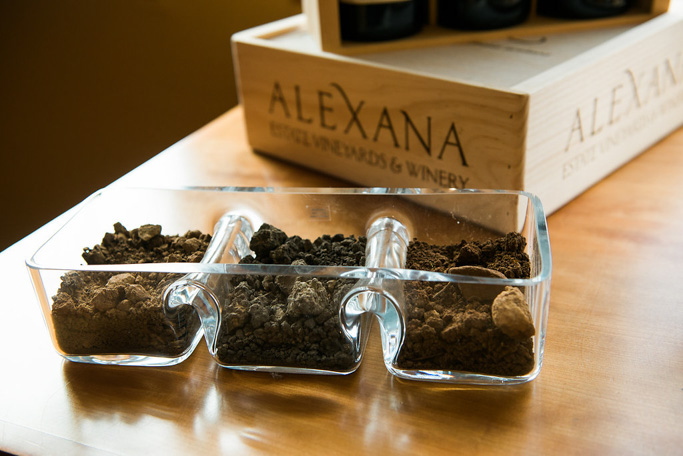 Their terrior specific bottling allows you to taste the differences that the type of soil and amount of sun can make. Even though these grapes may just be growing steps from each other, they taste incredibly distinct. Everyone will have their particular favorites – I prefer the lighter varieties, which tend to receive less sun, others may prefer the bigger Pinots, which come from a warmer, more sun exposed location. (Most of their Pinots are priced around $65.)
A tasting of 6-wines at Alexana Winery is $20. Be sure to visit them at 12001 NE Worden Hill Road in Newberg, Oregon. Other notable wineries to check out in the area are Lange Estate, Raptor Ridge Winery, and Sokol Blosser.
All the lovely photographs for this post were taken by my extremely talented friend Deann Orr. If you are in the Portland area, I'd  highly suggest booking a session with her. She makes even the extremely camera shy (like me) feel comfortable! Be sure to check out her site for more of her amazing work.
NOTE: I am a member of the wine club at Alexana Winery, and I pay for that membership out of my own pocket. I was not compensated in any way for this post.