When you enter Sokol Blosser, you're immediately greeted by the aroma of fresh cedar, it's architectural beauty, and, if you're in the Cellar Club, a glass of their Evolution sparkling wine. Located in the Dundee Hills, with vines surrounding you on both sides, it's easy to imagine that you're in a fancy treehouse of sorts… With wine. Really, really good wine.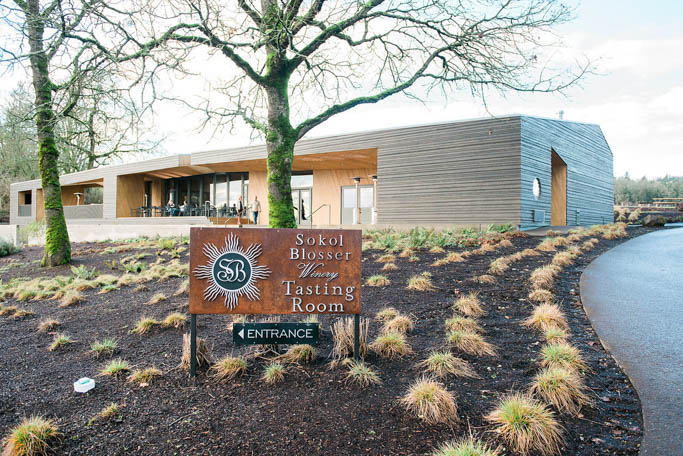 Rick and I have been members of Sokol Blosser's Cellar Club for just over a year now. When we walked in to do some tasting, we had the full intention of not joining their wine club, because we were in 7 others already. But we were won over by the first sip of Rosé. And then, the wonderful, elegant Pinot Noirs.
Food at Sokol Blosser
Sokol Blosser has wonderful cheese plates for purchase to enjoy with your wine. But they welcome picnics as well. Be sure to pack one in the summer and enjoy the lovely views from their deck. And, be sure to check out my tips for packing the perfect picnic for wine tasting.
Another experience not to be missed is their Farm & Forage lunch. You'll be treated to a wine tasting alongside bites that are beautifully prepared in front of you at the Sokol Blosser kitchen.
During this particular visit, we starting our tasting with Sokol Blosser's Pinot Blanc – It was lovely, and light, with notes of citrus and green apple. The kind of wine that summer begs for. (I grabbed a bottle to take home.)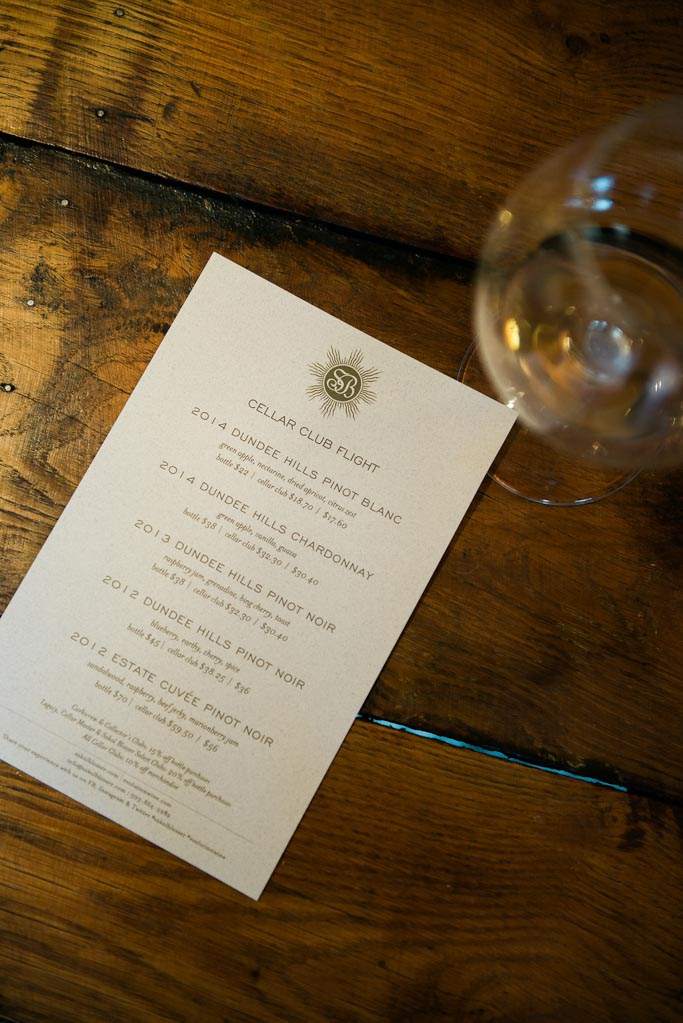 The Sokol Blosser Chardonnay was equally delicious.  Creamy, not over-cloying in any way, it finishes with a hint of vanilla.
On to the Sokol Blosser Pinot Noir pourings. They are all fabulous! We were poured both the 2013 and 2012 Dundee Hill Pinot Noir. I leaned towards the 2013, as I typically do, preferring the lighter body to that of the 2012. I like to think of 2013's as more feminine, while the 2012's lean towards the more masculine, bigger, bolder style.
To finish things off, the Sokol Blosser Estate Cuvee Pinot Noir – This is a bottle you'll want to hold on to. Woodsy notes mingle with big flavors of dark red berries. It'll be amazing with a bit more age on it.
Sokol Blosser is located at 5000 Sokol Blosser Lane in Dundee, Oregon. The tasting room is open daily from 10am – 4pm, and it can get quite busy. Because of that, I suggest visiting on Sunday rather than Saturday (weekdays are even better), and early in the day. If you're driving from Portland, they're a bit on the far side of town, so it's great to start with them and work your way back into the center of town.
Sokol Blosser Tasting Fee
The tasting fee at Sokol Blosser is currently $15.
More Dundee, Oregon Wineries:
Places to Stay Near Sokol Blosser:
A special thanks to Portland photographer Deann Orr for the amazing photographs. Be sure to check out her site for more of her stunning shots.
NOTE: I am a member of Sokol Blosser's Cellar Club, and I pay for that membership out of my own pocket. I was not compensated in any way for this post.