It's easy to pack a pick for wine tasting with these simple tips! Just choose a few cheeses, add bread and some savory elements for an easy & elegant feast that's perfect for wine country.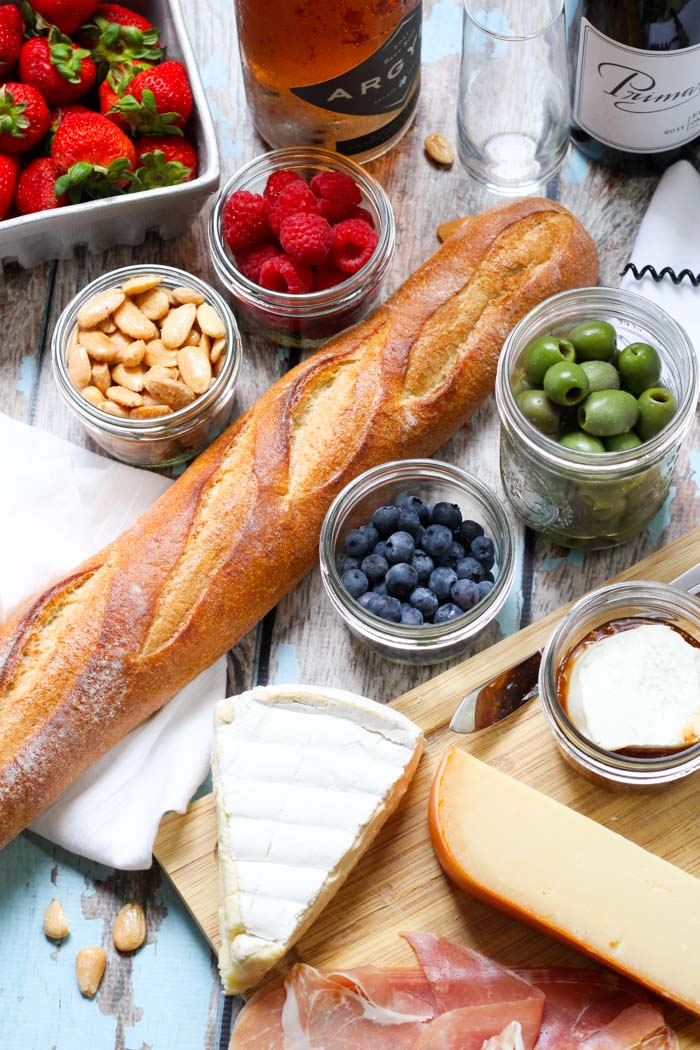 Today one of my friends tagged me on a wino post on facebook, yesterday a co-worker mentioned, "I saw a picture of you this weekend… WOW – You went wine tasting again?", and, when my boss went out of town and left me with a huge workload, he returned on Monday and thanked me with a bottle of chardonnay. So, yeah, I'm that person.
I like my wine folks! (Surrenders by raising hands) Yep, I go wine tasting – Like a lot… Like a lot a lot. Which is why, I feel qualified to offer you my suggestions on how to pick a perfect picnic basket for your wine tasting adventures.
Wines can vary quite a bit by region, with some areas, like Walla Walla, Washington, having heavier reds, and others, like the Willamette Valley, having softer, lighter Pinot Noir and bright, acidic, Pinot Gris. With a well rounded cheese plate, you'll be able to compliment any of those flavors and an extra layer to your tasting experience.
Most wineries are happy to have you bring along a picnic for consumption with their wines. However, if you're headed to a winery with an on-site restaurant, you may want to check with them first on their outside food policy.
Here are a few key tips:
Variety is important! I like to make sure I include at least one of each of these cheese types below:
Aged: Aged Cheddar, Comté, Gouda
Soft: Camembert, Boursin, Brie, Goat
Firm: Manchego, Gruyere, Jarlsberg, Monterey Jack, Provolone
Plan to serve 3-4 oz. of cheese per person, plus accompaniments.
Choose your vehicle:
Bread, crackers, or pita. NOTE:   It makes things much simpler if you pre-slice the bread, or pita before leaving home.
Add extras:
Savory: Olives (Kalamata, Castelvetrano, and Nicoise are some of my favorites), Artichoke Hearts, Cornichons, Roasted Red Peppers
Sweet: Jam, Fig compote, Strawberries, Raspberries, Cherries, Blueberries, Apple Slices, Pear Slices
Crunchy: Marcona Almonds, Cashews
Meat: Prosciutto, Salami, Capicola
One of my favorite things to bring along, that is always a huge hit, is a small mason jar filled with jam or fig compote. Top that with some chevre and spread on crackers or bread. It's got a great sweet and tangy note that really compliments almost any wine.
Just Jan's makes an excellent Kadota Fig Fruit Spread – Perfect for this!
Also, I love the individually wrapped goat cheese medallions that you can find at Trader Joe's.
Finally, I like to bring along a large wooden cutting board to act as the serving platter, along with some cloth napkins, a few cheese knives, and a corkscrew. That's it – You're set! I can usually throw together a quick picnic like this in less than half an hour.
So, there you have it. Head out there with your favorite friends, be prepared to taste some amazing wines, and take all the kudos for putting together this AMAZING spread!
What are your favorite spots for wine tasting? I'd love to hear about them!