Our weekend trip to Walla Walla, Washington was full of wonderful wines, perfect weather, good friends, and amazing food!!! We were spoiled all the way around. You may know Walla Walla for its sweet onions, but there is SO much more to this fantastic little town:
Wine – Over 125 wineries and tasting rooms in the valley, with thousands of wines scoring 90+
Food – In 2012 and 2013 Walla Walla was a runner-up in the best food category for the Best of the Road
People – In 2011, USA Today selected Walla Walla as the friendliest small city in the United States
Located in the southeastern portion of Washington, it's about 4 hours from Portland and Seattle. Over the last three decades, Walla Walla has seen a tremendous boom in its wine industry and has become a premier wine destination. I think that a huge part of this has to be contributed to the community – Such a supportive and tightly knit group of farmers and wine makers who really take an interest in what each other are doing and have no hesitation in promoting one another.
The tasting rooms are laid back, relaxed and friendly. To me that is SO important. A fun environment where wine is meant to be enjoyed. I know so many people who feel intimidated to go wine tasting – "I don't know what wines I like", "I don't know what to taste for", "Why are there spit buckets"…? Just do what you want, taste the wines you think will be appealing to you, and maybe surprise yourself with some that sound out of your norm, pour out what you don't like… You don't need to pick up aromas of honeydew and band aids from a wine, maybe you'll get cherry and pepper aromas. Everyone has a taste of their own. Oh, and those spit buckets…  I don't think I've ever seen anyone actually spit out a wine. It is however, perfectly acceptable to pour out what you don't want after tasting. It's a actually a good idea – You're probably going to be doing quite a bit of tasting!
Another great part about wine tasting in Walla Walla? The tasting room fees are REALLY reasonable. You may not believe this, but I have NEVER been to Napa. (I know, I know, I NEED to go… Someday – It's definitely on the list). I do, however, know plenty of people who do go to Napa on the regular. I've heard rumors of tasting fees that run $30+. In Walla Walla, most tasting fees are $10, and that fee is refunded if you purchase a bottle of wine. We bought A LOT of wine, like a lot a lot. We planned ahead and ordered a couple of new wine coolers before the trip, but they're full already. We need a couple more, we have a problem… #GoodProblemToHave #NotComplaining
If you're traveling by air, Alaska Airlines has a great offer – Your first case of wine flies for free when travelling out of the Walla Walla, Tri-Cities/Pasco, or Yakima Airports. Also, show your current Alaska Airlines boarding pass and receive waived tasting fees at over 75 Walla Walla Valley wineries – How cool is that?!
As for places to stay, we have had great luck with VRBO. I like to cook at home (obvi!) so I like to have a place with a kitchen. There are so many amazing houses in Walla Walla. Last year, we stayed at an uber-modern house on the outskirts of town with amazing views of the rolling hills and horse pastures. This year, we stayed in a turn of the century home in an beautiful neighborhood within walking distance to town. It was great because we could walk to dozens of tasting rooms that are located right off Main Street. We've also stayed at the Marcus Whitman which boasts lovely rooms, an amazing restaurant, AND they have pet-friendly rooms, so little Sammie was able to stay with us! Many wineries have pet-friendly tasting rooms as well. Just be sure to check before your visit.
With thousands of wines scoring 90+ and over 125 wineries and tasting rooms in the valley, you know that Walla Walla has got to be on to something! Known primarily for its rich, hearty red wines – Cabernet, Syrah and Merlot, you can also find plenty of delicious rieslings, rosés and sauvignon blancs. The rieslings coming out of the Walla Walla valley are some of my favorites around – Poet's Leap from Long Shadows, The Composer from Rasa were two of my favorites on this trip. Rick loved the Syrah at L'Ecole. Here's a look at the places we visited:
DAY 1
We pulled into town from the west and started with wine tasting immediately. Because when you just had a 4 hour car ride you need wine STAT, right?…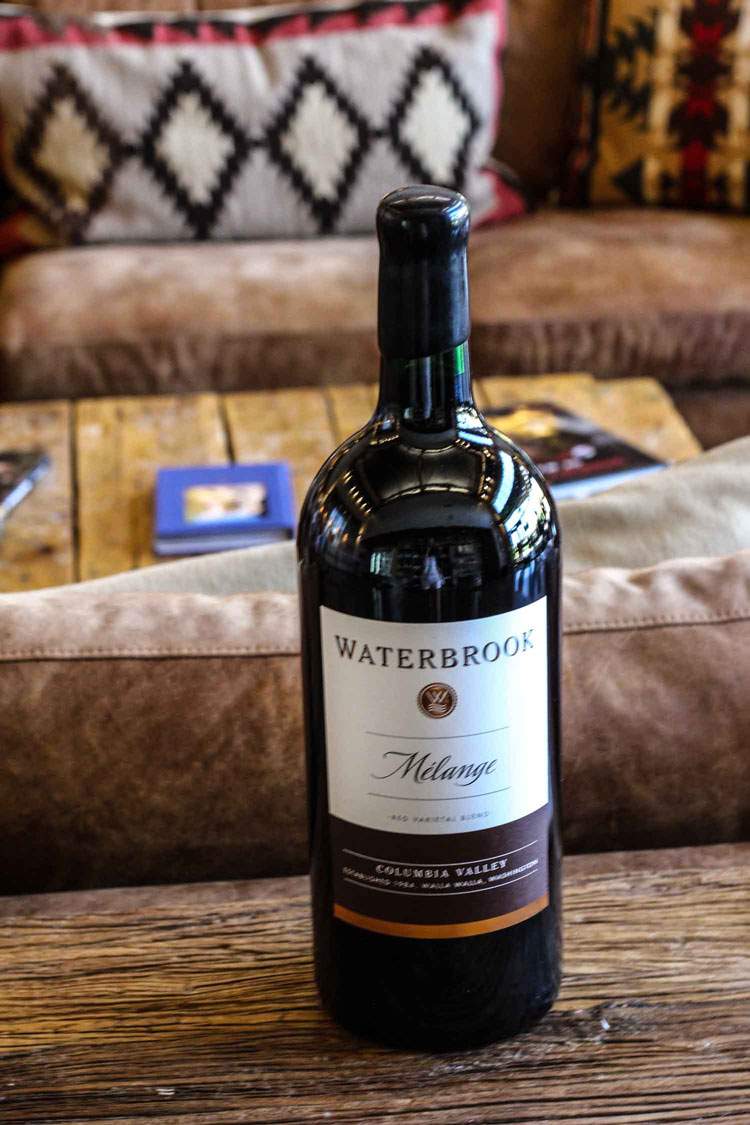 Waterbrook was our first stop – You may be familiar with their wines as they have a large production and are widely available nationwide. Their tasting room feels like a beautiful lakeside lodge. With oversized leather sofas, pendleton woven rugs and lots of outdoor seating surrounding the onsite pond, it's easy to want to stay here all day and just enjoy the atmosphere. But, we were off to our next stop, L'Ecole.
Housed in an old schoolhouse built in 1915, with it's squeaky wooden floors and floor to ceiling bookshelves, L'Ecole feels a bit like you are stepping back in time, or walking into a museum. Our host would feel right at home in Portland – With his long red beard and moustache with waxed tips, he was super friendly and accommodating, suggesting several other wineries that we should visit during the weekend. I loved L'Ecole's Chenin Blanc and Rosé. After that, we were off to Long Shadows for our standing reservation at 3pm. 

Long Shadows has one of my favorite rieslings – Poet's Leap. We have been to this winery twice before, always brought back by their great wines. This is one of the few wineries that does require an appointment. However, it allows you to have a more personalized, relaxed experience. Housed in a space with floor to ceiling windows, intricate glasswork and leather walls – It almost feels like you're in a upscale office space – A bit more austere in nature than your typical tasting room but not to be missed.
After Long Shadows, we headed to our VRBO house to get ready for dinner. We were in for a treat at Feast in the Fields. Hosted by A'Maurice and Walla Walla Vintners and catered by Olive, we had the opportunity to dine amongst the vines.
We started with wine and appetizers at Walla Walla Vintners. Mussels with pork belly and gulf prawns with a red chili chimichurri were passed as we enjoyed a sangiovese. After appetizers, we made the short walk over to A'Maurice cellars. And, since it was a HOT night, we switched to a rosé. Our first course was braised octopus with white beans, followed by a dry rubbed wagyu tri tip, and dessert of cherry upside down cake and an aged balsamic ice cream.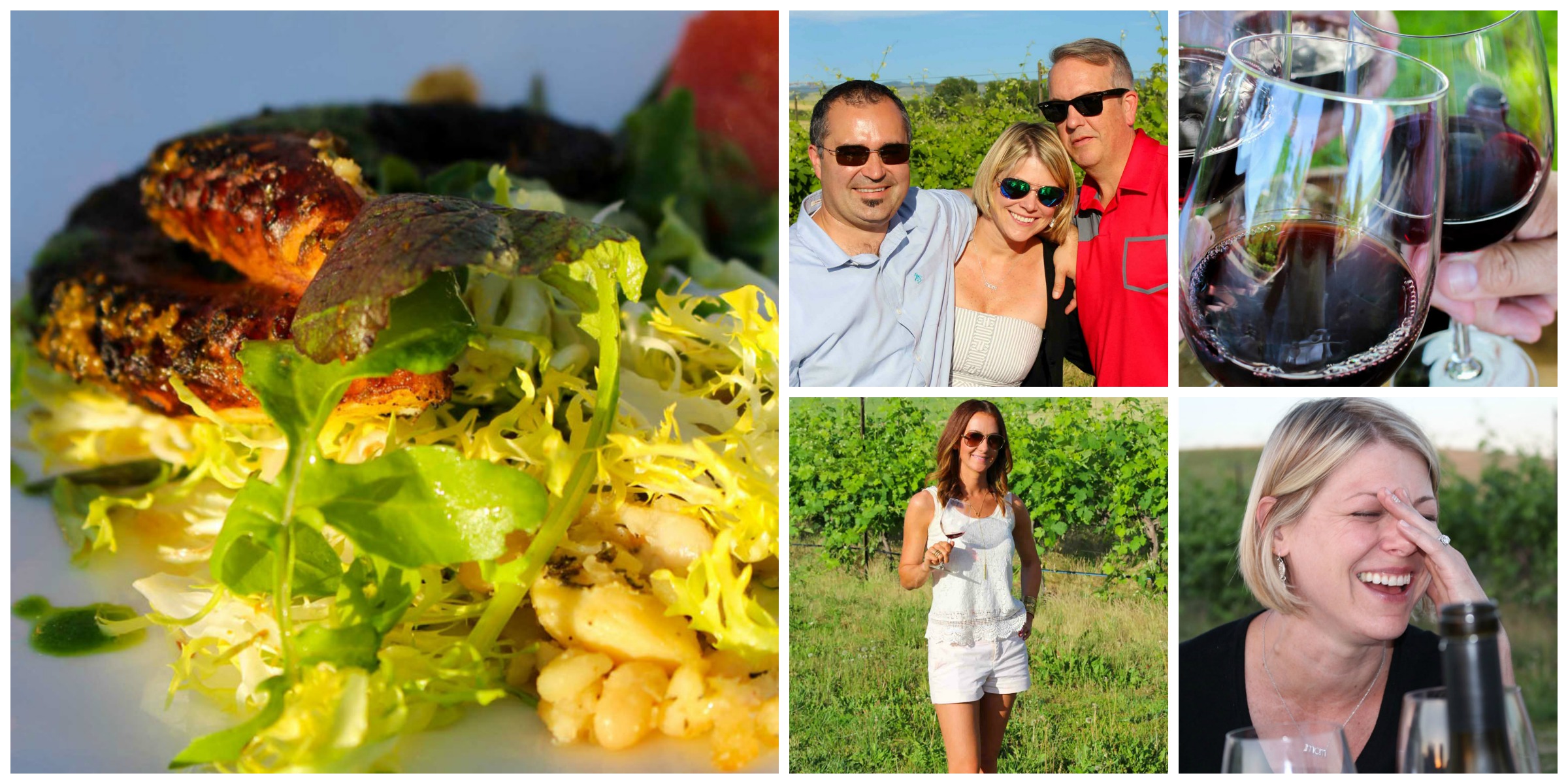 We shared plenty of laughs and maybe a bit too much wine – But that's what vacations are for, right?…
Be sure to check out Day 2 and Day 3 of our Walla Walla wine tasting trip as well!
Tips for Walla Walla Wine Tasting:
For more information about Walla Walla, and visiting the area, check out the Walla Walla Valley Wine Alliance and Tourism Walla Walla.
My favorite way to enjoy wine country is by packing a picnic. It's easy! Click here for tips on how assemble that perfect basket to take along!
If you're an Oregon resident, be sure to show your ID – No tax!!!