Check out DAY 1 and DAY 2 of our Walla Walla wine tasting adventure.
DAY 3
The boys started the day off with golf at Wine Valley Golf Club. So for us girls, that meant time for breakfast and shopping … We took a stroll into town for the farmer's market, browsed the local shops along Main Street, and spent this day tasting entirely in downtown Walla Walla.
Walla Walla Bread Company is a great spot to stop by for brunch – Not only do they have wonderful baked goods (perfect for toting along on a day of wine tasting), but they also have dishes like Breakfast Calzones, Corned Beef Hash and Sourdough Pancakes. This lively spot is a great first stop of the day. Be sure not to miss their Bloody Mary's made with saké!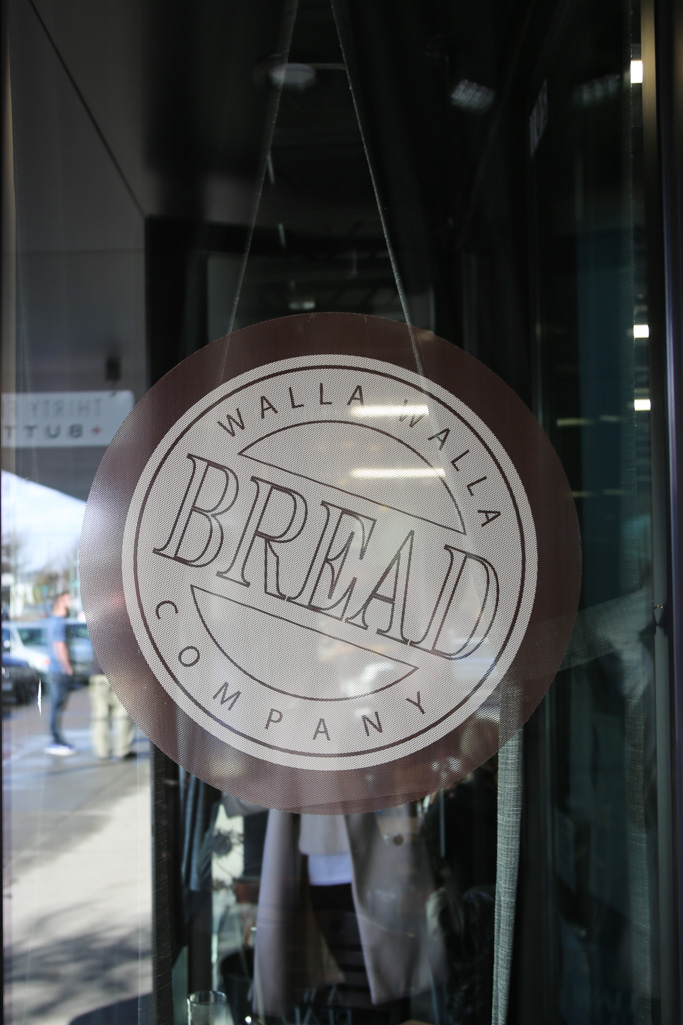 Our first wine visit of the day was to Doubleback. Doubleback is owned by former NFL quarterback Drew Bledsoe and you know what? He knows how to make wine! Offering only a Cabernet Sauvignon, Stolen Horse Syrah and Family Red – They were all excellent! You do need a tasting reservation, so be sure to call ahead. Before visiting, I had pictured this tasting room to be a bit uppity based on that fact, and the fact that it's owned by a football player – But, the opposite was true. The friendliness of Walla Walla was evident, as it has been every place we've visited on our trip, and we were greeted with an beautiful cheese & fig plate to accompany our tastings. Be sure to check out the awesome walls which, from far away look like stone, but are really made from the slats of old wine barrels.
Charles Smith & K Vintners were next on the list. You may recognize their bold black and white graphic labels. The Charles Smith brand is widely available – Eve Chardonnay, Kung Fu Girl Riesling, The Velvet Devil Merlot and Boom Boom! Syrah are produced under their label. K Vintners wines carry over the same black and white theme, yet are less widely produced – We grabbed a couple bottles of The Boy Grenache to take home with us. Their tasting room is spacious and has garage door style windows which open wide in the summer so that you can enjoy the streetside patio.
By now, the boys were famished from a long day of golf – We headed to Brasserie Four for some bubbles, brews, AMAZING pommes-frites and artisan pizza. The summers are amazing in Walla Walla and, because we went for a late lunch, we we able to get a spot on the patio and do some Main Street people watching while enjoying our meal.
If I had to choose a favorite winery in Walla Walla, it would be our next stop – Mark Ryan. I loved everything that I tasted here – Simple yet delicious wines that you don't need to overthink. After day 3 of wine tasting, I was a little burned out on overthinking things… Call it palate fatigue… We took home The Vincent Rosé and The Shift – a grenache-syrah blend.
After Mark Ryan, we made a stop at g. Cuneo Cellars for some Italian blends and then headed out for our final dinner in Walla Walla. T Maccarone's is a definite treat for a special dinner out in town. It's a great spot where you can linger over cocktails while you contemplate their beautifully curated dinner menu – Ahi Tuna Tartare, Roasted Beet Salad, Seared King Salmon, Double R Ranch Beef Tenderloin… It may take two cocktails to finally decide on your favorite dish. I haven't tried anything at T. Maccarones that I didn't love! Take the time to enjoy this special meal while you start planning your next trip to Walla Walla!
DAY 4
On your final day, consider stopping by Whoopemup Café for a late lunch. Serving up Southern comfort food like hushpuppies, crawfish pie and gumbo – It's the perfect meal to fill you up before the long drive home. I really enjoyed the gumbo with collard greens and it paired so nicely with a  glass of sparkling rosé.
Then it was in the car to head back to Portland. But, we couldn't quite call our trip over just yet. One the drive back, we stopped by Alexandria Nicole at Destiny Ridge in Paterson, Washington. This gorgeous estate was beyond amazing. With views of the Columbia River and sweeping hills, this winery is a bit off the beaten path, but definitely worth the visit. Rick decided that their 2011 Cabernet Sauvignon was the best wine of our trip.
OK folks, time to wrap this trip up. Last stop – Maryhill in Goldendale, Washington. Maryhill produces lots and lots of wines. I was also surprised at the number of visitors in the tasting room. Named 2014 Winery of the Year – The view is filled with Mount Hood, the Columbia River, and grapevines. You can't get much better than that. We noshed on cheese and crackers while enjoying their Reserve Chardonnay.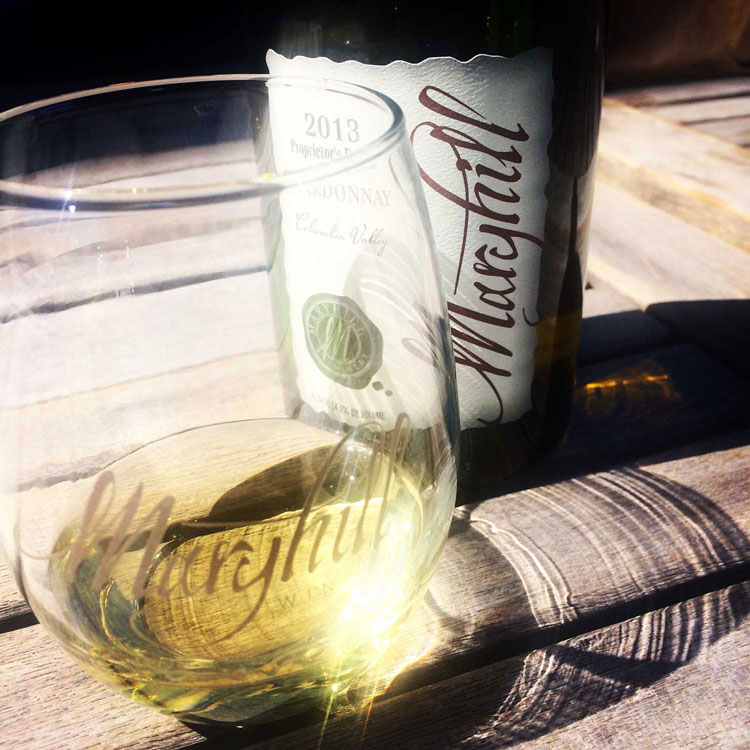 Hopefully, this gave you a good overview of the great town of Walla Walla! I can't emphasize enough how wonderful this place is. I've been in both the summer and the fall, and although it was great to enjoy the outdoors on this trip, the lovely fall colors also make for an amazing visit.
Check out these wine events that happen throughout the year. It's a great way to plan your trip. Also, if you're thinking about staying via VRBO, it's best to plan early. Rental schedules can fill up quickly(especially in the summer).
PS – If you have any questions, please feel free to contact me by leaving a comment below!
Tips for Walla Walla wine tasting:
For more information about Walla Walla, and visiting the area, check out the Walla Walla Valley Wine Alliance and Tourism Walla Walla.
My favorite way to enjoy wine country is by packing a picnic. It's easy! Click here for tips on how assemble that perfect basket to take along!
If you're an Oregon resident, be sure to show your ID – No tax!!!