This Crab Encrusted Halibut recipe with Chili Cream Sauce is inspired by The Waterfront Depot in Florence, Oregon.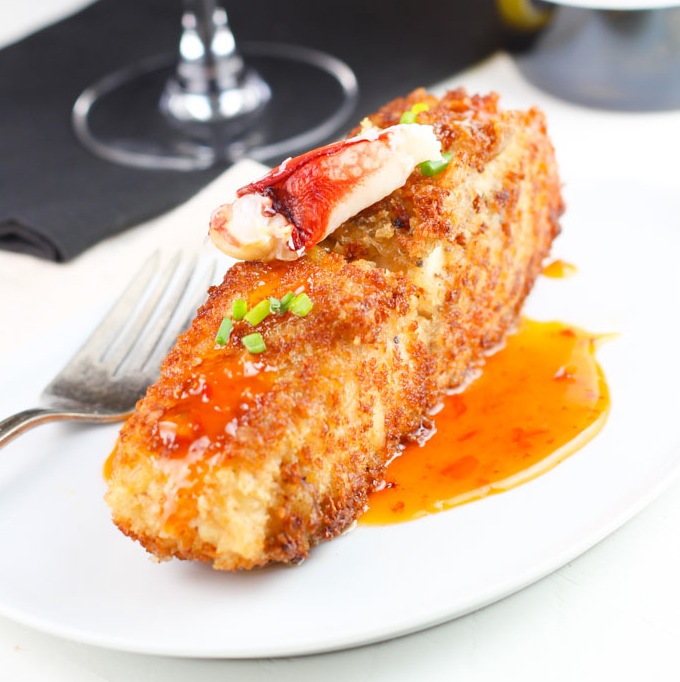 Crab Encrusted Halibut
This dish was my best attempt to date to win over the BF. I think it worked. He's now my husband.
Since Rick and I first met, he's always raved about The Waterfront Depot in Florence, Oregon (on the coast). And, one special dish in particular – the Crab Encrusted Halibut with Chili Cream Sauce.
Last Christmas, we made a visit to Florence, and unfortunately got stuck staying in some awful hotel, because we planned at the last minute. It was the only dog-friendly option available. And Sammie the labradoodle goes everywhere. I may have feared for my life that night. But – The saving grace in all of it was that I finally got to try this special dish!
Doesn't it just sound decadent?
It is.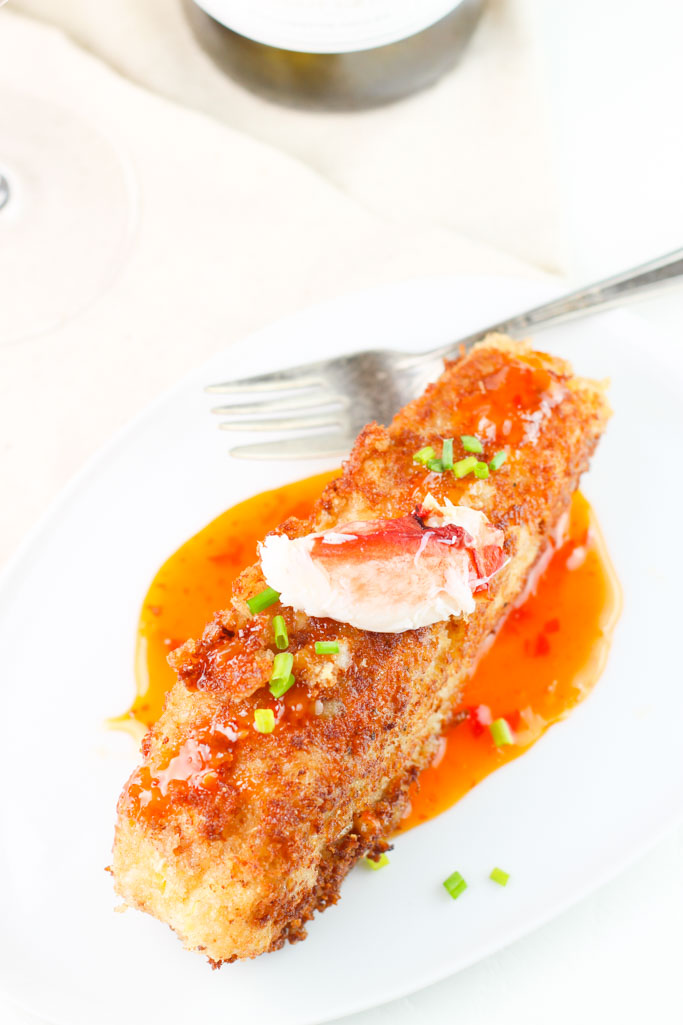 Take a delicate, mild, halibut filet, coat it in a mixture of bread crumbs and crab meat, saute until golden, finish in the oven, then top it with a creamy sweet chili sauce, made of Mae Ploy sweet chili sauce and heavy cream. To score some extra bonus points, I topped the whole thing off with an extra hunk of claw crab meat. I think it's the first time I've seen Rick snap a picture of food with his iPhone…
Pretty photogenic, don't you think?
Actually, I wasn't going to photograph this dish. I wanted to take a night off from blogging, and just take time to enjoy this extravagant dinner and a nice glass of Pinot Gris. But alas, the food won. It was too pretty not to snap a few shots.
And, it was too good not to share the recipe.
Wine Pairings for Halibut:
If you loved this Crab Encrusted Halibut recipe I would appreciate it so much if you would give it a star review! Also, be sure to snap a picture of your finished dish and share it with me on Instagram using the hashtag #platingsandpairings and tagging me @platingsandpairings.
For more great Platings and Pairings recipes, be sure to follow me on Pinterest, Facebook, YouTube and Twitter.
Crab Encrusted Halibut Recipe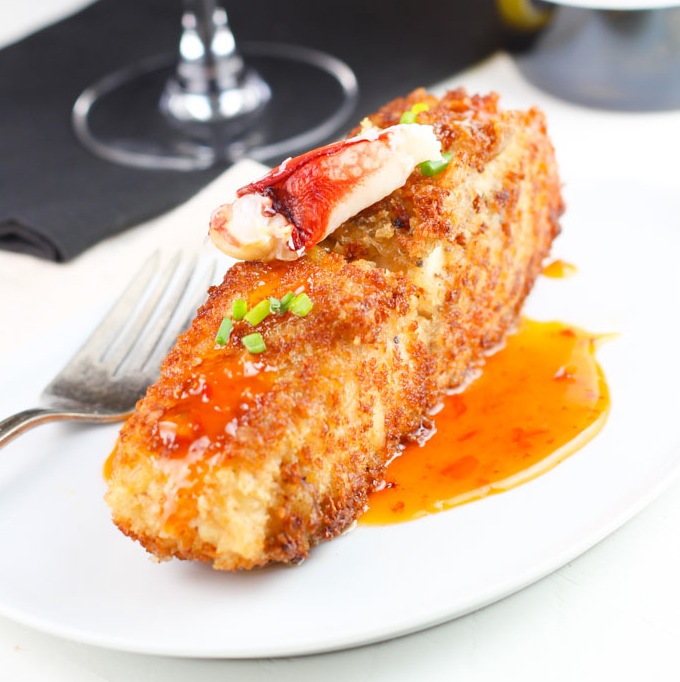 Crab Encrusted Halibut with Sweet Chili Sauce
This Crab Encrusted Halibut recipe with Chili Cream Sauce is inspired by The Waterfront Depot in Florence, Oregon.
Print
Pin
Instructions
Preheat oven to 350° F.

Season fish with salt and pepper.

Combine bread crumbs and crab meat in a shallow bowl, using fork to combine and make a breading mixture. Place flour in a separate shallow dish. Break the eggs into a third shallow dish, and whisk with a fork.

Coat each piece of the halibut in flour, then coat with egg, and the with crab breading.

Heat oil and butter in a large sautee pan over medium-high heat. Fry the halibut until golden brown on both sides. Place on lightly oiled baking sheet and bake for approximately 7 minutes, depending on the thickness of your fish.

Heat the chili sauce in a small saucepan on medium-high heat. Once hot, add the cream and turn the heat down to medium. Simmer until slightly thickened.

To serve, plate the halibut and top with chili sauce.
Nutrition
Calories:
524
kcal
|
Carbohydrates:
43
g
|
Protein:
21
g
|
Fat:
28
g
|
Saturated Fat:
17
g
|
Cholesterol:
203
mg
|
Sodium:
1502
mg
|
Potassium:
484
mg
|
Fiber:
5
g
|
Sugar:
7
g
|
Vitamin A:
1270
IU
|
Vitamin C:
14.9
mg
|
Calcium:
96
mg
|
Iron:
3.3
mg