Wondering what the best wine with fish is? Whether you're ordering out at a restaurant or cooking at home, these are the best fish wine pairings.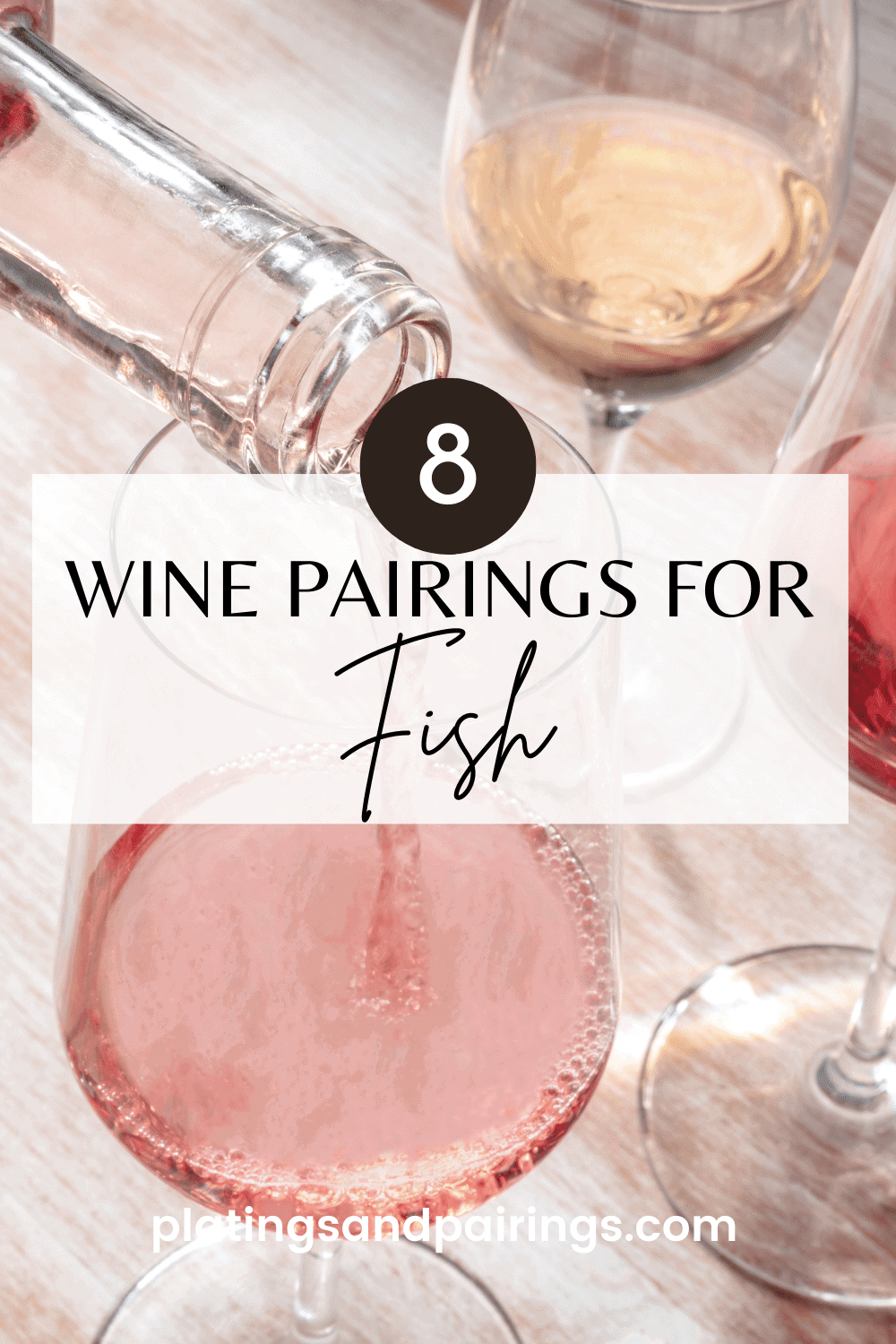 I'm all about a great fish dinner – Poached Cod, Miso Salmon, or even these Sushi Bowls all pair amazingly well with wine.
But, are you wondering what kind of wine goes well with fish? I've got you covered!
First thing's first…
Is red or white wine better with fish?
The short answer is – both! It depends on what type of wine you like, and the cooking method in which your fish is prepared.
For example, grilled salmon with BBQ sauce pairs really well with a Pinot Noir, or other low-tannin red wine. Whereas halibut with lemon butter sauce, pairs best with a rich Chardonnay.
Let's review…
8 favorite fish wine pairings
Chenin Blanc
Pinot Gris / Pinot Grigio
Sparkling Wines
Sparkling wines are especially delicious with sushi. Look for affordable bottles like cava or prosecco. They're fun wines that bring a feeling of fancy to an otherwise casual get together. Try pairing a glass with these Sushi Bowls.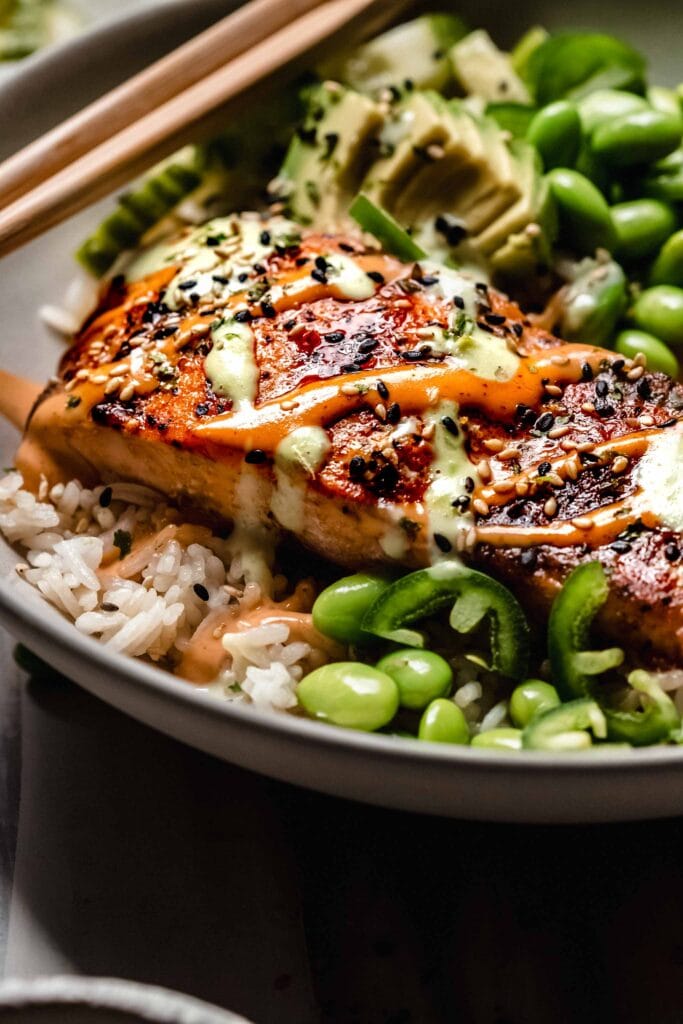 Sauvignon Blanc
A bright, crisp, green Sauvignon Blanc is delicious paired with fish. Especially when it is prepared with fresh herbs. Try it paired with halibut with chimichurri sauce.
Dry Rosé
Rosé is a fun, flirty wine, perfect for sipping on the patio. With aromas of strawberry, watermelon, and citrus, fruity rosé has a good amount of acidity to it that stands up to grilled foods. Try it out with a salmon burger.
Pinot Gris/Pinot Grigio
Pinot Grigio is always a great seafood pairing. But, it's especially delicious alongside citrus sauces. Try this glass of wine paired with a cod filet with lemon butter.
Chenin Blanc
Chenin Blanc has citrus notes and is particularly delicious with Asian-style salmon dishes. Try a glass out with this Miso Salmon.
Pinot Noir
Pinot Noir is one of the most food-friendly red wines out there. Its flavors are delicate enough to not overpower the food that you're eating it with and it makes a great match for seafood. It is particularly tasty paired with cedar planked salmon with BBQ sauce since Pinot Noir has an earthy, smoky quality to it.
Chardonnay
If the fish dish you're serving has a butter or cream sauce, like beurre blanc, it is best to pair it with a full-bodied, oak aged Chardonnay that will complement the rich flavors of the dish. Try it paired with this Crab Encrusted Halibut with Chili Cream Sauce.
Dry Riesling
Rieslings help tame down the heat of spicy dishes. Think Thai Seafood Curry. Or, try a glass with this Sriracha Glazed Salmon.
FAQ
What kind of wine goes with grilled fish?
Pinot Noir and grilled seafood are a match made in heaven. Pinot Noir has an earthy, spicy quality to it, and a bright acidity which is delicious with grilled fish.
What red wine goes with fish?
You'll want a lighter-bodied red wine to pair with fish. That's why Pinot Noir is a great pairing. Oregon Pinot Noir in particular has a spicy characteristic that is especially delicious with grilled salmon that's been slathered in BBQ sauce. Or, try it with cedar planked halibut. Other light red wines that pair well with fish are Beaujolais and Gamay.
What wine goes with fish with cream sauce?
An oaky, full-bodied Chardonnay is a great choice if your fish dish has a creamy sauce. The rich flavors of the wine really compliment cream-based or buttery sauces.
What is traditionally served with fish?
Please feel free to take these wine pairings suggestions with a grain of salt. There is no "right wine". Enjoy what you like best! You can pair your seafood dinner with a Cabernet Sauvignon if that's what you enjoy. The only way to find out the very best pairing for yourself is to taste different wines, and experiment.
Did you try any of these fish wine pairings?
If you tried any of these fish and wine pairing suggestions, I would love your feedback! Also, be sure to snap a picture of your pairing and share it with me on Instagram using the hashtag #platingsandpairings and tagging me @platingsandpairings.
For more great Platings and Pairings recipes and wine pairings, be sure to follow me on Instagram, TikTok, Pinterest and Facebook.
More Wine Pairings Advice:
Be sure to check out all my yummy seafood recipes.
Pairing Wine with Fish: 8 Best Bottles to Try
Wondering what wine to pair with fish? There are some great options! Try a Chardonnay with this Crab Encrusted Halibut recipe!
Print
Pin
Ingredients
1/2

cup

panko bread crumbs

1/2

pound

crab meat

4

6-ounce

halibut filets

1

cup

flour

3

whole eggs

1

ounce

vegetable oil

1

ounce

unsalted butter

1

cup

Mae Ploy sweet hot chili sauce

1/2

cup

heavy cream

Salt and pepper

(to taste)
Instructions
Preheat oven to 350° F.

Season fish with salt and pepper.

Combine bread crumbs and crab meat in a shallow bowl, using fork to combine and make a breading mixture. Place flour in a separate shallow dish. Break the eggs into a third shallow dish, and whisk with a fork.

Coat each piece of the halibut in flour, then coat with egg, and the with crab breading.

Heat oil and butter in a large sautee pan over medium-high heat. Fry the halibut until golden brown on both sides. Place on lightly oiled baking sheet and bake for approximately 7 minutes, depending on the thickness of your fish.

Heat the chili sauce in a small saucepan on medium-high heat. Once hot, add the cream and turn the heat down to medium. Simmer until slightly thickened.

To serve, plate the halibut and top with chili sauce.
Nutrition
Calories:
524
kcal
|
Carbohydrates:
43
g
|
Protein:
21
g
|
Fat:
28
g
|
Saturated Fat:
17
g
|
Cholesterol:
203
mg
|
Sodium:
1502
mg
|
Potassium:
484
mg
|
Fiber:
5
g
|
Sugar:
7
g
|
Vitamin A:
1270
IU
|
Vitamin C:
14.9
mg
|
Calcium:
96
mg
|
Iron:
3.3
mg