Wondering what wines pair best with ham? Whether you're hosting a holiday meal or simply enjoying a ham sandwich, these are the best ham wine pairings.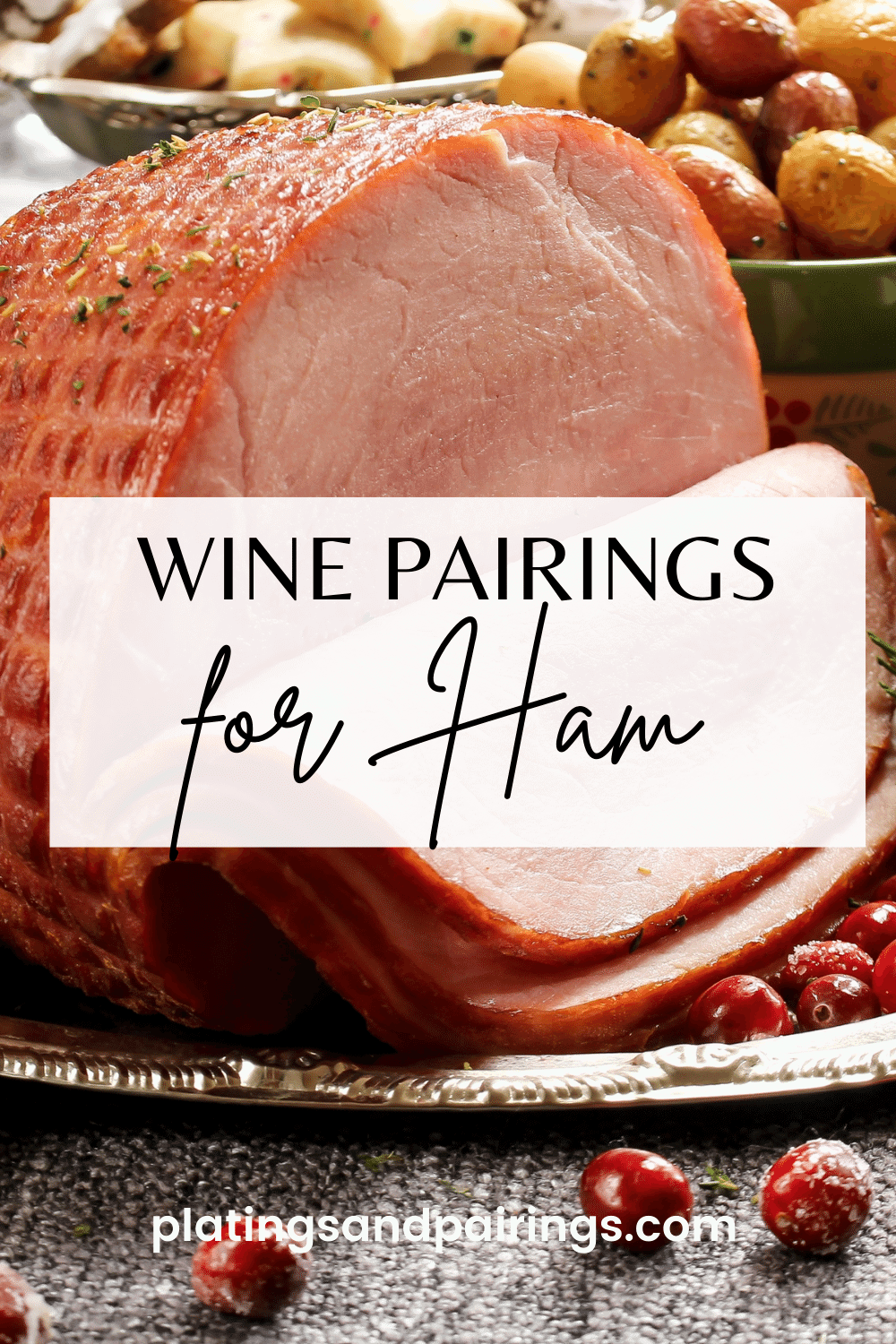 Wondering what kind of wine goes well with ham? I've got you covered! Just in time for the holiday season…
I'm all about a great ham recipe – Brown Sugar Glazed Ham, Ham & Bean Soup, or even these Ham & Cheese Pinwheels.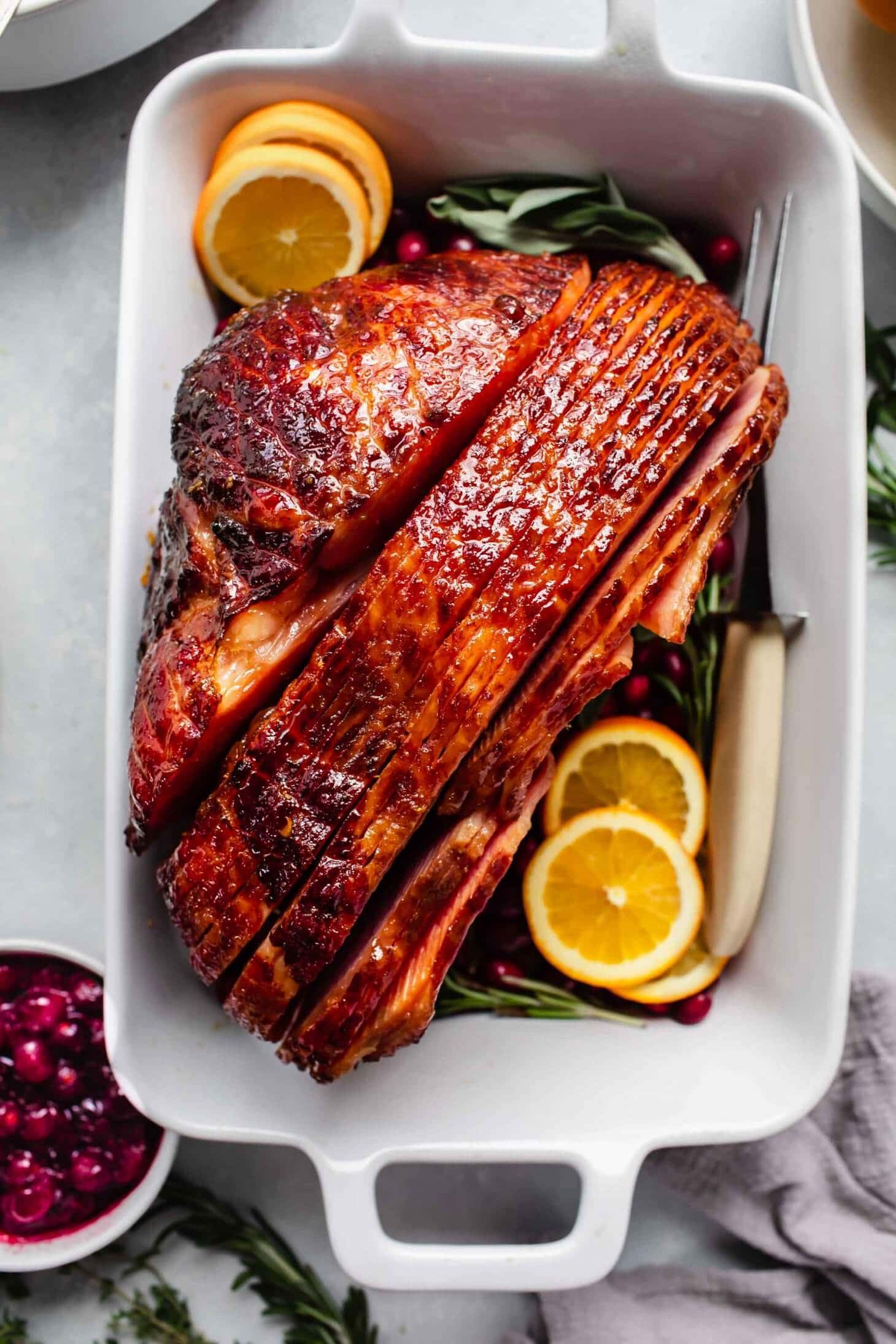 Here are some of my favorite bottles of wine for pairing with ham.
First thing's first…
ℹ️ What Wine Goes with Ham – Red or White?
The answer is – ham pairs well with both! It depends on what type of wine you like, and the type of ham that you'll be enjoying.
For example, a smoked ham is delicious with Pinot Noir. While a ham prepared with a sweet glaze, like this Brown Sugar Glazed Ham, is delicious paired with dry white wines like Pinot Gris or Chennin Blanc.
🍷 What Red Wine Goes Well With Ham?
Pinot Noir
Pinot Noir is one of the most food-friendly red wines out there. It's flavors are delicate enough to not overpower the food that you're eating it with and it makes a great match for ham. It's particularly tasty paired with smoked ham, because Pinot Noir has an earthy, smoky quality to it.
Look for New Zealand Pinot Noir or a Pinot from the Willamette Valley. Other lighter reds like a GSM blend or Barbera work well here to.
Zinfandel
Zinfandel wine has fruity flavors and a silky characteristic to it that helps to tone down the smoky flavors in a black forest ham.
Rosé
Rosé wines have a good amount of acidity to it that stands up to the salty flavor of ham.
🥂 What Kind of White Wine Goes With Ham?
Sparkling Wine
Much like a light beer, sparkling wines liven up many fatty dishes. Look for affordable bottles like cava or prosecco. They're fun wines that bring a feeling of fancy to an otherwise casual get together. It's a great wine for a ham eggs benedict. It's always a great choice for Christmas dinner or Easter dinner.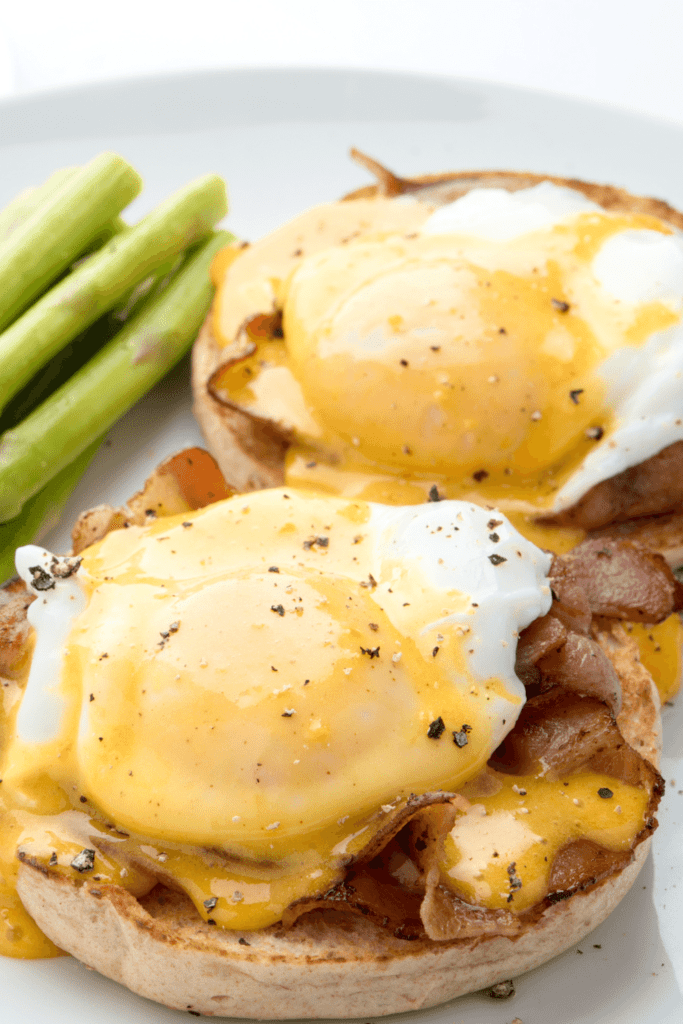 Chardonnay
Chardonnay is great paired with ham dishes that have a bit of citrus flavor running through them.
Chenin Blanc
Similar to chardonnay, Chenin Blanc has a bright acidity that mingles really nicely with a sweet ham that has a fruit glaze.
Sauvignon Blanc
Sauvignon Blanc has a bright acidity and bold citrus flavors that mingle really nicely with a rich ham dish like a Monte Cristo Sandwich.
Pinot Gris
Pinot Gris (or Pinot Grigio) is delicious when paired with ham. Its high acidity is a perfect match for the saltiness of the ham.
Dry Rieslings
Dry Rieslings are an excellent choice for pairing with dry-cured ham.
Sweet Wines
Sweet whites like White Zinfandel, Moscato, and Riesling work here. The hint of sweet flavor is a nice contrast to the salty ham.
🍴 What is traditionally served with ham?
Please feel free to take these wine pairings suggestions with a grain of salt. Enjoy what you like best! You can pair your ham dinner with a Cabernet if that's what you enjoy. The only way to find out the very best pairing for yourself is to taste different wines, and experiment.
Did you try any of these Wine Pairings with Ham?
If you tried any of these ham wine pairings, I would love your feedback! Also, be sure to snap a picture of your pairing and share it with me on Instagram using the hashtag #platingsandpairings and tagging me @platingsandpairings.
For more great Platings and Pairings recipes and wine pairings, be sure to follow me on Instagram, TikTok, Pinterest and Facebook.
🍽 What to Serve with Ham
✔️ More Wine Pairings Advice
The BEST Wine Pairings with Ham
Paired with Chardonnay or Prosecco, this Glazed Ham is perfect for Easter or Christmas!
Print
Pin
Instructions
Preheat oven to 325 degrees.

Place ham cut side down in a shallow roasting pan. Cover tightly with foil to retain moisture.

Bake ham at 325 degrees until the center registers 100-110 degrees, (approx. 10-14 minutes per pound).

Meanwhile, whisk together all of the Brown Sugar Glaze ingredients in a medium saucepan. Bring to a simmer, stirring often, until brown sugar dissolves, about 1-2 minutes. Set aside.

Remove ham from oven and increase oven temperature to 400 degrees.

Carefully remove foil and brush ham all over with 1/3 glaze. If glaze has thickened, return to what to loosen.

Bake, uncovered, until the ham reaches an internal temperature of around 140 degrees, approximately 20-30 minutes, brushing with additional glaze every 10 minutes.

Remove ham from oven and brush again with glaze. Loosely cover with foil and let rest for 15 minutes, then brush once more with any remaining glaze and serve.
Notes
Tips:
Bake ham cut side down to make it more moist. 
Simmer the glaze only until sugar is melted, then remove from the heat. 
For a moist ham, don't cook past 140°F. 
Nutrition
Calories:
524
kcal
|
Carbohydrates:
63
g
|
Protein:
36
g
|
Fat:
15
g
|
Saturated Fat:
3
g
|
Cholesterol:
138
mg
|
Sodium:
2254
mg
|
Potassium:
626
mg
|
Fiber:
1
g
|
Sugar:
61
g
|
Vitamin C:
47
mg
|
Calcium:
54
mg
|
Iron:
2
mg