This Seafood Paella recipe is served with saffron aioli and brimming with shrimp, clams, chicken & chorizo. It's an impressive yet low-key Spanish dish that's perfect for parties!
In Barcelona, we ate ourselves silly on paella. My mission while in Spain was to try as many versions as I could. That, and drink lots of Rioja, Cava, and Rosé.
Since that life-changing trip, I've recreated 4 of my favorite Spanish dishes:
Pan Con Tomate (Spanish Bruschetta)
Fideuà (Pasta Paella)
And this seafood paella recipe
One bite and this easy seafood paella recipe will transport you to Spain without having to pack a bag or sit through a long flight. The flavors are rich and comforting.
The best part? The recipe may look intimidating but the process is actually quite simple. Anyone can do it!
How to Make Easy Seafood Paella
I knew that I wanted my Seafood Paella recipe to have these things going on:
A good dose of saffron flavor. I wanted that slightly-sweet, aromatic, almost minerally flavor as the backbone to the dish.
A perfect combination of protein – I used large shrimp (the bigger the better), spicy chorizo, clams and chicken thighs. That way, there's a little something going on for everyone.
A good crispy layer at the bottom of the pan – That crunchy bit of rice that's full of flavor.
An aioli accompaniment. In Barcelona, we found that several of the restaurants served a creamy garlic aioli alongside the paella. I can't imagine eating it any other way!
But first, I needed a paella pan. I'd considered buying one in Barcelona, but that would mean lugging it home with us. With two suitcases already stuffed with local Rioja from our wine tasting trip, I decided it would make more sense to just purchase one back at home.
I ended up buying this one and it served its purpose well.
A paella pan is a LARGE pan with a flat bottom, and it's pretty shallow. You're going to be doing every thing in this pan. Starting with browning the sausage and chicken. Then adding your aromatics. And then, pouring in the rice and allowing it to cook all together.
Paella is the original one-pot meal!
If you're in a bind, and don't have a paella pan, it is possible to make this dish in a large skillet, but I would definitely cut the recipe in half. Otherwise, your pan is going to be overflowing. Trust me on this one.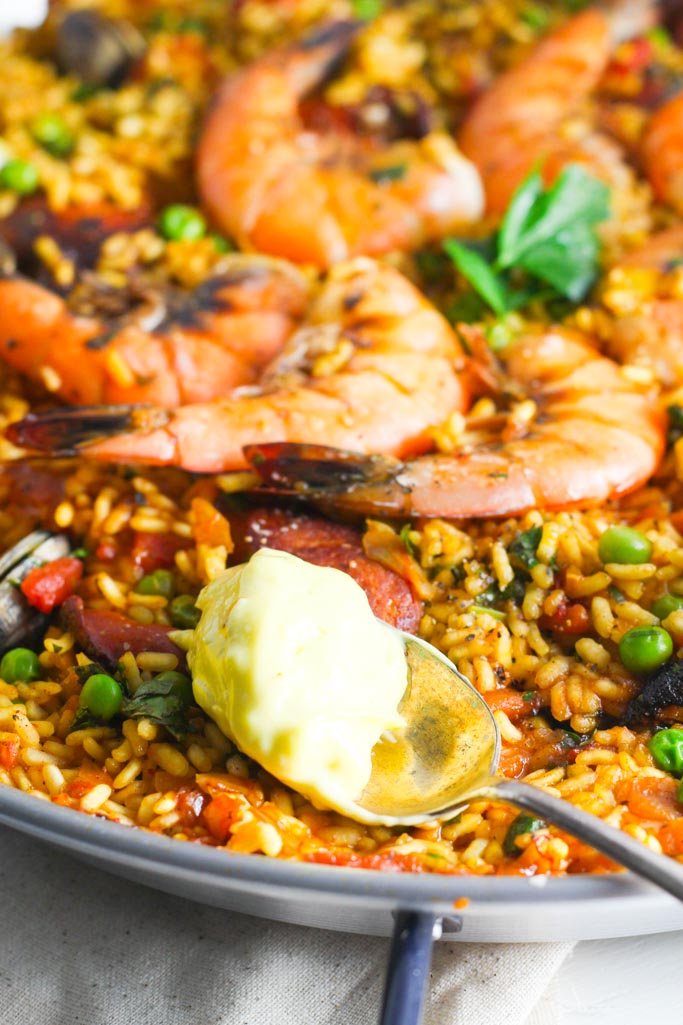 I also picked up some authentic Spanish paprika. You want it to be fresh and high-quality. The same holds true for your rice. I used Arborio rice in this recipe, an Italian rice, named after the town of Arborio in the Po River Valley, where it is grown.
It's the same rice that you would make risotto with. Like a risotto, when cooked, the rounded grains are firm, creamy, and chewy. They also soak up the flavors of the dish wonderfully.
To get that bold saffron backbone, I heat the seafood stock (or bone broth) with a pinch of the saffron threads. Yes, saffron can be expensive, but a little goes a long way.
If your grocery store has a bulk spices section, be sure to look for it there, and just grab what you need. It's much more economical that way, plus you can be sure that it's fresh.
As to the protein, I knew that I wanted a good combination of the freshest ingredients going on. So, I set off for the market to see what was looking its best. Right off, I grabbed some shrimp. These are the big boys. Like you eat two and you're full.
I also picked up some fresh local clams, a few spicy chorizo links, and some boneless, skinless chicken thighs.
Really, you can throw whatever you'd like into this paella. Check out your local grocery store and see what's looking good that day.
Instead of the shrimp, maybe throw in a couple lobster tails. Mussels more your thing? Swap out the clams. Not into spicy dishes? Sub in some kielbasa for the chorizo.
This is a totally customizable dish. And, don't worry too much about the proportions of the meat either. Shoot for a total of three pounds meat/seafood to fill the pan nicely.
You will want to brown the meats in the pan ahead of time, to ensure that they cook thoroughly. They don't have to be cooked all the way, just give them a good sear. They'll continue to cook in the rice mixture.
However, with the seafood, you don't want to add that until later, so that it doesn't get overcooked. Bury your shrimp, clams, etc. in the rice and allow it to cook slowly as the rice finishes cooking. You'll know they're done when the shrimp turn pink and the clams open.
Be sure not to miss the final step in this recipe. Turn up the heat for the last 40 seconds. That short bit of time is what's going to give you that crispy rice on the bottom. It's THE BEST SECOND BEST part of the dish.
The BEST part of this dish? The thing that knocks this paella out of the park? The Saffron Aioli. Let's just try to eke a bit more saffron into this dish, shall we? Plus… garlic, and creamy, and yummy.
My first attempt at this aioli was an epic fail. But, I was NOT going to be eating my paella without it. I was making this aioli – grrr! At least I was going to give it one more try…
So, let me teach you from my mistakes. Add in the olive oil SLOWLY. Like really, REALLY, really, really, slowly. Don't add it in a slow stream. Add it drop, by drop, by drop, until the mixture starts to combine together and become creamy.
At that point (and only at that point), you can increase the addition of the oil to a thin stream. Continue whisking together until all of the oil is incorporated. What you've essentially made is a mayonnaise. But this is different. This is a Saffron Aioli. And, even if you don't like mayonnaise, you will like this. I promise.
This Seafood Paella feeds a crowd! It's great for parties, because it's super impressive, but pretty low-key. Think butcher paper tablecloths and wine in tumblers.
I'm expecting that we'll be making it often on the weekends that we spend at our beach house. Especially, when it's a perfect low tide and we can get the clams ourselves. Time to invest in a second paella pan!
What is paella traditionally served with?
Paella is a giant dish meant to feed a crowd, so the side dishes are typically light and healthy. Any of these sides would be well suited:
Wine Pairings with Seafood Paella
Dry, light-bodied, fruity wines work well with this dish. Try a Spanish Rioja or Garnacha (Grenache).
I paired the paella with a dry Rosé and it was amazing! The acidity played nicely with the richness and spiciness of the chorizo and it's citrus notes were perfect with the shellfish.
Bubbles! Think Cava or Sparkling Rosé. The bubbles help cut down on the richness of the paella, but they're light enough so as to not overpower the delicate seafood.
Did you make this Easy Seafood Paella?
If you loved this easy Seafood Paella recipe I would appreciate it so much if you would give it a star review! Also, be sure to snap a picture of your finished dish and share it with me on Instagram using the hashtag #platingsandpairings and tagging me @platingsandpairings.
For more great Platings and Pairings recipes, be sure to follow me on Instagram, TikTok, Pinterest and Facebook.
More comforting seafood recipes:
Easy Seafood Paella Recipe
This Seafood Paella Recipe is served with saffron aioli and brimming with shrimp, clams, chicken & chorizo. It's an impressive yet low-key Spanish dish that's perfect for parties!
Print
Pin
Instructions
Rub the spice mix all over the chicken and marinate chicken for 1 hour in the refrigerator (or overnight).

Prepare the herb blend and set aside.

Combine stock, water and saffron in a large saucepan. Bring to a simmer and keep warm over low heat (do not boil).

Heat oil in paella pan over medium-high heat. Sautee the chorizo until browned, remove and reserve. Add chicken and brown on all sides. Remove from pan and reserve.

In the same pan, sautee the onion and garlic for 2-3 minutes on medium heat, until fragrant. Add tomatoes and paprika and cook until mixture caramelizes a bit. Add the rice and stir to coat the grains.

Stir the warmed stock mixture into the rice, reduce heat and simmer for 10 minutes, moving the pan around so the rice cooks evenly and absorbs the liquid.

Add the herb mixture, peas, chicken and chorizo and stir. Add the clams and shrimp, tucking them into the rice. Continue to cook over medium heat until the shrimp turn pink and the clams open, approximately 8 minutes.

Give the paella a good shake and let it simmer, without stirring, until the rice is al dente, for about 15 minutes.

When the paella is cooked and the rice looks fluffy and moist, turn the heat up for 40 seconds until you can smell the rice toast at the bottom.

Remove from heat and sprinkle with 1/4 cup lemon juice and season with salt and pepper. Cover with a towel, and let stand 10 minutes. Serve with lemon wedges and saffron aioli (instructions follow).

To make the aioli: In a mixer fitted with a whisk attachment, combine the egg yolks, garlic clove, saffron and a pinch of salt. Whisk at high speed while adding the oil drop by drop. As the mixture thickens, increase the oil to a very thin trickle until it is used up and the aioli is thick and wobbly. Adjust the seasoning with a squeeze of lemon juice and more salt, if needed.
Nutrition
Calories:
605
kcal
|
Carbohydrates:
66
g
|
Protein:
43
g
|
Fat:
17
g
|
Saturated Fat:
3
g
|
Cholesterol:
201
mg
|
Sodium:
539
mg
|
Potassium:
692
mg
|
Fiber:
3
g
|
Sugar:
2
g
|
Vitamin A:
1425
IU
|
Vitamin C:
26.9
mg
|
Calcium:
77
mg
|
Iron:
5.5
mg