This Fideuá recipe (also known as broken pasta paella) is a Catalan seafood specialty and is perfect for your next party!
For Thanksgiving last year, Rick and I went to Spain, and it was amazing! The food, the wine, the food, the sea… Did I mention the food? When we returned, I vowed to try to recreate several of the dishes at home. On my list:
Paella ✅
Fideuá ✅
Patatas Bravas
So far, in the five months that we've been home, I've made three of them. #onetogo
Seafood Paella with Saffron Aioli was my first recreation. As soon as we landed back home, I ordered a paella pan. And then it sat in the house… for a couple months… because I was a bit intimidated.
But then cravings kicked in, and I REALLY wanted paella, so… I gave it a go. And you know what? It really wasn't difficult at all. And, it was super impressive if I do say so myself. The toughest part was definitely making the saffron aioli – It took a couple attempts to get it to come together just right. But then, when it did, we noshed on paella, and were taken back to Spain without the ten-hour flight.
Next? Pan con tomate. I've not yet documented it on the blog, but it's super easy to make! Just take some toasted bread, rub it with a garlic clove that's been cut open, cut a tomato in half, and rub that, cut side down, into the bread, then drizzle with olive oil and coarse salt. Honestly, my first attempt wasn't fabulous, but I'm totally chalking that up to it not being tomato season. Once those juicy boys roll in, this "Pan" is going to be at a whole 'nother level!
Today, I tackled fideuá (broken pasta paella). This one was actually at the top of my list to make, just because it's a true Catalan specialty. Pretty much every restaurant that we went to in Barcelona not only had paella on the menu, but fideuá too. Essentially, fideuá is paella, but it's made with broken spaghetti instead of rice. It bakes up all crispy, with tomato and paprika flavors running throughout it.
I'm thinking this fideuá is definitely giving the paella a run for it's money. I just love the broken pasta. I'd like to say that it's a totally unique dish, but in reality, it reminds me a bit of that boxed rice mix that you get at the grocery store that has the flecks of broken pasta running through it…. You know the one I'm talking about, right? However, it's just a teensy, tiny, eenie, meenie resemblance. This fideuá is that guy's fancy, exotic cousin.
I studied several recipes for fideuá. Lot's of them are exasperating – Making your own fish stock. Finding all sorts of exotic seafood. And spending pretty much an entire day to come up with this dish, that's supposed to be simple in nature. Really, if I were retired, and living in an apartment in Barcelona, with a view of the sea outside of my kitchen window, I'd be all for tackling that.
Today – I've got no time to waste. I want fideuá and I want it fast.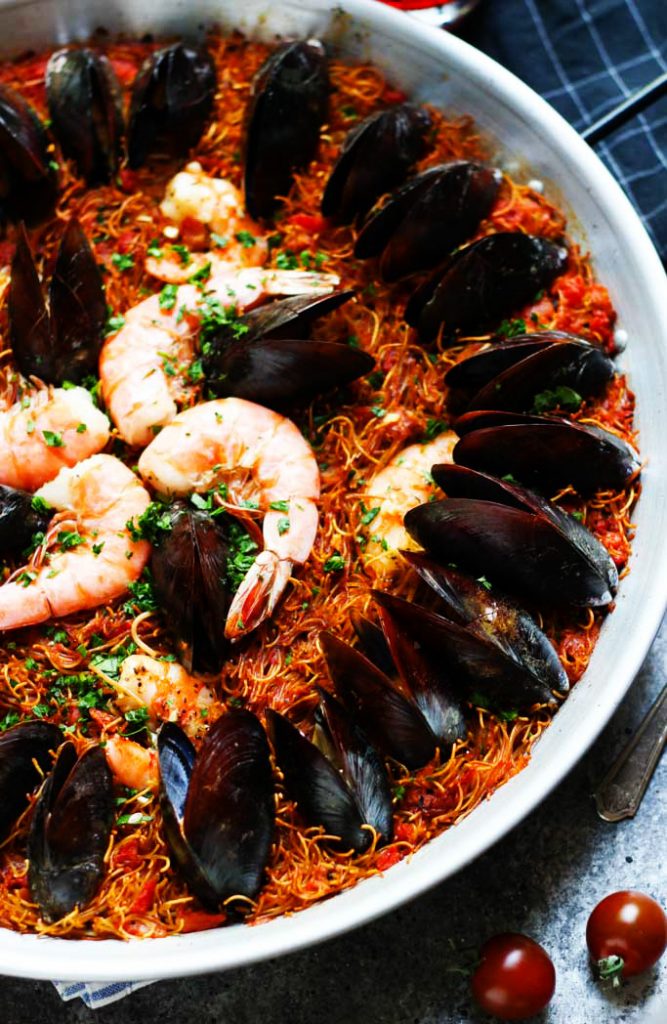 Easy Fideua Recipe
So, I used simple seafood. Stuff that was readily available in my neighborhood market. If you're not a seafood fan, feel free to swap in some chicken or chorizo in it's place. Just be sure to cook those first before throwing them into the mix.
I made a quick seafood stock, following the suggestion of America's Test Kitchen, by just tossing the shrimp shells into some chicken stock, and letting it simmer together for a bit. I left some of the shrimp unpeeled, just for a bit of a fancier presentation, but feel free to throw all those shells in there if you're not taking pictures for a food blog… ?
I cooked this all up in my fancy schmancy paella pan that I just had to have #mykitchenisoverflowingwithstuff. However, feel free to just use a big 'ol oven-safe skillet too. Tip: If there are plastic handles cover them with tin foil to prevent them from getting damaged by the broiler.
Super impressed by the prettiness of this broken pasta paella. So impressed, that I had to come up with a special cocktail to go alongside. Enter the Kalimotxo (or Calimocho). Served in plenty of Spanish bars, this cocktail is simple, and may elicit a sideways glance if you attempt to order it in the states, but I guarantee you it's delicious. What is it? – Cola and red wine and ice. You don't need to be a mixologist to make this one – You also don't need expensive wine. Half wine, half cola, and a full glass of ice. Done.
Fideuá and Kalimotxo party at my house anyone?
Fideua Recipe
Fideuá – Broken Pasta Paella
This Fideuá recipe (also known as broken pasta paella) is a Catalan seafood specialty and is perfect for your next party!
Print
Pin
Ingredients
1/2

pound

extra-large shrimp

(peeled and deveined)

¾

pound

mussels

2

cups

water

1 ¾

cups

chicken broth or stock

(14 oz. can)

1

dried bay leaf

4

Tablespoon

extra virgin olive oil

3

cloves

garlic

(divided (two minced and one sliced))

1

teaspoon

crushed red pepper

8

ounces

thin spaghetti

1

small onion

(finely diced)

1

14.5 ounce

can petite diced tomatoes

1

teaspoon

. paprika

1

teaspoon

. smoked paprika

1

teaspoon

. anchovy paste

1/4

cup

dry vermouth or white wine

Salt and pepper

¼

cup

chopped parsley

(for garnish)

Lemon wedges

(for garnish)
Instructions
Peel and devein all but four of the shrimp, making sure to save the shells.

Place the peeled and unpeeled shrimp in a medium bowl, and toss with 1 Tbs. oil, minced garlic, red pepper and a pinch of salt and pepper. Cover and place in fridge.

Place the shrimp sells in another microwave-safe bowl. Add the water, stock and bay leaf. Cover with plastic wrap and microwave for 6 minutes.

Break the spaghetti into small pieces. You can either place it in a large Ziploc bag, or place it between two towels, and break with your hands. The pieces should be 1-2 inches.

Add 1 Tbs. oil to an oven-safe large skillet or paella pan and bring to a medium heat. Add the broken spaghetti and toast until it's dark in color, being sure to toss constantly. It should take about 5-8 minutes for the pieces to turn deep golden brown.

Remove the spaghetti from the pan and set aside. Wipe the pan clean.

Drain the can of tomatoes well, using a mesh strainer to push the juices out.

Add the remaining 2 Tbs. oil to the pan and bring to a medium-high heat. Add the onions and sauté until they start to soften. Season with salt.

Add the tomatoes to the onions and sauté another 3 minutes. Add both paprikas, anchovy paste and sliced garlic. Reduce the heat if needed.

Add the toasted spaghetti back to the pan and toss to coat. Pour the shrimp stock through a mesh strainer set over the pan, discarding the shells. Add the wine, and season with salt and pepper. Simmer for 8 to 10 minutes, or until the spaghetti is mostly al dente.

Preheat the oven to broil.

Nestle the marinated shrimp and mussels into the pan and place under the broiler for about 5 minutes, until the shrimp is cooked through and the mussels have opened.

Garnish with chopped parsley and lemon wedges to serve.
Nutrition
Calories:
309
kcal
|
Carbohydrates:
32
g
|
Protein:
16
g
|
Fat:
11
g
|
Saturated Fat:
1
g
|
Cholesterol:
103
mg
|
Sodium:
636
mg
|
Potassium:
327
mg
|
Fiber:
1
g
|
Sugar:
2
g
|
Vitamin A:
400
IU
|
Vitamin C:
10.9
mg
|
Calcium:
84
mg
|
Iron:
2.9
mg