Wine and Cava Tasting in the Penedès Region of Spain, located less than an hour from Barcelona.
If you follow me on Instagram, you know that this post is a looong time coming. Rick & I went to Barcelona, Spain for Thanksgiving… And I'm just now getting this post up about our amazing wine tasting that we took while on our trip.
The wine country of Penedès is located less than an hour from Barcelona and is one of the most exciting wine regions in Spain. A wide range of wine styles are produced here including the Traditional Method (sparkling) white and rosé Cava (made with the indigenous grapes of Xarel.lo, Macabeo and Parellada), dry reds, dry whites, and dessert whites. Winemaking in the region, as in the rest of Spain, dates back millennia and the Ancient Romans have left many vestiges of their wine production here. This area has a production rate of 380 million bottles per year. Cava alone accounts for half of this production. And I'm all about the bubbles!
Unlike our wine visits in the United States (i.e. Walla Walla, Dundee, etc.) where we would typically just hop in the car and drive from stop to stop, in Spain we opted to join a half-day wine and cava bus tour which took us on a behind the scenes tour of three wineries, and also treated us with cheese and tapas pairings.
We loaded into a comfortable tour bus which was definitely not very full. I would say that there were about 20 people on our tour, total. We were from all over the world, but fortunately, it was okay with everyone that the tour was navigated in English. It was about a 45-minute drive to make it to our first stop – Jean Leon. As I would learn after visiting our next two stops, Jean Leon was by far, the smallest production winery of our visit.
Jean Leon made his fortune in Beverly Hills thanks to his restaurant, La Scala, where he served the likes of Paul Newman, Elizabeth Taylor and Marilyn Monroe. He then emigrated to Spain in 1963 to produce wine and revolutionized local viniculture by producing the first Cabernet Sauvignon and Chardonnay wines to come out of the region.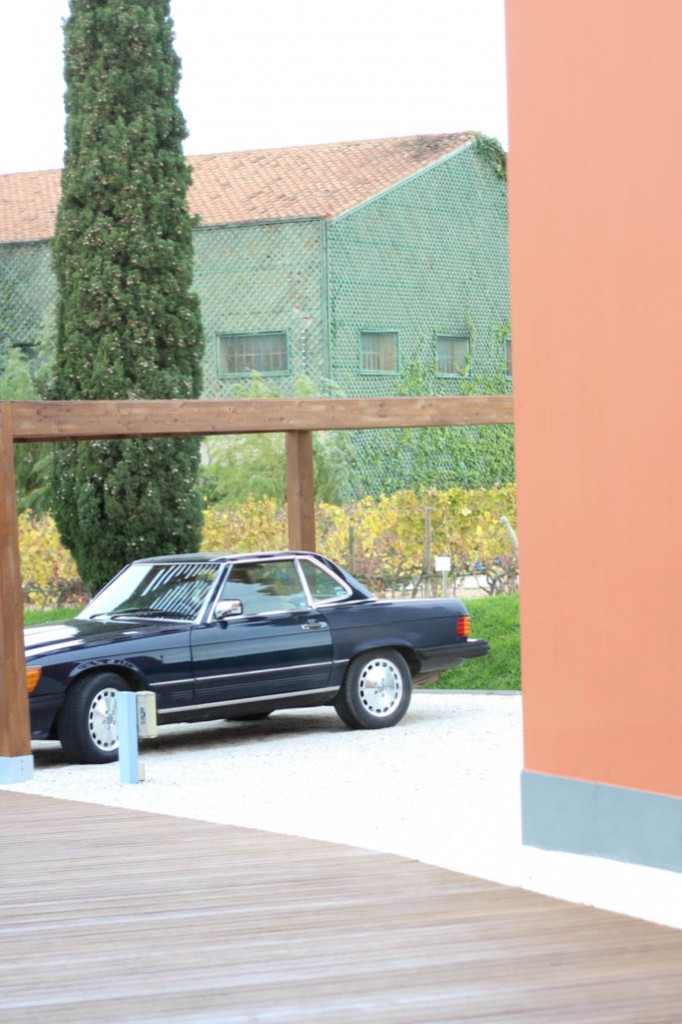 Jean Leon's Mercedes which is outfitted with California license plates is displayed outside of the vineyard, amongst the vines.
We began with a tour of the museum which displays the original artwork that is used on the wine bottle labels. Also displayed were pictures of Jean Leon, mingling with the likes of the California elite, as well as an original menu from his Italian restaurant, La Scala.
We then made the chilly walk to the cellar. Housed entirely in one relatively small building.
The most interesting part were the "ancient" bottles, dating back to the 1960s. Unlabeled, and covered with dust. The Leon family often makes the journey into the cellar to select from these bottles for their private parties.
After this tour, we were given a taste from of one of their young wines. It was… bad. We all tried to be polite, and not wince. Then our host at the winery took a sip and exclaimed: "Ugh, I hate this wine!" It's not that the wine was bad, just in desperate need of additional aging, which it would receive. Time to move on to the actual bottled wine.
We moved indoors to the small tasting room, which overlooked the grape vines. With it's wall-to-ceiling windows and lovely patio, I couldn't help but imagine what a beautiful spot it would be to visit in the summer time. In November, the wind was blowing and my feet were like icicles. Time to drink some wine.
I sipped on their lovely Jean Leon Organic 3055 Rosé – It was dry, with a light-acidity, and lovely strawberry flavors. Rick opted for the single-vineyard Vinya Le Havre Cabernet Sauvignon Reserva -Great flavors of coconut with a rich, heavy mouthfeel. We were served snacks of local olives, potato chips, and almonds to compliment the wines. At the end, we ended up taking home a bottle of the Cab Reserva.
---
Our next stop was Miguel Torres. I knew that we were in store for a much larger winery when I learned that we'd be taking a train around the property!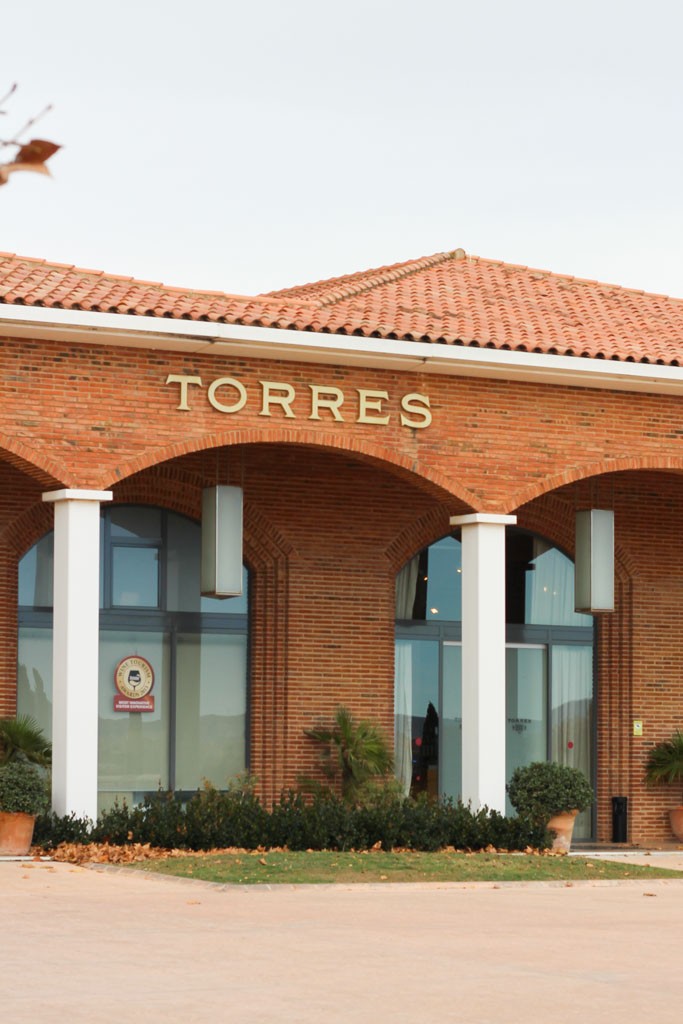 For more than three centuries, the Torres family name has been linked with the world of wine. Generations have passed down their wine and brandy making techniques. It's currently one of the biggest export companies in the world (serving 140 countries).
We started our tour off with a tasting of wine and cheese paired with three of the locally produced wines. Everything was lovely paired together. However, this bit of the tour seemed more like an informational session on how to taste wine and cheese together, and less so an introduction to their wines. We were situated in the middle of their opulent museum which seemed almost victorian in nature and featured lovely polished marble floors and glass cases of memorabilia.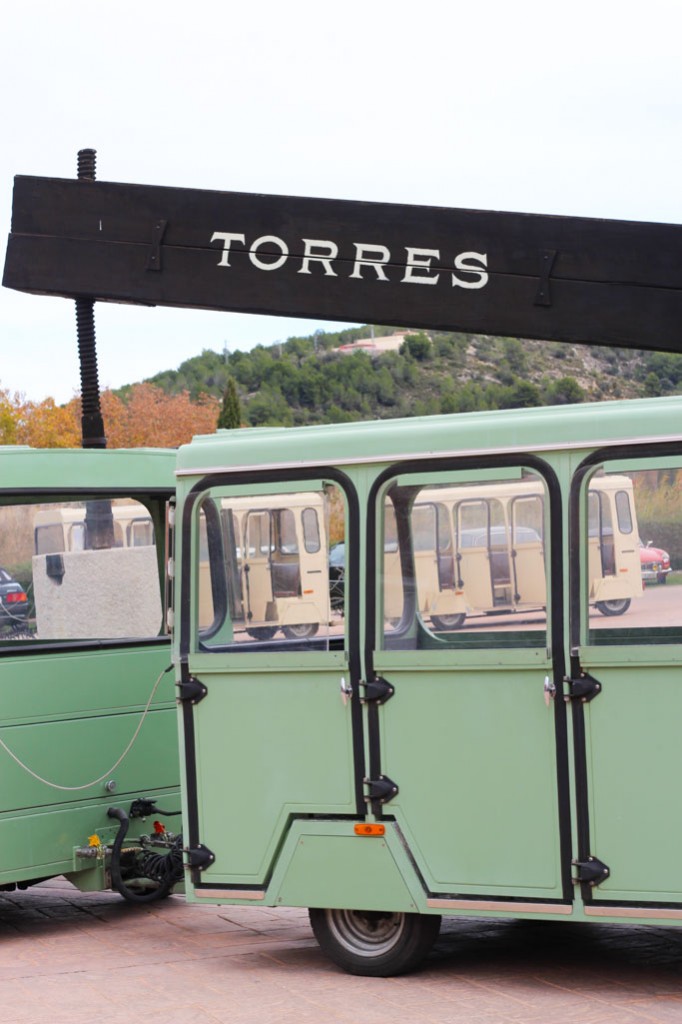 After our brief tasting, we hopped on the train (similar to one that you would see in an amusement park) and took a drive around the property. We were each given headphones to listen to along the way, and the drive took about 20 minutes. The massive size of the wine production facilities was impressive! I had never seen anything quite like it. Millions and millions of bottles being produced and stored on-site.
When the train tour was over, we had a brief opportunity to purchase and sample a couple more wines in their more modernized tasting room – Quite a contrast to where we started off our tour, in the more regal museum area.
I sampled a beautiful Cava of Pinot Noir– With tiny bubbles and flavors of lemon and almond.
Rick went for the the Miguel Torres Cabernet Sauvignon (Black Label) Mas La Plana. Once again, we ended up taking a bottle of the Cab home.
---
Our last stop was the one I was most excited for because… Cava! In 1914, Freixenet left behind the traditional form of wine and began producing cava. It is now one of the largest wine producers in the world, and the largest cava producer.
You'll most likely know Freixenet by it's black bottle, which you will find widely available here in the United States.
The Freixenet property may even trump Torres in terms of its size. We were first led on a walking tour, down into the massive caves.
An impressive winding walkway is dimly lit and lined entirely with bottles of cava.
Along the way are helpful illustrations that lead you through the cava making process. On the way out, we board another train and are taken through the rest of the premises… Botttles, bottles, bottles – Everywhere you look is another bottle of cava.
To finish things off, we are taken to their elegant tasting room for bites of some pretty amazing tapas paired with their lovely bubbles.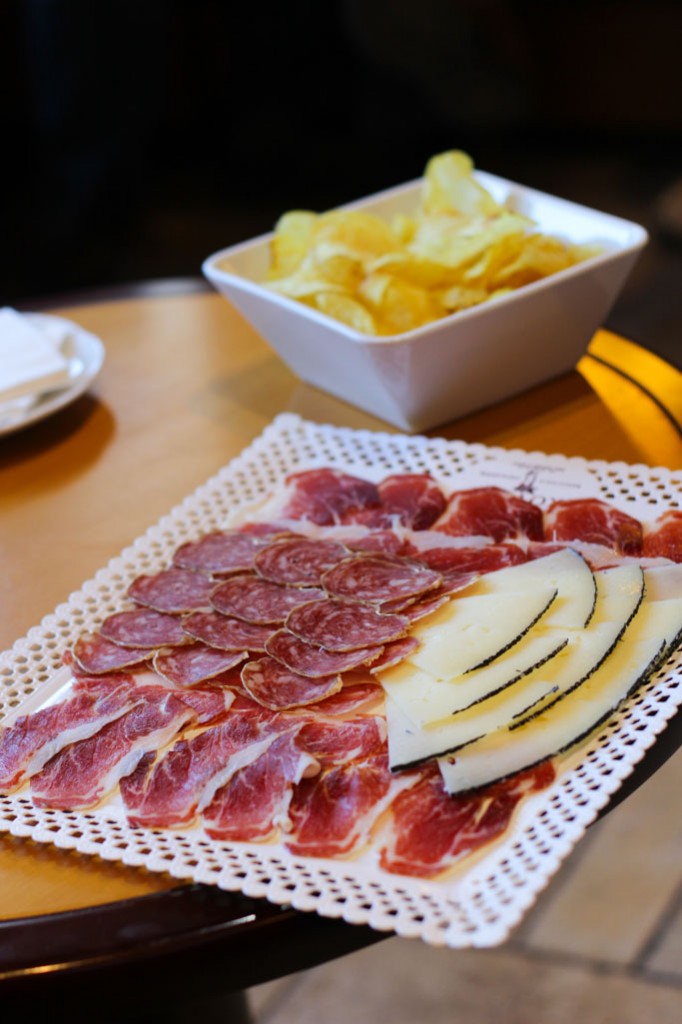 We started with their rosé bubbles – Swoon! Paired with jamón, pan con tomate, and manchego cheese – All my favorite tapas, plus my favorite wine. I could have happily stayed here all day. We were led through a flight of several of their other cavas, all of which seemed very similar to me, but all very delicious.
---
We had an amazing time on our Spanish wine tasting journey. So much so, that we contemplated signing up for another tour the next day. Everything was amazing – The wine, the cava, the tapas. We were pleasantly surprised by how intimate and informative this bus tour actually was. I'd highly suggest checking out the Catalyuna Bus Touristic if you are in the area!
I was not compensated for this post or our tour. All opinions are my own.