This Tomato Bisque recipe is not only the richest, creamiest tomato soup you've ever tried, but it'll be on your table in under 30 minutes! It's the perfect comfort food for chilly days.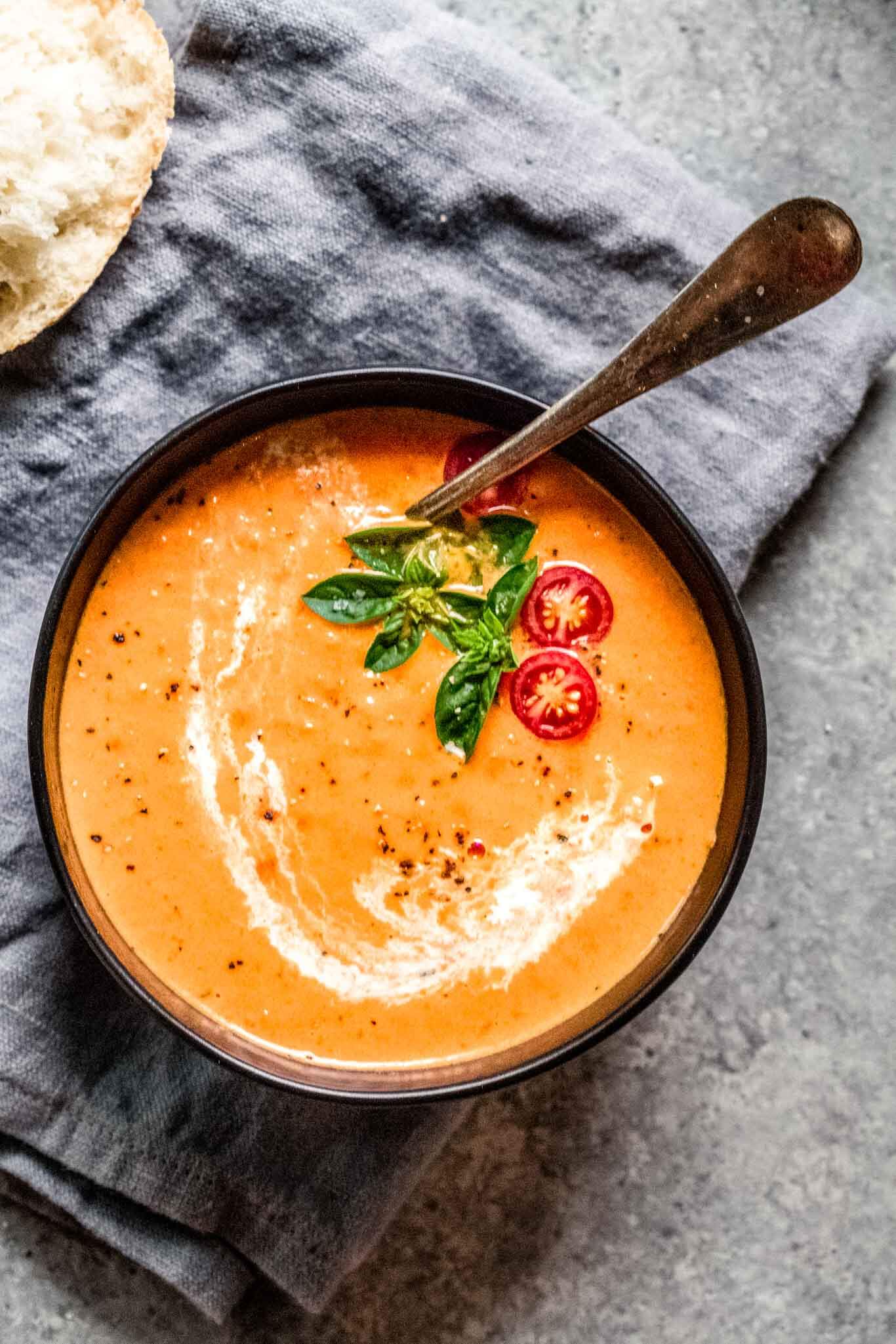 I recently discovered my new favorite soup recipe.
In a quest to find something quick to grab for lunch, I stopped in at Elephant's Deli in downtown Portland, and picked up a bowl of their Tomato Orange Soup. The entire walk back to the office, I was treated to the aroma of this amazing, warm bowl in my hands – the sweetness of fresh tomatoes, with a tinge of bright citrus. I couldn't wait to dig into it!
That first spoonful was better than I had dreamed of. It was the creamiest, most silky, tomato soup I had ever had. And then the magic happened – That bit of orange hit the back of my tongue when I swallowed, leaving behind its flavor that wasn't to be forgotten. And then I inhaled the entire bowl while I dreamed of recreating this recipe at home.
It actually wasn't difficult to do at all since Elephant's Deli was kind enough to post the recipe on their website. One ingredient that I found a bit odd in their recipe was the addition of baking soda… I started digging around on good old google and found some interesting information – baking soda can help counteract the acidity of tomatoes. Not only that, but it also lessens the risk of your cream curdling when you add it to the pot. #YouLearnSomethingNewEveryDay
I made their creamy tomato soup recipe a couple times, exactly as written, and then I decided to tweak it just a tiny bit to fit my personal taste preferences.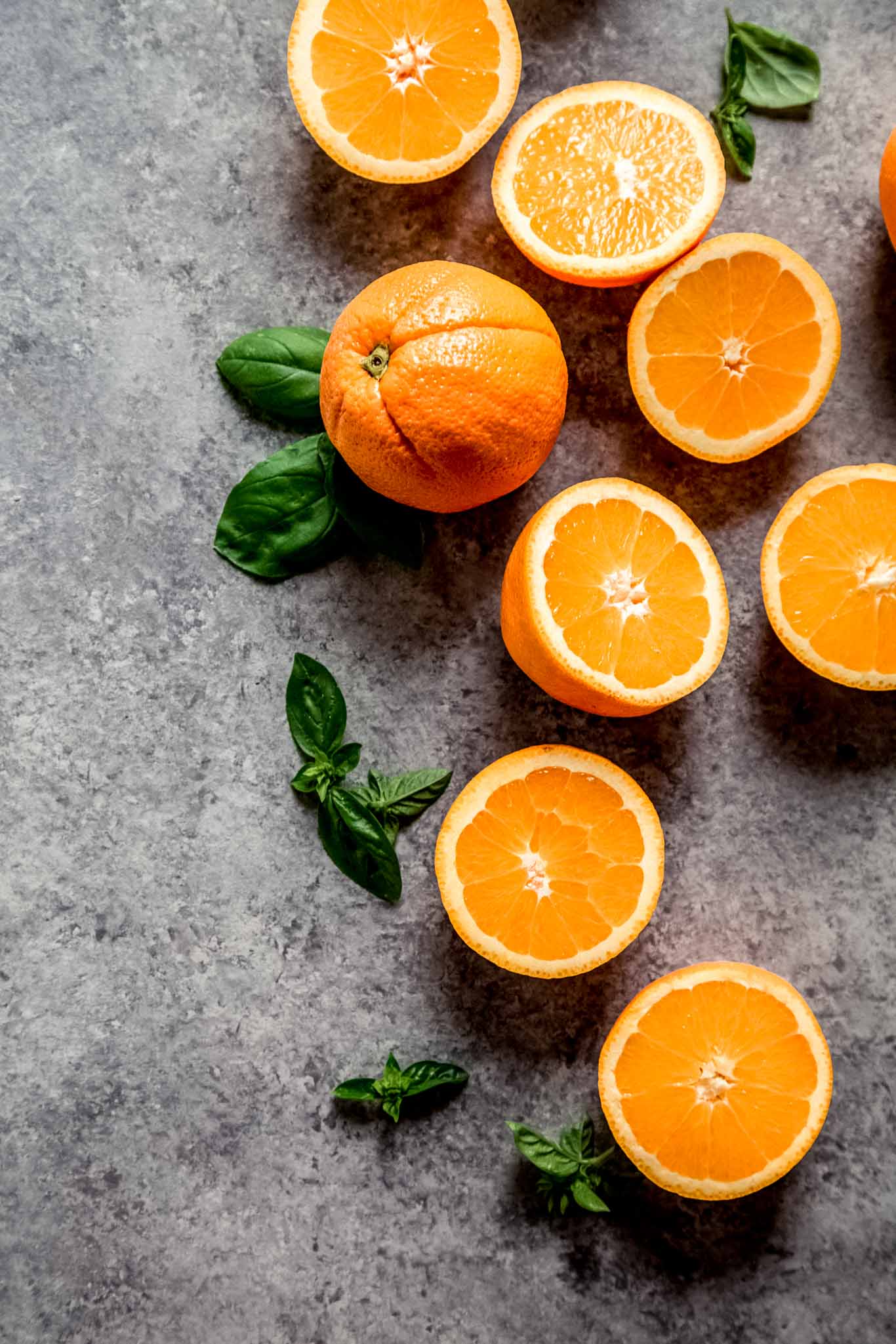 I started playing around with the tomato-to-orange ratio a bit. I didn't want the orange to be too overpowering, but I definitely wanted to know it was there. I found the right balance with about 1 1/4 cups of orange juice. Word of warning, that's a lot of oranges. I think it took me about 6 oranges to get all that juice. Note – You can also use fresh squeezed bottled orange juice in this recipe. Just be sure that it's really good quality OJ.
I modified the original recipe further by lessening the amount of thyme. I found it to be just a bit overpowering, and cut the amount in half. I also left my soup a bit more chunky than the original version by using an immersion blender and processing until it was just the right texture that I was looking for.
To finish things off, I topped my bowls of creamy tomato bisque with a few sprigs of fresh basil. It gave a great aroma and looked pretty. But, if you don't have fresh basil on hand, feel free to add in about 1/4 teaspoon of dried basil to your soup when you add the dried thyme.
What is the difference between tomato soup and tomato bisque?
The traditional usage of the term bisque means a soup that is made with shellfish stock, like lobster bisque. But in more modern times, the word bisque has been used to define any soup that is made with the use of heavy cream.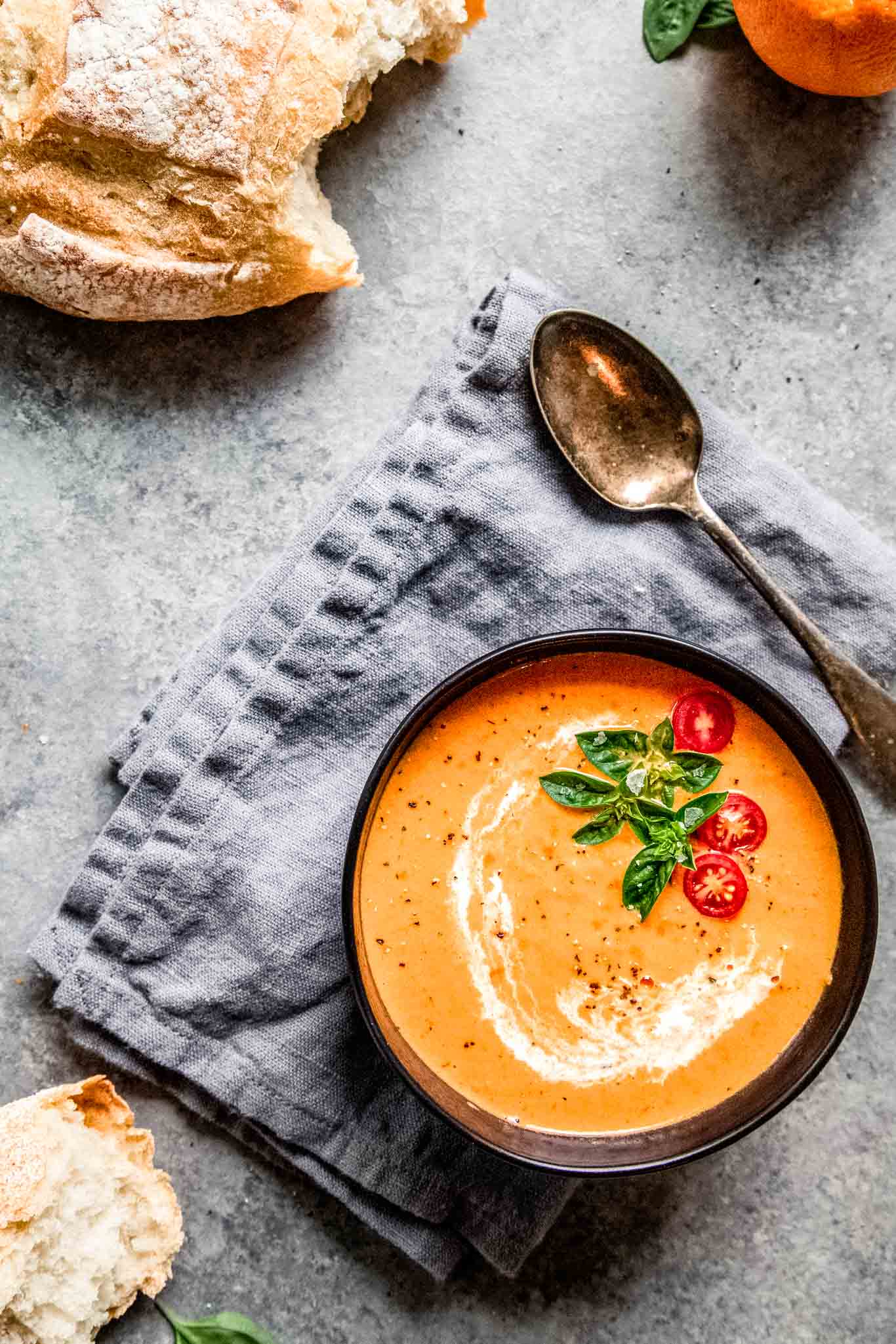 How do you make homemade tomato bisque?
Melt butter in a large saucepan over moderate heat. Add onion and saute until translucent. Add canned tomatoes and spices. Bring to a boil, reduce heat and simmer uncovered about 15 minutes or until slightly thickened.
Using a blender, food processor or immersion blender, blend soup until smooth.
Slowly stir in heavy whipping cream & orange juice. Season with kosher salt and black pepper.
I couldn't have been happier with the way this tomato soup (or bisque soup) turned out. It's got a rich tomato flavor and has quickly become a family favorite. We'll be eating it in regular rotation this winter. So, I may even double the recipe and freeze it too…
To Freeze: Simply place it in an airtight container. It will keep for up to 3 months.
Tip: Want to make a vegan tomato bisque? Simply substitute the heavy cream for coconut milk.
How to serve it:
Alongside some crusty bread.
Topped with crunchy croutons.
Paired with a grilled cheese sandwich.
With a green salad.
Wine pairings for Tomato Bisque Soup:
A light-red wine works well with this creamy soup. Try a Grenache, Gamay or Barbera d'Alba.
For a white wine option, try a Viognier – Its viscosity and lush flavors stand up well to this rich soup.
If you loved this Tomato Bisque recipe I would appreciate it so much if you would give it a star review! Also, be sure to snap a picture of your finished dish and share it with me on Instagram using the hashtag #platingsandpairings and tagging me @platingsandpairings.
Tomato Bisque Soup Recipe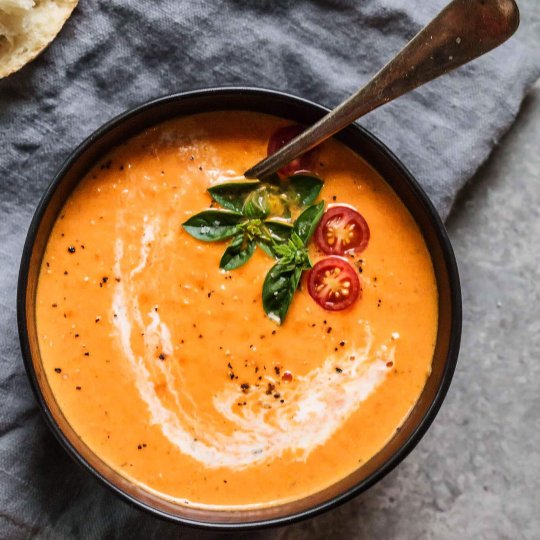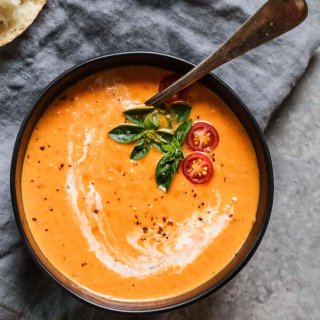 30-Minute Tomato Bisque Soup
This Tomato Bisque Soup is the richest, creamiest tomato soup you've ever tried, with a splash of fresh orange juice for a bit of extra tang! Inspired by Elephant's Deli in Portland, Oregon.
Print
Pin
Ingredients
6

Tablespoons

unsalted butter

1/2

yellow onion

(diced)

2

14.5 oz

cans diced tomatoes

1

teaspoon

salt

1/2

teaspoon

cracked black pepper

1/4

teaspoon

baking soda

1/4

teaspoon

dried thyme

1 1/4

cups

fresh orange juice

1/2

cup

heavy cream

Fresh basil

(to garnish)
Instructions
Melt butter in a large saucepan over medium heat. Add onion and saute until translucent.

Add tomatoes and their juice, salt, pepper, baking soda and thyme. Bring to a boil, reduce heat and simmer uncovered about 15 minutes or until slightly thickened.

Using an

immersion blender

, process until smooth. Alternatively, transfer contents to a blender and process until smooth.

With soup over low heat, slowly stir in orange juice and heavy cream. Season to taste with salt and pepper.
Notes
Although fresh squeezed orange juice is preferred in this recipe, a high-quality bottled orange juice will work as well.
Nutrition
Calories:
373
kcal
|
Carbohydrates:
16
g
|
Protein:
3
g
|
Fat:
35
g
|
Saturated Fat:
22
g
|
Cholesterol:
102
mg
|
Sodium:
696
mg
|
Fiber:
4
g
|
Sugar:
12
g
Note: This Tomato Bisque recipe was originally posted in January 2016. It was updated in September 2017 to revise the photographs and content. The recipe remains the same. Enjoy!