A behind the scenes tour of Walla Walla, Washington with Chef Andrae Bopp of Andrae's Kitchen including his favorite wineries and local producers.
If you've been following along with me for a while, you may remember that I was lucky enough to take a cooking class with Chef Andrae Bopp in Walla Walla last winter as part of their annual February for Foodies event. I was drooling over every single dish that he prepared for us, and ever since then I've told every single person I've talked to that they need to stop by his restaurant if they're in Walla Walla. Oh, and by the way, his restaurant is in a gas station…
Chef Andrae Bopp has a lot under his belt – He graduated with honors from the French Culinary Institute, has worked in some amazing restaurants – including Le Bernadin which carries a Michelin Three star rating, and brought the "Farm to Table" movement to Boise with his restaurant Andrae's. After moving to Walla Walla in 2008, he also earned the title of Assistant Winemaker – working at Dusted Valley and becoming their Executive Chef as well.
In 2009, Andrae set off on his own venture, opening up his mobile food truck – Andrae's Kitchen – with the intention of travelling to local vineyards and serving up his internationally-influenced food on the spot. And, a few years later, Andrae's Kitchen took up a permanent residence inside the Cenex Convenience Store and Gas Station – Operating seven days a week, day and night. It's a busy, bustling spot with a smoker out back that smells like heaven. It's obviously his baby – He even designed it by hand…
This is where our adventure began.
Andrae treated us to an early lunch of some of his favorite dishes on the menu: Voodoo Fries, the AK Burger, Halal Style Chicken, and lots of his amazing taco variations. I couldn't stop eating… I loved the Voodoo Fries for their spicy flavor, the Halal Style Chicken was an unexpected middle-eastern treat and every single one of the tacos was totally unique and really delicious.
After we were sufficiently stuffed (really, we didn't want to stop eating), we headed out to some of Andrae's favorite spots – Beginning with Tranche Cellars.
Tranche Cellars is owned by the same family that owns Corliss – a big name in the area that carries some heft. It's a beautiful spot with sweeping vineyard views and a beautiful patio that I can't wait to go back and enjoy in the summertime. Richard at Tranche led us through a behind the scenes tour of their production facility and treated us to some of their Rhone style blends along the way.
I found the square concrete tanks at Tranche to be particularly unique. I'd tasted concrete aged wines before, and had seen plenty of concrete aging tanks – but they had all been egg shaped. Richard explained that the square tanks allow them to fit more of them in a small space, particularly useful since their production was quickly growing and space was becoming more and more needed.
We loved their Cabernet Franc and Syrah in particular and ended up taking several bottles home with us.
Next on the agenda was a visit with Seth Small of Small's Family Farm – producers of much of the flour that Andrae uses in his kitchen. Small's Family Farm dates back five generations in Walla Walla and you can really see that Seth has a passion for the industry.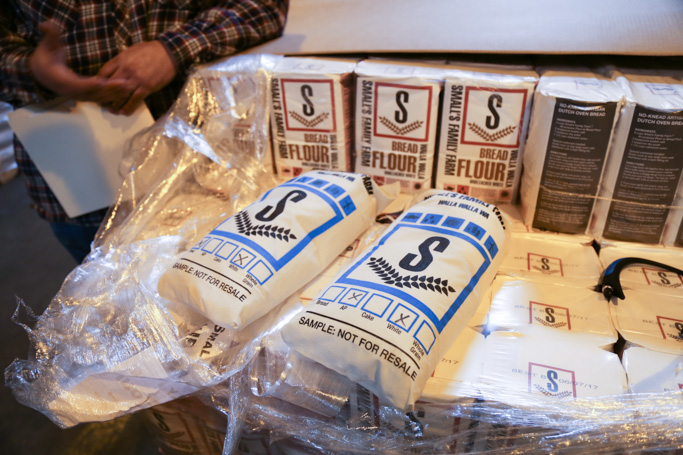 He led us through a tour of their milling operation and farm – describing their sustainable farming practices and plans of growth for the future. Many local restaurants in Walla Walla, including the Walla Walla Bread Company use the flour produced at Small's Family Farm – A true credit to their quality of product.
Seth was generous enough to send me home with a couple bags of their flour – I can't wait to try it out in some of my favorite recipes.
Making our way out of the mud and back onto solid land, we made our way to Sleight of Hand Cellars. I'd stopped at SOH a couple summers back, and I was excited to visit their tasting room and sample their wines again. Rock-and-roll coolness just oozes out of their tasting room – They have loads of vinyl records on hand and they even promised to have some Talking Heads playing for me when we arrived.
We still have a bottle of their Counjurer on hand from that last trip, but this time around, we really got into the Syrahs. Winemaker Keith Johnson led us through our tasting and it was fun to hear him and Andrae gush over the syrahs that are coming out of the Rocks District of the Milton-Freewater AVA. This is a place where the vines are literally growing out of large piles of rocks – And the taste of the wines coming from there taste distinctively different – With lots of minerality and a "funk" to them – Which I would say tastes a bit gamey and more savory that your traditional wines. Andrae says that you get used to that taste in Walla Walla, and that you can easily pick out any wine that's coming out of "the rocks."
We had hoped to make time for a quick visit to check out the rocks, but we were running short on time – We didn't want to miss our next stop at Bright's Candies. Owned by Paul Jenes, and dating back to 1934, you've probably noticed Bright's Candies right on Main Street in downtown Walla Walla, you may have even spotted Jenes in the window, making the candy in small batches using the traditional methods that have been passed down through the years.
He let me try my hand at dipping some of their salted caramels… I'd say I need a bit more practice. My batch probably went into the bargain bin… Be sure to check out Bright's Candies the next time you're in town for their amazing Salted Caramels, Earl Gray Truffles and Turtles. They're even making cordials that are filled with Walla Walla wines!
Looking for more places to visit in Walla Walla? Be sure to check out my posts here, here and here.
A special thank you to Andrae from Andrae's Kitchen for taking us on this wonderful tour of Walla Walla and to Tranche Cellars, Small's Family Farm, Sleight of Hand Cellars and Bright's Candies. I would also like to thank Visit Walla Walla for arranging our trip – Be sure to check out their site in preparation for your next trip – They have an events calendar as well as great lodging, dining and winery recommendations.