L'Ecole Winery resides in a historic 1915 schoolhouse in Walla Walla, Washington. Be sure to stop in for a wine tasting of their rich, deep red wines as well as some outstanding white wines like Chenin Blanc and Semillon.
A couple years ago, Rick & I joined the wine club at L'Ecole Winery. We're in "too many to mention" wine clubs, but hey, what's one more? While most of the wine clubs that we join are in Oregon, we decided to join at L'Ecole just because we love their wines SO much, and they're always one of our first stops when we're in Walla Walla. You'll notice L'Ecole right when you're pulling into town if you're heading in from Portland and it's hard to forget because of the beautiful building that it's located in.
Housed in a 1915 schoolhouse that ran until 1974, a visit to L'Ecole Winery feels like a step back in time. With its squeaky wooden floors and floor to ceiling bookshelves that still hold some old textbooks, it's almost like being in a museum. Baker and Jean Ferguson purchased the schoolhouse in 1977 and opened the doors as L'Ecole Winery in 1983.
The tasting room occupies one of the two former classrooms and all of the charm has been preserved. From the original windows, to the light fixtures, green chalkboards, and even some sketches in the glass depicting that schoolyard crush. The cellar boasts a hand-painted children's mural in the room that once served as a stage for Christmas pageants.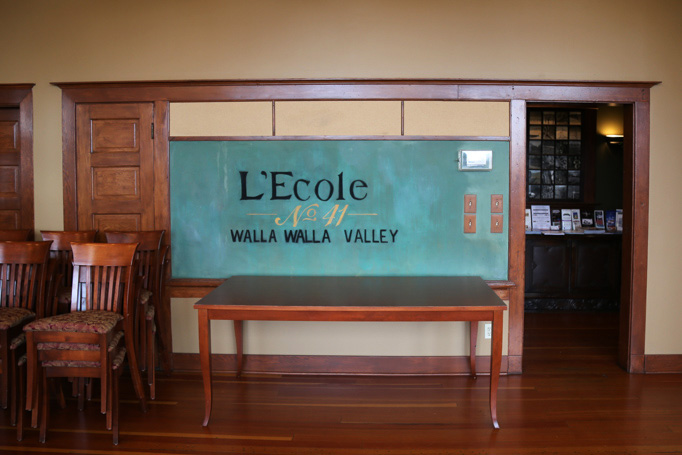 But, you won't only be wowed by the history of L'Ecole – You'll also be swept away by their wines.
L'Ecole Winery focuses on Washington wine and does those big, hearty red wines exceptionally well. Cabernet Franc, Cabernet Sauvignon, Syrah, Merlot – They're all stunners. But, there are two red wines in particular that always win my heart:
L'Ecole Winery also has some really spectacular white wines of varieties that you won't find many places in the Northwest. Their Chenin Blanc and Semillon are the winners in my book:
And let's not forget the Rosé!
L'Ecole Winery is open daily from 10am – 5pm. Tastings are $10/person, or $20/person for a walking tour of the property and a tasting of six current release wines.
41 Lowden School Road
Lowden, WA 99360
509-525-0940
HOURS: open daily from 10am – 5pm
http://www.lecole.com/
PS – Isn't this child's hand drawn sketch just the best? Love it!
Looking for more Walla Walla wineries to visit? Be sure to check out these posts too:
We are members of the L'Ecole Wine Club and pay for that membership out of our own pocket. As always, all opinions and photos are my own.