The tropical location of Hawaii's Big Island offers adventure, scenic beauty & amazing food. Here are some key things to do and where to eat when visiting Hawaii Island.
Does anyone know where to buy a time machine? One month ago today we left on our trip to the Big Island, Hawaii, and I've spent each of the past 30 days daydreaming about that vacation. Waking up at dawn, grabbing a cup of Kona coffee, and relaxing in the hot tub as we contemplated what our itinerary would be each day. Some days were low key – Just some time by the pool and snorkeling in the bay right in front of our hotel, The Fairmont Orchid. Other days were packed with adventure – Hiking down roads at a 25% incline, golfing with peacocks, and driving around in the pouring rain trying to find the most authentic Hawaiian road food on the island.
We spent eight days on the island, which were fantastic. However, we could have used a couple more. Because we were staying on the upper northwest corner of the island, it was tough to get all the way to Hilo, and the volcanoes, which were at least a three hour drive away from our home base. If we were to do things differently, the one thing we would have done was to book a couple additional nights at a hotel near Hilo, so that we could explore that area more.
Day 1 | Beers on the Beach, and an Early Night
We landed at the Kona airport, and after a short 30 minute drive, arrived at our hotel, The Fairmont Orchid. We immediately unpacked our bags and headed down to the beach for some beers and poke. We were able to spot some turtles on the beach as we soaked in the first of the Hawaiian sunshine. We went to bed early after our day of flying, plus we were 2 hours ahead of time, so the night called for sleep.
Day 2 | Plate Lunches, Pololu Valley and a Fancy Dinner
We woke up early, with the sun, grabbed a cup of Kona coffee from our hotel lobby and headed for the hot tub, hoping to get there before anyone else. We lucked out this morning, and every other morning of our trip, having our morning soaks all to ourselves. Walking the grounds for a bit before we made our way back to the room to start our day. Based on suggestions from friends, we decided to check out Pololu Valley – A black sand beach on the north side of the island. On our drive over, we stopped in the small town of Kapaau for lunch at the CSC Café. I was a bit skeptical as we drove up. There were a few old men sitting outside watching LIVE with Kelly on the TV and the inside looked like a really old, run down A&W. But the menu looked good! Lots of plate lunch options, and breakfast too. Rick ordered an omelet, and I ordered the Chicken Teri. They were both served to us in Styrofoam boxes with plastic forks. Even though it didn't look like much, Rick said his omelet was amazing. And my teriyaki chicken was pretty darn yummy too. We were now ready to tackle this hike.
We were warned that Pololu Valley could be a steep, slippery hike down, and it definitely was. It was showering outside pretty good, and the hike was mostly on slippery large rocks. We were coated in mud by the time we were finished, but the views were amazing, and the beach was pretty secluded. This was by far my favorite hike of the trip.
After our hike, we made our way back to our hotel, enjoyed a couple Mai Tai's for happy hour and then enjoyed a really, extravagant dinner at Brown's Beach House, located at our resort. We enjoyed a Macadamia Nut Hummus, Roasted Hearts of Palm Salad, Hawaii Island Beets, and Big Eye Tuna with Sea Vegetables and a Wasabi Potato Puree. It was all fantastic, and we got to enjoy our meal with some live ukulele music and the backdrop of the ocean in front of us. This meal was definitely a highlight of the trip. I would recommend a visit, even if you aren't staying at the hotel. Before hand, we ordered some martinis. Tip: Don't order martinis in Hawaii. They get warm way too quickly. Afterwards, we ordered a bottle of Pinot Noir to go with our meal. It was an California label that I hadn't heard of, but it was amazing – Siduri.
Day 3 | Loco Moco, Shaking in my Boots at Waipio Falls, and an Oregon Brewer
On Day 3, I woke up with Loco Moco on the brain. If you haven't heard of Loco Moco, you've probably never been to Hawaii. It's a traditional Hawaiian dish which consists of a hamburger patty, served over a bed of rice with brown gravy and an egg on top. So good! The Hawaiian Style Café in Waimea came highly recommended to us. I'd heard that the portions were huge, especially the pancakes, but I was ready. This girl can eat. I went with the aforementioned Loco Moco, with their housemade hamburger patty. Note: They serve two types of Loco Moco – And our waitress gave me the scoop. The one listed in the menu uses frozen burger patties, but the one on the specials board is their own housemade patty – That's the way to go. It also comes served with sautéed onions on top. Rick ordered the Macadamia Nut French toast which you can probably image was out of this world as well.
After stuffing ourselves, we set out for the Waipio Valley – Another hike. I didn't know what I was in store for with this one… Waipio Valley is home to an amazing waterfall, but you can't see it from the viewpoint up above. The falls are located right underneath. So, you need to either hike or drive down to get the full view. Only cars with four-wheel drive are allowed as it's a super steep drive – A 25% incline. There is a park attendant who is sure not to let anyone down who may not have a sufficient vehicle. I'd read stories that you can see old cars down in the hills that had driven off the road in the past – We spotted one. It must have been from the early 80's. We did this one by foot – And I almost turned around twice. It's really hard to hike down that steep of an incline on a gravely road. I nearly fell twice and I was shaking a bit, but my courage went up when I saw that others were making the hike as well. One guy was hiking down backwards, he said that it's easier that way. I tried it, and ended up going with the sideways approach. There was a woman on her way back up the hill – She was carrying a 40-pound backpack, and was barefoot. That's when I knew I was really being a wimp. Let's do this Erin…
Once we made our way down, we were hoping to find our way over to the falls, but the only way to get over there is to hike on the rocky shore, along the waves. It was a stormy day, and I really didn't want to get swept away, so we just admired the falls from afar. We found a couple wild horses down there, but I kept my distance. They were beautiful, but they were definitely getting pushy with the couple that was petting them – I think just looking for food. And so far, you may be noticing a trend… I'm a bit of a scaredy cat. Waipio Falls may look familiar to you – It is where the end of Waterworld was filmed.
Then… It was time for the hike back up. Oddly, it was easy compared to the hike down. But it definitely earned me a beer, or two, or three…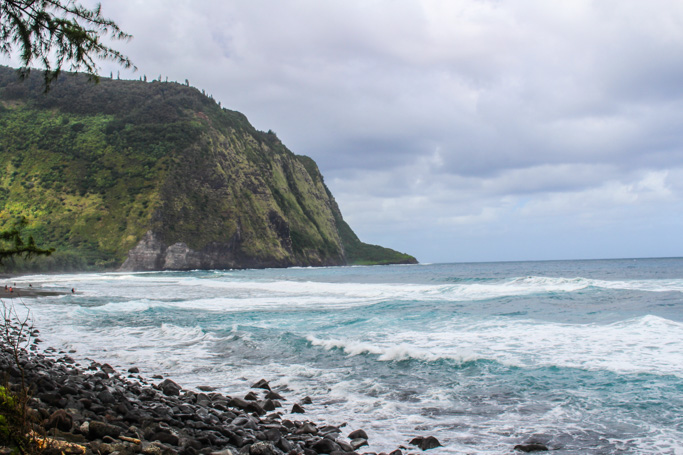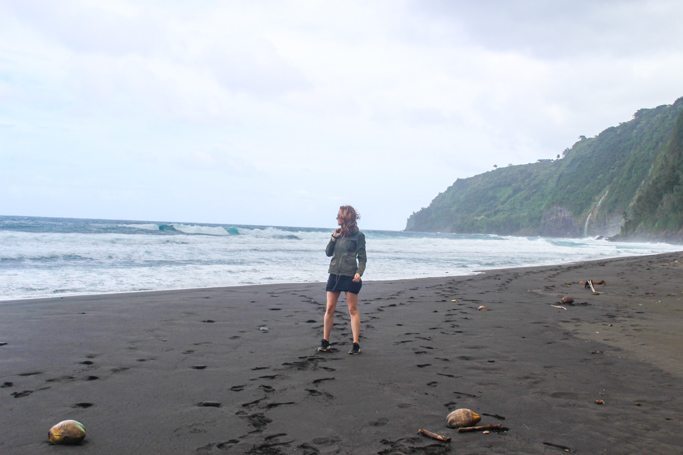 We stopped at the Big Island Brewhaus in Kamuela on our way back. Owner, Thomas Kerns, got his start in the micro-brewing scene with McMenamins – A local Oregon brewery. It was awesome to stop in and see a couple Oregon Ducks football helmets displayed – Even if they are having a horrible season this year. A little piece of home… I got a beer sampler and Rick ordered a Coconut Creme Ale. I really liked their Big Mac Nut Brown Ale and Starshine Ginger Bier, but they were all quite tasty.
Day 4 | Golf, Peacocks and Poke
Today's breakfast was a full departure from yesterday's Loco Moco. We stopped by Daylight Mind Coffee, located in the Queen's Shopping Center and I started with something a bit lighter – Avocado Smash on sourdough.
Today was all about Rick – Which means golf. The Makalei Golf Club in Kailua-Kona is located in the hills, so it's a bit cooler, and could almost be considered wooded. It's home to hundreds of wild peacocks and turkeys – Which is ironic being that tomorrow is Thanksgiving. While Rick golfed, I fed the peacocks with my complimentary Peacock Pupus.
After golf, we headed into Kona and stopped by the Kona Brewing Co. This place was packed! I'm not sure if it's because there was a cruise ship docked, or if it's just always this busy, but I much preferred the lower key Big Island Brewhaws that we visited yesterday.
I was ready for Poke. I'd heard about Umeke's from Roadfood. Do you listed to Splendid Table on NPR? Those are the Roadfood folks – They suggested this place. It was as good as I anticipated. I got a huge bowl of poke with brown rice and pickled cucumbers. I would have been happy eating this every single day of the trip. Rick got the tempura veggies with mac salad – Best tempura of my life.
Day 5 | Thanksgiving and Near Freezing Temperatures
Thanksgiving Day – We played it pretty low key for the most part. Rick went golfing, and I layed out by the pool trying to prepare myself for what would be in store later in the night – Mauna Kea.
Mauna Kea is the highest point in the state of Hawaii – 13,802 feet above sea level. Considered to be one of the best sites in the world for astronomical observation – It's also cold! I was bundled up in two layers of pants, a wool hat, down jacket, and gloves and I was still no where near warm. We headed up just before sunset and were treated to some of the most amazing colors in the sky. I was a bit afraid that I was going to blow off the side of the mountain, but looking back on it, these pictures make it look so peaceful…
Day 6 | Italian Food, a Civil War and Sushi 
We made a short drive north from our hotel and stopped by Café Pesto in Kamuela. This place has great Yelp reviews, and came recommended to us, but I thought my dish was just OK… I ordered a poke salad. Perhaps I should have gone the way Rick did and ordered Italian (should the restaurant name have been a clue?). He ordered the Stromboli. I also hear that the pizza is fantastic here.
Afterwards, we stopped by the local farmer's market, and for some shave ice at Big Island Shave Ice Co. Again, it was just ok, but it could be the psychedelic rainbow flavor that we ordered…
After lunch, we headed back to the resort for a low key day and some football watching – Oregon vs. Oregon State in the Civil War. We rented a cabana on the beach, packed down the laptop, and streamed the game beachfront. Minus the glare, not a bad way to watch an awful game…
I'd been anticipating more sushi on this trip, so for dinner, we made reservations at Norio's Japanese Steakhouse & Sushi located at our resort. The service was amazing, the sesame glazed edamame were fantastic, and the fish was as fresh as it comes.
Day 7 | Petroglyphs and Feeding Pigs
A short hike from our hotel are the Puako Petroglyphs. A few days ago, we'd stopped by the petroglyphs at the Queen's Shopping Center, but the Puako Petroglyphs are much, much better – There are tons of them – And they are really a lot more clear. I have no idea what they mean… But they were cool nonetheless.
This was the final day of our trip, and I couldn't get that Hawaiian Style Café in Waimea out of my head. So.. We went back. This time, I ordered the Korean Rib plate lunch. It was way too much food, and I had so many leftovers, but they feed all of the scraps to their pigs, so I didn't feel so bad… Except… Cannibalism?
Have you been to the Big Island? What were some of the highlights of your visit? Do you have a list of where you like to eat when visiting the Big Island?