Tropical Kauai, Hawaii offers beautiful hiking trails, a stunning lighthouse, & amazing food. Here are some of the best things to do and where to eat when visiting Kauai.
Every time I come home from a vacation in Hawaii, I immediately want to go back!
In August we left on our trip to Kauai for our friends' wedding, just a couple weeks after our wedding, so this was kind of like a honeymoon for us.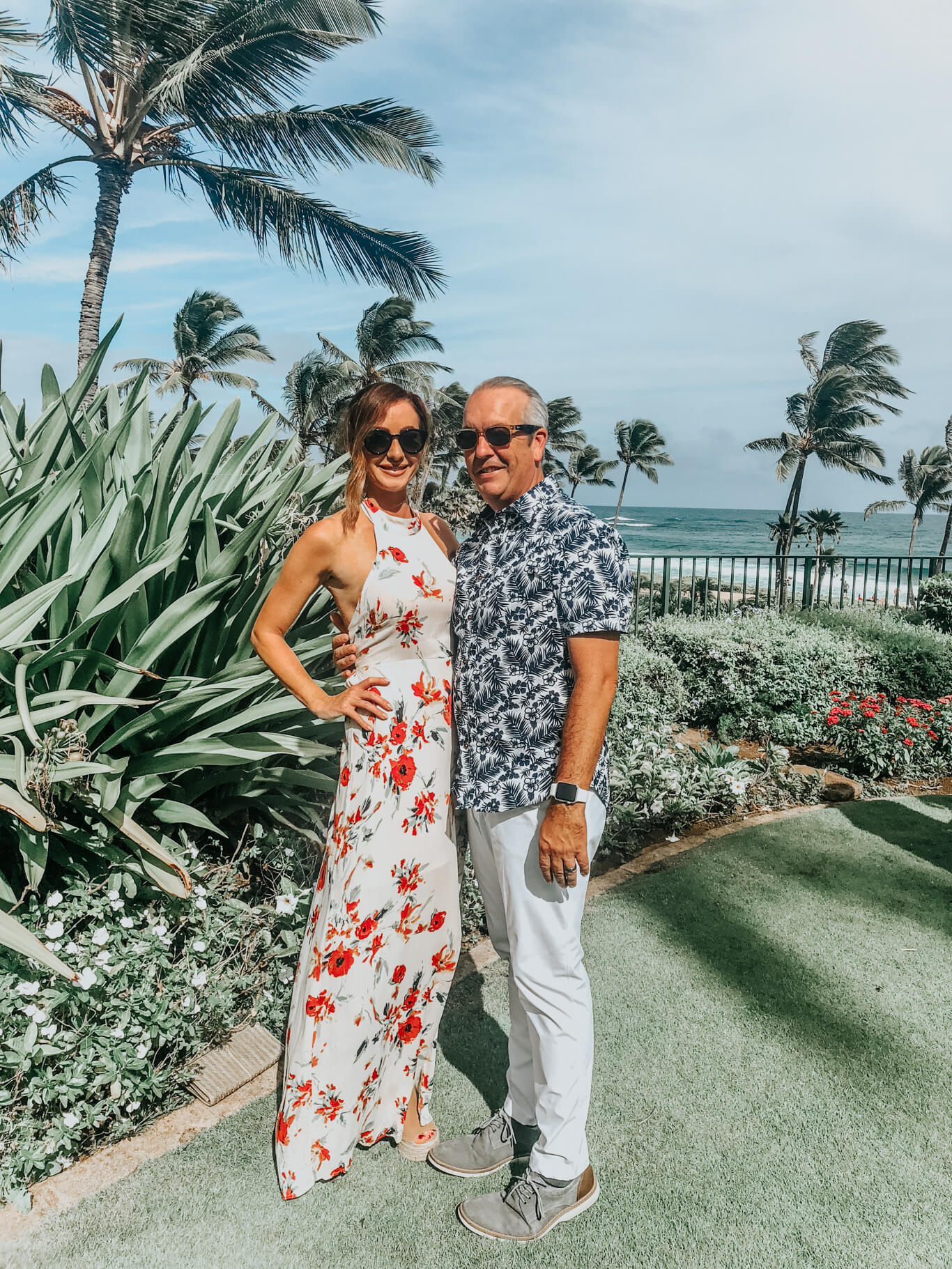 We started off every morning in Kauai, just like we did on our trip to the Big Island, with a cup of coffee enjoyed in the hot tub as we thought about what we'd like to do each day.
Unfortunately, it does rain a lot in Kauai, so most of our days were dictated by the weather. The south side of the beach (where we stayed) is called Poipou Beach, and most of my restaurant recommendations for you are coming from that area, but be sure to check out this map that I put together too – I gathered all my foodie friends' recommendations for the best places to eat all around Kauai.
We stayed at the Grand Hyatt in Kauai and really loved the accommodations. It is definitely a large resort, but there are plenty of pools, a golf course next door, and lots of amazing restaurants in the area, as well as on site.
Here's a round up of what I consider to be the best restaurants in Kauai:
The Best Places for Dinner in Kauai:
Eating House 1849 | We ate here twice on our trip. Spectacular food and a beautiful setting.
Merriman's Fish House | Definitely a special occasion spot with an amazing wine list.
The Dolphin Restaurant  | We did not make it to The Dolphin on our trip, but I've heard nothing but good things. A great spot for sushi.
The Best Places for Lunch in Kauai:
Puka Dog Hawaiian Style Hot Dogs | OMG-good hot dogs that are not to be missing! Even for a girl that doesn't love hot dogs, I wanted to go here every day of our trip.
Kilauea Fish Market | Another of my favorite spots. I had some shockingly good poke here and it was SO cheap. I would have liked to have gone back more than once.
The Lanai Poipou | Great spot for mexican bites and cocktails.
The Best Places for Drinks in Kauai:
Tidepools | I had the best Mai Tai of our trip here (located at our hotel).
Kauai Beer Company  | Great local brews and a fun atmosphere.
Kauai Island Brewery  | Lots of great beers with local flavors.
Kauai Juice Co Poipou | The juice here is amazing! I brought a few bottles back to our hotel room for fixing cocktails.
The Best Places for Hiking in Kauai:
Kilauea Lighthouse | A bit crowded, but definitely beautiful.
Shipwreck Trail | This trail was right next to our hotel. It offered amazing views and led down to a private beach.
Awa'awapuhi Trail | Stunning sweeping views. I was a bit scared that I was going to be blown off the side of the hill though!
Waimea Canyon State Park | Just look at those views.
Have you been to Kauai? What are your favorite spots to visit on the island? I'd love to hear in the comments below!
Here's a handy map that I created of the best places to visit on Kauai. 
Headed to the Big Island? Be sure to check out this post for my favorite places to see and things to eat on Hawaii Island.
This is not a sponsored post. We paid for this trip out of our own pockets.