I teamed up with Field Roast to bring you this post. As always, all opinions are my own.
Are you hosting a plant-based Thanksgiving this year? Here are some of the most irresistible Thanksgiving recipes for all diets.
This year we'll be spending the Thanksgiving holiday in Arizona with my dad and brothers. It's always a unique Thanksgiving experience when it's with my dad. Here's some things that make our Thanksgiving unique:
We always listen to Alice's Restaurant when we're in the kitchen cooking together.
We normally start the day off with some spiked eggnog.
While we're cooking, we're definitely opening up lots of amazing bottles of Pinot Noir.
My dad doesn't eat meat. So, we have a plant-based Thanksgiving menu.
There are some dishes that we always cook:
But every year at Thanksgiving, I love to try out some new dishes too. As you all probably know by now, I love experimenting in the kitchen… Whether it be a fun twist on a traditional side dish, a new dessert recipe that I've been meaning to try, or a new main dish in place of the standard Thanksgiving turkey.
This year we're trying out a new meat-free Thanksgiving turkey alternative – the Celebration Roast from Field Roast.
Plant Based Thanksgiving Turkey Alternative
This year, our new addition to the dinner table is going to be a Celebration Roast from Field Roast. Stuffed with butternut squash, mushrooms, granny smith apples, and fresh herbs, it's a luxuriant grain meat that's been seasoned with garlic, lemon juice and sage. It's definitely going to be the star of our plant-based Thanksgiving table.
I love how the Celebration Roast sets the mood of the Thanksgiving table and it's so pretty surrounded by lots of seasonal fruits and bright and vibrant vegetables. It would be amazing paired with a variety of delicious side dishes and perfect paired with some Pinot Noir, Pinot Gris or Prosecco.
Did I happen to mention that the Celebration Roast is much easier and quicker to cook than a traditional turkey too? That frees you up for more time with your guests and drinking aforementioned wine…
Wine Pairings for Thanksgiving Dinner:
Pinot Noir pairs nicely with the earthy flavors in the Celebration Roast.
Riesling and Gewurztraminer are nice white options that compliment the Celebration Roast and cut down on the richness of the mashed potatoes.
Rosé has a great acidity and hints of baking spices which is a great match for Thanksgiving dishes. (Here are some great Rosé wines under $10.)
Sparkling Wine is a great option – It plays nicely with all the dishes and feels extra extravagant for a special occasion. (Here are some budget-friendly sparkling wines.)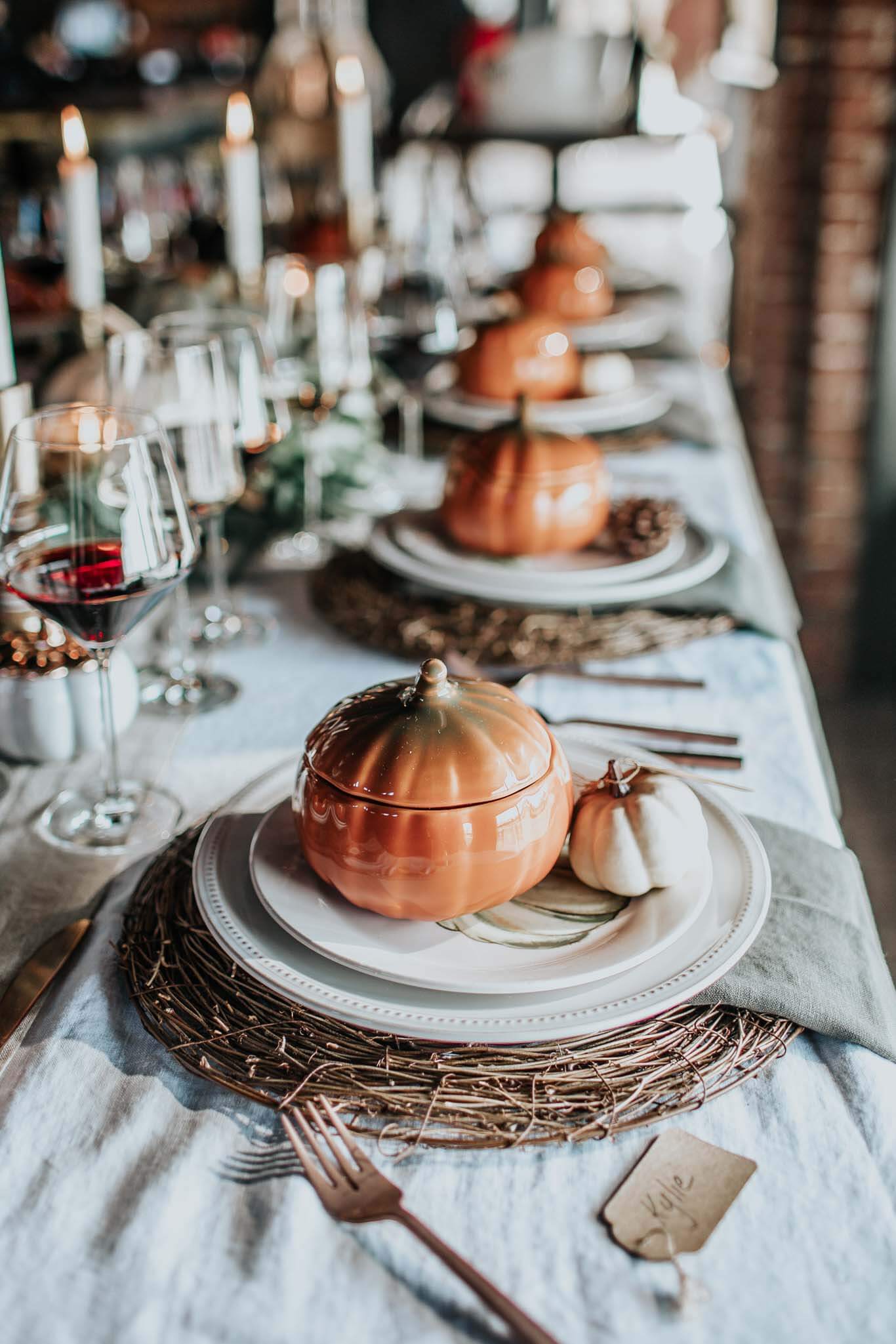 Plant-Based Thanksgiving Side Dishes:
Have you ever hosted a plant-based Thanksgiving? What did you serve? I'd love to hear in the comments below!