Today we're talking budget friendly aka cheap champagne and sparkling wines under $15. Whether it be cava, prosecco, or champagne, these are my top picks for bargain bubbles.
It's my firm belief that everyone should have a bottle of champagne or sparkling wine in their fridge at all times. Who knows when the occasion to celebrate might present itself? Not only that, but sparkling wine is super food-friendly as well.
Today we're talking cheap champagne and sparkling wines that won't break the bank.
Note that the difference between champagne and sparkling wines is that champagne must be produced in the champagne region of France. However, there are many other sparkling wines to choose from like Prosecco and Cava.
These are the bottles I like to have on hand for every day sipping, or for use in sparkling wine cocktails like mimosas, this Apricot-Ginger Bellini or an Aperol Spritz. When you're making sparkling cocktails, there's no need to splurge on a pricey bottle, as you won't really get the full effect as if you were sipping it on its own.
Sparkling Wine Cocktails
I just feel fancy when I have a flute of bubbles in my hand. It makes every day a special occasion, you know like Tuesday. Why not break a bottle open during a simple weeknight dinner?
Pairing Sparkling Wine with Food:
Cheap Champagne Picks
Here are my Top 5 picks for widely available cheap champagne and sparkling wines, all coming in at under $15:
Taralyn Brut ($10) – This dry bubbly offers up light, fruity notes with aromas of peach and citrus.
Michelle Brut ($11) – Apples, citrus, and a bright acidity make this a standout sparkling wine that's produced here in the United States.
Segura Viudas ($8) – Hints of toast and apple cider run throughout this creamy cava from Spain.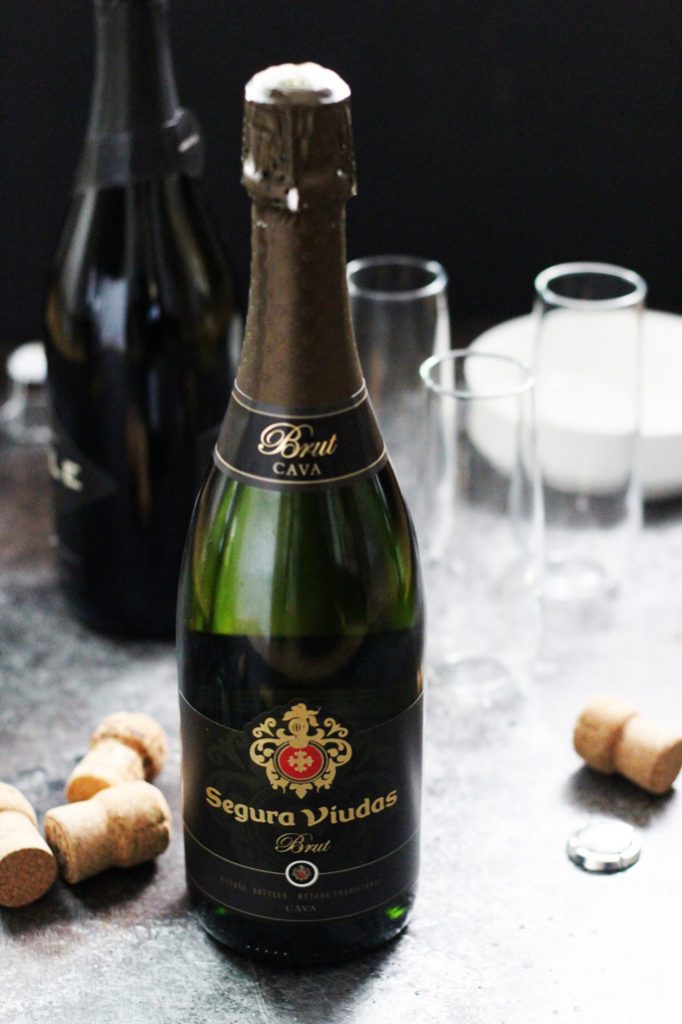 Torre Oria ($9) – Floral and berry notes mingle with tropical flavors in this affordable sparkling wine pick.
Vilarnau Brut Reserva ($13) – Fruit aromas and hints of green apple are standouts in this smooth and pleasant sparkling wine.
So, with these cheap champagne picks in your arsenal, I expect you to be able to throw a party on a whim on a Tuesday. Even if it only involves yourself, your pajamas, and an episode of The Real Housewives! Cheers!!!