Learn how to make the perfect Aperol Spritz cocktail with just three ingredients – Prosecco, Aperol and soda water. This low-alcohol cocktail (or aperitivo) is perfect for happy hour.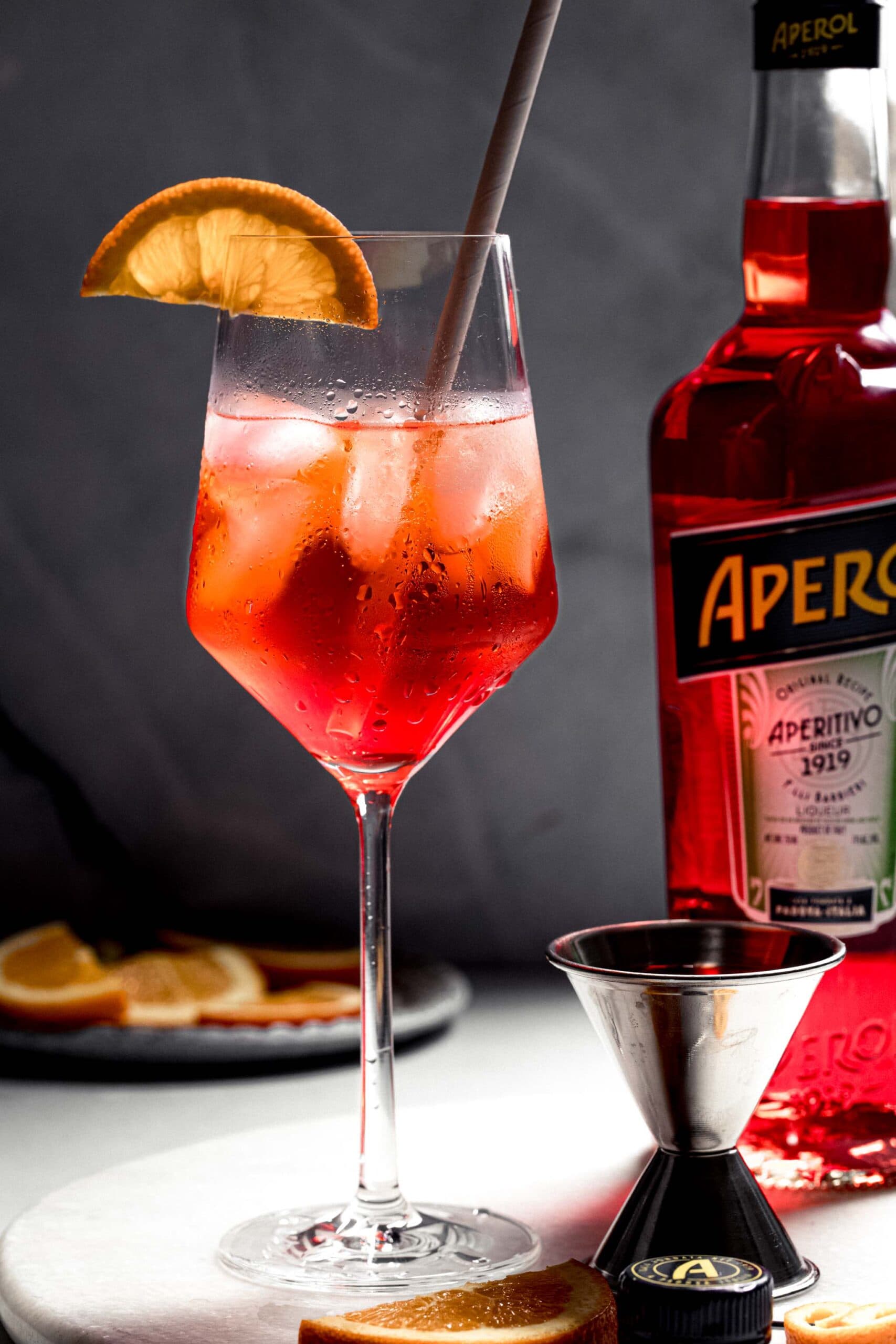 The Aperol Spritz is a popular cocktail in Northern Italy. It's also known as an apertivo and is traditionally enjoyed before dinner. It's a low-alcohol cocktail which makes it perfect for leisurely afternoons on the patio.
When we visited Northern Italy a couple summers ago, we definitely enjoyed one or two spritz cocktails each afternoon that we were there. And now, the have I have a huge fondness in my heart for them.
I've seen the Aperol Spritz garnished with a slice of orange and a green olive, but for my at-home version, I simply garnished with an orange wedge. This is one of the most simple cocktail recipes out there too. There are only three ingredients and no measuring needed. Just add some prosecco to your glass, top with aperol and then add a splash of soda water.
You can serve your cocktails up in wine glasses or rocks glasses, just make sure you have plenty of ice!
Need some inspiration for setting the perfect scene? Invite some friends over, welcome them with a big tray of these delicious cocktails, and host an at-home pizza party. Easiest entertaining ever…
First thing's first…
What is Aperol?
Bright orange in color, aperol has notes of both bitter and sweet oranges and many other herbs, including rhubarb.

Aperol is light and refreshing, and low in alcohol (11%).
Aperol Spritz Ingredients
You only need three ingredients to make the perfect aperol spritz:
Prosecco – No need for expensive French Champagne here! Go for prosecco. Prosecco in Italian sparking wine that's light, bubbly, affordable and festive!
Aperol – Find it in the liquor store.
Soda Water – to top off your glass and add a bit of fizz.
Optional fourth ingredient – an orange slice or dried orange slices to garnish your cocktail.
How to Make Aperol Spritz
Fill a glass with ice, add the aperol, prosecco and top off with the soda water.
The standard ratio is equal parts prosecco and aperol with just a splash of club soda to top off your glass. However, feel free to play around with the proportions to suit your personal taste ↓ ↓ ↓
Variations
Make it less strong
In general, a spritz is a lower alcohol cocktail. However, if you would like to make it even less strong, use less Aperol and Prosecco, and more soda water. Or, you can leave out the Prosecco entirely and just combine Aperol and soda water.
Make it less bitter
Aperol is a bittersweet spirit, and it can be a little too bitter for some people. If so, you can reduce the amount of Aperol in your spritz.
Make it more bitter
If you're a fan of the bitter notes in Aperol, you'll probably love Campari too! Campari is very similar to Aperol but this Italian apertif is even more bitter. Try swapping it in place of the Aperol to make a Campari Spritz. Or, try out these Grapefruit Spritz Cocktails, which add in grapefruit juice in place of the sparkling water.
ℹ️ Read about the differences between Campari and Aperol here.
This Winter Aperol Spritz has got all the standard spritz ingredients – aperol, prosecco, and soda water, but it's all dressed up with a yummy cranberry simple syrup.
How to Garnish
The standard garnish for an aperol spritz is an orange wedge. But I've also seen them served garnished with green olives which I think is such a cute touch, especially for a pizza night at home.
Or, try your hand at making these cute orange rind hearts. To do it, I just slice up some orange rind in a long strip. I fold it in half, then I use a cocktail pick to skewer through the edges and center, making a heart shape. 🧡 ↓ ↓ ↓
Aperol Spritz Calories
There are 117 calories in one aperol spritz cocktail.
What to Serve with an Aperol Spritz
In Italian tradition, the aperol spritz is served as an apéritif. Apéritifs are designed to be served before lunch or dinner to excite one's appetite.
I like to serve them with Italian or Mediterranean-style appetizers. Since Aperol is a bitter spirit, it pairs best with creamy, salty foods that will take the bitter edge off.
Here are some easy appetizers that pair well:
Saluté!
More sparkling cocktail recipes:
Wondering how else to use up that bottle of Aperol? Try this Aperol Sour or this Paper Plane Cocktail. Or, here are 25+ Aperol cocktail recipes to try!
Aperol Spritz Recipe
Learn how to make the perfect Aperol Spritz cocktail with just three ingredients – Prosecco, aperol and soda water. This low-alcohol cocktaill (or aperitivo) is perfect for happy hour.
Print
Pin
Ingredients
3

ounces

Prosecco

(or any sparkling wine)

1

ounce

Aperol

Splash of soda water

(sparkling water, or club soda)

Garnish of orange
Instructions
Pour the sparkling wine into a glass of ice cubes. Add the Aperol and a splash of sparkling water. Garnish with an orange slice. Enjoy!
Nutrition
Calories:
117
kcal
|
Carbohydrates:
8
g
|
Sodium:
5
mg
|
Potassium:
74
mg
|
Iron:
0.3
mg
Check out the web story here.