Are Campari and Aperol the same? This Campari vs. Aperol guide will teach you the differences between these two Italian aperitifs, the unique flavors and ingredients of both, and how to use them.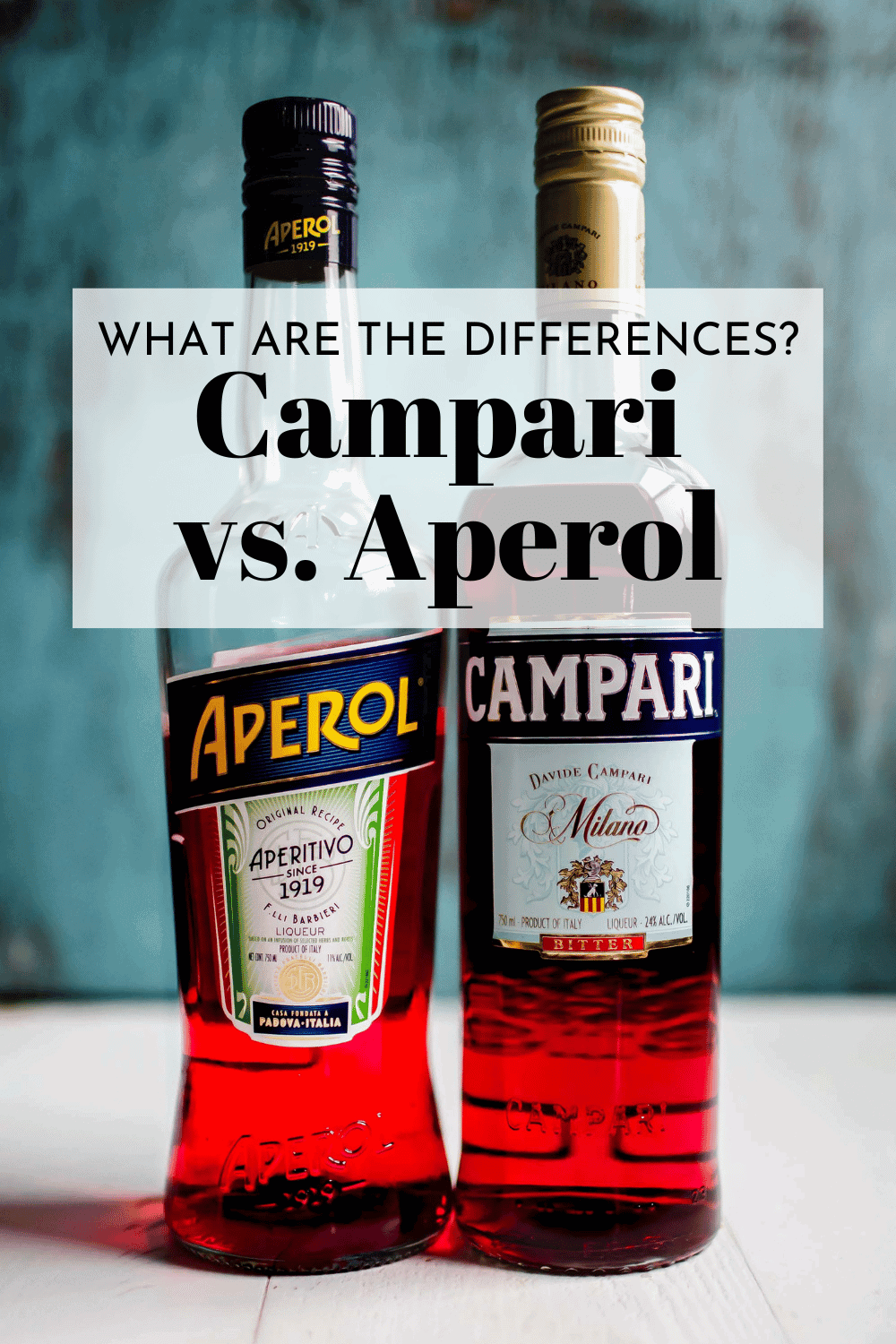 Are Campari and Aperol the same?
Campari and Aperol are both vibrant red-orange and bitter-flavored spirits. They come from the same company, Campari Group, and are considered aperitifs which are drunk before a meal. But are they the same and can they be used interchangeably? Not quite!
This guide will walk you through the variations in flavor, color, ingredients, and alcohol percentage. You'll also learn when and where to use each one, and find inspiration in the lists of Aperol and Campari cocktails.
Despite all of their differences, one thing is for certain: bottles of Aperol AND Campari are necessary on any bar cart!
What are the key differences?
While the color and bitter qualities are somewhat similar when comparing Campari vs. Aperol, the differences are quite significant when you begin to dig into them:
Campari
What is Campari? Campari is a low-alcohol bitter spirit used famously in a Negroni, Campari Spritz, and Boulevardier. It comes from Milan, Italy, and is made with a blend of natural ingredients, like citrus peel, roots, herbs, and flowers, giving it a sweet and herbal flavor. All of these qualities make Campari an aperitif, AKA a drink meant to warm up your digestive system before a meal. It is also used as an ingredient in popular cocktails like the Negroni and Jungle Bird.
Ingredients: The official recipe for Campari is a well-hidden secret. However, if you want to make your own Campari from scratch, you would need a handful of bittering agents (roots, herbs, edible flowers, etc.) and botanicals to replicate the original flavor. As for the red color, it used to come from crushed dried cochineal beetles, but that has since changed to red food coloring.
Taste: If you're having a hard time telling the difference between Campari and Aperol from the outside, just compare the colors. Campari's dark red hue is a hint at its stronger flavor, bitterness, and alcohol content. Most of that bitter taste comes from citrus peel and herbs, as well as warm spices and cherries.
Alcohol content: Campari has a higher ABV than Aperol at 24% in the United States. This amount can differ between 20 to 28% depending on where you are in the world.
Aperol
What is Aperol? Aperol, like Campari, is a bittersweet aperitif from Italy. Its lighter orange color hints at its light and refreshing flavor and low alcohol content. Aperol is also a popular ingredient in many delicious cocktails, including the Aperol Spritz, Paper Plane Cocktail and Aperol Sour.
Ingredients: Orange is an obvious ingredient in Aperol, as you can see in the color, smell, and taste. Some of the known ingredients include orange oil, gentian, rhubarb, and cinchona, but just like Campari, the official list is top secret.
Taste: Think of Aperol as a sweeter, less bitter alternative to Campari. The orange flavor shines through, and you'll also notice notes of botanicals and rhubarb.
Alcohol content: Aperol's 11% ABV is significantly lower compared to Campari and other spirits like gin and vodka.
Ways to drink Campari
Campari is often served in a Negroni (a strong cocktail made with equal parts Campari, gin, and sweet vermouth). Diluting its strong bitter flavors with ice is strongly recommended, especially if you're still getting used to the taste. For a simple alternative, pour one part Campari and two parts soda over ice. Garnish with an orange slice and enjoy!
Negroni – A classic cocktail made with equal parts Campari, gin, and sweet vermouth.
Campari Sour – It's sweet, smooth, delightfully sour, and topped with a gorgeous foam.
Campari Soda – A simple cocktail made with 3 parts soda and 1 part Campari.
Boulevardier – Similar to a Negroni, but made with bourbon or rum instead of gin.
Campari Spritz – Using Campari in an Aperol Spritz gives it a stronger bitter flavor.
Negroni Sbagliato – A Negroni, but finished with a splash of prosecco!
Americano Cocktail – Similar to a Negroni, but made with soda water instead of gin.
Jungle Bird – A tropical Campari cocktail made with rum, Campari, pineapple and lime juice, and syrup.
MORE → 20+ BEST Campari Cocktails
Ways to drink Aperol
Aperol is famously used in the Aperol Spritz, an ultra-refreshing aperitif made with the citrus spirit, prosecco, and soda. You can also use it in plenty of other refreshing cocktails that need a hit of bittersweet citrus or turn to it when you need a less bitter alternative to Campari in a Negroni, Americano, and more.
Aperol Spritz – The perfect drink for a sunny day! Made with Aperol, soda, and prosecco.
Aperol Sour – A bright, citrus-forward cocktail with an enticing foamy top.
Grapefruit Spritz – Replaces soda with grapefruit juice, giving the classic Aperol Spritz a bittersweet twist.
Winter Aperol Spritz – The perfect spritz for winter and the holidays.
Aperol Negroni – Replacing Campari with Aperol in a Negroni ensures each sip is less bitter.
Aperol and Soda – One part Aperol and two parts soda makes for a simple and refreshing aperitif.
Bird of Paradise – Similar to the Jungle Bird, but made with Aperol instead of Campari.
MORE → 25+ BEST Aperol Cocktails
FAQs
​​Can Aperol be substituted for Campari?
Sometimes. One of the best ways to get used to the bitter qualities of these two aperitifs is to start with sweeter Aperol and work your way up to the very bitter Campari. For example, use Aperol instead of Campari in a Negroni to help you get used to the flavors and strong qualities of the cocktail. 
Which is better for a Negroni: Aperol or Campari?
Campari is best in a Negroni because its bitter, botanical, and subtly sweet flavors pair best with the gin and sweet vermouth.
​​Did you enjoy this Campari vs. Aperol guide?
If you followed this guide or tried the Campari or Aperol cocktails, I would greatly appreciate it if you gave it a starred review! Also, be sure to snap a picture of your finished dish and share it with me on Instagram using the hashtag #platingsandpairings and tagging me @platingsandpairings!
For more great Platings and Pairings recipes, be sure to follow me on Instagram, TikTok, Pinterest and Facebook.
More Liquor Guides
Campari vs. Aperol: What are the Differences?
Are Campari and Aperol the same? This Campari vs. Aperol guide will teach you the differences between these two Italian aperitifs, the unique flavors and ingredients of both, and how to use them. Try this Aperol (or Campari) Sour. It's a light and refreshing cocktail you need in your life!
Print
Pin
Ingredients
3

ounces

Aperol

(or Campari)

1 ½

ounces

gin

1

ounce

lemon juice

1 ½

ounces

simple syrup

Few dashes orange bitters

Ice
Instructions
Add Aperol (or Campari), gin, lemon juice, simple syrup, bitters and egg white to a cocktail shaker without ice.

Shake vigorously for 30 seconds. (This is the dry shake.)

Add a handful of ice to the shaker and continue shaking for 30 seconds.

Strain into

Strain into a chilled glass. If desired, garnish with a lemon twist. Enjoy!

Strain the cocktail between two chilled coupe glasses and garnish with dehydrated lemon or orange wheels, or a fresh lemon twist.
Notes
For a Campari Sour, simply swap out the Aperol for Campari. 💛
***For an Aperol Sour with no egg, simply omit the egg white OR substitute it with two teaspoons aquafaba (liquid from a can of chickpeas).
Nutrition
Calories:
231
kcal
|
Carbohydrates:
28
g
|
Protein:
2
g
|
Fat:
0.1
g
|
Saturated Fat:
0.01
g
|
Polyunsaturated Fat:
0.01
g
|
Sodium:
38
mg
|
Potassium:
53
mg
|
Fiber:
0.04
g
|
Sugar:
16
g
|
Vitamin A:
1
IU
|
Vitamin C:
5
mg
|
Calcium:
5
mg
|
Iron:
1
mg