Bourbon and whiskey are both dark spirits made from grains, but are they the same? Use this Bourbon vs. Whiskey guide to learn what makes them so different and which one you should use in a Mint Julep.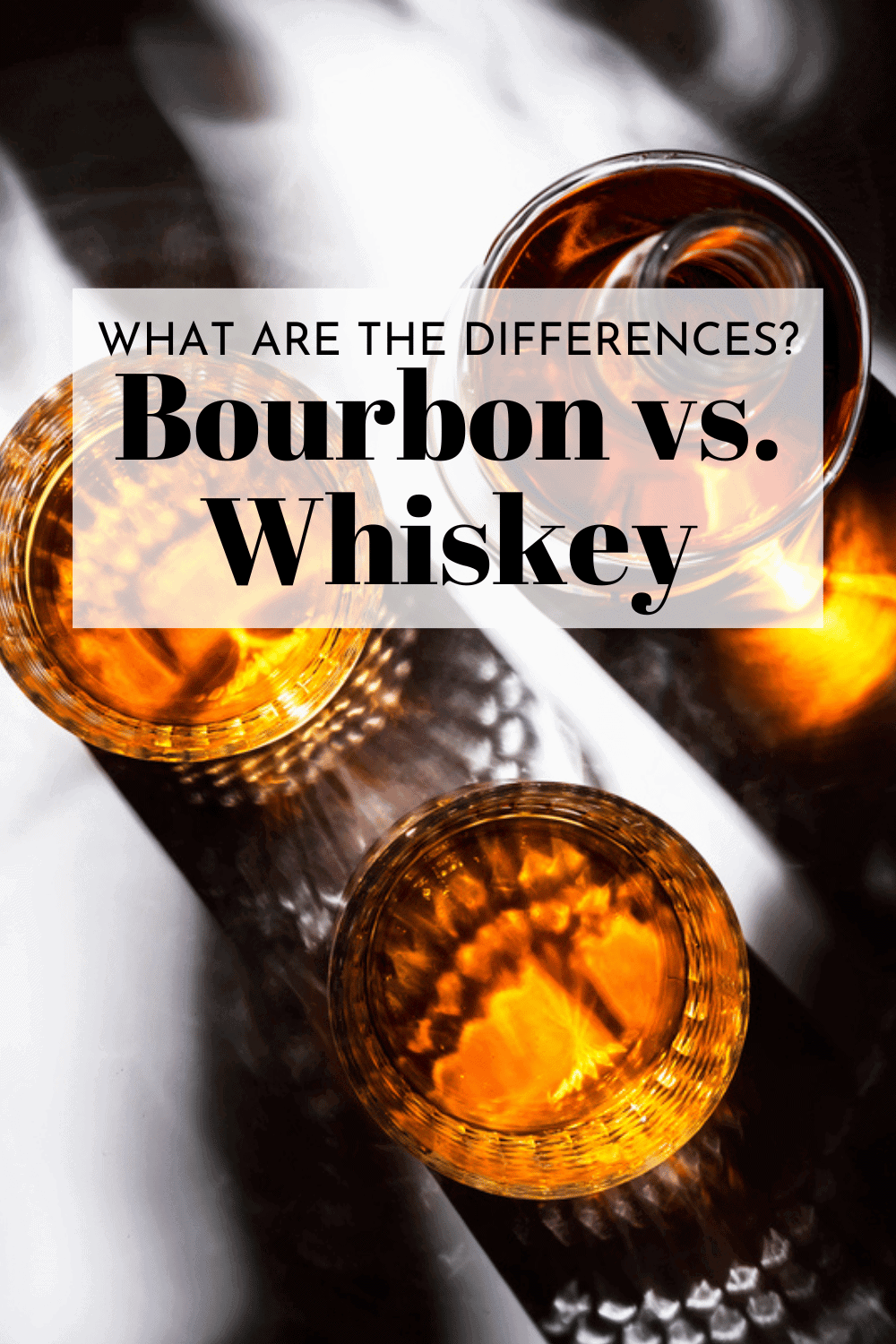 ✔️ Is bourbon the same as whiskey?
Sipping on a glass of whiskey or enjoying a Mint Julep made with bourbon are tales as old as time. These two dark, grain-based spirits are smooth and rich, and are both experts at adding complex caramel-like flavors to a long list of cocktails. But are bourbon and whiskey the same thing?
In short, all bourbon is whiskey, but not all whiskey is bourbon.
They look and taste similar, but several classifications set the two spirits apart. The main differences come down to a few requirements regarding ingredients, aging, alcohol content, and the location in which they're made. In this bourbon vs whiskey guide, you'll learn the differences between these two spirits apart and which cocktail recipes are best for each.
📋 What are the key differences?
Bourbon and whiskey are both distilled spirits made from grains. But, there are a few key differences between the two:
Bourbon
What is bourbon? Bourbon, or bourbon whiskey, is a type of barrel-aged whiskey that's made primarily with corn rather than grains. It can only be produced in the United States (most brands are made in Kentucky), be aged in new charred white oak barrels for a minimum of 2 years, and contain a higher percentage of corn than grains.
Ingredients: Whiskey is classified as bourbon when it's made from a bourbon mash containing at least 51% corn (although most average around 70%). Other ingredients, like rye, malted barley, and wheat, are used for flavor.
Taste: Bourbon is sweeter than whiskey and will typically have notes of caramel, butterscotch, cherries, and even smoke, but all brands are slightly different. Additives, other than water, are strictly prohibited when it's time to bottle bourbon. This means that the flavor and sweetness are only influenced by the barrels in which the bourbon was aged, how many years it was aged, the char on the inside of the barrels, and the quality of the corn and other ingredients.
Alcohol content: No less than 80-proof (40% ABV).
Whiskey
What is whiskey? Whiskey (or whisky) is the general term for dark distilled spirits made from fermented grains. It's aged in wood barrels for several years and, unlike bourbon, whiskey can be produced all over the world! You'll often find bottles of whiskey from Scotland, Canada, the United States, Ireland, and Japan.
Ingredients: Most whiskey is made from a mash of fermented grains, like rye, corn, wheat, and barley.
Taste: Every brand of whiskey has different characteristics of flavor, depending on the barrels, grains, and age. Most whiskeys have a bold flavor, with a woody taste and notes of caramel, fruits, and spices.
Alcohol content: Between 40% to 50% ABV.
🥃 Ways to drink bourbon
First, use Liquor.com's 6 Rules for Drinking Bourbon before choosing a brand to try. Or, to keep your sipping experience simple, substitute bourbon for whiskey in any whiskey cocktail you already love!
Bourbon can be sipped both on the rocks or neat, and can be used in mixed drinks. It's famously the only liquid in the Kentucky classic, a Mint Julep, but also pairs well with a wide variety of flavors, from warm spices to sweet caramel to citrus. Use the list of bourbon cocktails below to start enjoying this new spirit
Bourbon cocktails
Mint Julep – The classic Kentucky Derby sidekick that comes with a rich history.
Blueberry Bourbon Smash – A sipping cocktail with bright, fresh flavors.
Cranberry Bourbon Cocktail – A cozy cocktail that's perfect for fall and winter.
Eggnog – Spike your holiday eggnog with a splash of bourbon.
Paper Plane Cocktail – Well balanced and tangy with a splash of aperol.
Bourbon Sour – Just like the classic whiskey sour, but made with bourbon.
New York Sour – A stunning cocktail with a classic sour base and a red wine float on top.
MORE → 30+ Bourbon Cocktails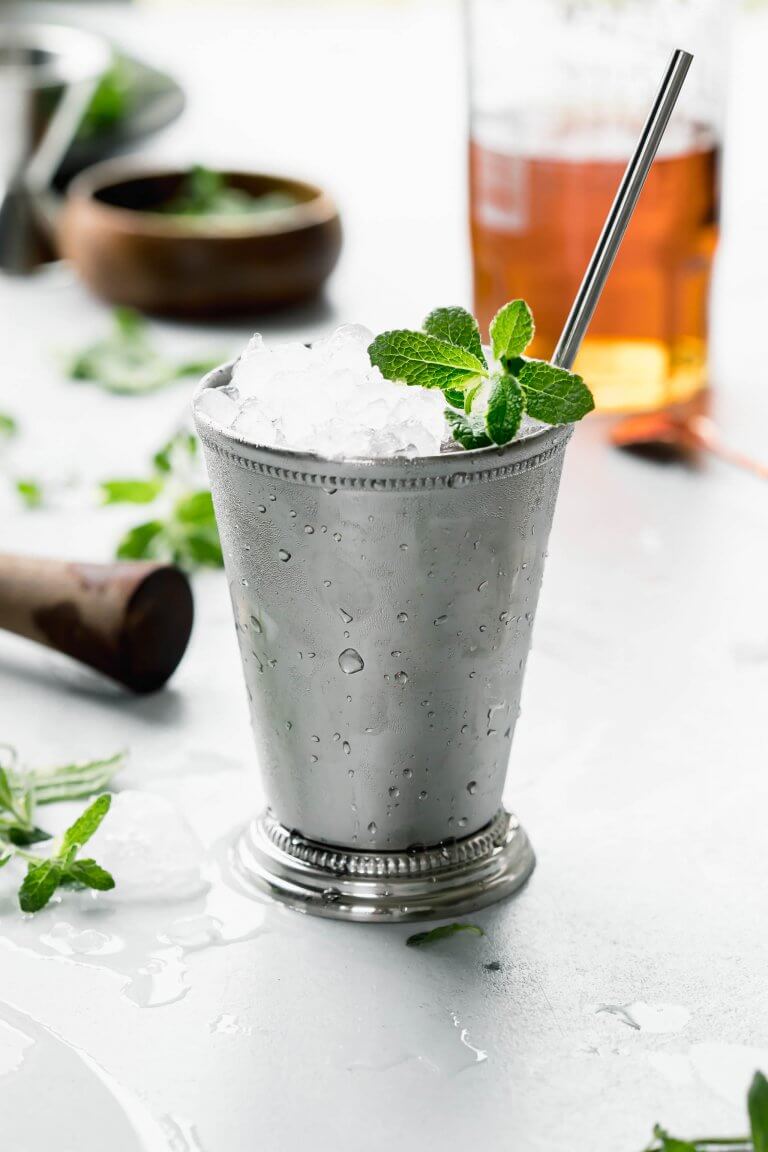 🍹 Ways to drink whiskey
How you drink whiskey depends on the quality and flavor of the brand you choose. A high-quality aged whiskey should be sipped neat to enjoy the full experience. If you're still getting used to whiskey, stir a few drops of water in the glass to dilute the flavor or add an ice cube or two.
Whiskey is also a fantastic spirit to enjoy in a mixed cocktail. There are plenty to choose from in the list below:
Whiskey cocktails
Hot Toddy – A cozy cocktail you can enjoy before bedtime or in the winter to relieve cold symptoms.
New York Sour Slush – A frothy, frozen version of a tart whiskey sour cocktail.
Manhattan – A classic 3-ingredient cocktail with warm, spiced flavors.
Old Fashioned – Another classic cocktail that enhances the whiskey flavor with bitters, sugar, and citrus peel.
Whiskey Sour – It's sweet, tart, and perfectly balanced.
Irish Coffee – Coffee mixed with whiskey and whipped cream. Yum!
MORE → 40+ Whiskey Cocktails
ℹ️ FAQs
Can bourbon and whiskey be used interchangeably? 
Yes, you can use bourbon in any cocktail that calls for whiskey and vice versa.
Does bourbon have to be made in Kentucky?
To classify as bourbon, it must be made in the USA. Most bourbon is produced in Kentucky but it doesn't have to come from the southern state in order to be labeled as bourbon. 
Is scotch the same as whiskey or bourbon?
Scotch is a type of whiskey that comes from Scotland. It's typically made from malted barley and water, although some brands use malted rye or malted wheat. While scotch is a type of whiskey, it isn't doesn't have the same specifications as bourbon.
Which is better: bourbon or whiskey?
It depends on what you prefer! There are high and low-quality and inexpensive and expensive brands of both bourbon and whiskey. One is simply not better than the other.
🍸 More Liquor Guides
​​Did you enjoy this bourbon vs. whiskey guide?
If you followed this guide or tried the bourbon or whiskey cocktails, I would greatly appreciate it if you gave it a starred review! Also, be sure to snap a picture of your finished dish and share it with me on Instagram using the hashtag #platingsandpairings and tagging me @platingsandpairings!
For more great Platings and Pairings recipes, be sure to follow me on Instagram, TikTok, Pinterest and Facebook.
Bourbon vs. Whiskey: What are the Differences?
Bourbon and whiskey are both dark spirits made from grains, but are they the same? Use this Bourbon vs. Whiskey guide to learn what makes them so different and which one you should use in a Mint Julep.
Print
Pin
Ingredients
1/2

ounce

simple syrup

10

mint leaves

2

ounces

bourbon

Crushed ice

Mint sprig

(to garnish)
Instructions
In a Julep cup or rocks glass, lightly muddle the mint and syrup with a muddler or the handle of a wooden spoon. You don't want to break apart the mint, you just want release its aromatic oils.

Add the bourbon and fill cup half full with ice. Stir until the cup is frosted on the outside.

Add more ice to the cup and garnish with a sprig of mint. Enjoy!
Notes
Tip: I purchased the crushed ice for my mint juleps at Sonic Burger. They sell it for $2 a bag! You can also make crushed ice by adding ice cubes to a food processor or blender, or crush it in a clean pillowcase with a rolling pin or other heavy object. 
Nutrition
Calories:
176
kcal
|
Carbohydrates:
12
g
|
Protein:
1
g
|
Fat:
1
g
|
Saturated Fat:
1
g
|
Sodium:
12
mg
|
Potassium:
57
mg
|
Fiber:
1
g
|
Sugar:
10
g
|
Vitamin A:
425
IU
|
Vitamin C:
3
mg
|
Calcium:
24
mg
|
Iron:
1
mg