This is the BEST Classic Creme Brulee recipe out there. Plus, you can make it up to four days ahead of time for easy entertaining!
I love a classic creme brulee. I'm not really a big chocolate person. For me, I've always preferred vanilla. This creme brulee is my ideal dessert. It's thick and creamy and speckled with flecks of vanilla bean. That alone is heaven in a bowl. BUT, add the caramelized sugar top, and it's perfection.
You DO have to plan ahead a bit for classic creme brulee as it has to cool in the fridge after cooking. However, it makes the perfect dessert for entertaining, because it can be made up to four days ahead of time. At the last minute, just sprinkle the sugar on top and caramelize it.
How Do You Make Classic Creme Brulee?
The ingredients for creme brulee are simple. Heavy cream, eggs, sugar and vanilla bean are all you need. For the best price, purchase your vanilla beans on Amazon, or look for them in the bulk section of your grocery store.
Making creme brulee is a bit like making a custard and it's necessary to bake them in a water bath so that they do not crack while they're baking. To do this, bake the creme brulee in a baking pan that's filled with warm water that reaches two-thirds the height of your ramekins. Bake until centers of custards are just barely set, 30 to 35 minutes.
How Do You Caramelize the Top of Classic Creme Brulee?
The best way to caramelize the top of creme brulee is with a chef's torch. First, wipe any condensation from the top of your cooled creme brulee and then sprinkle with sugar. Light your torch and working in sections brown the top of your creme brulee rotating frequently until the sugar is evenly browned and has formed a hard shell.
Can You Make Creme Brulee Without a Torch?
You can also caramelize creme brulee using your broiler. Move the top rack in your oven up as high as it will go. Place the ramekins in the oven on the top rack, and turn on the broiler. Broil for 5 to 10 minutes, rotating them frequently so that they broil evenly. Take them out when the sugar has browned.
Can You Make Classic Creme Brulee Ahead of Time?
Yes! One of my favorite parts about this classic creme brulee is that it can be made up to 2 days ahead of time. Store them in the refrigerator and at the last minute, just sprinkle the sugar on top and caramelize it.
Classic Creme Brulee Recipe
Classic Creme Brulee - The Perfect Make-Ahead Dessert
Print
Ingredients
2


cups

heavy cream

chilled

1/3

cup

granulated sugar

Pinch table salt

1/2 


vanilla bean

6


large egg yolks

6

teaspoons

turbinado sugar or Demerara sugar
Instructions
Adjust oven rack to lower-middle position and heat oven to 300 degrees.

Combine 1 cup cream, sugar, and salt in medium saucepan; with paring knife, scrape seeds from 1/2 vanilla bean (halved lengthwise) into pan, submerge pod in cream, and bring mixture to boil over medium heat, stirring occasionally to ensure that sugar dissolves. Take pan off heat and let steep 15 minutes to infuse flavors.

Meanwhile, place a white kitchen towel in bottom of large baking dish or roasting pan and arrange four 4- to 5-ounce ramekins on towel.

Bring kettle or large saucepan of water to boil over high heat.

After cream has steeped, stir in remaining 1 cup cream to cool down mixture. Whisk yolks in large bowl until broken up and combined. Whisk about 1/2 cup cream mixture into yolks until loosened and combined; repeat with another 1/2 cup cream. Add remaining cream and whisk until evenly colored and thoroughly combined.

Strain through fine-mesh strainer into 2-quart measuring cup or pitcher (or clean medium bowl); discard solids in strainer. Pour or ladle mixture into ramekins, dividing it evenly among them.

Carefully place baking dish with ramekins on oven rack; pour boiling water into dish, taking care not to splash water into ramekins, until water reaches two-thirds height of ramekins. Bake until centers of custards are just barely set, 30 to 35 minutes.

Transfer ramekins to wire rack; cool to room temperature, about 2 hours. Set ramekins on rimmed baking sheet, cover tightly with plastic wrap, and refrigerate until cold, at least 4 hours or up to 4 days.

Uncover ramekins; if condensation has collected on custards, place paper towel on surface to soak up moisture. Sprinkle each with about 1 teaspoon sugar; tilt and tap ramekin for even coverage. Ignite torch and caramelize sugar.
Nutrition Facts
Classic Creme Brulee - The Perfect Make-Ahead Dessert
Amount Per Serving
Calories 563
Calories from Fat 459
% Daily Value*
Total Fat 51g 78%
Cholesterol 455mg 152%
Sodium 58mg 2%
Potassium 118mg 3%
Total Carbohydrates 21g 7%
Protein 6g 12%
* Percent Daily Values are based on a 2000 calorie diet.
If you loved this Classic Creme Brulee recipe I would appreciate it so much if you would give this recipe a star review! Also, be sure to snap a picture of your finished dish and share it with me on Instagram using the hashtag #platingsandpairings and tagging me @platingsandpairings.
Strawberry Rhubarb Skillet Cobbler with Cardamom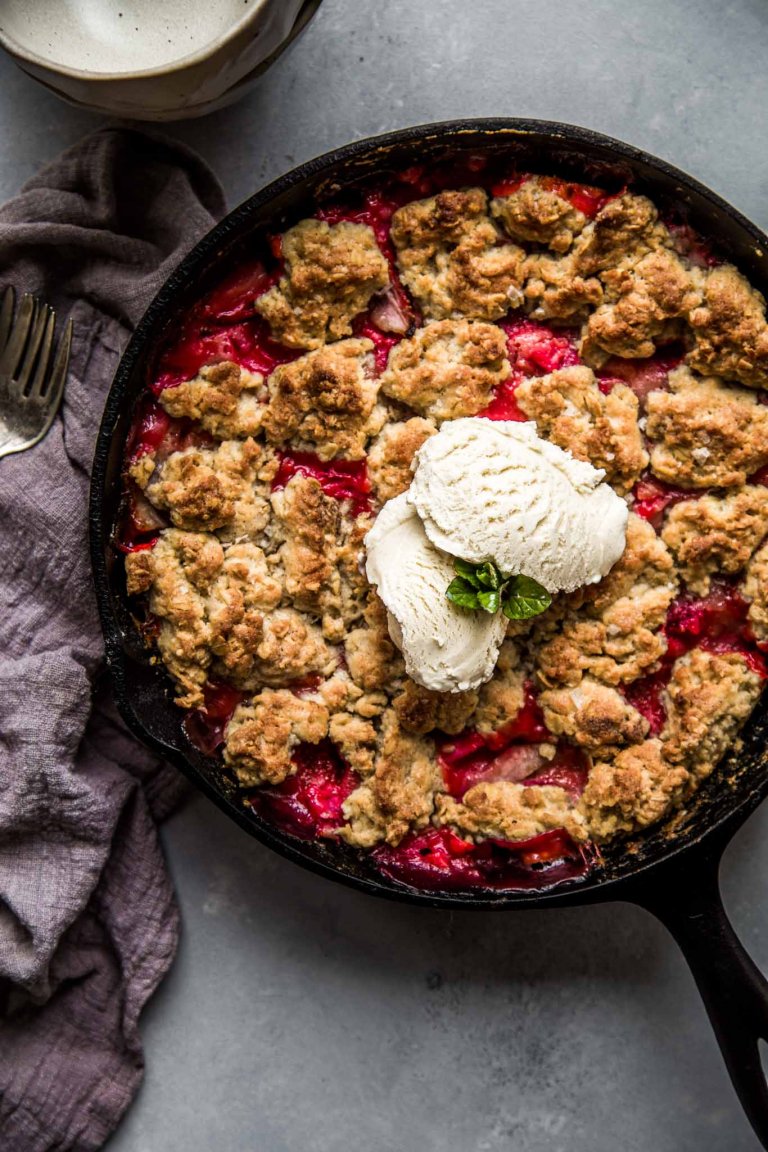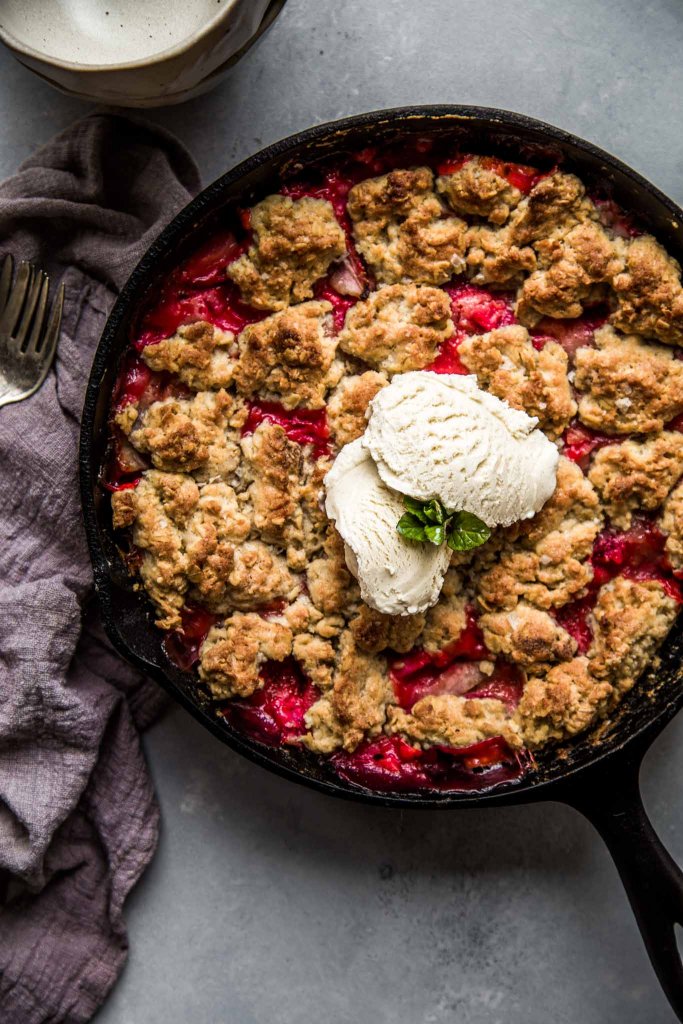 Blondies with Cinnamon Cream Cheese Frosting
Easy 10-Minute Blackberry Galette 
Chocolate Shortbread Cookies with Hazelnuts & Sea Salt