A Perfect Day in Napa Valley consists of fabulous wineries, amazing food & lovely scenery. Here's what to do to make every last second count when you travel to Napa Valley, California.
A few weeks ago, we found ourselves with a free weekend and decided to hop on down to Napa. Neither of us had ever been, but it's definitely always been on my list of places to explore. My No. 1 reason for wanting to go, of course, being wine. But as a close second, there was the lure of warmer weather (vs. here in Portland) and also the fact that I'd heard that the dining scene was pretty spectacular there as well.
We were actually pretty lucky to make it on our trip, as a foot of snow landed in Portland the day before we were scheduled to leave. We headed out on an evening flight and made the quick, 2-hour journey to Napa. Before leaving, I called our concierge at our hotel, the Silverado Resort, to check with her on what restaurants might be open for a late-night bite. We weren't scheduled to make it into town until 8:30 pm or so, and I'd heard that Napa can shut down quite early… Mary suggested that we stop by Carpe Diem – A spot in downtown Napa that serves up small plates and wine flights. That was just what we were looking for, and the name was perfect because "seize the day" was exactly what we were going to do with our next day in Napa!
I ordered up a flight of sparkling wine, and Rick ordered the most oaky, buttery Chardonnay that they had on their wine list. To go alongside, we split the Tuna Tartare, Risotto Balls and an order of their House Fries – All spectacular! I would definitely go back in an instant.
After our light dinner, we checked into our hotel to get some sleep and prepare for tomorrow's early day of wine tasting. The Silverado Resort spoiled us by having a bottle of sparkling wine and fruit platter waiting for us. That, paired with the plush bathrobes, cozy bed, and fireplace made me feel right at home. If we had some extra time, I'm sure that Rick would have loved to play a round of golf on their championship course!
Bright and early, at 10 am, we made our way to our first stop – B Cellars. We were greed upon arrival at their Hospitality House, offered some fresh fruit infused water, and led inside four our Oakville Trek Experience. We began with a glass of their lovely Chardonnay to take with us as we were given a tour of their culinary gardens, production facilities and wine caves.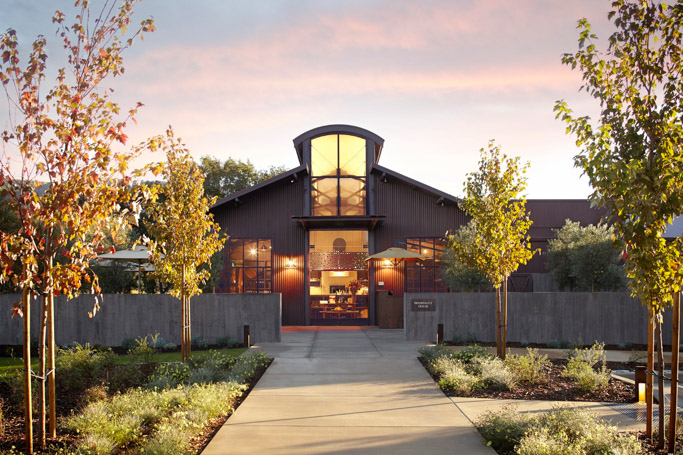 The spectacular caves (which are the most organized and pristine wine caves I have ever witnessed) are home to several furnished (and heated) rooms which would be perfect for special events. And, the grounds, just like the caves, are perfectly kept – Well manicured, but still with the feel of being surrounded by wine country. It was quite chilly the morning that we were there, but I can only imagine wanting to spend hours outside on their patio during the warmer months.
Once we were back inside, we were seated at our private table and poured a selection of their Flagship blended and Limited Production wines alongside their seasonal tasting menu prepared by their amazing onsite chef. The food and wine pairings were spot on! And, it was such a treat to be a part of this tasting experience. It's so much different than the wine tastings that we typically do here in Oregon – Where you're standing at the tasting bar, and simply tasting wines. No, this was so much more extravagant than that. B Cellars made me feel a bit like royalty.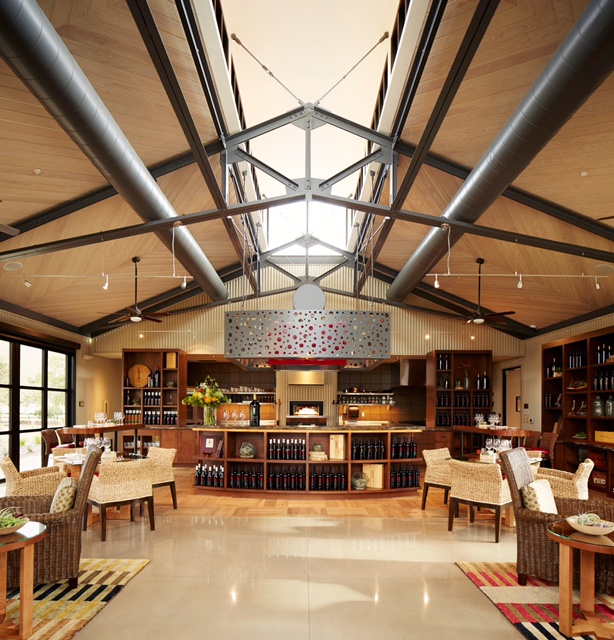 Our next stop of the day was St. Supéry Estate Vineyards and Winery. Upon entering, you'll see a modern building placed right next to what looks to be an old farmhouse. The grounds are just begging to be explored, with their big trees and views of the vines – There's even a cork tree growing on the property – But, there's plenty to explore inside as well!
Downstairs is an expansive tasting room, with plenty of space to spread out at the bar. I can imagine that even on busy summer days, it would be easy to feel comfortable in this space, and not claustrophobic. We were greeted with a pour of their Sauvignon Blanc and it pretty much swept my socks off. It was the perfect balance of stony minerality with a grassy backbone. It definitely set the scene for what we were to experience next – The Chef's Table.
Honestly, this was one of the most spectacular experiences of my entire life. We were led to our own private tasting room, which was encased by glass and capsuled from floor to ceiling in wine bottles. We were introduced to the Estate Chef, Britny Sundin and told that we would be enjoying a 5-course tasting menu featuring Black Perigord Truffles.
Take a gander at this menu…
Every… Single… Dish – I want it all again, and again, and again… It was all just so amazing, decadent and perfectly paired with St. Supery's spectacular wines. If there is one experience in Napa that I would say is a definite must – It would be this. It's a bit pricy, at $125 per person, but between the wine, personalized attention and spectacular menu that would rival any Michelin star restaurant, it is so worth it.
A short drive from St. Supery led us to Cosentino Winery. Definitely on the smaller side of things, but with a lovely patio featuring a stone fireplace and climbing ivy. They had some wines that you're not going to find in every tasting room – Two of the standouts being the Sangiovese and the Meritage. We snagged a bottle of the Sangiovese to take home with us an enjoy with some lighter Italian fare.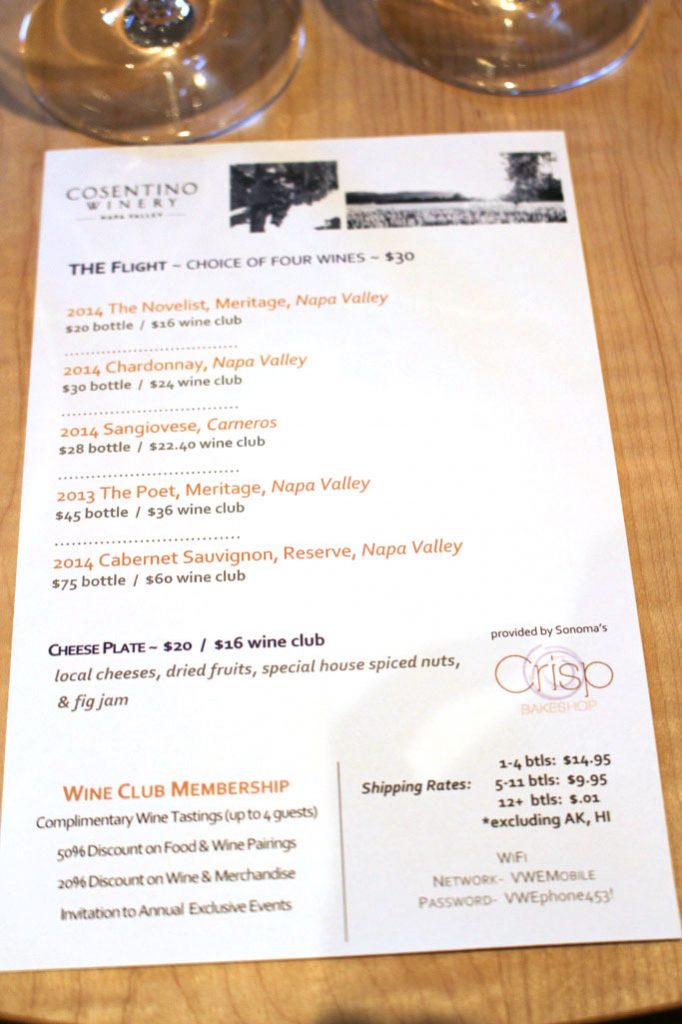 Our next stop excited me – Vintner's Collective. A tasting room dedicated to small producers and the extraordinary quality wines they make.  The vintners featured in the tasting room sometimes produce as little as 25 cases of one vintage, or as many as 300 cases, which in winemaking is still very small. The tasting room is located in a historic building, constructed in 1875, in downtown Napa. Said to be a brewery, saloon, and a brothel at one point – With the creaky wood floors and upstairs decorated with artwork that carries out the brothel theme (in a classy way), this is a spot that sucks you right in and makes you want to go back again and again to check out the latest wine producers.
We were each led through a personalized flight, based on our wine preferences, and given detailed information about each wine and wine producer. There were many, many standout wines that we would have loved to take home with us. Vintner's Collective proved to me how much I really do love small wine producers.
To finish off our (busy!) day, we ended with a stop to the Culinary Institute of America. The CIA at Copia, in downtown Napa, was just recently opened and offers daily food and wine classes/demonstrations, a beautiful retail store, and even dining at their onsite restaurant.
We were registered for their Bubbles for Every Occasion class – To say I was excited to finish the day with bubbles is an understatement. Our instructor led us through a blind tasting of five sparking wines – Some being bargain bottles, others being Prosecco, and one being an authentic French Champagne. We learned that people's tastes are spread out all over the spectrum, and that it is possible to find some pretty spectacular bargain bottles – The Michelle Brut was a class favorite!
I'd highly suggest checking out the classes at the CIA at Copia – It's a great way to break up a day of wine tasting and you're sure to find a class focused on something that you'd love to learn more about.
NOTE: Unfortunately, due to camera issues, all of my photographs from this trip were lost, except for the ones taken with my iPhone. You may have seen some of these already if you follow along on Instagram stories. Many photographs used in this post are stock photographs that were provided to me.
A very special thank you to B Cellars, St. Supery, Cosentino, Vintner's Collective and the CIA at Copia for hosting our tasting experiences, and to Visit Napa Valley for their assistance in planning our fantastic trip.