Livermore Valley is the birthplace of California Chardonnay and home to some amazing vineyards. Just a short drive from San Francisco, it's the perfect spot to spend a weekend of wine tasting.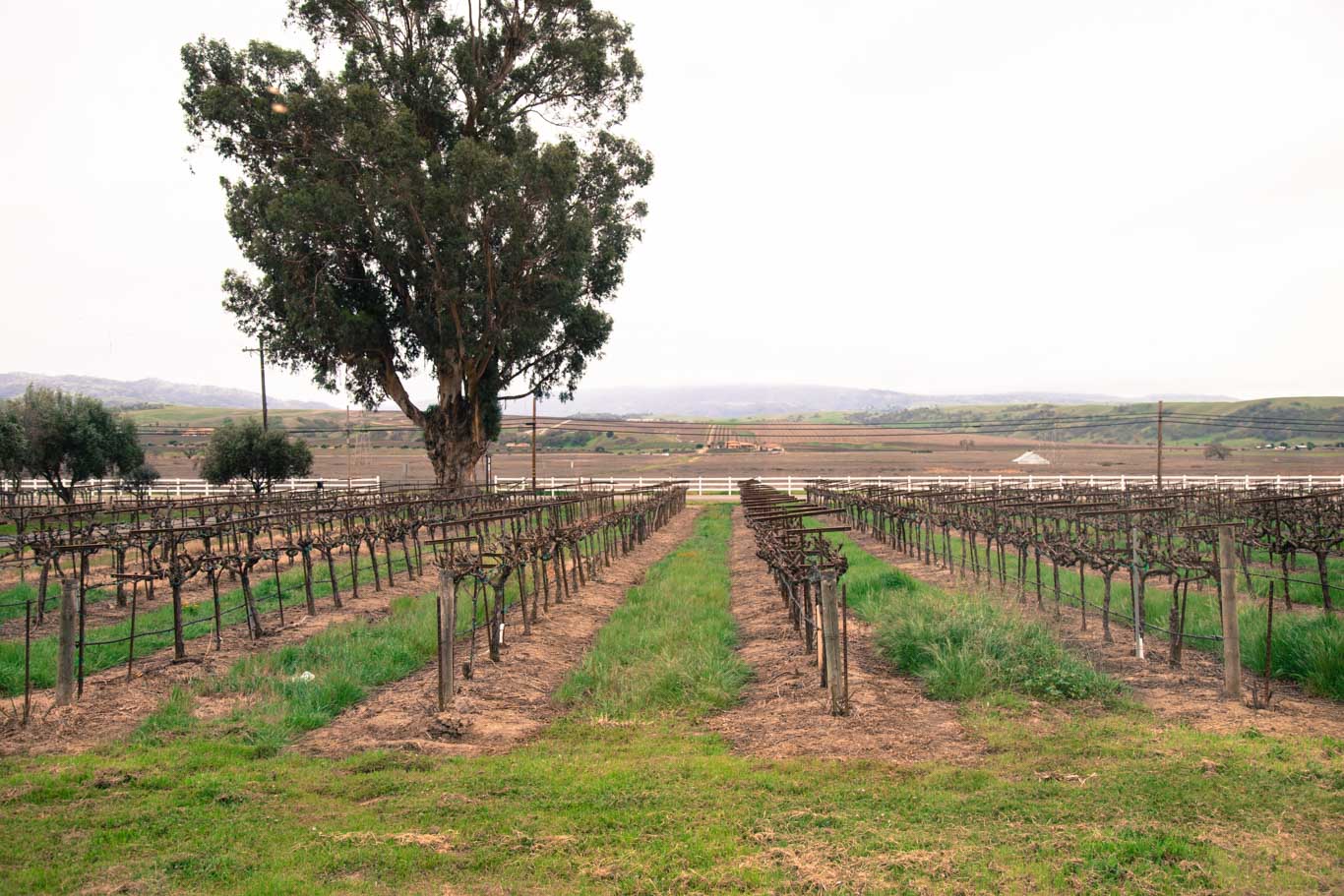 Recently Rick and I had to opportunity to break away from the Oregon rain and experience Livermore Valley wine country. Located in California, just about an hour east of San Francisco, it's a bit removed from the hustle and bustle, and the perfect place to linger over tasting room counters and sip some delicious wines. We decided that Barrel Tasting Weekend (held in March) would be the perfect way to sample a handful of wineries during our brief weekend stay.
I loved the fact that most of the wineries are linked by a paved walking trail, making it easy to walk, bike, or even horseback ride between vineyards. And, during Barrel Tasting Weekend, you have the unique opportunity to taste wines right out of the barrel, before they've even been bottled, meet the winemakers, and view each of the hand-painted barrels created for the event.
The common varietals that you'll find in Livermore Valley are Cabernet Sauvignon, Zinfandel, Petite Sirah, Chardonnay and Sauvignon Blanc, and its growing climate is unique. Because it's set inland a bit, the Livermore Valley is much cooler and calmer than its cousin to the North, Napa Valley. And because this area remains a bit undiscovered, the prices seem to be much more affordable as well. Tasting room fees range from $5-$10, and most bottles are in the $25 range.
Wineries in Livermore Valley:
Murrieta's Well – Located at the base of the Sachau Vineyards, this stunning winery produces some amazing dry Rosé, and small lot Sauvignon Blanc and Tempranillo. You'll have the opportunity to see the actual "Murrieta's Well" as well as the chance to sign up to take a hike through the Sachau Vineyards, which offers some stunning views of the valley.
Las Positas Vineyards – The tasting room at Las Positas reminded me a bit of an Italian Villa. It's patio is perfect for taking in the views while you have a glass of their fantastic Estate Tempranillo or Chardonnay in hand.
Nottingham Cellars – Located in an easily walkable block of wineries, Nottingham Cellars had an exceptional Rosé and Sauvignon Blanc and their tasting room was modern and airy.
Retzlaff Vineyards – Family-owned Retzlaff has been certified organic since 2006. Be sure to peek around the side of the tasting room to get a glimpse one of the biggest grape vines I've ever seen. Their sprawling lawn is the perfect spot for picnicking and sipping on a bottle of their smooth wine.
Wood Family Vineyards – Just a stone's throw away from Nottingham Cellars you'll find Wood Family Vineyards. And, if you're lucky, co-owner and founder Rhonda Wood will be there to greet you. A former commercial airline pilot, she has some amazing stories to tell and is one of the most entertaining people I've met. Their big, bold red wines are not to be missed.
Darcie Kent Vineyards – All of the wine labels at Darcie Kent Vineyards were illustrated by Darcie herself, and you can't help but feel like their tasting room a bit of an art gallery too. Be on the lookout for their Chardonnay which has been selected to be served at white house dinners.
McGrail Vineyards – With a bocce ball court, food trucks, and sweeping views, McGrail is definitely a place where you can spend a leisurely afternoon. Rosé the day away with a bottle of their Kylie Ryan.
Steven Kent Winery – Although we didn't have a chance to visit the vineyard on this trip, we did sample several Steven Kent wines while we were in the Livermore Valley and I have to say that they all stood out to me as favorites. Be sure to try the Lola, which is a bright blend of Sauvignon Blanc and Semillion.
Where to Stay in Livermore Valley:
The Hawthorn Suites in Livermore is just a quick drive to the downtown area and nearby many Livermore Valley wineries. There are plans in the works for a new hotel located right in the heart of downtown. Ground will be breaking soon on that project, so be sure to stay tuned!
Wine Events in Livermore Valley: 
Be sure to check out all the events that the Livermore Valley has to offer, including Wine & Wags in June and Taste our Terroir in July.
Looking for more California wine regions to visit? Be sure to check out my posts on wine tasting in Paso Robles, Sonoma, Napa, and Carmel.
I teamed up with the Livermore Valley Winegrower's Association to bring you this post. As always, all opinions are my own.