Wondering how to spend 24 hours in San Francisco?  Here's my San Francisco bucket list for a perfect day in the city by the bay. Complete with San Francisco's best food and restaurants, sights to see and my favorite hotel.
Last March Rick & I found ourselves with about 24-hours to spend in San Francisco after our trip to the Livermore Valley wine country. I wanted to make the most of our time there so I asked for suggestions from friends, scoured the internet, and put together a list of the places to add to my San Francisco bucket list.
Here's how we spent an amazing 24-hours in San Francisco:
We checked in to the Westin St. Francis. I loved its central location in Union Square.
Note: We did not rent a car in San Francisco, so all of the places that you'll find on my San Francisco bucket list are easily walkable or just a short Lyft ride away.
The views from our upper level floor were amazing – you could see the bay, the bridge and and the barges going back and forth. Luckily we had a beautiful day and it was unseasonably warm and clear.
One of my favorite parts about the Westin St. Francis was the Chateau Montelena Tasting Room in its lobby. You may remember Chateau Montelena from the movie Bottle Shock. Based on a true story, it chronicles the events leading up to the famous Paris Tastings of 1976; wherein their Napa Chardonnay won in a blind tasting against French wines and put California wines on the map for good.
After our tasting at Chateau Montelena, we headed over to the Tonga Room for a light dinner and drinks. The Tonga Room is seriously one of the most memorable places I've ever been too. Kind of like Tiki Bar meets Disneyland. The restaurant is centered around a large lagoon which has a floating live band in it. Not only is the music lively, but so are the storms. Every ten minutes or so, you're greeted by the sounds of a clapping thunder and pouring rain, which makes you feel like you're in the midst of a tropical storm without having to worry about getting drenched. We shared a pupu platter and each enjoyed a Mai Tai. The food and drinks could have been better, but the atmosphere more than made up for it.
The next morning, we set out on a walking tour of the city, continuing with my San Francisco bucket list. Today I was on a mission to find some really good food. And I did.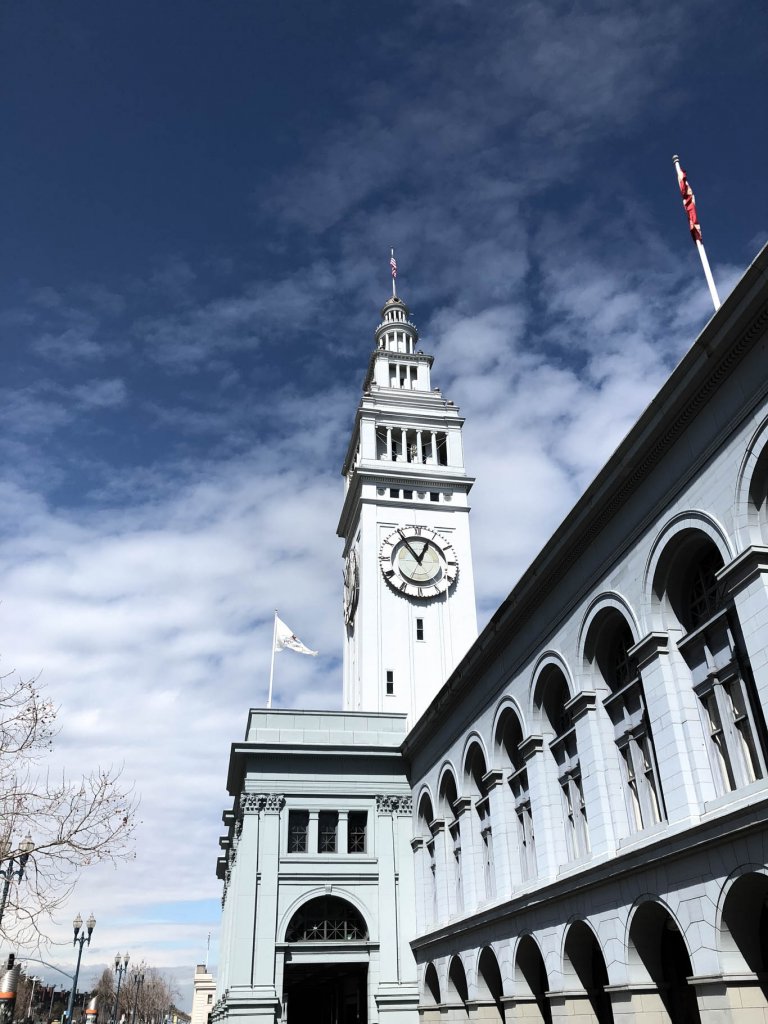 We headed from Union Square to the Ferry Building.
Located on the waterfront and distinguishable by its massive clock tower, the Ferry Building houses a wide variety of amazing San Francisco local artisans, farmers and producers. Some of my particular favorites were Heath Ceramics, Cowgirl Creamery and a wild mushroom forager.
But the particular place on my San Francisco bucket list that I wanted to visit at the Ferry Building was The Slanted Door. I already own their cookbook, but had yet to try their food in person. Today was the day.
Rick & I shared a few of their dishes that I'd really been wanting to try. I narrowed down the list with the help of our waiter, because I wanted to save room for our next stop too…
What to Order at the Slanted Door in San Francisco: 
Cellophane Noodles with Dungeness Crab & Sesame 

Spring Rolls

California Yellowtail with Crispy Shallots, Lime, Thai Basil
All the dishes were amazingly delicious and I wouldn't hesitate to go back. We were also able to sit outdoors with an amazing view of the bay. Their interior is stunning as well though.
Our next stop on my San Francisco bucket list was just a few steps away – Hog Island Oysters.
We shared a dozen local oysters, enjoyed their daily special – scallop crudo, and enjoyed a couple glasses of rosé. Vacation food at it's finest.
After lunch, we continued our walking tour and made our way to the final spots on my San Francisco Bucket list:
Pier 23 for a couple beers on the water and The Buena Vista for a couple Irish Coffees to finish off our day.
The Buena Vista has been a San Francisco landmark since 1952 and they are not to be missed. Making Irish Coffees 10 at a time, and never stopping, this place is jam packed and for good reason. Their Irish Coffees are just that good. We really wanted to snag a spot at the bar to watch all the action, but were only able to find a table in the back. Regardless, it was the perfect spot to finish off our 24-hours in San Francisco.
Note: very close by is Ghirardelli Square. If you have the time, it's definitely worth a visit.
Do you have any favorite spots in San Francisco? I'd definitely love to hear about them as I'm sure we will be back soon! Shoot me your suggestions in the comments below.