This Green Chile Cheeseburger is filled with flavor but simple to make. Charred chiles, garlic aioli & soy sauce bring these grilled burgers to the next level with umami flavor!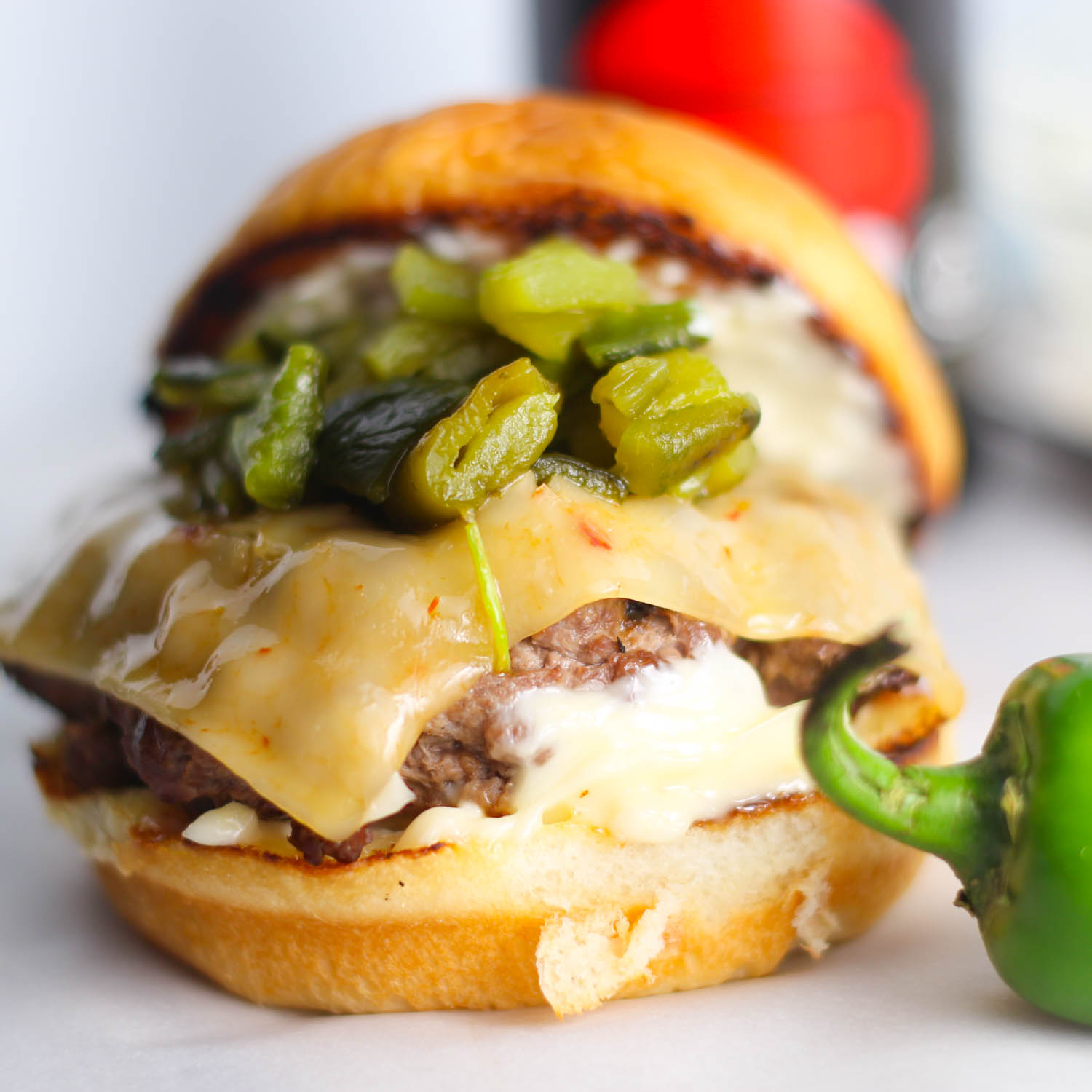 Umami is often described as "the fifth taste" – Not distinctly sweet, sour, bitter or salty – It's rounded, deep and savory and is said to enhance the foods that it is combined with, making the flavors richer and more intense. This Green Chile Cheeseburger, though simple in ingredients, is just a flavor bomb – It definitely highlights that umami flavor. It's rich, creamy, salty, sweet, spicy AND savory – all in ONE! It's hard to describe – All I know is I LIKE IT! Definitely my favorite burger of all time!
Green Chile Cheeseburger Ingredients:
Poblano Chiles
Anaheim Chiles
Mayonnaise
Garlic
Ground Beef
Soy Sauce
Pepper Jack Cheese
King's Hawaiian Rolls
There's nothing crazy going on here – It's simple really. The burger patties are seasoned with just a bit of salt and grilled. But, to amp up that umami a bit more, we're going to sprinkle them with tamari during the cooking process. This keeps the burgers extra moist and gives them a great savory flavor. Yum! Top the burgers with a slice of cheese during the last minute of grill time – mmm, melty goodness!
The umami burgers are topped with Anaheim and poblano peppers which have been charred, skinned, and seasoned with a bit of salt. They're super flavorful and smoky with a bit of sweetness and not too much heat. Also added to the mix is a garlic aioli of sorts (really, it's just garlic mayo).
To serve it all up we're bunning it up on a – wait for it… King's Hawaiian Roll. Yep – This makes me SO happy! The bit of sweetness in the rolls is SO AMAZING with the heat from those peppers and the garlicky spread. Umami squared – for reals.
Memorial Day is NEXT WEEKEND – And for some reason, the holiday is associated with backyard BBQs. I strongly suggest pulling out the Weber and grilling up these Umami Burgers! (They'd be super festive with these flag toothpicks!) Pair them with some ice cold beer or a great rosé wine and you'll be doing a happy dance! We'll be headed up to Seattle for the holiday. I can't wait to visit the market, try some new restaurants and hang out with good friends. Plus, I'm just SO ready for a three-day weekend!!! I hope you all have Memorial Day weekend plans as well. PS – If I haven't mentioned it before, it should include these Umami Burgers … Just sayin'.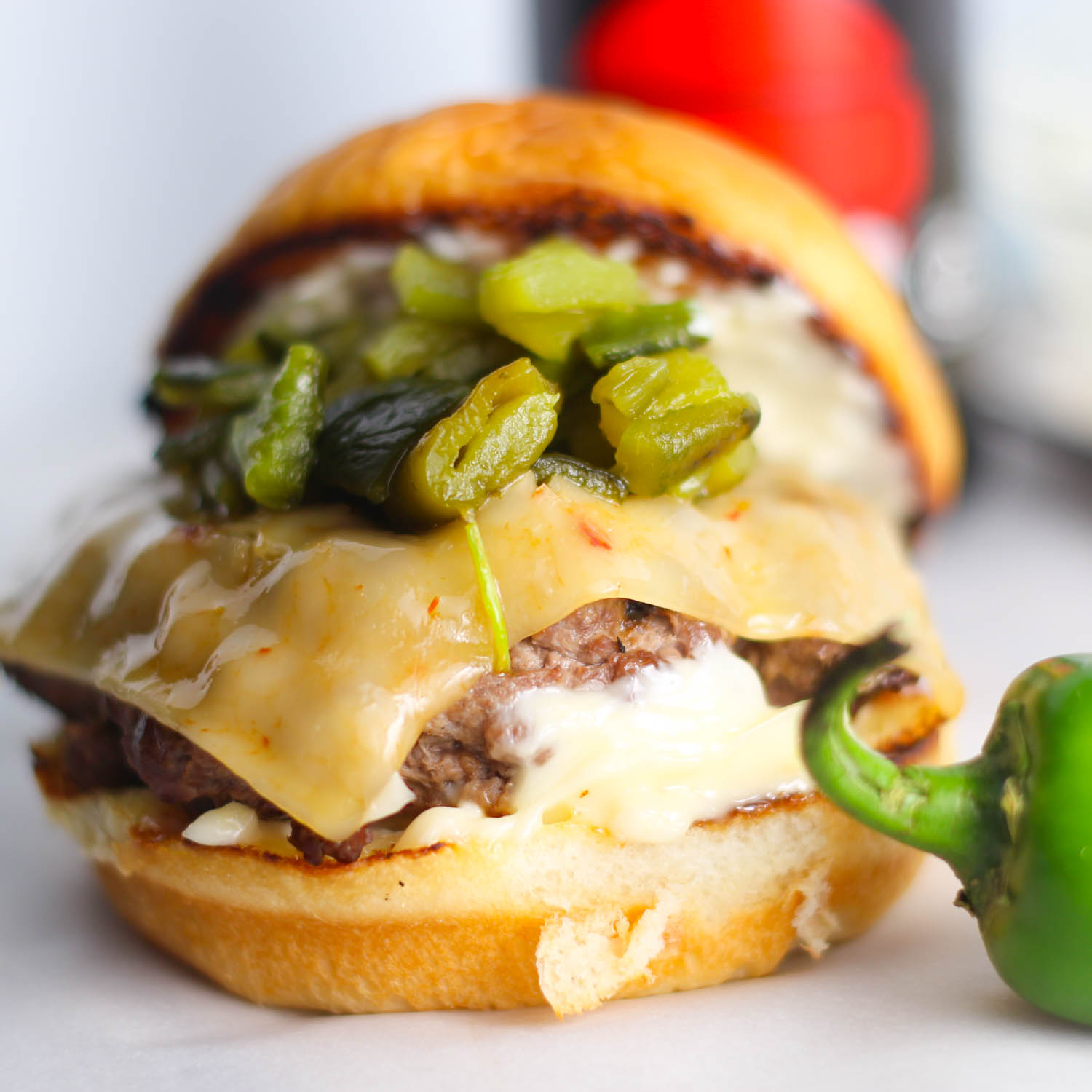 More Grilling Recipes:
Grilled Oysters with Habanero Butter
More burger recipes:
Wine Pairings for Green Chile Cheeseburgers:
Beer and BBQ burgers just go together – You know? Pick your favorite and crack a bottle – Ice cold please.
Rosé wine is another great option – The bright acidity will cut through the richness and its got just enough body to make it an excellent match for this burger.
If you loved this Green Chile Cheeseburger recipe I would appreciate it so much if you would give this recipe a star review! Also, be sure to snap a picture of your finished burger and share it with me on Instagram using the hashtag #platingsandpairings and tagging me @platingsandpairings.
For more great Platings and Pairings recipes, be sure to follow me on Pinterest, Facebook, YouTube and Twitter.
Umami Burger Recipe
Green Chile Cheeseburger
This Green Chile Cheeseburger is filled with flavor but simple to make. Charred chiles, garlic aioli & soy sauce bring these grilled burgers to the next level with umami flavor!
Print
Pin
Instructions
Heat a grill or grill pan to high. Char the chiles, turning as needed, until blackened on all sides, about 10 minutes. Place in a large bowl and cover with plastic wrap. The steam will help the peels come off more easily. Let cool for about 10 minutes. Once the peppers are cool enough to handle, use your fingers to rub off the charred peel. I like to do this over the sink. Make a slice into the side of the chile and cut away and discard the stem, seeds, and veins. Finely chop the chiles. Put in a medium bowl and season with ¼ tsp. salt.

Mix the mayonnaise with the garlic in another medium bowl.

Season the ground beef with remaining ½ tsp. salt in a large bowl and combine. Divide into 4 portions and form ½ inch thick patties. Use your thumb to create a dimple in the center of each burger. This helps avoid "burger bulge".

Preheat your grill or griddle to medium (350° to 450°). Grill the burgers, turning once and sprinkling with about ½ tsp. tamari on each burger side. The burgers should cook in approximately 7-8 minutes, for medium. During the last minute, lay a slice of cheese on each burger, to melt it.

Meanwhile, brush melted butter on the cut sides of the rolls and toast on grill or griddle, about 2 minutes.

Spread garlic mayonnaise on each side of the rolls. Add burgers and top with chile mixture.
Notes
When forming your burger patties, make a dimple in the middle. This prevents your burger from bulging up in the middle and keeps it nice and flat.
Nutrition
Calories:
769
kcal
|
Carbohydrates:
35
g
|
Protein:
50
g
|
Fat:
46
g
|
Saturated Fat:
16
g
|
Cholesterol:
157
mg
|
Sodium:
1833
mg
|
Potassium:
795
mg
|
Fiber:
3
g
|
Sugar:
4
g
|
Vitamin A:
630
IU
|
Vitamin C:
51.2
mg
|
Calcium:
284
mg
|
Iron:
6.6
mg