These 7 healthy juice cleanse recipes will help boost your energy, detox your body and aid with weight loss. Learn how to make detoxifying green juice + more.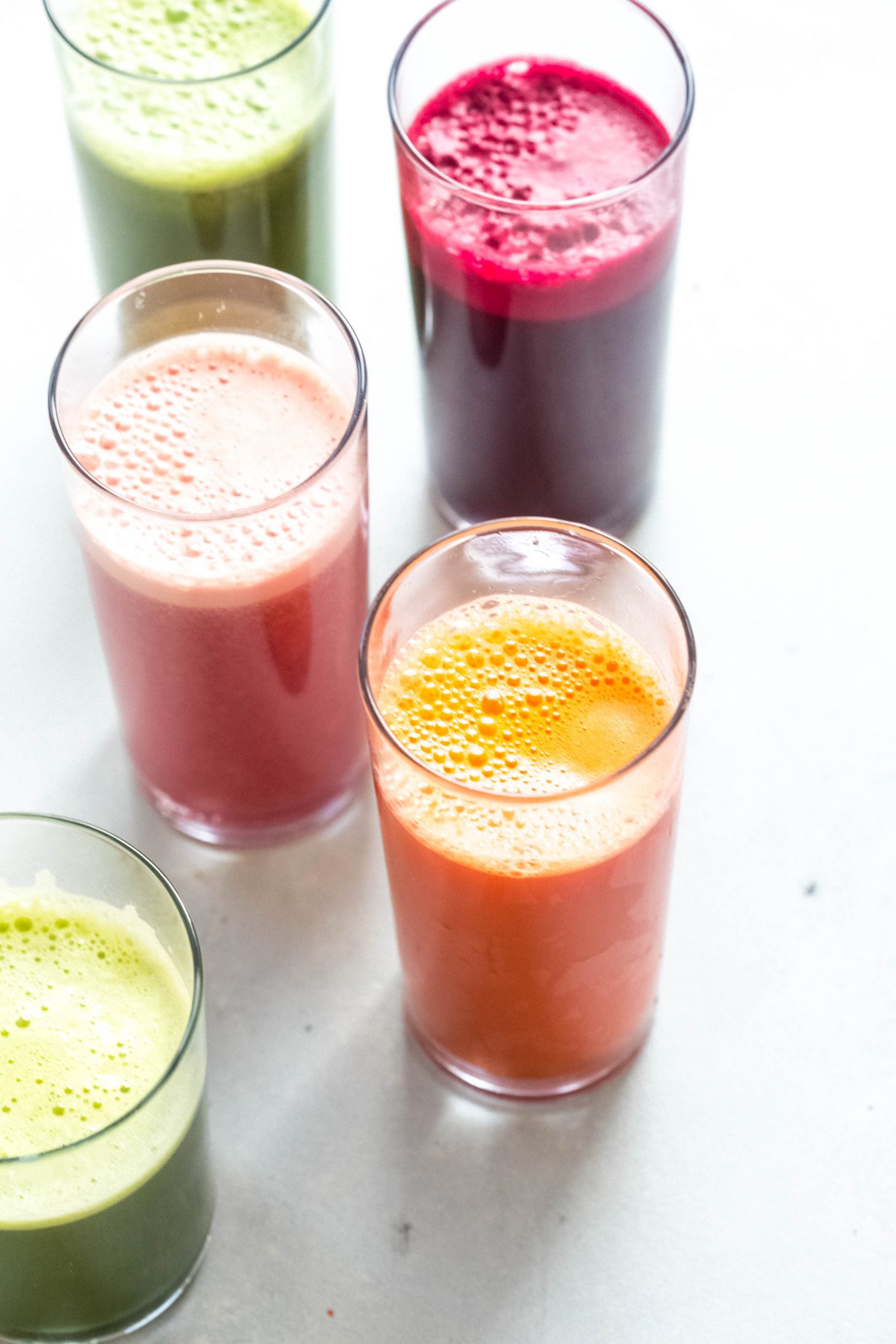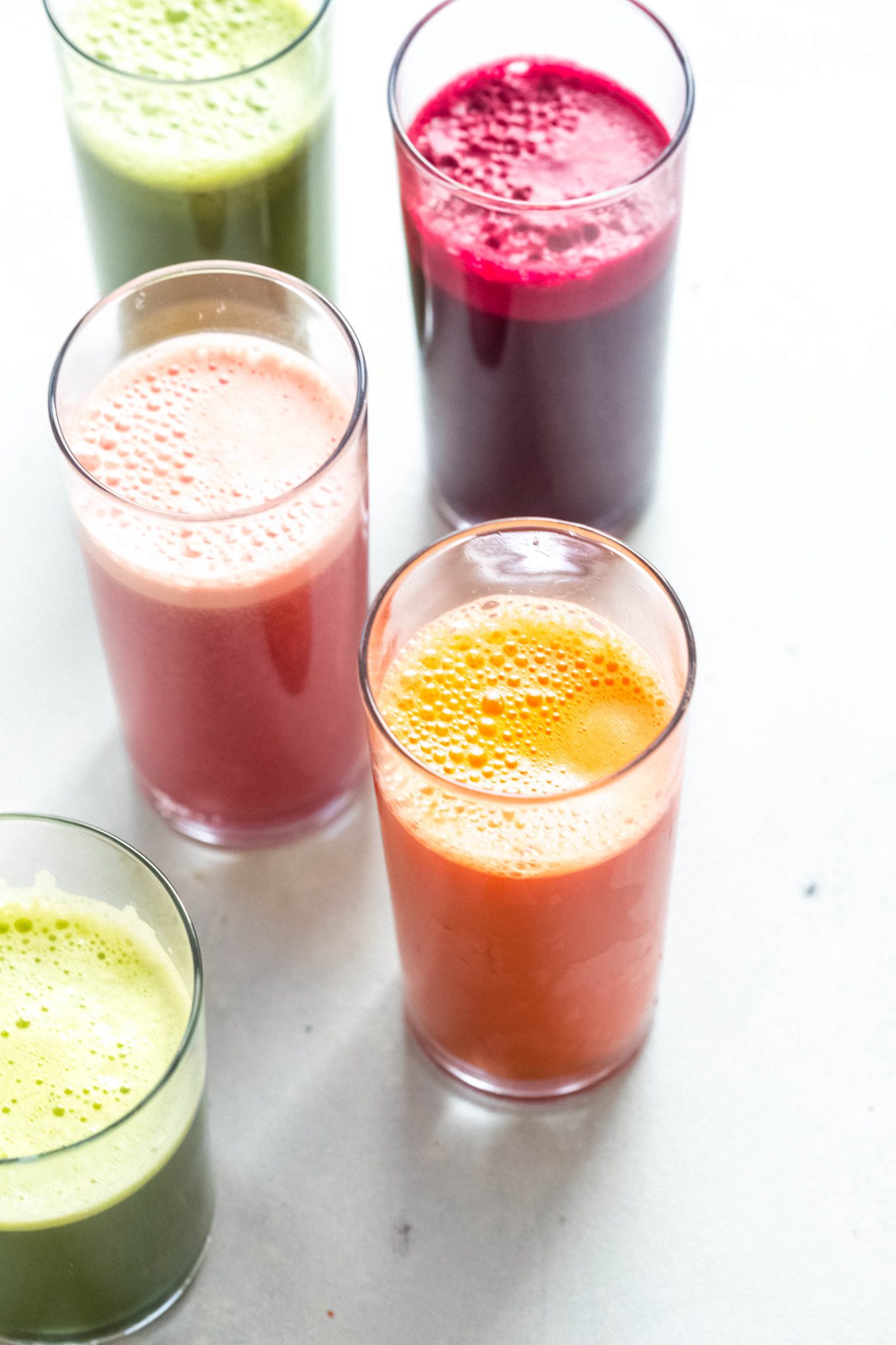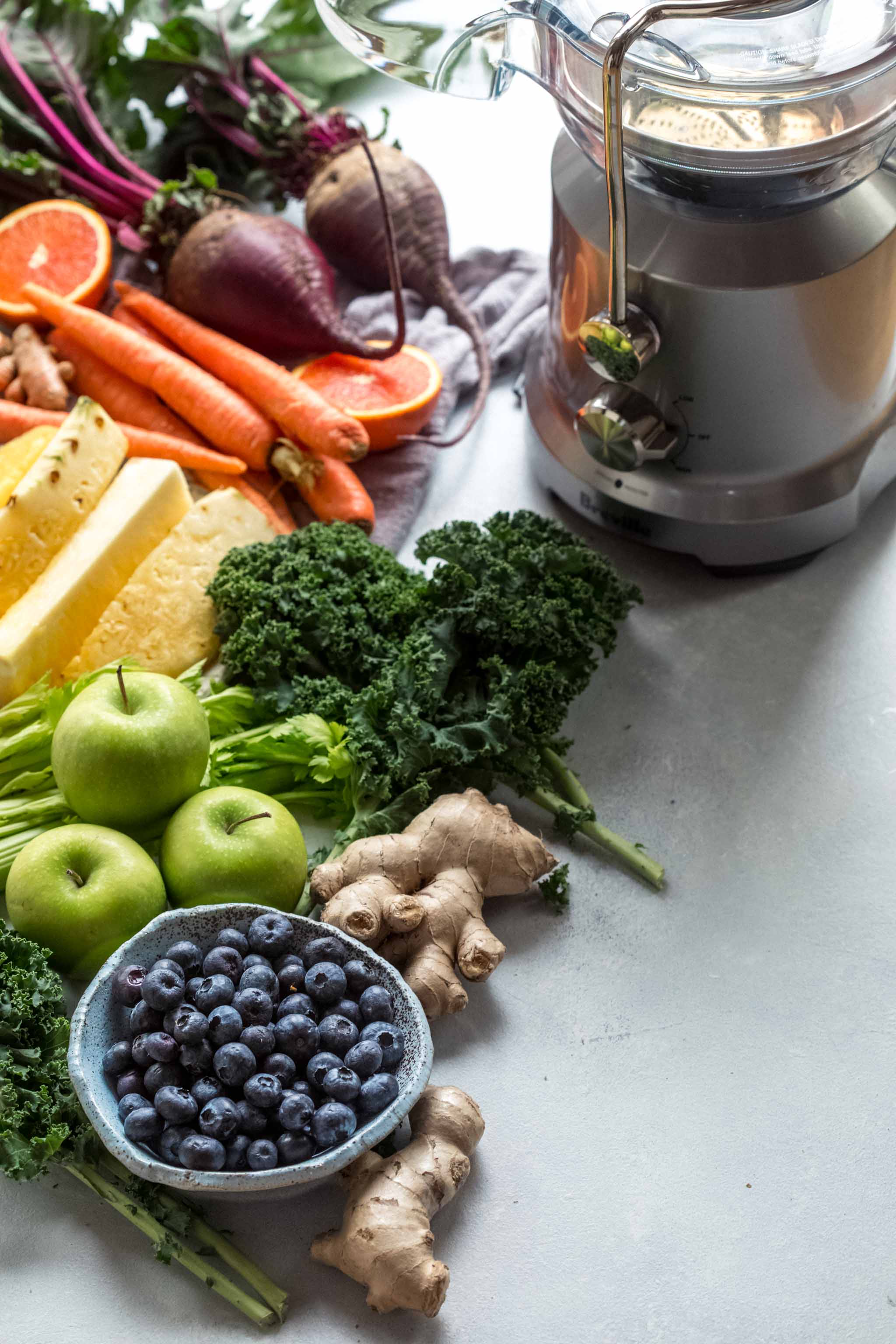 I'm going to preface this post by saying I'm not a doctor or a nutritionist and I don't claim to know how each individual will react to a juice cleanse.
I'm also going to say that you don't even need to do a juice cleanse with the juicing recipes that I'm going to provide you with. But there are loads of health benefits from consuming these healthy juices.
Simply add one or two of these juices to your diet each day to help boost your energy and nutrients. That's what I tend to do since I'm one of those people who tends not to eat my veggies nearly as much as I should.
If you would like to do a juice cleanse, these healthy juicing recipes are just what you need to get started. 
During a typical juice cleanse, I'll drink 6 glasses of juice a day and plenty of water.
I've also found it helpful to supplement my juice cleanse with some slow cooker bone broth or instant pot bone broth, just because I find myself craving something warm. Especially during the cooler months. Hot tea is another option to add on to your juice cleanse.
You can also supplement your juice cleanse with this Weight Loss Soup that can be made in the instant pot or on the stove.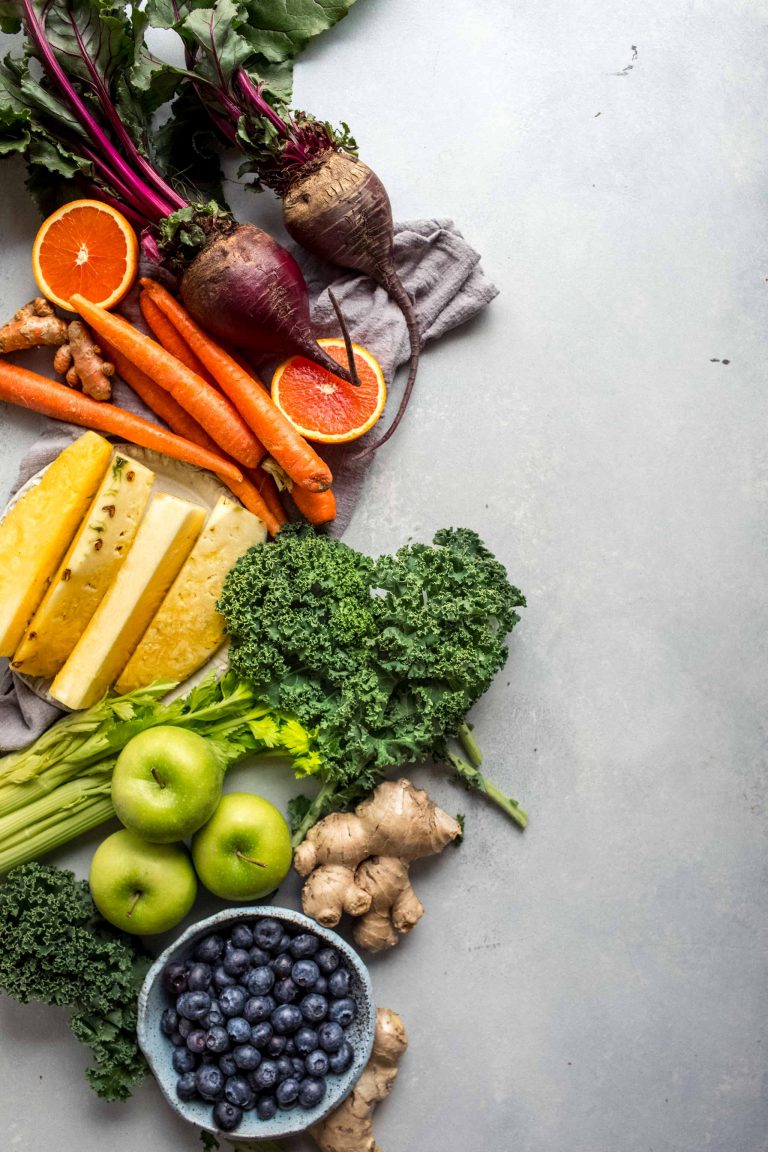 Sample typical day of a juice cleanse
8am – Celery Juice + Water
10am – Carrot Ginger Juice + Water
12pm – Green Juice + Bone Broth + Water
2pm – Beet Juice + Water
4pm – Green Juice + Water
6pm – Grapefruit Mint Juice + Water
8pm – Bone Broth + Water
I like to purchase my fruits and vegetables on Sunday and prep them all. Then, during the week, I like to prepare the individual juices each day, for optimal freshness.
It's said that juice is at its peak nutrition when you consume it within 15-minutes of being prepared, but 24-hours is great too. In fact, these juices will keep for up to three days in the refrigerator.
Which juicer to buy?
I use this Breville Cold Juicer at home. It's easy to clean and fairly quiet. If you're looking for a more affordable juicer, this one gets great reviews.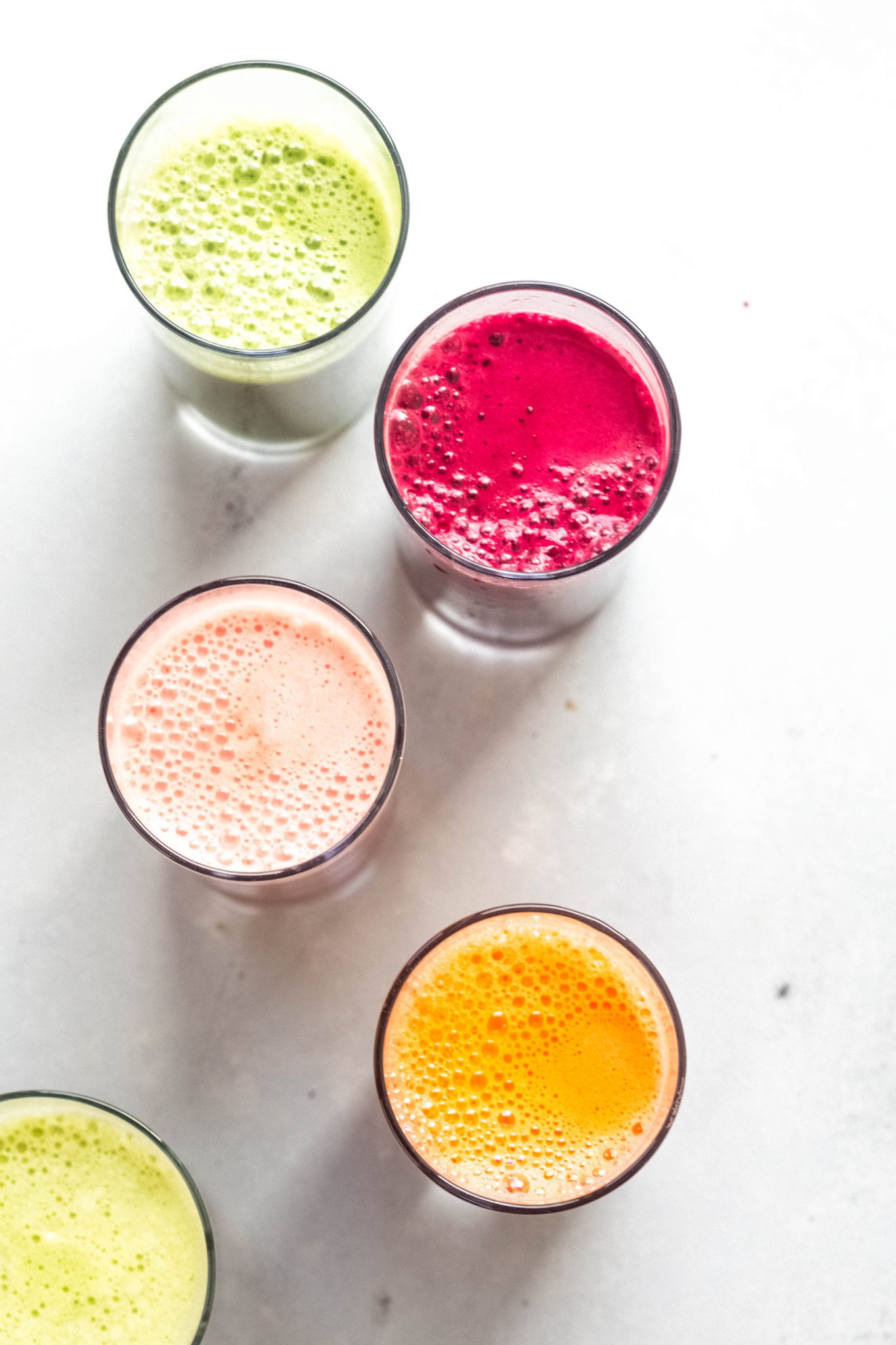 Best vegetables for juicing
Kale
Celery
Spinach
Cucumber
Beets
Carrots
Best fruits for juicing
Apples
Pineapple
Grapefruit
Orange
Lemon
How many days should you juice cleanse?
1 Day Cleanse – This is great for beginners and perfect to give your body a reset after a particularly indulgent weekend.
3 Day Cleanse – A three-day juice cleanse will help eliminate toxins, boost energy, stimulate weight loss and benefit your immune system. This is the duration that I generally stick with.
5-7 Day Cleanse – Need an extra nutritional boost? Try a five to seven day cleanse to further eliminate toxins. It's particularly useful in times of high stress.
Easy juicing recipes
Beet Juice
Carrot Ginger Juice
Carrot
Orange
Ginger
Turmeric
Cayenne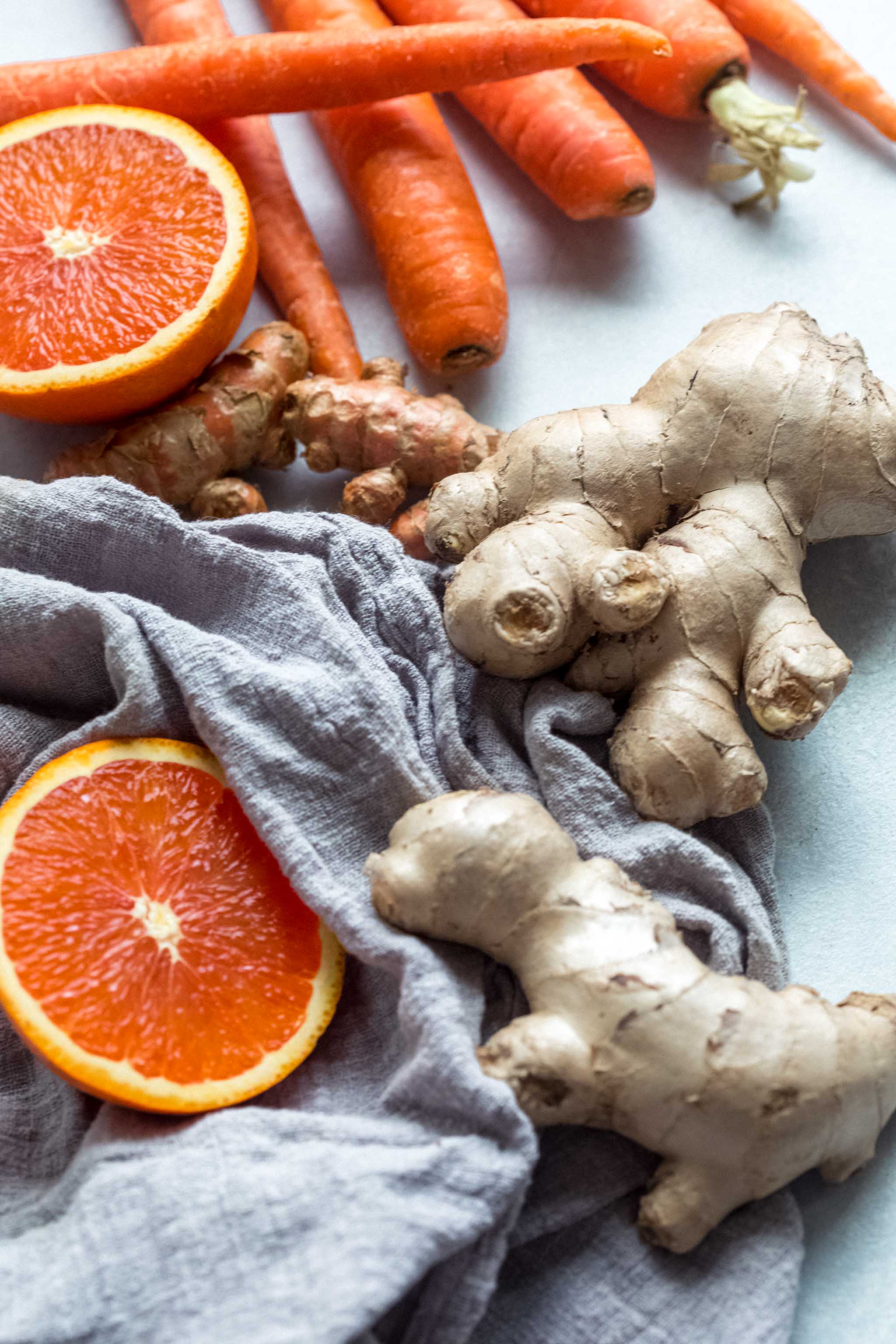 Grapefruit Mint Juice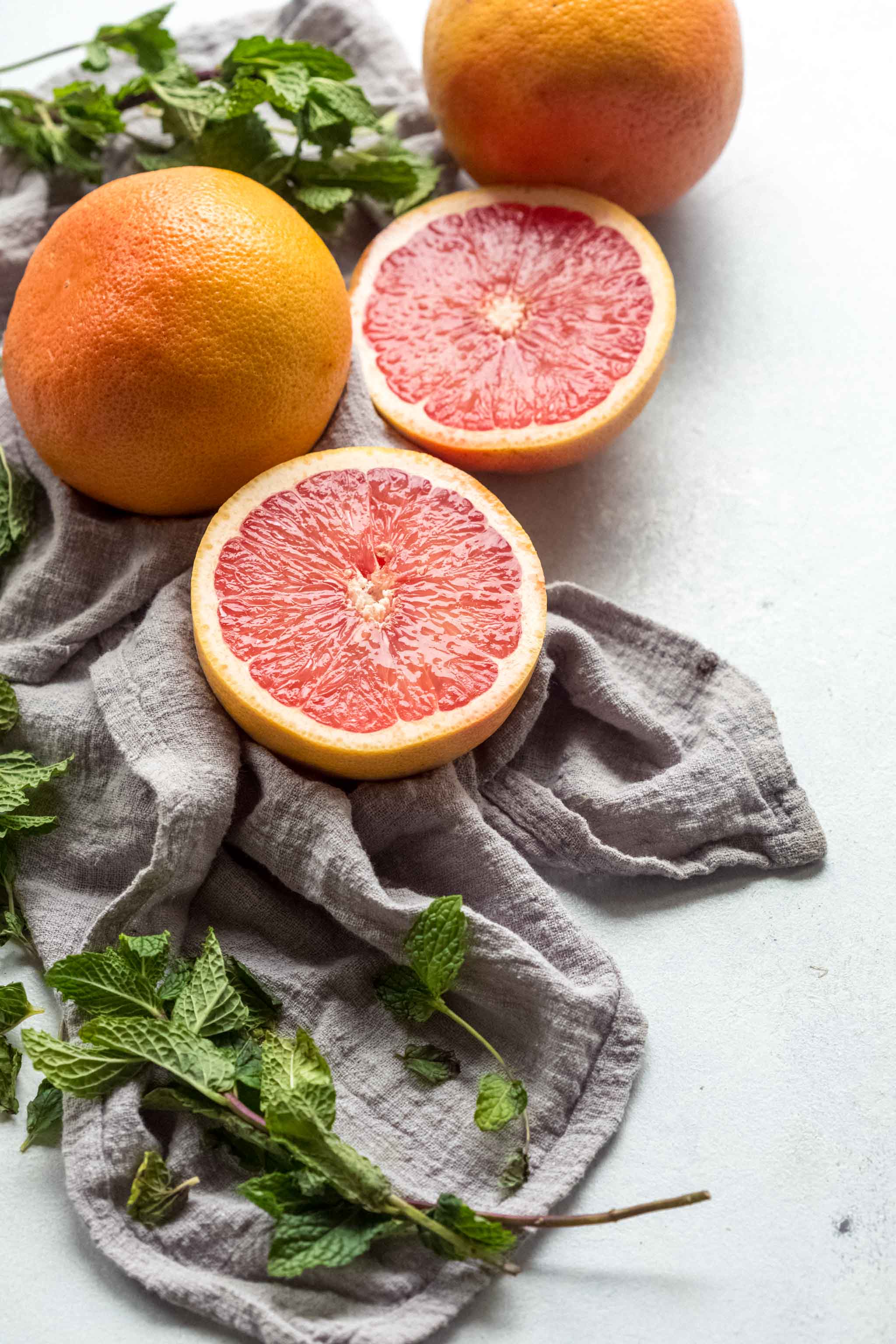 Green Juice #1
Kale
Pineapple
Green Apple
Celery
Green Juice #2
Green Juice #3
Celery
Pineapple
Apple
Ginger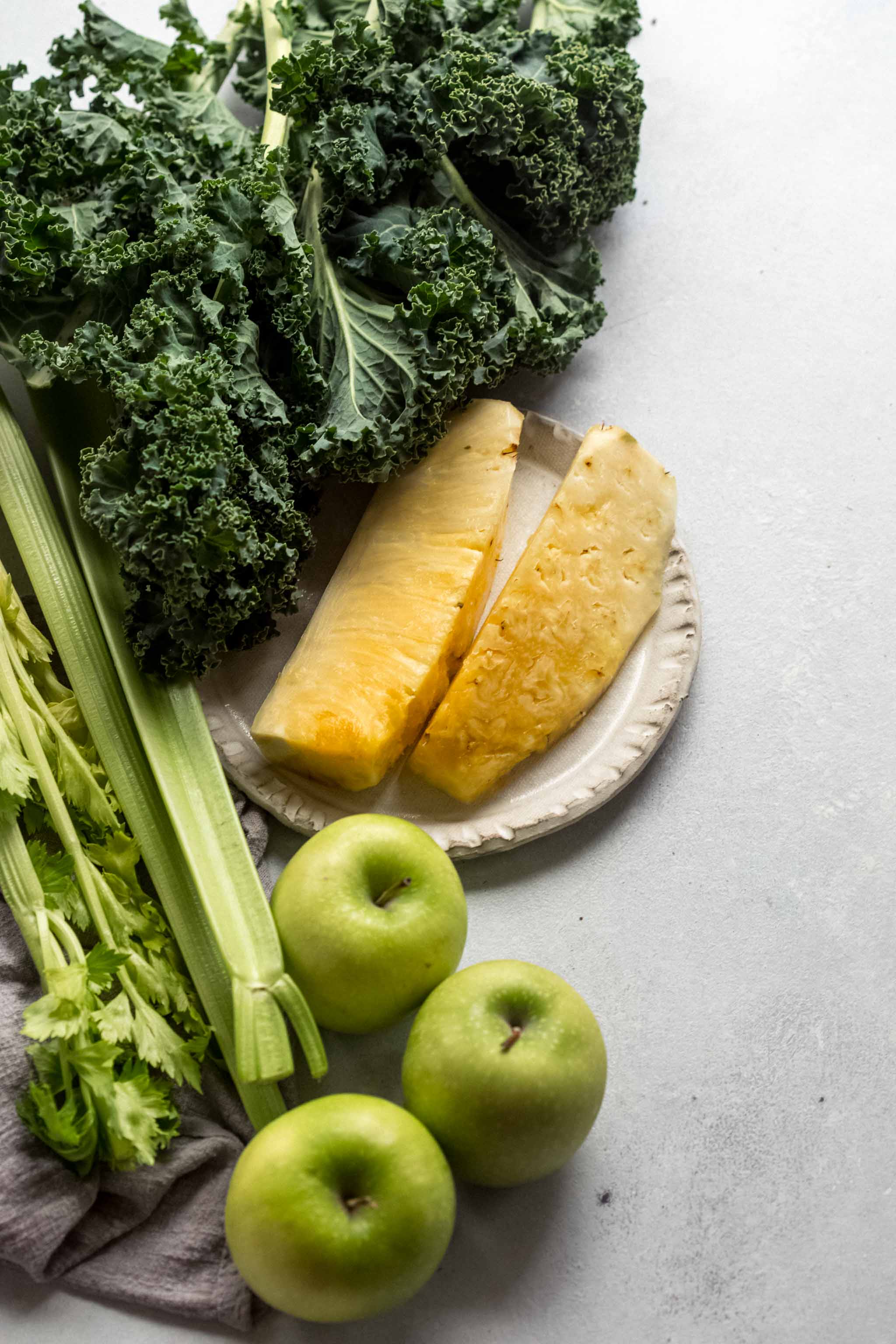 Detox Celery Juice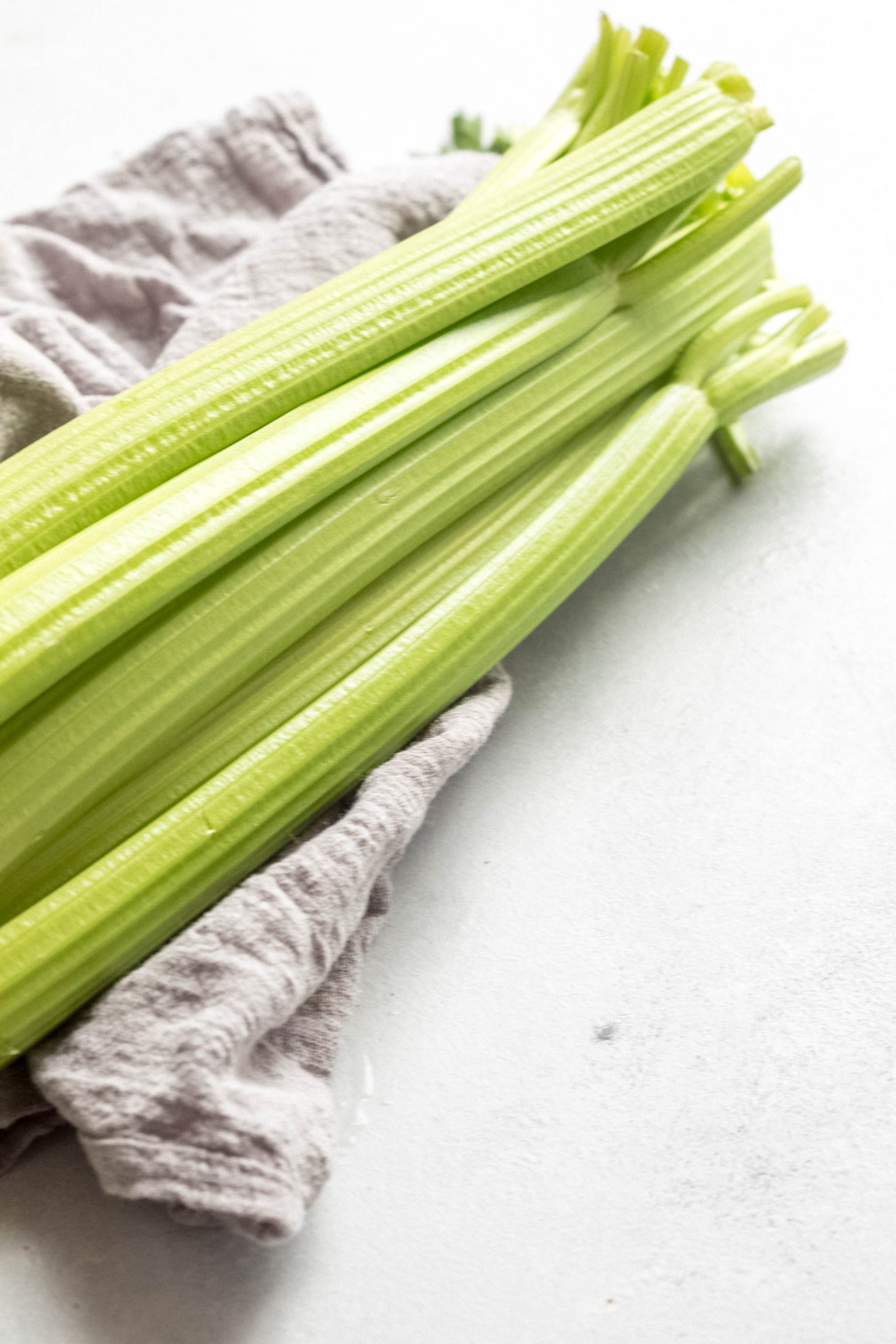 What should I eat after a juice cleanse?
After a juice cleanse, you should aim to slowly introduce your body to normal food. Start with lots of fresh fruits and vegetables and be sure to drink plenty of water. Then, I like to introduce healthy grains like quinoa or farro, and light proteins like fish and chicken.
Healthy recipes to ease you out of your juice cleanse
Did you try these healthy juice recipes?
If you loved these detox juice recipes I would appreciate it so much if you would leave a star review! Also, be sure to snap a picture of your finished juice and share it with me on Instagram using the hashtag #platingsandpairings and tagging me @platingsandpairings.
For more great Platings and Pairings recipes, be sure to follow me on Instagram, TikTok, Pinterest and Facebook.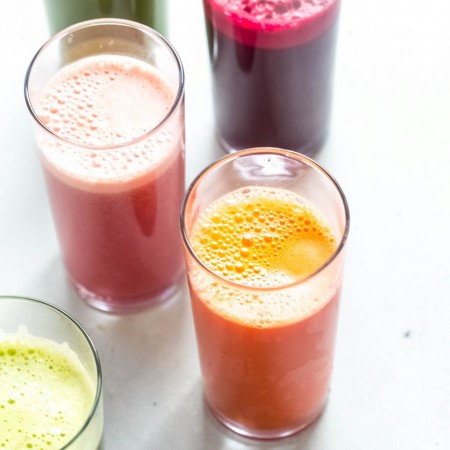 Juice Cleanse Recipes
These 7 Healthy Juicing Recipes will help boost your energy, detox your body and aid with weight loss.
Print
Pin
Ingredients
Grapefruit Mint Juice
2

grapefruits

(peeled)

1-2

inch

ginger

2

sprigs

mint
Instructions
Add to juicer and process.

Best if consumed within 15-minutes, but can refrigerate up to 24-hours for best nutritional benefits. The juice will last up to 3 days in the refrigerator.
Nutrition
Calories:
341
kcal
|
Carbohydrates:
79
g
|
Protein:
18
g
|
Fat:
4
g
|
Saturated Fat:
1
g
|
Sodium:
145
mg
|
Potassium:
2277
mg
|
Fiber:
11
g
|
Sugar:
27
g
|
Vitamin A:
35538
IU
|
Vitamin C:
554
mg
|
Calcium:
602
mg
|
Iron:
8
mg
This post was originally published in 2019. It was updated in 2023. The juicing recipes remain the same. Enjoy!