Youngberg Hill Vineyard believes in producing unmanipulated wines – allowing the true nature of the vintage to shine through. Visit them in McMinnville, Oregon for a tasting of Pinot Noir, Pinot Gris and Pinot Blanc. #WineWednesday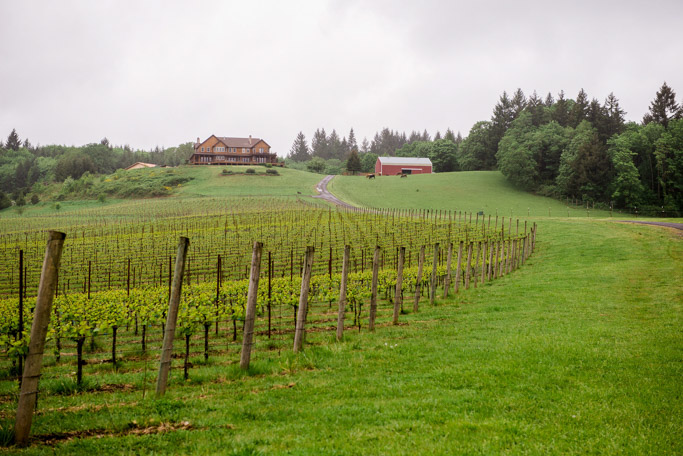 Last month I got an itch to go set out and explore some wineries that I'd not yet been to before here in the Willamette Valley. So I rounded up the girlfriends, we hopped in the car, and made the drive from Portland to McMinnville, Oregon. We had four stops on our agenda that day, the first was Youngberg Hill.
Located amongst the hills, Youngberg Hill definitely makes an impression as you drive up to the tasting room. The views are sweeping and the outdoor space is expansive. My friend Deann said she had actually been here before, to photograph a wedding – I can see why this would make such an amazing venue.
My favorite way to enter a winery is to be greeted by the wine dog – This 'lil guy definitely takes his job seriously.
We were lucky enough to meet with owner Nicolette Bailey, who took us on a tour of the premises. I had no idea that there was a bed and breakfast onsite. The rooms? Not your typically brass bed, with creaky floors, and flower printed curtains type of spot. These rooms are amazing. The view – You get to overlook the vineyard and the cattle grazing outside. The bed? The headboard is of recycled slats from used wine barrels. And the kicker? There is an oversized soaking tub with a glass fireplace at the foot of it. Can I just soak there all day?
But today we're not here for soaking (even though it's pouring outside).
Nicolette also gave us a sneak peek at their new 3,600 square-foot indoor/outdoor event center. Overlooking the wooded valley and the vines, this new space takes full advantage of their beautiful location, allowing them to host events, weddings, and musical performances year-long. They officially unveiled the space over Memorial Day weekend. I can't wait to go back and check it out now that it's fully completed.
Let's talk wine. Winemaker Wayne Bailey (and Nicolette's husband) let us through a beautiful flight of his premium Pinot Noir, Pinot Gris and Pinot Blanc. Produced from the estate vineyards that surround the inn, they are some of the oldest vines planted in the McMinnville area.
Wayne describes his winemaking style as "unmanipulating." With a desire to work with the grapes and the seasons, he understands that each vintage will grow and develop differently – Like children. He is just there to nouture them. Fittingly so – Each of his Pinot Noirs are named after his three daughters – Natasha, Jordan and Aspen. The youngest, Aspen, was at the vineyards with us that day. Roaming the grounds, playing on the tractor, and being the best mini-hostess out there. She gently stated that her favorite wine was the Aspen, adding "But not just because it's named after me." – We had to agree.