It felt like a fairytale when we walked into Folktale Winery & Vineyards in Carmel, California – And that is just the way it was meant to be.
Just a quick 5 minute drive from the Pacific Ocean in Carmel, California, you'll find Folktale Winery & Vineyards. Originally founded in the early-80's as Chateau Julien, Bob and Patty Brower were inspired by their journeys to the Bordeaux region of France, to bring that experience of wine and good cheer to Carmel.
In 2015, the property was acquired by local Carmel winemakers, Gregory Ahn and Jonathan White. They renamed the winery Folktale, inspired by fairytales, and the thought that inside every great bottle of wine should be a exciting, fun, story waiting to be told.
The property itself looks like a fairytale when you walk in – With the white castle-like buildings, the floor to ceiling fireplace, and nooks and crannies for exploring.
Lots of natural elements are used in the décor, and, on chilly nights, there are plenty of fire pits outside to huddle around while you enjoy your wine.
An oversized Connect Four, Jenga, and Cornhole will keep you occupied all afternoon long.
Folktale Winery and Vineyards is committed to sustainable farming practices throughout their vineyards and gardens.  Their onsite 5-acre vineyard, which grows Sangiovese, Pinot Noir, and Chardonnay, is farmed 100% organic. The remainder of their wine-producing grapes are growing at their 150 acres of estate vineyards in the Arroyo Seco AVA of Monterey County.
It's impressive to note that Folktale Winery & Vineyards is the only glass to grape tasting room in Carmel Valley. Equally impressive: They were recently named by the San Francisco Chronicle as one of the top 10 reasons to visit Monterey County.
We were extra lucky in that we had the personal experience of meeting with John Fitzgerald, Director of Hospitality at Folktale, for a personal tour of the entire property. He greeted us with a glass of their Sparkling Brut (perfect for this bubblehead), and then led us on a tour of the barrel room. Some of the barrels have even been personally signed by the musicians who have visited on the property.
If you look in the hills, you'll spot the home which is owned by Doris Day, overlooking the vineyards.
Owl boxes and raptor perches help to encourage birds of prey to reside here, acting as a natural means to control gophers and other rodents which may invade the property. Roses planted at the front of each row of vines helps to detect any plant diseases that may be creeping up. The grounds are sweeping and spacious, making it the perfect location for events, both large and small.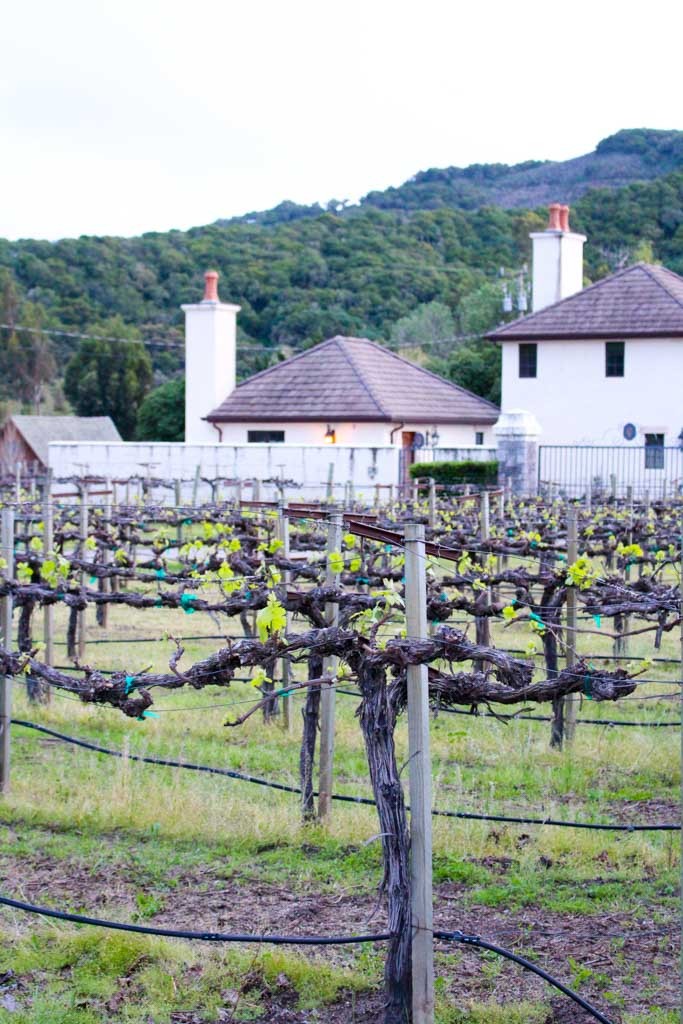 The maritime influenced greenhouse is the ideal spot to enjoy Folktale year round. The lovely 22′ communal table is canopied by the most impressive of chandeliers, constructed with flora and metal.

On this particular night, we were serenaded with tunes of salsa and flamenco from the Samurai Gypsies.

Folktale has done away with the traditional wine bar and put their focus on table service, where you can order a tasting flight, a glass, or a bottle, and pair it with an amazing menu of locally sourced bites.
We enjoyed the cheese board which boasted an assortment of gourmet cheeses from The Cheese Shop in Carmel served with Lafayette Bakery baguette and honey which is produced from bees residing on the property.
To go alongside we indulged in a full flight of Folktales lovely wines: 2013 Folktale Rosé, with notes of strawberry, lavender and honey; 2013 Folktale Chardonnay with its hints of toast, tropical and vanilla; 2013 Folktale Pinot Noir and 2014 Folktale Pinot Noir (we preferred the 2014); 2011 Le Mistral White blend with citrus notes and a nice minerality; and the 2011 Le Mistral Red blend, a bit peppery on the nose with red berry flavors.
Rick and I were trying to be conservative, and keep our purchase limit to one bottle and each winery we visited on our trip to Carmel. We had only one suitcase, and we were bargaining that we could maybe bring 11 bottles home with us, without going over the 50-pound weight limit. But, we purchased 4 bottles here – The Sparkling Brut, Rosé Sparkling, 2014 Pinot Noir and Le Mistral Red Wine. (Spoiler Alert: By the end of our trip, we did go over the weight limit…  But it was SO worth it!)
Folktale Winery & Vineyards is located at 8940 Carmel Valley Rd, Carmel, CA  93923, just 5 miles east of  Highway 1. They are open every day from 11am to 8pm. Tasting fee is $15.
Disclosure: Our wine tasting at Folktale Winery was complimentary. As always, all opinions are my own. Thank you to the Monterey County Convention & Visitors Bureau for the great recommendation. If you are planning a visit, be sure to check out seemonterey.com for everything you need to plan an amazing trip!