Check out DAY 1 and DAY 2 of our Walla Walla wine tasting adventure.
DAY 3
The boys started the day off with golf at Wine Valley Golf Club. So for us girls, that meant time for breakfast and shopping … We took a stroll into town for the farmer's market, browsed the local shops along Main Street, and spent this day tasting entirely in downtown Walla Walla.
Walla Walla Bread Company is a great spot to stop by for brunch – Not only do they have wonderful baked goods (perfect for toting along on a day of wine tasting), but they also have dishes like Breakfast Calzones, Corned Beef Hash and Sourdough Pancakes. This lively spot is a great first stop of the day. Be sure not to miss their Bloody Mary's made with saké!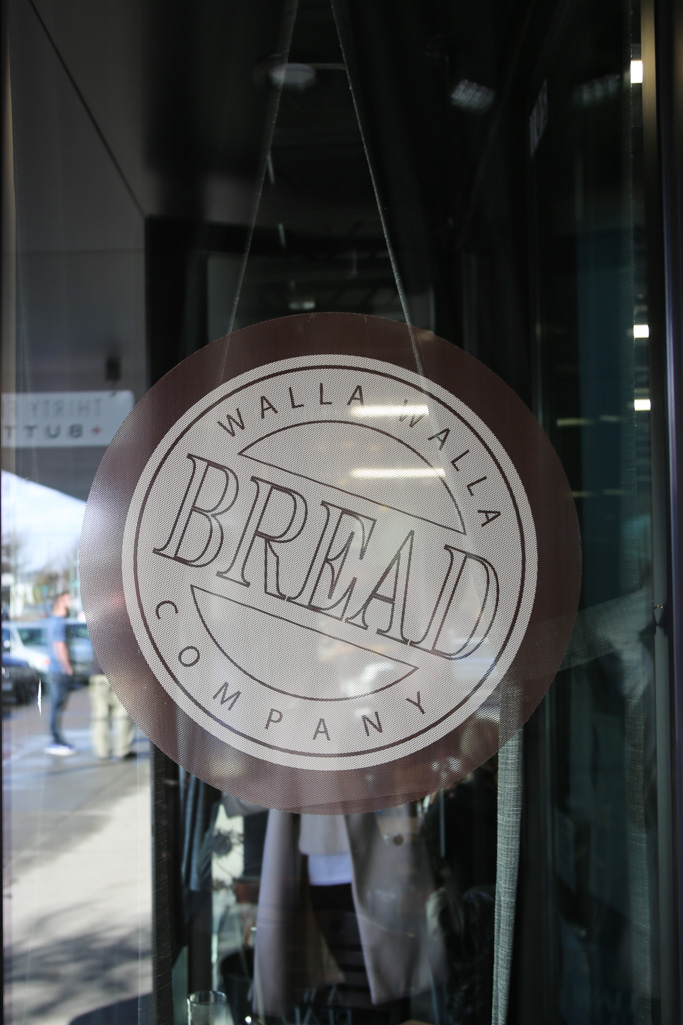 Our first wine visit of the day was to Doubleback. Doubleback is owned by former NFL quarterback Drew Bledsoe and you know what? He knows how to make wine! Offering only a Cabernet Sauvignon, Stolen Horse Syrah and Family Red – They were all excellent! You do need a tasting reservation, so be sure to call ahead. Before visiting, I had pictured this tasting room to be a bit uppity based on that fact, and the fact that it's owned by a football player – But, the opposite was true. The friendliness of Walla Walla was evident, as it has been every place we've visited on our trip, and we were greeted with an beautiful cheese & fig plate to accompany our tastings. Be sure to check out the awesome walls which, from far away look like stone, but are really made from the slats of old wine barrels.
Charles Smith & K Vintners were next on the list. You may recognize their bold black and white graphic labels. The Charles Smith brand is widely available – Eve Chardonnay, Kung Fu Girl Riesling, The Velvet Devil Merlot and Boom Boom! Syrah are produced under their label. K Vintners wines carry over the same black and white theme, yet are less widely produced – We grabbed a couple bottles of The Boy Grenache to take home with us. Their tasting room is spacious and has garage door style windows which open wide in the summer so that you can enjoy the streetside patio.
By now, the boys were famished from a long day of golf – We headed to Brasserie Four for some bubbles, brews, AMAZING pommes-frites and artisan pizza. The summers are amazing in Walla Walla and, because we went for a late lunch, we we able to get a spot on the patio and do some Main Street people watching while enjoying our meal.